I was very saddened to hear about the passing of Chef Russell Norman, not only a talented chef but a very gentle, lovely person! He will be missed!
BLACK FRIDAY AT kenhomwoks.co.uk: FREE cooking tool set when you purchase any full-priced wok until November 30th 2023. Terms and Conditions apply. UK only.
I have joined forces with Causeway to raise awareness of men's increased modern slavery risk ahead of International Men's Day 2023.
Did you know, that currently, three-quarters of those identified as modern slavery victims in the UK are men, and that numbers of male modern slavery victims has been increasing year on year? Please donate and help support survivors of modern slavery.
Vincent Franklin has teamed up with 18 other figures from the world of film, TV and sport to raise awareness of men's increased risk of becoming victims of modern slavery
I have joined forces with Causeway to raise awareness of men's increased modern slavery risk ahead of International Men's Day 2023.
Did you know, that currently, three-quarters of those identified as modern slavery victims in the UK are men, and that numbers of male modern slavery victims has been increasing year on year? Please donate and help support survivors of modern slavery.
Ken's steamed fish Cantonese style recipe
I am delighted to support Muscle Dreams with this delectable recipe! I hope that it will help bring awareness to this horrible disease and support all the brave people who suffer from it.
Ken Hom's steamed fish Cantonese style recipe
I am so proud of the English team in tonight's rugby match with South Africa! They played incredibly well and lost by just one point! Long live England!!!!
Bravo for the English team in tonight's rugby match. It was nail biting but English won!!!Onwards and upwards to the FINAL!!!
I was filming in a kitchen studio in London and of course, cooking. Look who came to visit from another studio? A very sweet dog who looked so much like a dog I had for many years! I think that she did not come to visit out of love but the smells from my wok!

The King and Queen Attend British Brands Showcase in France. Ken  delivered a live cooking demonstration
Dublin
I was so thrilled to be in Dublin for my two sold out days of demonstrations. I was also very touched by the love and affection from everyone in Dublin. My youngest fan Ethan was less than 1 year old and he loved my cooking! When Irish eyes are smiling……..here are some highlights.
Rugby World Cup
I was torn between the Ireland & Scotland rugby match as I love them both. But I salut and congratulate the Ireland team for their victory! Well done!!!When Irish eyes are smiling…………
My heartfelt congratulations to English rugby for their hard won victory against Samoa. It was a nail biting unbeatable match!!! Bravo!!!!
Exhibition in Taipei
My good friend, Pierre Borie, who makes fantastic duck pates and confit is also having a major exhibition of bronze sculptures in Taipei. Here is the name of the gallery and look at one of them! Galerie ovo No. 51號, Dehui St, Zhongshan District, Taipei City, Taïwan 104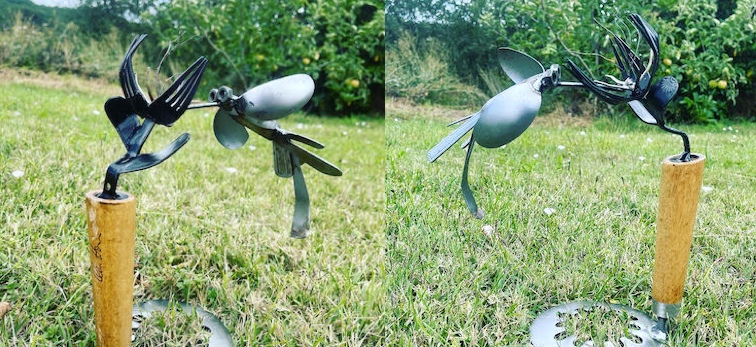 Royal State Visit
I was so honoured and privileged to be part of the Royal State Visit to France. Here I was demonstrating and my biggest fan was Sami, a super wonderful dog!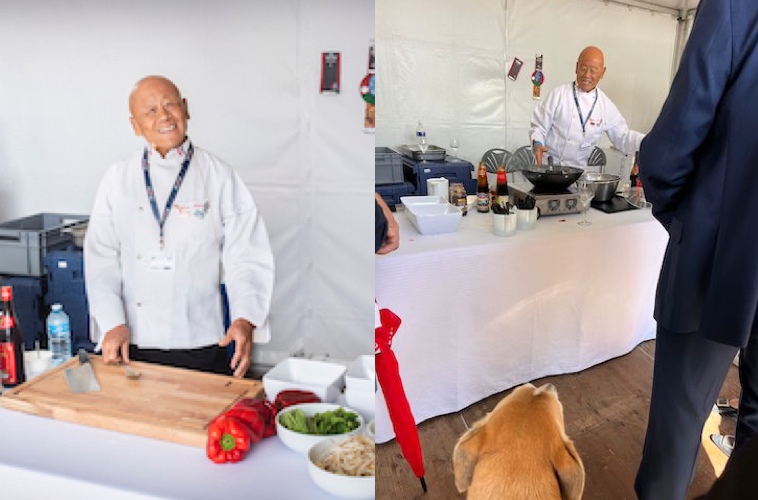 Potters Cookshop in Hockley
I was thrilled to be re-invited to Potters Cookshop in Hockley. Their window display was magnificent.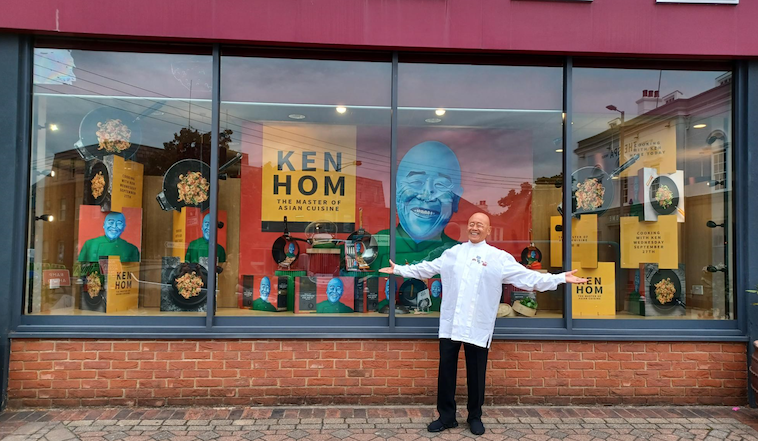 Bravo for the Welsh victory in the rugby World Cup!!!
Brilliant, the Scottish win in the World Cup!!!
I am thrilled for the Scottish victory in the last rugby World Cup match! They were fantastic!!! I applauded their victory, well deserved!!!
My recipes on Gulf News: Stir-fried cucumbers with hot spices & Curry Rice Noodles with Vegetables
I am pleased to announce that on the occasion of the first State Visit of Their Majesties to Bordeaux, France on the 22nd of September 2023 that I will be there to help celebrate the best of British and French innovation!
I salute one of the great chefs on the British culinary landscape Chef Nico Ladenis! He is one of the pioneers who put British food on the world food map! He will be missed!
Rugby World Cup 2023:
I am thrilled and proud of England's  well deserved win in the World Cup rugby match tonight!!!
I want to congratulate my friend, Fabien, for France's victory in the last rugby world cup game last night!!!!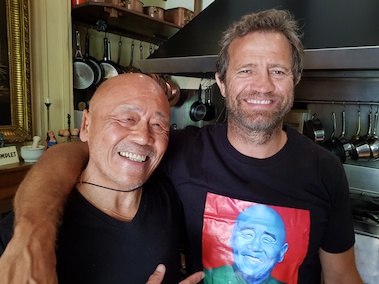 At an event in held in the Royal Institution on Mayfair's Albermarle Street, the honour of the evening went to Ken Hom CBE, who was given the lifetime achievement award. Hom has presented cookery programmes for almost 40 years, and has published more than 20 recipe books. Ken's acceptance speech
The winners of the Guild of Food Writers Annual Awards were announced last week at a ceremony in front of an audience of the UK's best-known food writers and broadcasters at the Royal Institution's world-famous theatre
The Arnotts Home Event: Master the Art of Asian Cuisine with Ken Hom. Get tickets here!
Prostate Cancer UK
Thirteen years ago to today, I was being treated for prostate cancer. 1 in 8 men over 50 are at high risk in the UK. I am most grateful to be in remission and work on behalf of Prostate Cancer UK to get men tested. Together we can fight to win!
Michael Parkinson
I was very saddened to hear of the passing of Michael Parkinson who I have met in the past. I was privileged to be invited a number of times as well on his chat shows. He was not only charming, funny but a really lovely person. I felt honoured to have known him.
Ken's public appearances – September 2023
27 September, Potters Cookshop in Hockley 4 PM
29 September, Meadow & Bryre, Dun Langhaire, Ireland 1.30 PM
30 September, Arnotts, Dublin, Ireland 12.30 PM
The above appearances are ticketed events. Please contact the Store for availability.
Congrats!
I am over the moon at the England Lioness World Cup victory over Australia. I not only want to congratulate them but wish them much success for Sunday's Final!
Tips for cooks
ckbk is the ultimate digital subscription service for cooks. Some of my out of print cookbooks from the early 1980's can be found there. All my tried and tested recipes are available to all serious cooks!
Happy delicious cooking!!!!
Visitor
I have been getting one visitor to my kitchen this summer. As a huge cat lover, it has been perfect. But I don't
it is entirely out of love………..but perhaps all the leftovers? But she has made my summer!!!

Gok Wan and Ken Hom launch new OCC Scholarship
Hong Kong's 9 best dim sum restaurants, according to chefs
Famous faces that support leeds united during the upcoming season!
Celebration luncheon
A super photo from the local book fair on Sunday! And it was all in the news yesterday!!!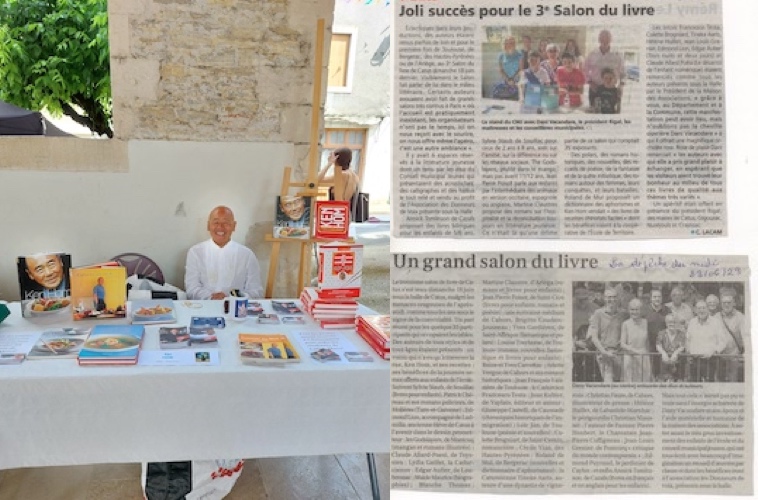 This week I signed and sold my cookery books in French at the Salon de Livres (Book Fair) in my village here in southwest France.
I was able to promote the GREAT campaign as well! I gave the proceeds which I then personally doubled to the local student association. Giving back!!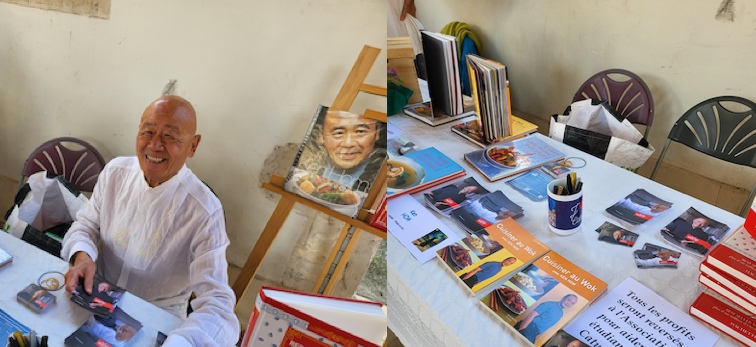 There was a screening of "A Very British History, The British Chinese" at the Chinese American Museum of Chicago and guess who popped up on the screen????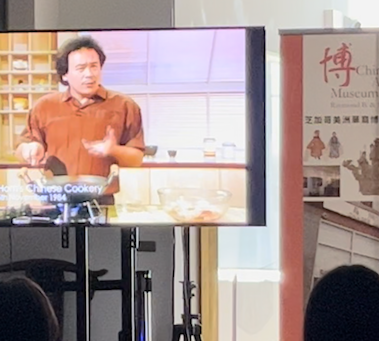 I am deeply saddened by the death of Tina Turner today. I remember first seeing her at the Cheetah Club in Chicago in the early 1960s and could not believe it when I met her in person 20 years ago through a mutual friend, Alain Dominique Perrin. I was privileged then to cook for her at my home in Catus and over the moon. She was so gracious and lovely. I wish her much love and peace!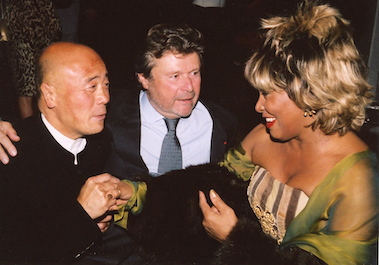 It's the beginning of a new week and I have a great podcast for you to enjoy – Bring it In – below is the link in different formats, depending on where you get your podcast from – enjoy!
'Bring It In Podcast' on: Apple, Google or Spotify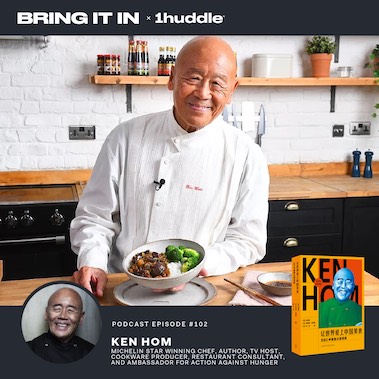 Coronation
I was honoured to be invited by Dame Menna Rawlings DCMG, the British ambassador in Paris to watch the Coronation on a big screen with other guests as well. The fantastic chef served the Coronation quiche which was moist and packed with flavour, I was very touched and moved by the ceremony which I found very inclusive. King Charles III will be a great king!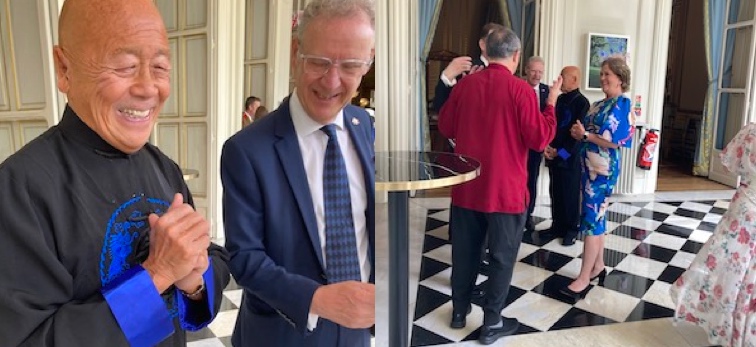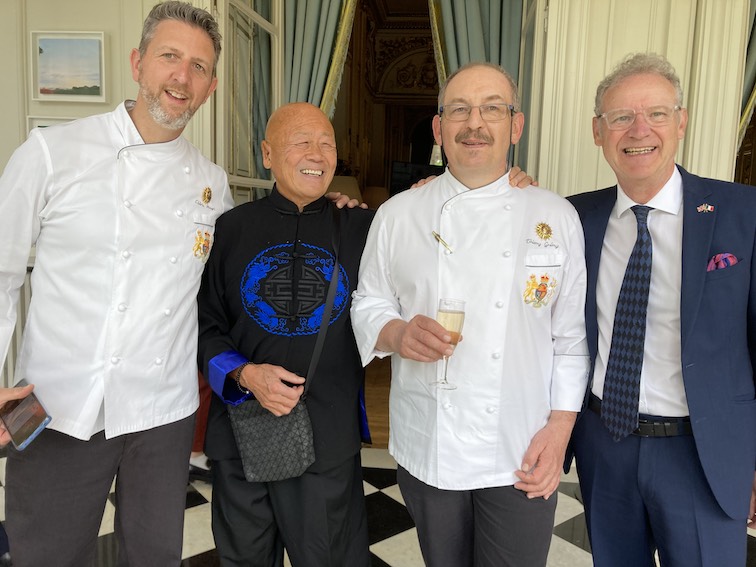 Chinese dishes appear on royal coronation menu
Leaving a gift in your will to charity ticks many boxes
What the Fork: Aubergine, Roast Lamb, Kunal Vijayakar Describes King Charles III's Coronation Menu
Exploring the idea of food identity as that of language, which exists as a vehicle for expressing culture: Naughty Bites Podcast
Ken's Coronation Roast Rack of Lamb with Asian-Style Marinade recipe
Chicken Velvet and Spinach Soup recipe
Join author and Food Editor for Vogue Hong Kong Susan Jung, in conversation with author and presenter Ken
OCC & GCA Scholarship DinnerI was so touched when my good friend, Donna Cave came to the scholarship (Oxford Cultural Collective & The Golden Chopsticks Award( fundraiser at Din Tai Fung — Centre Point in London. We raised a very tidy sum and had the most delicious dumplings & dishes. The remarkable wines donated by David Levin matched perfectly. I wanted to thank everyone who came to support such a good cause.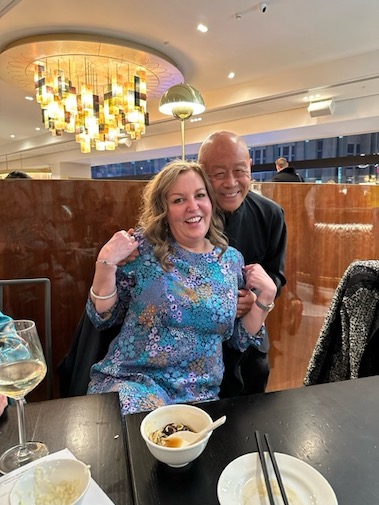 Join in the coronation 'Big Lunch' with these recipes from Jamie Oliver, Stanley Tucci & Ken Hom
Giving back to the UK who were generous, loving and embraced me. Evening Standard
Chinese and British: Food Stories
I was saddened to hear about the passing of Mimi Sheraton, the food writer and restaurant critic who I met a number of times and deeply respected. She had the most amazing capacity to target what is right or wrong with any restaurant. Her knowledge of food was epic. I will miss her!
It Wouldn't be Christmas Without… Chinese noodles. Podcast with Ken Hom
The Standard 17 April,  – see the Upfront section, page 11, under Feasts fit for a King.
Save 30% on this set –  Offer ends 24th April 2023: Excellence Non-Stick Mini Wok 20cm And Aluminium Grill Pan 25cm Bundle.
Enjoy reading this article – I am part of this exhibition.
Yang Bing-yi
I am greatly saddened by the passing of Yang Bing-yi, the founder of the world-renowned Taiwan-based restaurant Din Tai Fung, who died peacefully at the age of 96. I met him in 1992 introduced by the renowned Taiwanese cookery author & chef, Fu Pei Mei and again in 2003. His magic and aura continues today. A visit two days ago to one of his restaurants at Central Embassy in Bangkok was delicious evidence of his culinary legacy. The classic soup dumpling was reinvented for the Thai New Year with chicken & prawns instead of pork — perfectly delicious. Tender spareribs in a rich honey sauce was out of this world. I could not have made the crispy wings in shrimp paste any better. A simple stir-fry string beans with minced pork was savoury and delectable. Perhaps I thought this meal was the best homage to a great man in the culinary universe. I will miss him greatly
Hear Ken on My Favourite Takeaway
The British Library's Food Season is back 2023
Susan Jung & Ken Hom in conversation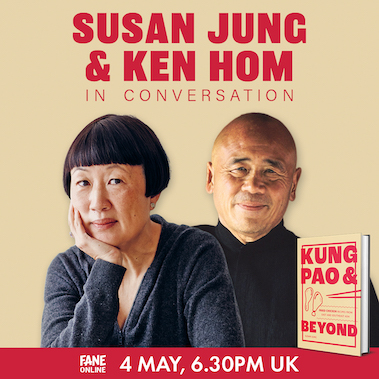 The coronation big lunch: a roast rack of lamb from Ken Hom and griddled aubergine from Bake Off winner Nadiya Hussein.
Sour, Sweet, Bitter, Spicy: Stories of Chinese Food and Identity in America Exhibition at the Museum of Chinese in America (MOCA) March 17, 2023 – September 10, 2023
Chinese and British: Food Stories at the British Library Mon 17 Apr 2023, 19:00 – 20:30
I want to salute all the women of the world on today's Women's Day!
The Stir Fry Mistake You're Probably Making, According To Chefs
Dinner and conversation with Ken Hom and Gok Wan Tuesday, April 18 2023, 6.30pm – 11pm, at Din Tai Fung, Centre Point, London. This event is being held in support of the Golden Chopsticks Scholarship, offered by the Oxford Cultural Collective, which will provide transformative learning for young people who are building their careers in the UK's Asian restaurant sector.
Enjoy reading this article about such an inspiring person: Eileen Yin-Fei Lo
One of my oldest friends, Carol, who I have always known as Cookie  lives in New York and is a professor at Columbia University. She sent me a picture of what she received as a Christmas present! Small world!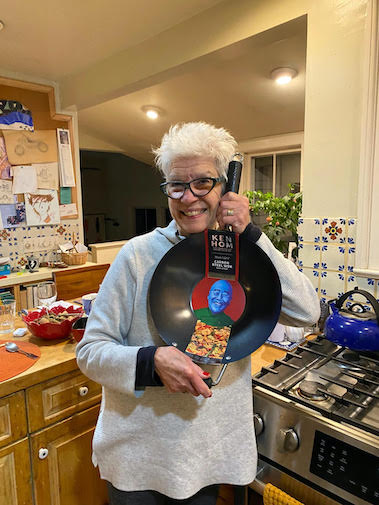 Get the recipe for Ken Hom's steamed fish, Cantonese style here
The Yoda of Chinese Cookery Chef Ken Hom
Chef Gives Advice on Crafting Regal Menu Before Coronation
Proud to be heading #Woktober once again this year for John and @ChemoCookery. Such an important project which was such a big success.
The 3 official recipes for King Charles III's Coronation revealed
Forget coronation chicken, Asian-style lamb is a dish fit for a King
Celebrate with Ken's recipe for Coronation Roast Rack of Lamb with Asian-Style Marinade
A photo from the Ambiente 2023 fair in Frankfurt!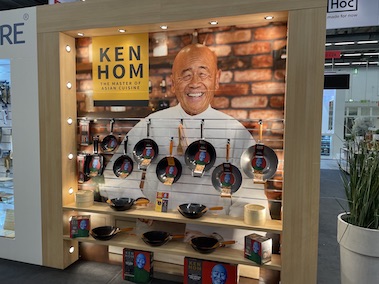 Jump into winter..in the wok!
Wok On – New Year recipes: From pepper chicken to delicious Dan Dan noodle – celebrate with cheap and easy dishes from Ken Hom. Read the article in The Sun
The insider's guide to London's best Chinese restaurants
Cooking on a Budget: Cook with wisdom by recreating Ken's country-style aubergine
Chinese American Museum of Chicago Exhibition Dec 2022
Euronews Culture's 2022 Interviews: A year in review
Ken speaks to Tasmin Little about Chinese cuisine as a gateway to community-building, and his concerns for global food security.Food and Kung Fu Empowered Me. Part 1 of 3 part series.
Hear Ken on BBC Radio 4 World at One today (21st Dec) Click here if you missed it
Euronews Culture's 2022 Interviews: A year in review
Hear Ken on BBC Radio 4 World at One today (21st) between 1:30 and 1:45
Three Fishes on the menu for world famous chef Ken Hom
Chinese President Jiang Zemin
I remember cooking for the late Chinese President Jiang Zemin over 23 years ago:
Chinese President Jiang Zemin (R) meets famous chef Ken Hom inside No.10 Downing Street before the latter cooked lunch for the Chinese guest and British Prime Minister Tony Blair 21 October 1999. Jiang is on a four-day state visit to Britain, the first ever visit by a Chinese head of state.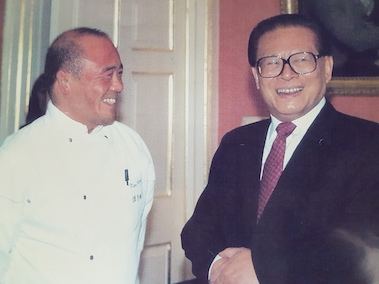 I am thrilled that my truffle book with Pierre-Jean Pebeyre has just been published in Chinese!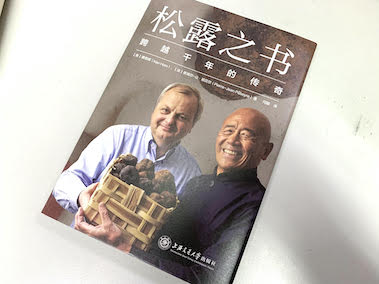 12 chefs' top tips to get the most out of your microwave in The Guardian
The Oxford Cultural Collective. At a ceremony in Paris on 4th November 2022, Dame Menna Rawlings, British Ambassador to France, presented OCC Patron Ken Hom with his CBE, for services to charity, culinary arts and charity
Allen Markey was one of the best food photographers that I have known and worked with in the past.He recently moved and looked at what one of his purchases was for his kitchen!
I want to wish him happy cooking!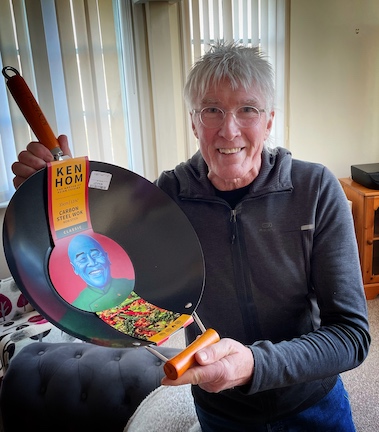 Must-have kitchen utensils: what chefs recommend
Cooking on a Budget: A quick, easy and tasty braised fish recipe
Still teaching people on how to cook Chinese…. see my latest feature
Tingly Oils
When my good friend and respected food writer from The New York Times, Florence Fabricant, wrote about tingly oils from Sichuan, I knew I had to try them out. As a spice addict, I found the infused oils magical drizzled on soups, salads, grilled meats and vegetables. They certainly added a kick to my daily cooking. The peanuts were extraordinary and the peppercorns, red & green did their tingling. Do take my word for it, try it yourself
Saddened to hear that Joyce Molyneux died. She will always remain in my culinary heart! A pioneer in British cuisine!!
Cooking on a Budget: A nutritious pork recipe by chef Ken
The Golden Chopstick Awards
The range of winners was refreshingly diverse with the first award of the night being The Ken Hom Lifetime Achievement Award, won by Holland Kwok
Chef Ken – how to cook Chinese food
Ken Hom on saving money in the kitchen and being inspired by the late Queen
Lake District pan-Asian restaurant named best in England
Ken was among the last people to be on the Honors list by the late Queen
Star Wars composer and Disney CEO are the last honorary knighthoods approved by The Queen. The recently-published honours list also includes chef and TV presenter Ken Hom. Hom was made an honorary CBE by Her Late Majesty
Ken's appearances:
Friday 30 September and Saturday 1st October
Ken is the headline chef at the yearly Signature Food Festival in Aberdeen.
I am joining a galaxy of Michelin star chefs where I will be cooking two special dinners on 30 September and 1st October. Tickets
Tuesday 27 September at 16.45
Ken chats to Vanessa Feltz on TalkTV
Catch me there to hear my latest news and cookery tips too!
Sunday 25 September Channel 4 at 9.30am for Sunday Brunch
Looking for some inspiration in the kitchen? Tune in for Sunday Brunch where I will be showing you what you can do with a cucumber and a wok! Yes, really.
I am devastated by the passing of Her Majesty, The Queen. She has been a beacon in my life as well as the UK and she will always remain in our hearts!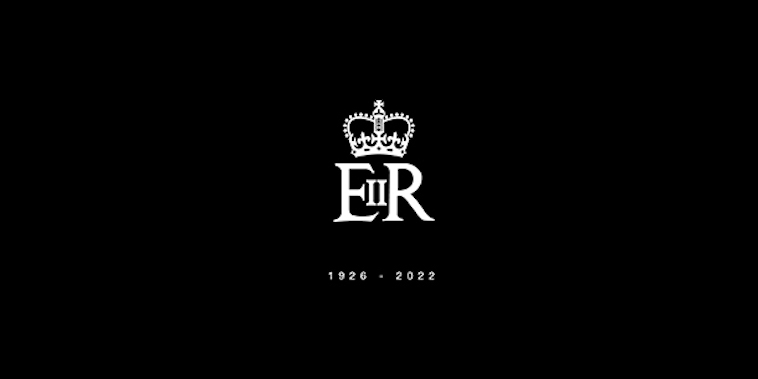 Floods
As you may have seen in the news, heavy rainfalls have been affecting the south and north west of Pakistan. One third of the country is under water – 33 million people are affected. Devastating flash floods have washed away roads, homes and vital crops, leaving a trail of devastation across the country. At least 1,100 people have already been killed and 6 million more are in desperate need of humanitarian assistance.
Action Against Hunger along with the Disaster Emergency Committee (DEC) and national broadcasters including the BBC, ITV, Channel 4 and Sky have launched an emergency appeal  yesterday to help people displaced by floods in Pakistan.  Any donation you can make will be greatly appreciated!
Since Bread interviews Ken & answers introductory questions about Chinese ingredients
Look what a friend sent me whilst staying at the Rock Hotel in Gibraltar!A small world, indeed. I am very honoured to be in such a company!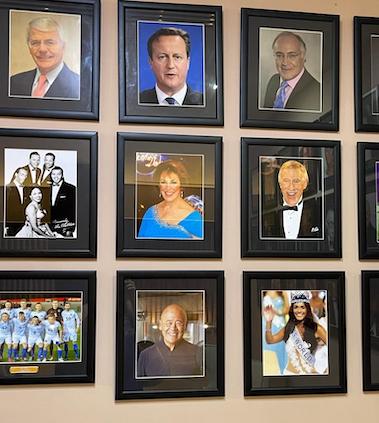 Alastair Little
I was devastated by the news of the passing of Alastair Little whom I met in 1985. I have no doubt Alastair deserves the accolades of praise as the 'godfather' of modern British food . He will be sorely missed and I am grateful to  him for his culinary legacy.
I am over the moon with England's win at the UEFA Women's Euro 2022. My heartiest congratulations!!!!!
The award-winning Mizu Restaurant is in the running to be named the Best Restaurant in England in the national 2022 Golden Chopsticks Awards, hosted by Gok Wan and judged by Ken Hom
Ulli, a German friend, is cooking Thai food in the Ken Hom wok and using my book on Thai cooking, translated in German! Looks delicious!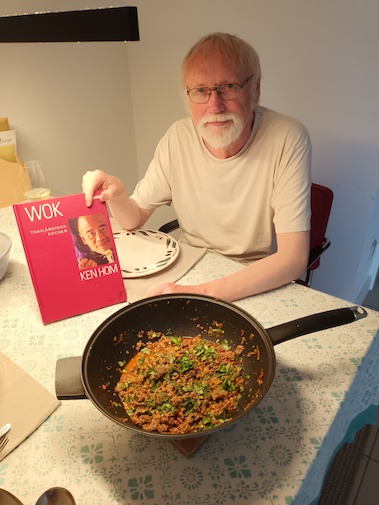 Crazy Sexy Food   —  Apple Podcast
I sat down with one of my childhood culinary heroes (and my dad's!), Ken Hom. He recorded from his gorgeous house in France, where he splits his time between there and Thailand.
Ken is one of the most celebrated TV chefs of our generation, bringing the flavours of Chinese cooking to our homes. We cover his life in food; how he got into the culinary scene and why he's still traumatised from his first ever show on the BBC in the 80s!
We both bond over the issues with food waste, how much we love the chilli oil in Chinese restaurants and I think he loves crisps as much as I do – he couldn't even let me get the whole question out!
He dissects Chinese food and explains the different regions, where he eats Chinese food and how it's evolved over the years and he tells a great anecdote about cooking for Tina Turner! What a guy Ken is! I can't wait to meet him in person and share some Chinese food with him (he's ordering).
Please go to this link to listen:

Guess what a cousin from Reunion found recently in a Parisian bookshop?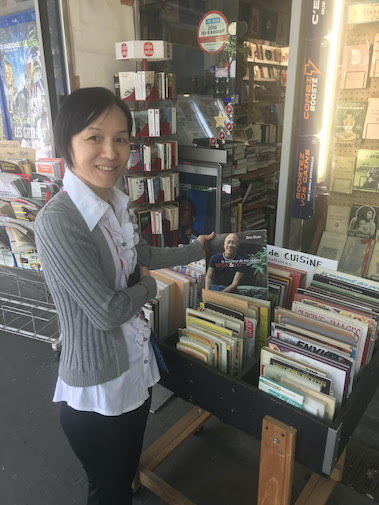 Food waste
Food waste is one of my strong pet peeves. It is not only destroying but unacceptable when so many people around the world do not have enough to eat. My work as ambassador for Action Against Hunger and how I try never to waste food is my way of fighting back. Here is an example, the other evening at our village feast, I brought along a container for any table scrapes which I then brought home and chopped up the next morning for my neighbourhood cats who were delighted. Lots of happy meows and no food waste!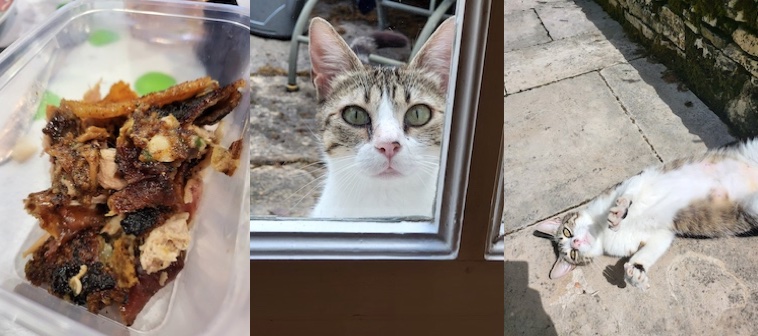 I would like to wish Her Majesty, The Queen, much good health and happiness on her jubilee! I also want to also thank her for being appointed honorary Commander of the Most Excellent Order of the British Empire (CBE). I am very humbled and grateful to her gracious Majesty for this award!
We are so excited to see who our finalists will be for The Golden Chopsticks Awards 2022  ⁠Public voting for the awards is open until the 27th June, so there is still time to cast your votes for your local favourite East and South East Asian restaurant, takeaway, cafe, street food vendor, chef or bar if you haven't already!  Visit www.thegoldenchopsticksawards.com to vote in as many categories as you like and for a chance to win some fabulous prizes. Myself and my fellow judging panel wish all nominees the very best of luck and are looking forward to meeting all the finalists later this year, for what is set to be yet another glittering celebration of our wonderful industry.
A fan from Germany!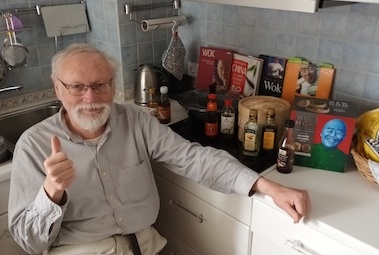 Guess what a friend found at their   AirBNB In Paris! Shocking!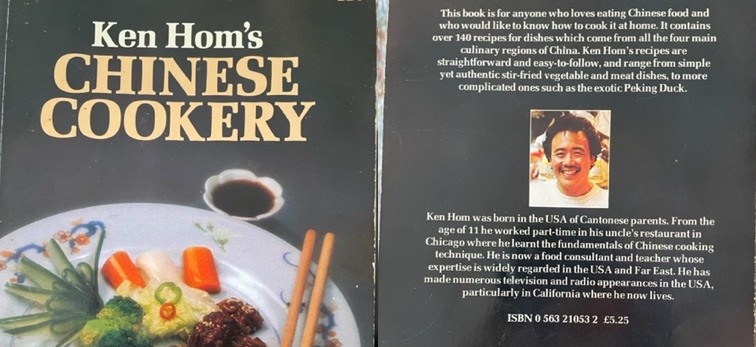 Chef Ken Homs curry rice noodles with vegetables – Vegetarian recipes to whip up in less than 15 minutes for busy Tuesdays
Aberdeen's IX Restaurant reopening this week
The Signature Food Festival returns to the Chester Hotel in Aberdeen this autumn with an impressive line-up of chefs taking part to cook a gourmet meal to fundraise for local charities
I would like to wish Her Majesty, The Queen, much good health and happiness on her jubilee! I also want to also thank her for being appointed honorary Commander of the Most Excellent Order of the British Empire (CBE). I am very humbled and grateful to her gracious Majesty for this award!
My heartiest congratulations and best wishes to the lovely Delia Smith who will be honoured with Lifetime Achievement Award by the Guild of Food Writers. Well deserved!
It's that time again, The Golden Chopsticks Award is now LIVE, so put down that Prawn Cracker and cast your vote
See this clip from Saturday Kitchen show. Enjoy
From the Daily Express 21 May Ken's career
Looking forward to seeing you this Saturday on Saturday Kitchen, BBC1. Ken is coming to the UK for the first time since January 2020! He will be appearing on Saturday Kitchen BBC1 10 am UK time,  on Saturday 21 May.
Platinum Jubilee
I want to wish Her Majesty, The Queen, a wonderful Platinum Jubilee and much good health and happiness! She is the BEST ever!!!
On Sunday 22 May, he will be appearing at the Stroud Food and Drink Festival, with a cookery demonstration, Q & A with the public, followed by book signingStroud Festival of Food and Drink
A new food festival is coming to Stroud in May 2022, bringing the likes of Jay Rayner and Ken Hom to the town for a mouth-watering celebration of food and drink.
Eurovision celebration
I celebrated Eurovision by cooking a meal for friends before the event. I made a favourite of mines which I have demonstrated on Saturday Kitchen. Crispy noodles with chicken. I also served Japanese gyoza dumplings brought from an Asian shop. A fig tart from a local pastry shop —— all helped with my cooking so that I would not be too tired for the main event. Although I was disappointed that the UK did not win, they were very good and came so close…..the four hour event in Turin, Italy lived up to my expectations!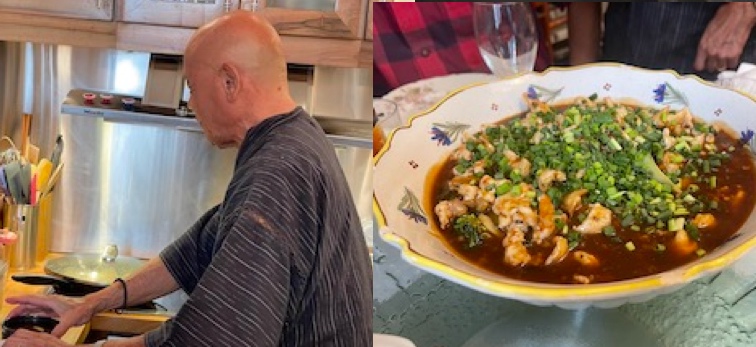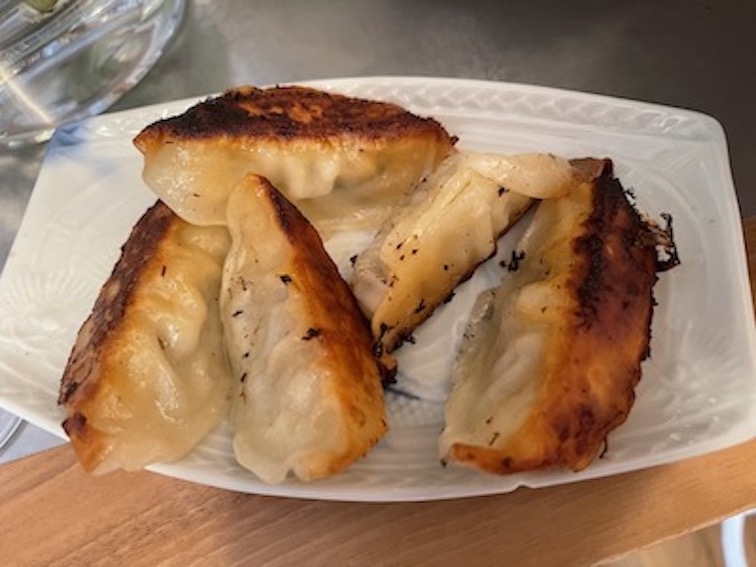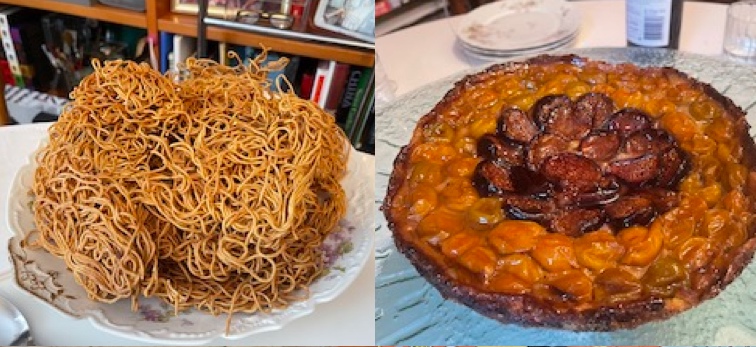 Please join me for the launch of a very important, interesting book and a conversation on China, the West & the emerging global order. I look forward to seeing you there!
Guess what I will be doing with friends on Saturday night??? Watching Eurovision! Please make sure you make a nice dinner before……a quick stir-fry perhaps?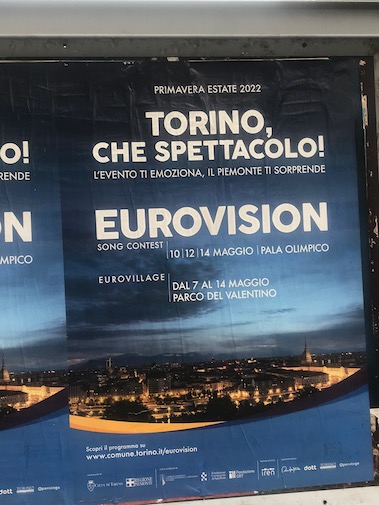 Guillaume in Paris
When my good chef friend, Guillaume Brahimi from Australia asked me to join his new TV series here in Paris, of course, I said yes! I was honoured and god smacked!
He made a dish, which I will not reveal as you need to watch the series. It was touchingly enough inspired from one of my recipes. It combines the best of French with Chinese, East/West at its best. Filmed in Paris! But it was so delicious, I asked for the left-overs which I had tonight for dinner. I have no doubt you will not be disappointed!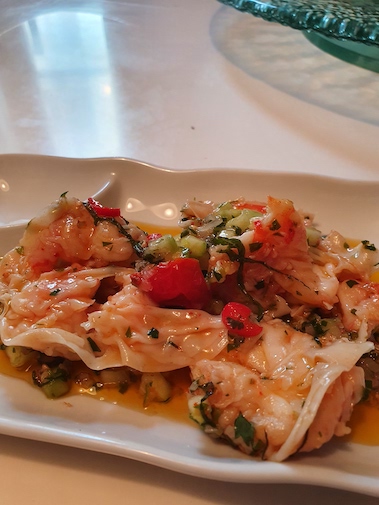 Château de Vaux-le-Vicomte
If you are visiting Paris and are interested in French food history, then don't miss a visit to Château de Vaux-le-Vicomte. I found the chateau and the fabulous gardens stunning but what really fascinated me was the huge kitchen. You have the distinct feeling that you are witnessing the actual French cooking as was done over 350 years ago. Alas the only thing missing was the actual smells and aromas but you can't have everything!


Chinese celebrity chef Ken Hom says 'MSG is used only by lazy cooks'
Major plans for new festival in Stroud with big names
iPlayer marks BBC's centenary with classic programming. The streaming service is adding more classic box sets to mark the Beeb reaching 100.
My friend, Ulli
Look what my good friend in Germany, Ulli, recently brought! He told me that he made bok choy as a starter, then frutti di mare with pasta (seafood with pasta.) And all in his new wok! My only advice is to keep your wok hot, Ulli!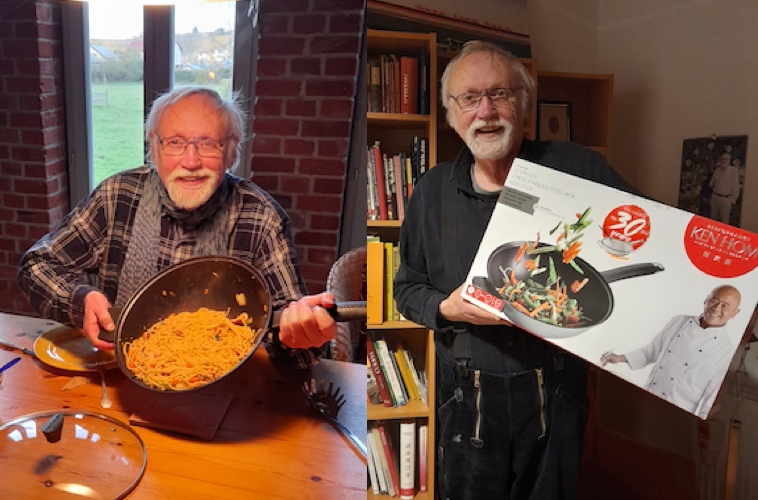 Bookreview: Curry Everyday by Atul Kochhar
Dorset man with the most curious hobbies – from giant Scalextrics to Chinese lion dancing
International Women's Day
I want to join in celebrating Women's Day throughout the world. I celebrate their courage, love, perseverance and their vision! They hold up half of heaven and more! Vive La Femme!
My letter to the editor of The Economist was published! Page 3
Scottish salmon
Scottish salmon is not difficult to find here in Bangkok. When I want a fast dinner,  I simply marinate the salmon fillets in teriyaki sauce for at least 40 minutes or more. Drain the marinade and blot dry the fillets with kitchen paper. Then sprinkle with Maldon salt and freshly ground black pepper to taste and pan-fry them in vegetable or olive oil  until they are slightly firm, I like them slightly medium rare but you can cook them more if you like to your taste. So easy, so quick and so delicious!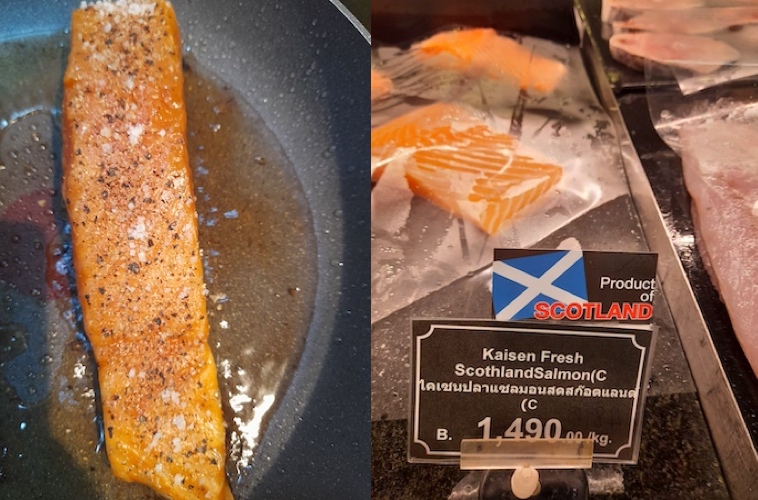 Chinese sausage lunch My lunch today was straight from my mum's kitchen: Chinese sausage with rice, fried egg and oyster sauce. Comfort home cooking at its best!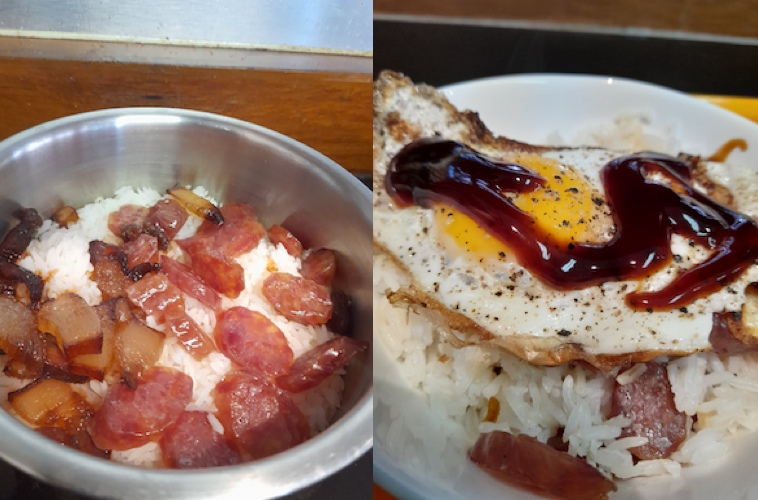 My forthcoming book in Thai!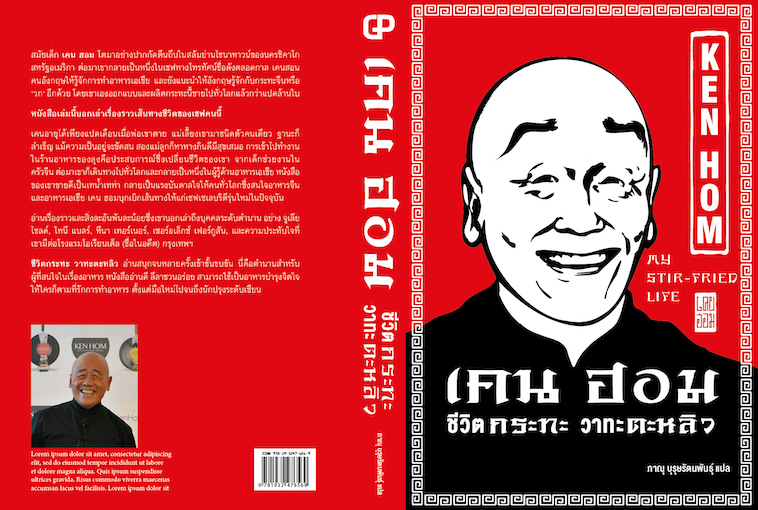 Wishing Her Majesty a speedy recovery! Good health!
Sue Burke
I was devastated to learn about the passing of my dear beloved friend, Sue Burke. We worked together for a long time, touring the UK as well as many countries in Europe and she was my invaluable assistant on countless demonstrations. Sue had a fantastic sense of humour and she had me in stitches all the time. She also taught me a great deal about Great Britain as I was not born or grew up there. With her intense training, I grew to be British in spirit if not body. It was Sue's fault that I became addicted to fish & chips! I will miss her greatly but she will be forever in my heart!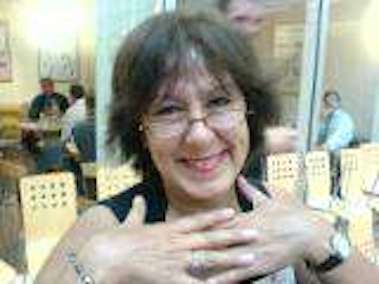 Announcing my autobiography 'My Stir Fried Life' now translated into Thai and will be launched at the end of March at Open House located at Central Embassy complex in Bangkok.
Here is the cover: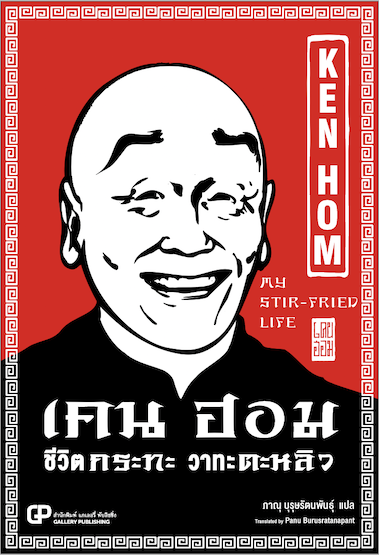 Platinum Jubilee
I wish to raise a toast to Her Majesty, the Queen on her Platinum Jubilee! Long may she reign!
Save the Children Syria
I have donated to the above charity to help the children of Syria and I urge you to please do the same! Here is the link
See a tasty Chicken Velvet and Spinach Soup recipe in the Washington Post
Saturday Kitchen
I am so grateful to Ching and Mandy who cooked my dishes for me!
Wishing everyone a Happy Healthy Lunar/Chinese New Year!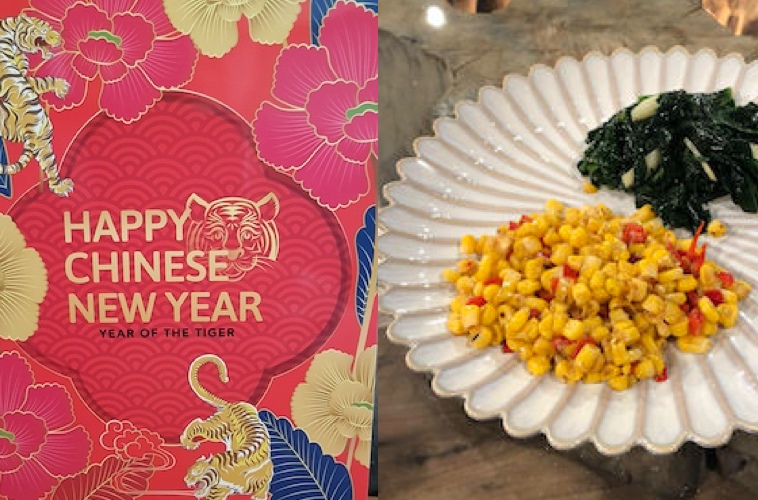 Chinese New Year
One of the traditions of Chinese New Year is that you must have your house cleaned by New Year's eve. This year, I had the help of a cleaning robot. It is the best buy I ever made. Happy Chinese/ Lunar New Year to all!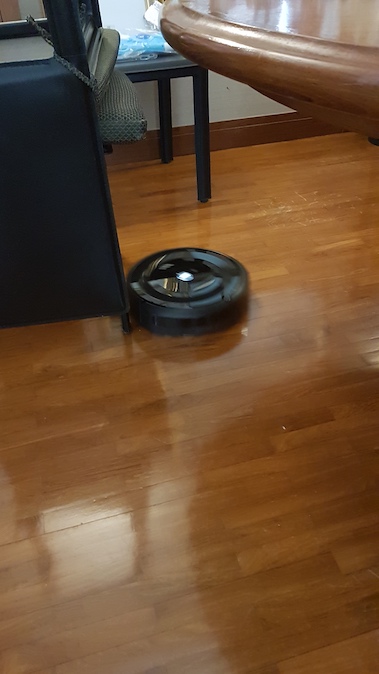 To all my lovely followers out there: I am pleased to announce that I will be on Saturday Kitchen 10 am -11.30 am zooming in from Bangkok to wish Happy Chinese New Year to everyone and to suggest tasty and easy recipes for you to try. I hope that Matt Tebbutt is feeling very much better this week! See you then!
It's Chinese New Year Week! In February I am supporting the #stirfryfrenzy campaign in support of VegPowerUK by suggesting some of my favourite stir fry recipes. Why not try the unusual Stir Fried Cucumber? You will love it, find it on my on the front page of my website
Stanley Tse
Stanley Tse through his company, SeeWoo Group Ltd, imported Asian ingredients, foods as well as sauces and spices. This allowed the UK public to experiment with Asian flavours which has contributed in the building of a multi-cultural society which enriches everyone. Second, his tireless efforts on behalf of charitable causes is well known and so is his constant building of cultural bridges between the UK and China. On a personal level, I found Stanley a simple man full of laughter and smiles. I will greatly miss him. His values were hard work, single minded focus and concentration on making his business the best. These were values that informed and inspired my teaching and writing. I am grateful to have known Stanley and lucky to have been his friend.
Year of the Tiger
I would like to wish everyone a very Happy & Healthy Chinese New Year of the Tiger!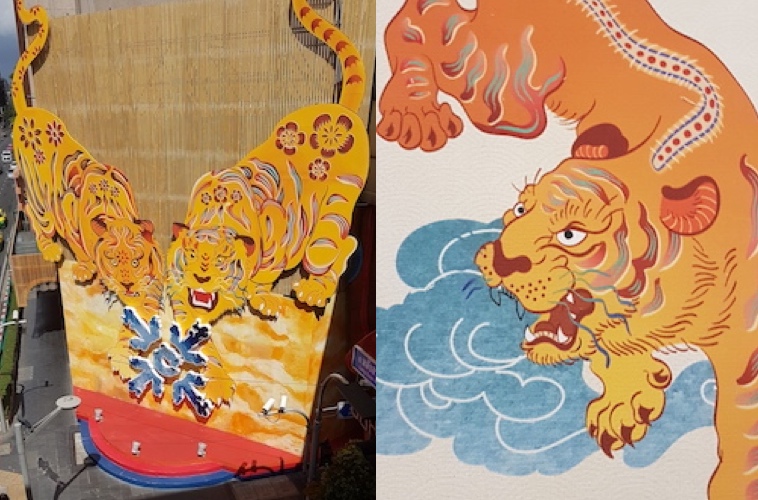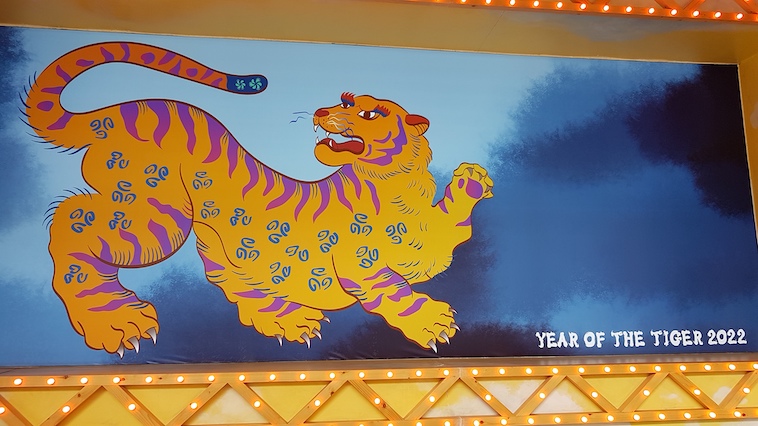 In today's Daily Telegraph: The best Burns Night recipes to cook for a traditional Scottish supper · Ken Hom's chicken fried rice recipe.
Happy Cooking!
Book
This is a MUST HAVE book for anyone who loves Chinese food. It is about the most wonderful stories from Chinese restaurants around the world. Fasten your seatbelt and don't read this book whilst you are hungry!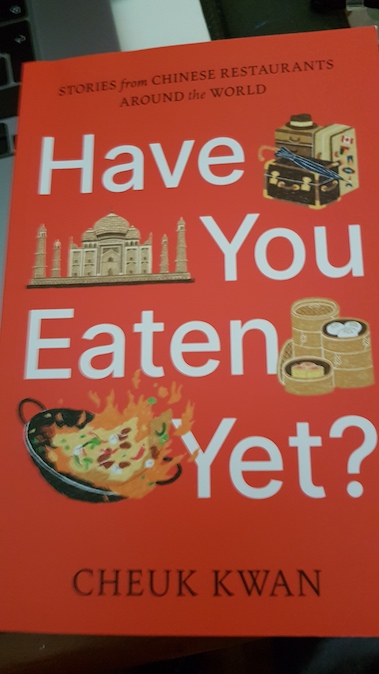 My Life Through a Lens…in the Mail on Saturday 14 January… the countdown to Chinese New Year has started
BBC centenary: Ken Hom's Wok – 100 Objects that made the BBC
Congressional Gold Medal
My father whom I never really have known because he passed away when I was eight months old. But I am so proud that he was awarded a Congressional Gold Medal for his services during World War II.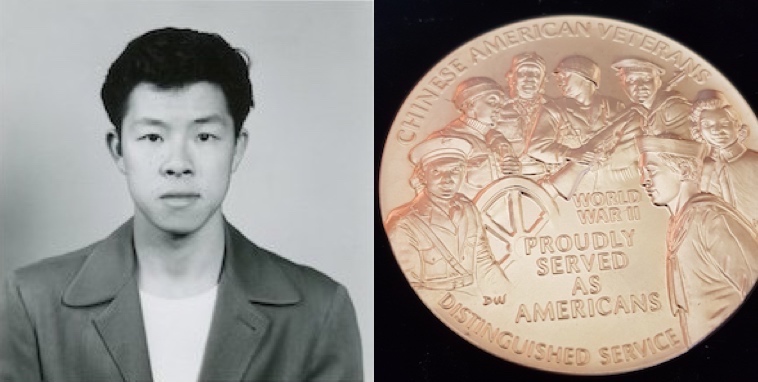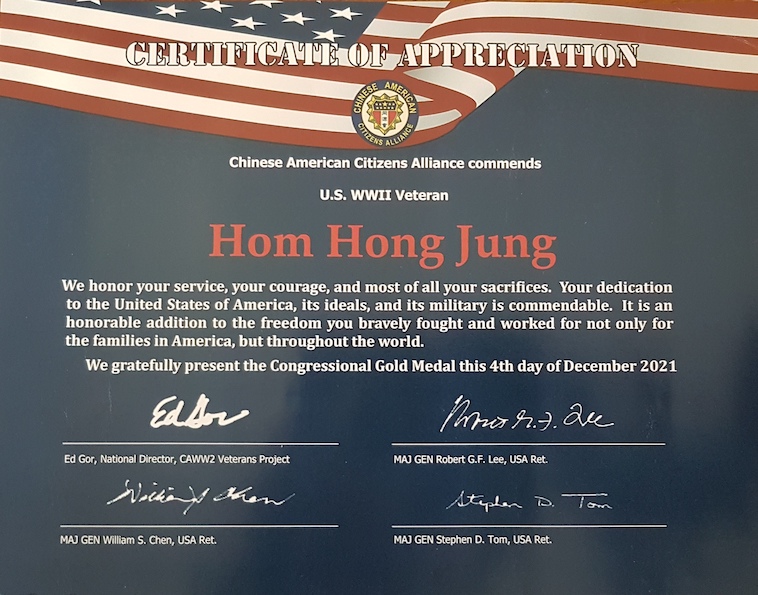 A fan
My good friend Sean Burke sent me this photo of his friend with a familiar apron! Small world, indeed!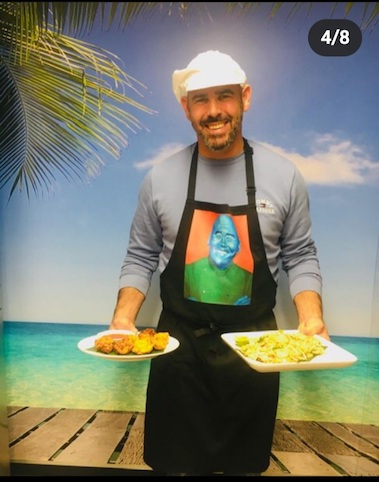 A perfect gift for anyone who loves Chinese food!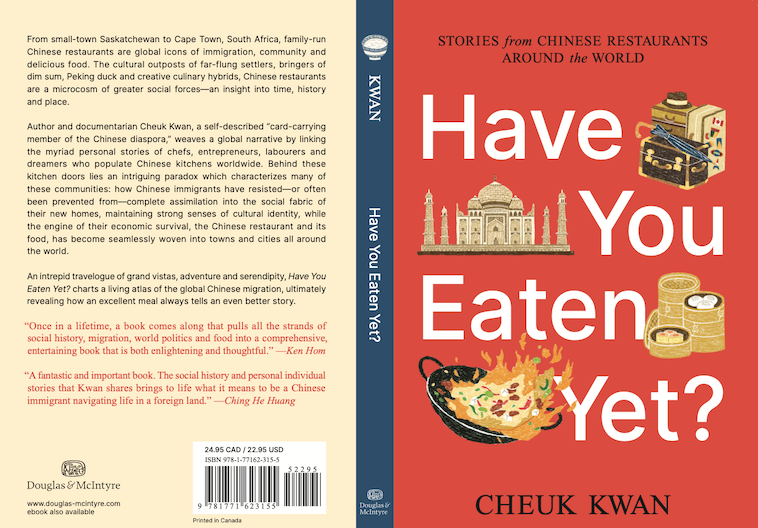 Spice up the kitchen with simple Chinese recipes
The Master of Asian Cuisine in Hello Magazine (Thai version)
Dear friends, please see this link to a live conversation with my good friend, Yue Parkinson in her new book on China and the West with Sir Vince Cable. I guarantee you will find it as fascinating as her book!
Families in Afghanistan are facing unprecedented levels of hunger. Together with other members of DEC appeal Action Against Hunger is ready to respond – but they need your help.
Donate today    https://www.actionagainsthunger.org.uk/dec-afghanistan-crisis-appeal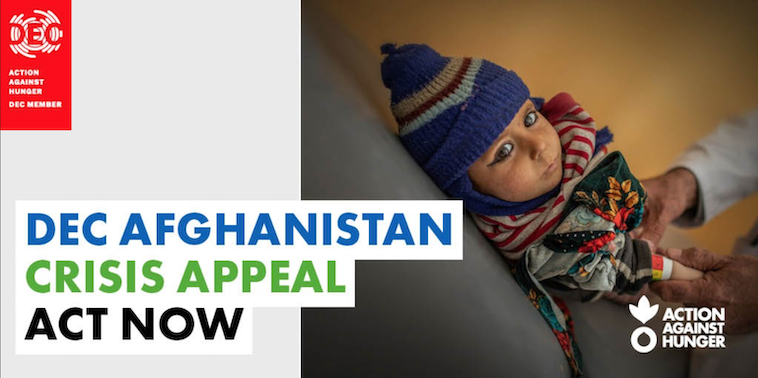 photo credit: Kellie Ryan/@RESCUE_UK
Fish & Chips
As many of you know I am addicted to fish & chips! I finally got my hit yesterday at the Water Library restaurant here at the Central Embassy in Bangkok. I reckon they make one of the best! I finally got what Mick Jagger calls satisfaction! Delicious and spot on!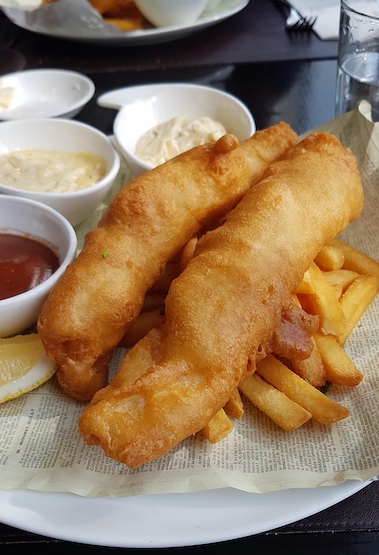 Ceres
Although I am now in my home in Bangkok, I still have my cache of Ceres wonderful batter mixes. Last night, I made a simple Ceres batter using Thai Singha beer and fresh prawns. Needless to say, it was quick, easy, light and quite amazingly delicious as well. With a simple salad, it was a perfect evening!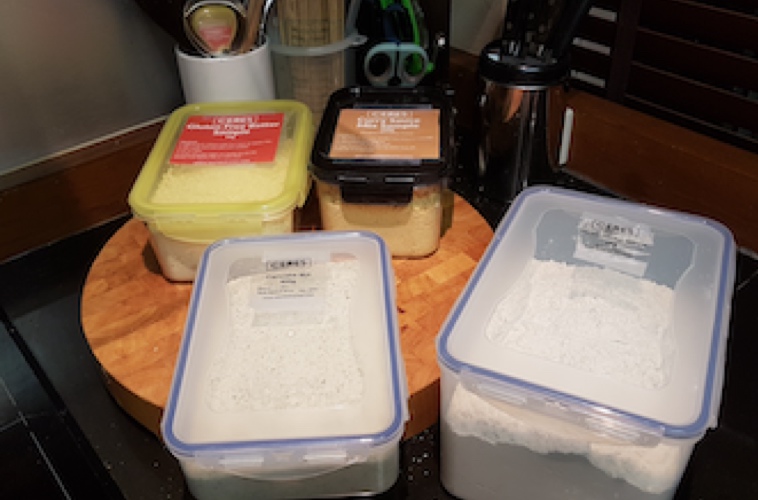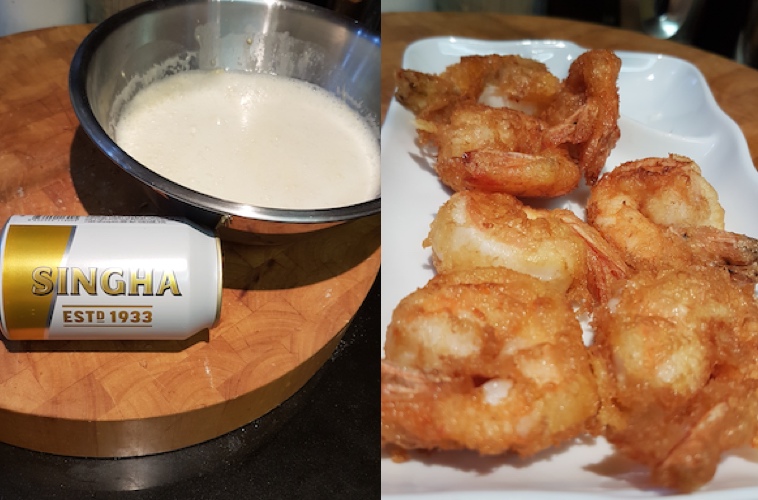 Bangkok
I am happy to see here in Bangkok: Temperature checks everywhere as well as hand sanitizer gel! As well as everyone wearing face masks. Being extra careful is a good thing these days. We are living in challenging times and my wish is for everyone to be safe and healthy!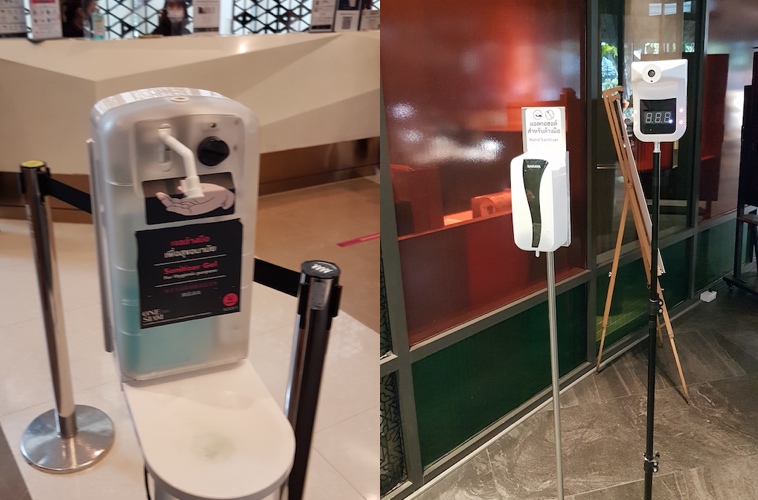 I have a spirit house on my terrace here in Bangkok. It is a shrine to the protective spirit of a place. Mine is in the form of a small roofed structure, and is mounted on a pillar or on a dais. And now I have birds making a nest inside making it even more propitious!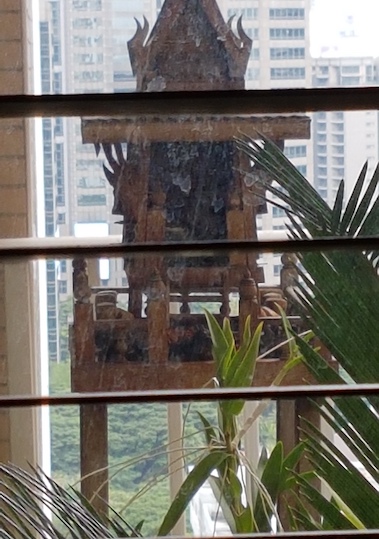 Chef Man
My good friend, Lili, invited me for lunch at Chef Man, one of my favourite Chinese restaurants in Bangkok. I accepted with pleasure what a feast it was. Soft rice noodle dumpling wrapped around juicy prawns and layered with crisp tofu was a delicious beginning. A glutinous rice dumpling with abalone was out of this world.
Chef Man's signature roast pork belly lived up to its reputation. While prawns wrapped in tofu skin and then fried fulfill the dream of foodie heaven. If you come to Bangkok, don't forget to make Chef Man one of your destinations.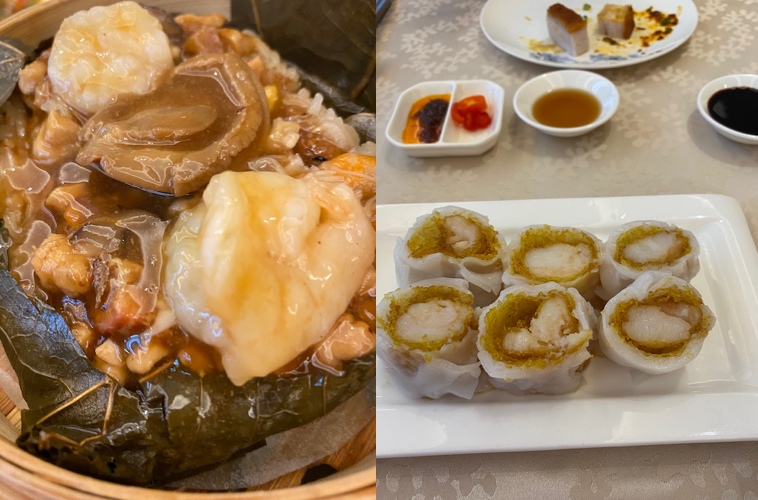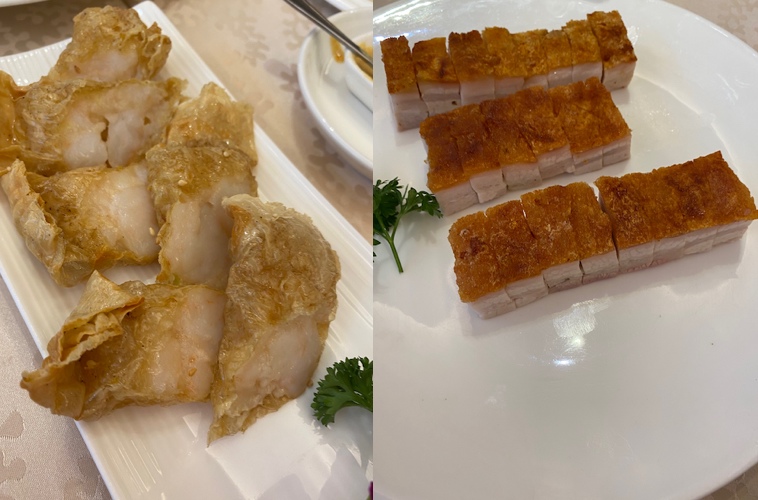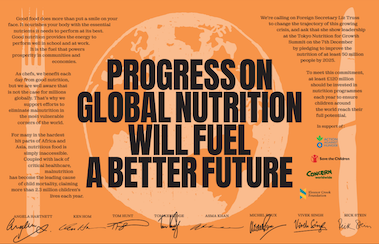 Diners at COSMO sent in their votes to help the company scoop the title at the 2020 Golden Chopsticks Awards.
International Day of Food Loss and Waste
In celebration of International Day of Food Loss and Waste, I literally empty my fridge of various leftover bits of cheese, herbs, a couple of tomatoes and endives. Simply salt, freshly ground black pepper and drizzled the whole with wonderful Italian extra virgin olive oil. Nothing could be better: refreshing, healthy, delicious and no waste!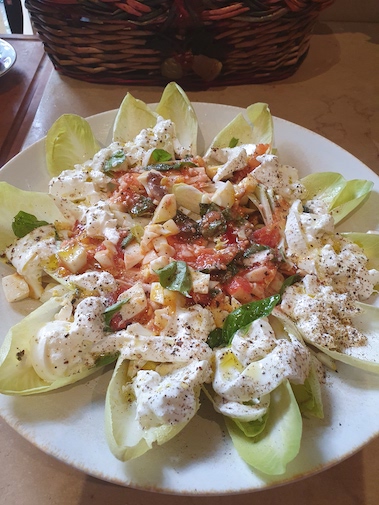 Mid-Autumn Festival
The Chinese Mid-Autumn Festival begins September 21st and it brings back many happy memories for me, especially eating mooncakes. I love the ones in which they are filled with sweet lotus paste and in the centre is a rich salty duck egg yolk. You can find mooncakes in Chinatown bakeries everywhere to make your own celebration!
Fish cakes
Last night, I decided to make fish cakes as I had the Ceres fish cake mixture. I simply chopped up fresh salmon and onions and added the mixture. I shaped the cakes and refrigerated them for about 1 hour and then fried them in olive oil. What I love about the process was that with little work, I was able to make super delicious fish cakes!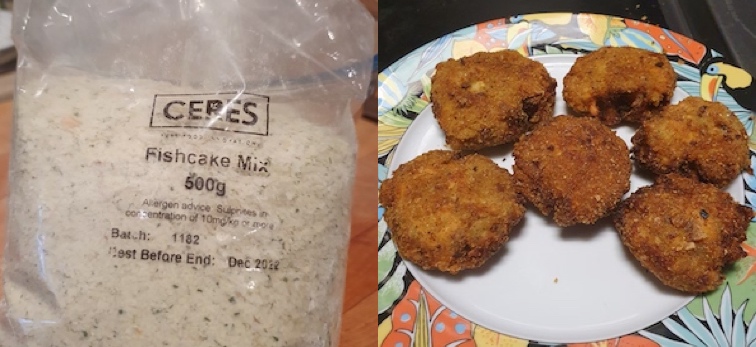 In my enjoyable interview with Unforgettable Travel Company, I was asked "which top 5 cities offer the best Asian cuisine outside of China". Any guesses on what my answers were? Read the full interview to find out which cites made the shortlist
I am very excited to feature in this month's Unforgettable Travel Magazine, talking about all things Asian cuisine, travel, and culture. In this interview, I share some of my tips for cooking delicious Chinese food, my favourite culinary spots across the globe, and even share an insight into the most interesting celebrities I've cooked for. Read the full interview
FT China
I recently made a truffle meal for my good friend, Yue, who wrote about it for FT China. My truffle book collaborator, Pierre-Jean Pebeyre of the famous truffle family, joined me to celebrate the wonders of the aromatic fungus! Here is the link:
Duck heaven
Duck is the main staple here in southwest France. At a recent dinner party, I served: duck foie gras, confit duck feet and wings and gratons (crackling duck skin). For the main course, I made a simple roast chicken and served with garden fresh vegetables stir-fried with oyster sauce. All of course, washed down with champagne and local red wine!


Bravo Emma!
I would like to congratulate Emma Raducanu on her winning of the U.S. Open tennis title! What a fantastic role model for young women everywhere! We can all be very proud of Emma!
Duck confit
One of my East/West signature dishes is duck confit with Asian flavours. When I made this for my French village feast, Ghislaine Borie, a good friend and local duck producer took the recipe to heart and began to produce duck confit inspired by my Asian flavours of ginger, garlic, spring onions, star anise, cinnamon as well as five spices. When my friend, Yue Parkinson came to visit, I could not resist giving her Ghislaine's confit. She brought it back to Bristol and had a feast with her family who loved it! Truly France meeting China meeting England!

Salt & Pepper Prawns
I made a new version of the classic Salt & Pepper Prawns. First I dip shelled raw prawns in my Ceres Natural Batter Mix with beer which I then fried in my wok. Once crispy, I pour off most of the oil, drain the prawns and then toss them in a mixture of salt, freshly ground black pepper, dried chilli flakes and dried chopped garlic. Instant delicious addicting Salt & Pepper Prawns and so easy!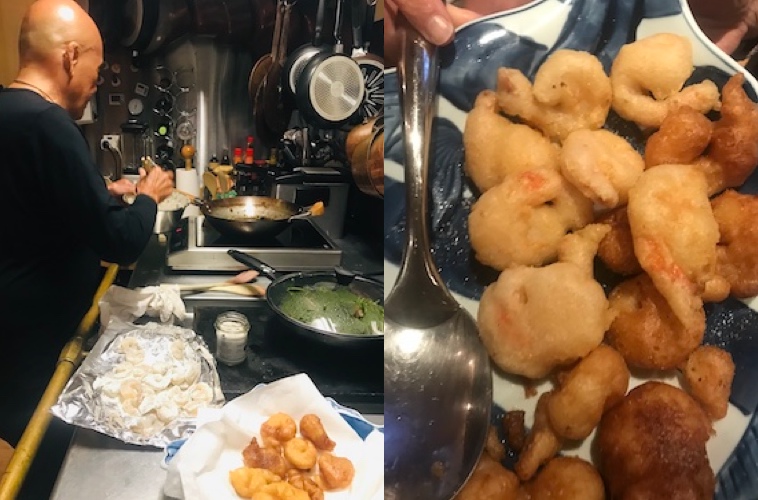 How to make perfect rice every time.
Cateys 2021
Angela Hartnett, Andrew Wong and Alastair Storey win top gongs. My heartiest congratulations to Angela, Andrew and Alastair who rightfully deserved winning!
Food waste
I have been the most popular person with all the neighbour cats in my village. They help me with bits and pieces of meat or food that I would have to throw away. Instead now I chop everything up and flavour the mixture with chicken or duck fat and voila here are some of my biggest fans!!!! Together we fight against food waste!

I am delighted that my good friend Antonio Carluccio's book collection will be joining mines at Oxford Brookes University!
Fish & Chips
Market day is on Tuesday in my village here in France. At the fishmonger I saw wonderful fresh cod which I immediately brought so that I could make one of my favourite dishes: fish & chips. It gave me a chance to try Ceres natural batter mix to which I added beer. The result was one of the best fish and chips I had ever made. Of course all made in the wok!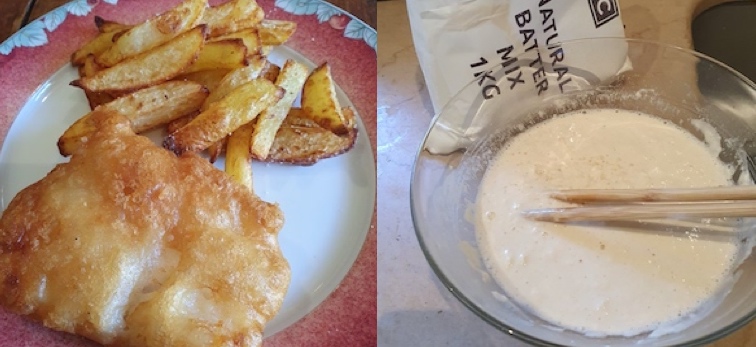 The Chase – Beat the Chasers
My good friend and chef, Sabrina Ghayour saw this on the game show The Chase – Beat the Chasers and sent it to me for laughs!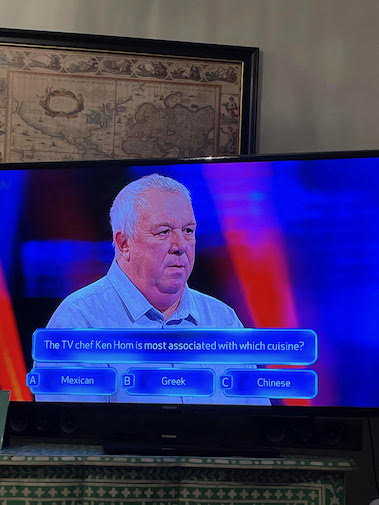 Carbonade Flamande Part 2
Invited to Carbonade Flamande feast with my other guests, who brought the desserts to share. A classic Italian tiramisu that was light, airy and not too sweet. A wonderful classic apricot plum tart was also fantastic. A rich chocolate pudding tart capped the evening which was all washed down with lots of good wine as well. And I didn't have to cook! What a treat to know so many good cooks!

Carbonade Flamande
Although I rarely eat beef, I could not resist an invitation from a good friend to sample her classic Carbonade Flamande which is beef cheek and shank braised in beer, onions, garlic, butter, salt, pepper and Pain d'epices, a mixture of spices: aniseed, clove, nutmeg and cinnamon for 3 hours. It was served with simple boiled potatoes. Needless to say it was utterly delicious and I did have a second helping. The meat was so tender and infused with tastes and flavours that was new to me. I loved it!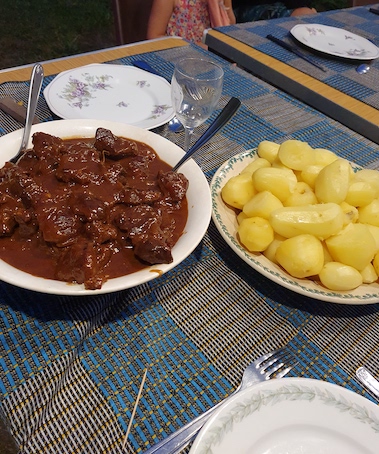 The Gourmand Awards ceremonies for 2020, 2021, and the Best of the past 25 years of cookbooks will be on November 29 and 30  2021 at Paris Cookbook Fair.  The Best25 includes the book Exploring China: A Culinary Adventure By Ken Hom & Ching He Huang
Pain Bagna
The harvest of summer can be summed up in Pain Bagna. A southern French speciality is sunshine in a sandwich. Simply take fresh crispy baguette, ripe tomatoes, chopped garlic, fresh basil leaves, anchovies and boiled eggs. Season well with salt and freshly ground black pepper. Drizzle with lots of extra virgin olive oil. Take a bite and you are in heaven!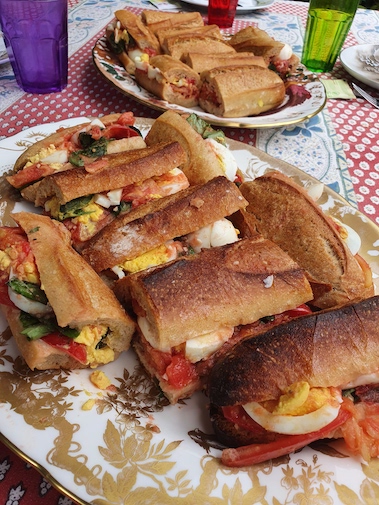 Fish & Chips in my wok
A wok is not just for stir-fries or Asian cooking but really wonderful for my all time favourite: Fish & Chips! I peel and hand cut my potatoes and then soak them in cold water and leave them in the fridge for at least 2 hours or overnight. Before frying the chips, spin them dry in a salad spinner and then dry them on towels. I fry them twice. I am partial to cod which I dust with flour then dip in my beer batter. I serve the lot with malt vinegar. Heaven on earth and all done in my wok!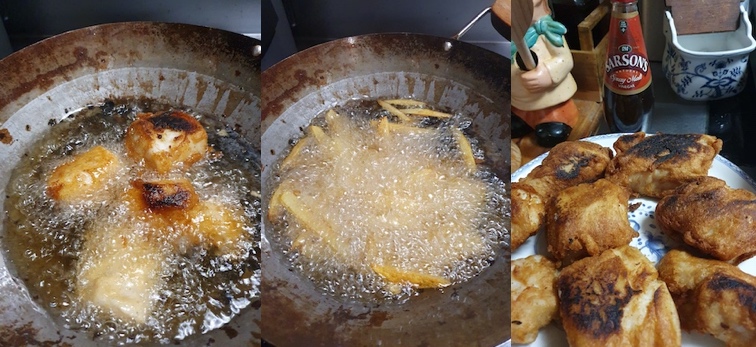 Florida
Look at what my cousin who lives in Florida found at a local cookware shop! What a small world!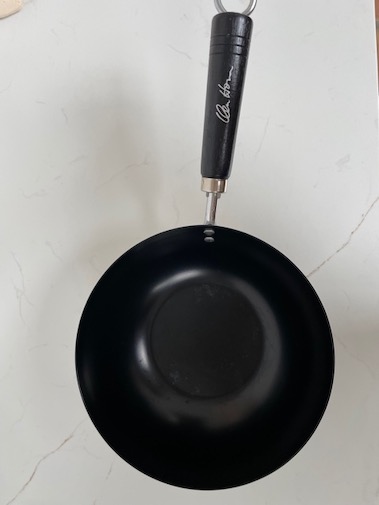 Saving your wok
I am often asked what do you do when your carbon steel wok gets rusty? You can easily restore it by doing the following. First soak the rusty wok in hot water, then scrub it clean with dishwashing liquid. This is the only time you should ever use soap on a wok. Then slowly heat up your wok over low heat and rub vegetable oil all over the surface. Continue to heat your wok and rub it from time to time with kitchen paper until your kitchen paper is totally clean and clear. Now you are ready to use your wok again!


Food waste
Here is a tip on how not to waste food. I always save bits of any dish that is left over such as pasta, for example. I then freeze bits and pieces in a carefully labeled bag. Then when I make soup, I chuck all leftover bits in, puree everything in a blender, add a touch of cream, season well and voila, the best soup ever!!! And no food waste!! Save the planet.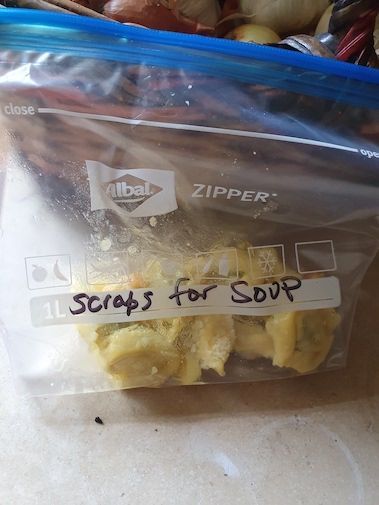 Italian summer joys
One of the easiest to make in the summer when tomatoes are ripe is one of my favourite salads. Take slices of fresh ripe tomatoes, layer it with slices of Italian burrata and mozzarella cheese, fresh basil leaves, salt & freshly ground black pepper and drizzle abundantly with Italian extra virgin olive oil. What could be better, simple and more delicious?????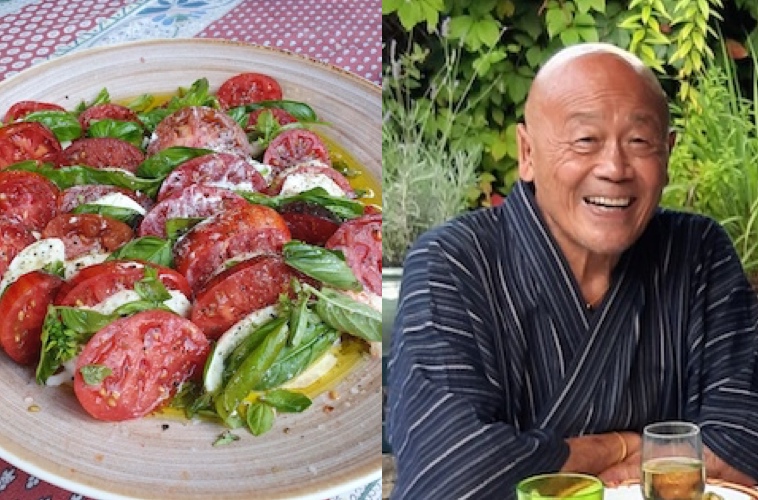 Summer joys
One of the greatest joys of summer which nature gives us is the abundance of fresh vegetables. What a super time to make dishes like stuffed tomatoes and courgettes. I love making huge portions as they freeze extremely well. For a vegetarian version, simply use chopped vegetables fried with onions and garlic and add leftover dried bread pieces and any cooked rice you may have. Remember to season well with salt & freshly ground black pepper. To your good health!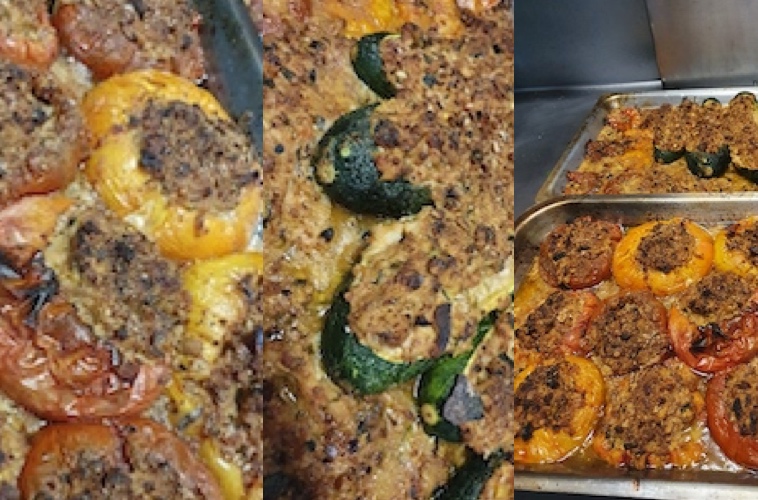 Stelios Theocharous travels and talks to exciting people within the Food & Hospitality industry. Hear Ken here
Team GB
I want to send my heartiest congratulations to Team GB! They were truly an inspiration and they brought such a positive ray of hope in these challenging times. I wanted to celebrate with my favourite Fish & Chips but had to settle for Baked beans with scrambled eggs with fresh chives from my garden! Well done Team GB!!!!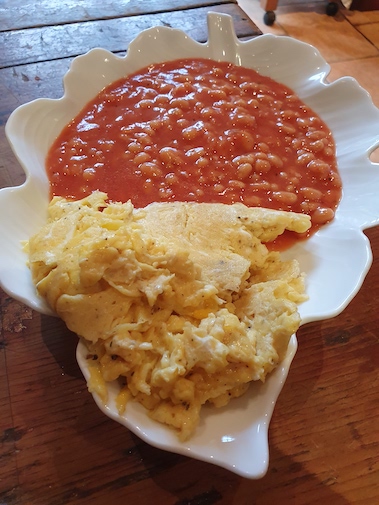 Olympic Games Tokyo 2020
I am so proud and thrilled to see Team GB as No. 4 on the Olympic Games list!
I have been riveted to the telly as never before and as a militant feminist I love seeing so many women compete and win! Congratulations Team GB, you make us all so happy and thank you for bringing us sunshine during these challenging times!
A small world indeed!
Look what someone sent me this photo from a shop in Croatia recently.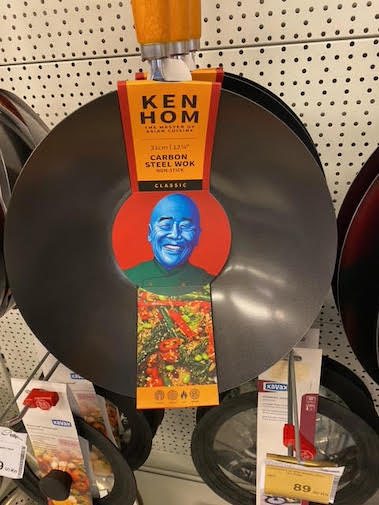 Sharing
As a child of immigrants I have always felt that immigration can be  positive. I love that you can get almost any type of Asian food anywhere in the UK and it is all very good, indeed. Returning to Paris, I was hungry for Chinese food as I was too jet-lagged to cook So I went to my favourite Chinese takeaway just a few minutes away where a young Chinese chef is making simply delicious food. The potstickers were absolutely homemade. The stir-fried bean thread noodles, cabbage salad and steamed dumplings was such a perfect tasty dinner that I seriously thought of retiring. Just kidding! Viva the joy of sharing our different cultures and food!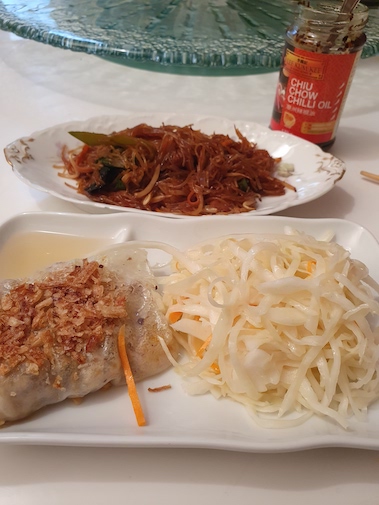 Celebrating
What a better way to celebrate my return to France from Bangkok than to have a platter of the most aromatic iconic selection of French cheeses with a crispy fresh organic baguette. I included the Laughing Cow cheese for my first young exposure to French cheese. And I didn't even have to cook! Viva la France!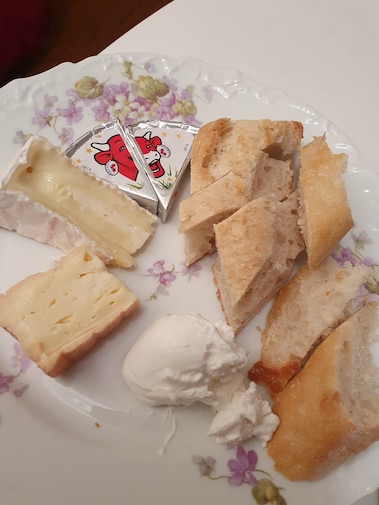 Traveling
What a strange dystopian world it seems like today especially when you travel. The other day I left Bangkok and its airport was usually packed with people.  Instead it felt deserted. Hardly any flights were leaving. My wide body plane usually holds up to 290 passengers but had only 32 passengers including me! I asked a flight steward how it was possible that the flight could even fly with such a low number of passengers. I was told it was carrying mainly cargo which made the flight possible. Stranger than fiction!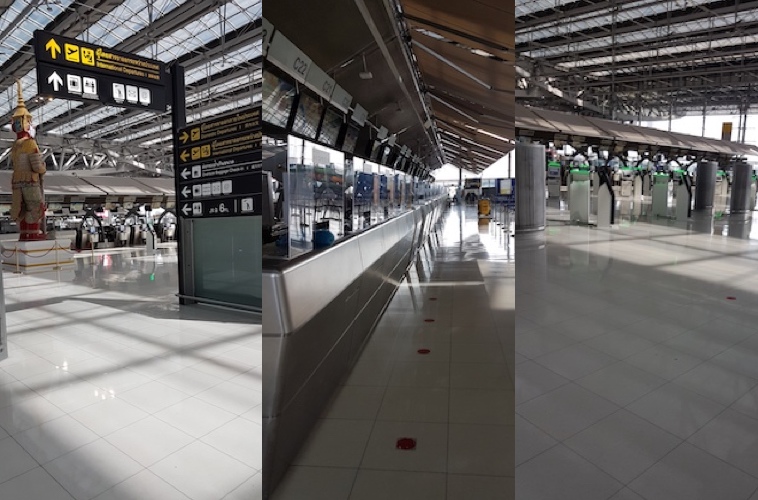 Lee Kum Kee
I was sorry and very sad to hear Lee Man-tat the chairman of Lee Kum Kee passed away on Monday. He was certainly a visionary  inspirational leader who transformed   Lee Kum Kee into a global sauce brand while maintaining its high quality. It is certainly my sauce of choice and hundreds of millions of cooks around the world would agree. I was fortunate to meet and talk with Mr Lee who was a charming and lovely gentleman. His family has my deepest condolences and I shall miss him as well.
Farewell luncheon
With a heavy heart I will soon be leaving Bangkok. My good friend, Lili, make a wonderful farewell luncheon. She began with a stir-fried savoury but light bean thread noodles with crab with a vibrant spicy sauce. Then it was followed by an outstanding braised pork dish with hints of star anise in a rich sauce which she served with rice. Dessert was a rich not too sweet chocolate cake that took her 7 minutes to make in the microwave! The meal was so good that I was feeling very sad to leave Bangkok!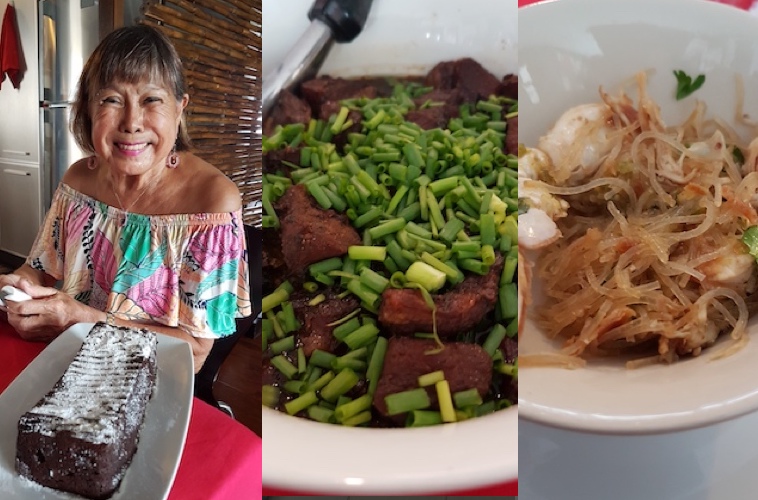 Quick salmon
When I am in a rush, nothing is more simple, delicious, quick and nutritious than a thick salmon fillet. After seasoning with salt & pepper, I pan-fry the fillet in a bit of olive oil. Then I serve it with my secret sauce: Lee Kum Kee Teriyaki sauce. Takes literally minutes and I can guarantee you will not be disappointed!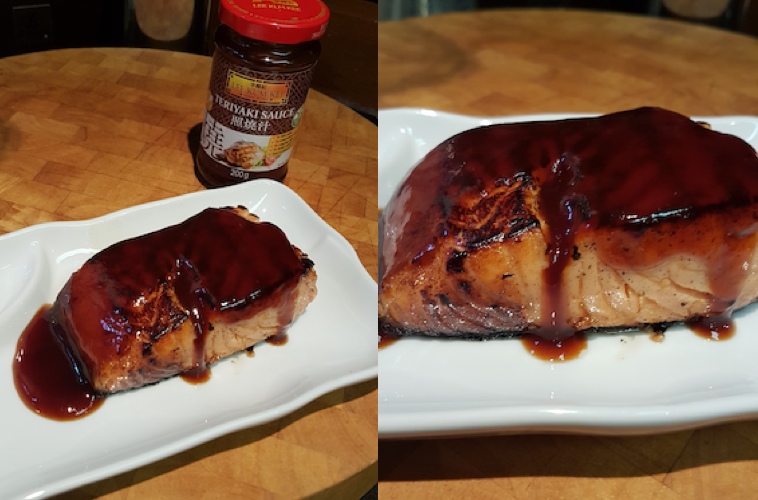 Food gift
There is no better gift in the world than when someone who cooks for you. So when my good friend, Lili brought a savoury looking liver terrine as a gift, I was over the moon. Why? Because I know she is a great instinctive cook with impeccable taste. So how was it? Absolutely delicious, moist and so flavourful. I felt like I was in France in the middle of Bangkok!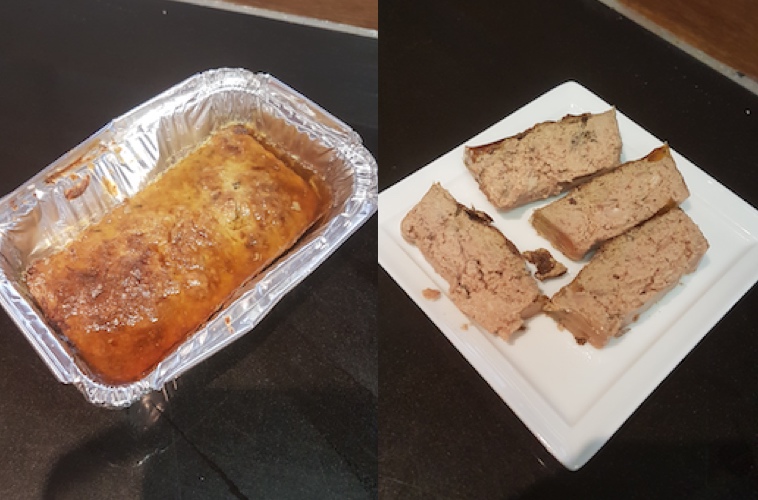 What to Cook Right Now in the NY Times
Bastille Day
Recently I celebrated Bastille Day with French boudin (blood sausage) with garlic bread and a pasta spinach gratin which I made with leftover pasta, cooked spinach. I made a bechamel sauce with parmesan cheese and then put the whole in a hot oven! What a delicious way to cut food waste!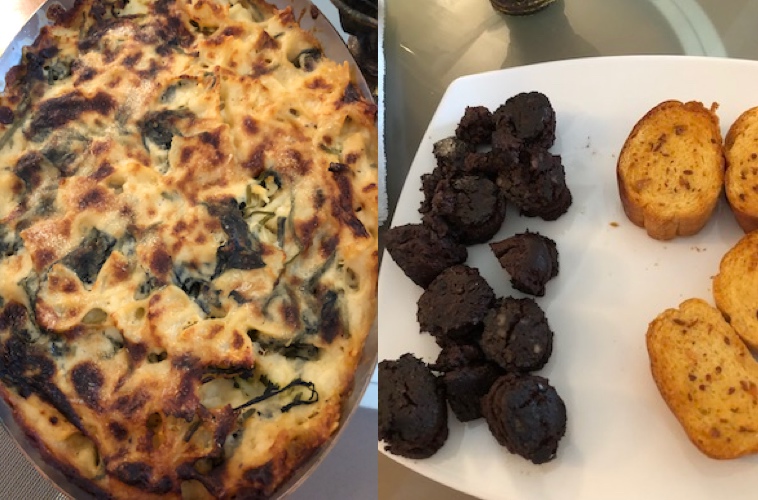 Quick meal
Nothing beats fresh squid for a quick easy meal. When I saw fresh baby squid at my local supermarket, I snapped them up immediately. I simply pat them very dry with kitchen paper, quickly dust them in cornflour, shake off any excess flour and fry them in the wok. Takes literally minutes. Then I drained the fried squid and tossed them back into the wok and added some dried chilli flakes, salt, pepper and dried garlic and gave the whole mixture a quick toss. I served them with brussel sprouts for a wonderful supper!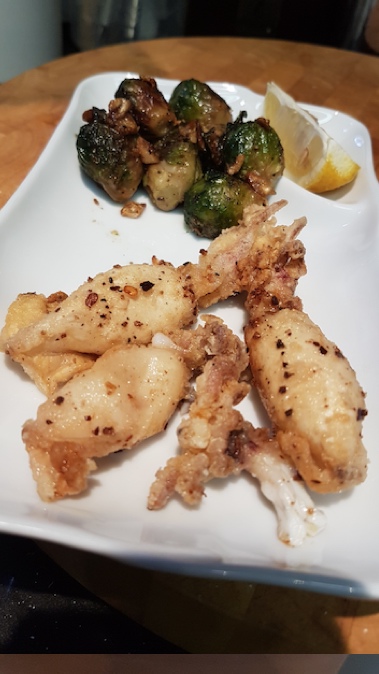 I am thrilled that my good friend, Brian Claridge, a top journalist's book Stress Under the Spotlight is getting a well deserved revival. Perfect for these challenging times! Well worth a read!
Bangkok street markets
One of the aspects that I love most about living in Bangkok is the abundance of street markets. All of them make delicious home cooked dishes. The other day, I picked up Stuffed Bitter Melon in Soup. The savoury minced pork filling reminded me so much of my mum's home cooking. It was comforting food at its best. I served it with chilli sauce made from fresh chillies from my garden terrace. And what was astonishing was the cost, a bit more than two quid! Food paradise!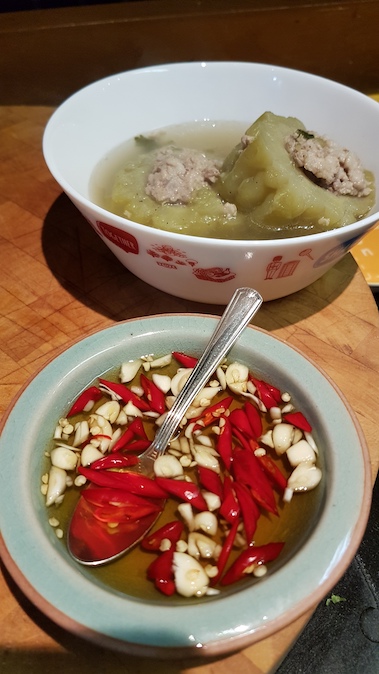 Leftover idea
I had some leftover mashed potatoes as I abhor food waste……so I turned it easily into another dish. I simply beat in two eggs and season with salt & pepper, and added some dried bread crumbs. With a large spoon, I add them with a hot skillet with olive oil and instant savoury potato pancakes and no waste! So join me and stop food waste!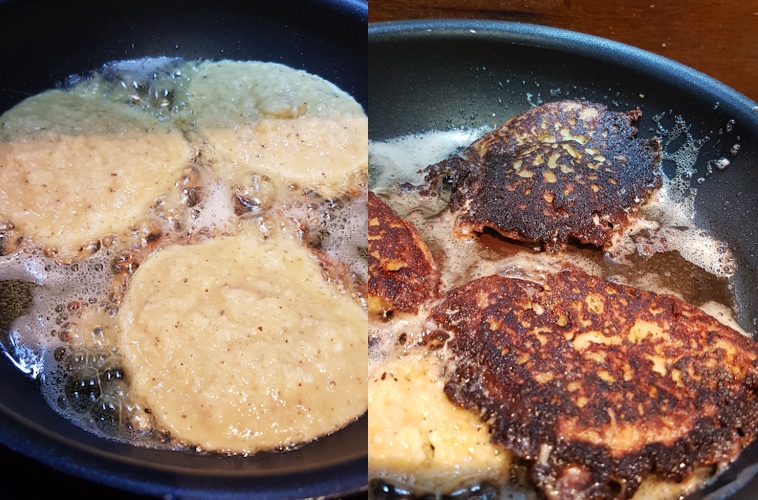 Wicked
Although crackling pork rind might not be exactly healthy food, it is one of the great snack pleasures you can find here in Bangkok. With either beer or whiskey it is the perfect companion. One has to practice through moderation! I think it is probably worse to deny yourself something so delicious!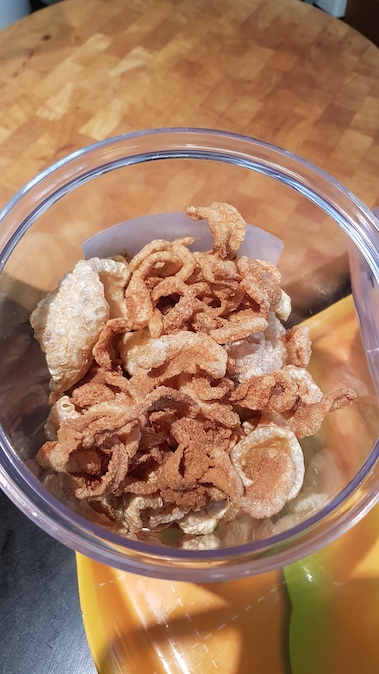 You can listen to my grilling podcast with Simon Rimmer!
Baked beans
I was heartbroken over English losing in the Euro 2020. I did not have the strength to cook, so I simply made baked beans with scrambled eggs and toasted garlic. It made me think of England. The English team played well and alas, it was close. I wish them all the very best!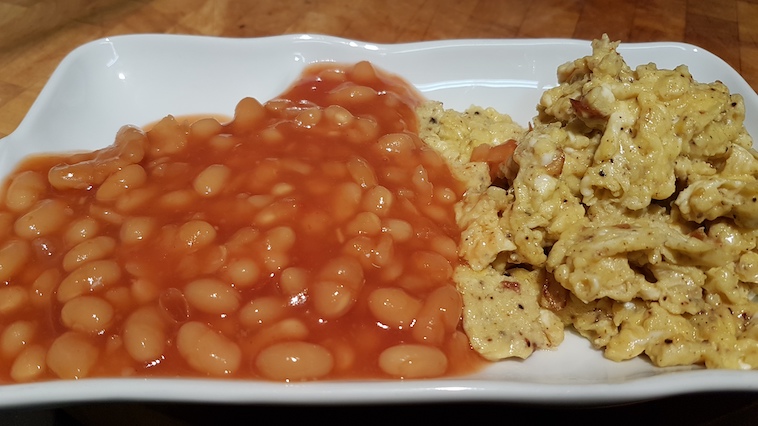 Mooncakes
A mooncake is a Chinese bakery product traditionally eaten during the Mid-Autumn Festival. The festival is about lunar appreciation and Moon watching, and mooncakes are regarded as an indispensable delicacy. However, here in Bangkok, it seems everyone is jumping the gun by offering mooncakes in the summer. A hotel near my flat, St Regis, had some original mooncakes which I decided to try. Delicious. Instead of the usual sweet bean paste, the salted duck egg was surrounded by crunchy peanuts and coconut. And to my taste, as it was not too sweet!

Author's fascinating insight into 'life at the top'
Two for one mashed potatoes
Here is my recipe for great mashed potatoes:  Peel  and cut up potatoes, add to either veggie or chicken stock together with about six cloves of peeled garlic and cook for about 8-10 minutes until done. Drain & save the stock when done. Then mashed the potatoes, add some milk, a few splashes of the stock, salt & pepper and some butter. Freeze and use the saved stock for the next soup! Two for one and no waste! Bon appetit!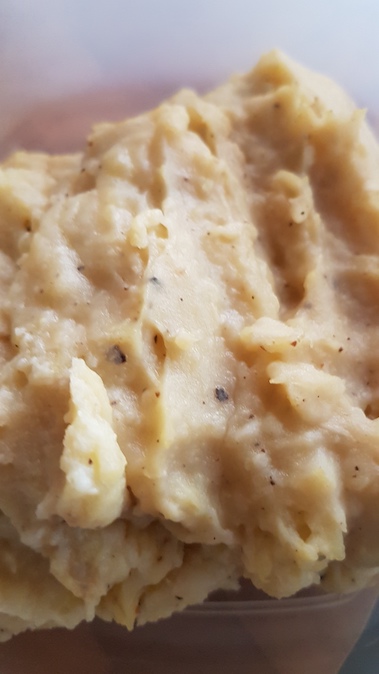 Thais & Football
Here in Bangkok we are swept up with the Euro 2020 final. The Thais are crazy about football. What is great about being here is that I can watch the match without having to cook! All I have to do is to go out on the street in front of my flat where a lady sells some of the most wonderful delicious snacks, perfect while watching the match.
Marinated chicken thighs slices on a skewer, flavourful chicken pancake sliced and chicken with chillies on skewer. All accompanied by a fiery hot dipping sauce. I can now concentrate on the match and cheering for England to win!  What could be better????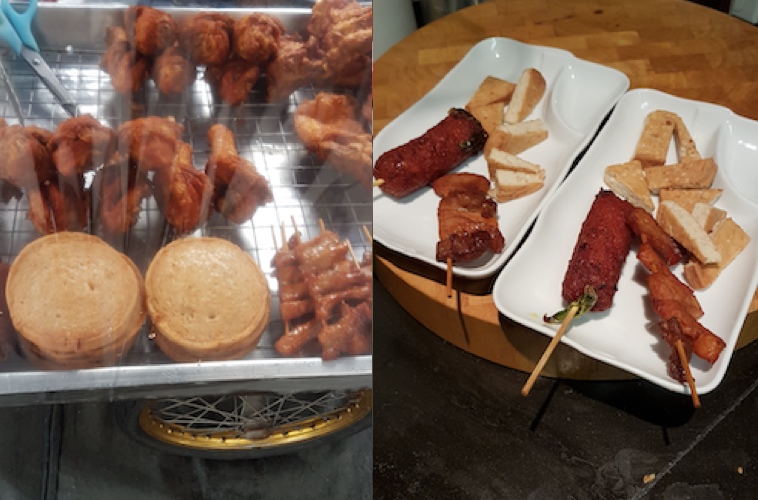 Congratulations!!!
My heartiest congratulations to Harry Kane and his English team for their victory against Denmark at Wembley to reach the final of Euro 2020! Onwards and upwards!
Victory! I am over the moon over England's 4-0 victory over Ukraine. I am breaking out the bubbly!!!
Celebrating England!
My heartiest congratulations to the English team for their amazing victory over Germany. I could not resist making a quick stir-fry to celebrate. I cut up boneless organic chicken thighs which I marinated in light soy sauce, Shaoxing rice wine, sesame oil and cornflour for about 20 minutes. I sliced some bitter melons and simmered them for about 5 minutes in chicken stock.
To cook: I heated up my wok until it was quite hot, then added the marinated chick which I stir-fried until crispy brown and then drained the contents. Putting the wok back on the heat, I added chopped garlic and cooked bitter melon with any remaining stock and the drained chicken and cooked over high heat for another 5 minutes. I quickly add Lee Kum Kee Chili garlic and hoisin sauce to taste. A fitting delicious tribute to England's victory!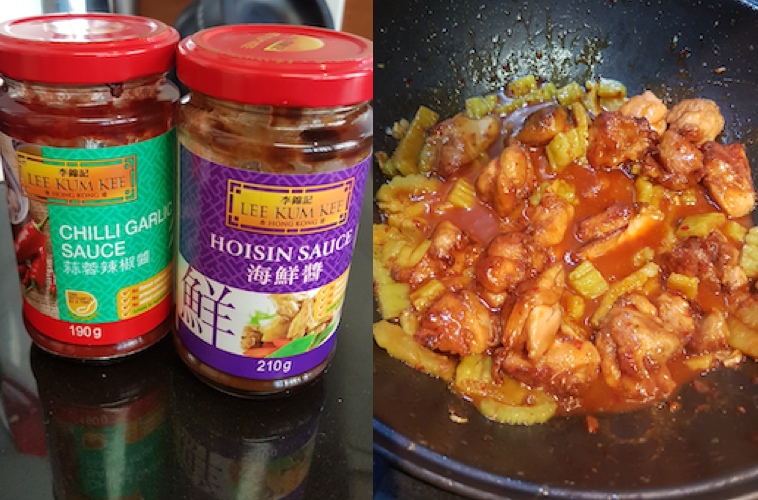 A touch of France in Bangkok
Nothing pleases a chef more than to be invited to a good cook's home for dinner. That is why when my friend, Lili asked me over, I said yes before she even finished asking. I was not wrong. We begin with a light delicious Green salad with sauteed duck liver. This was followed by Morteau sausage & Montbeliard sausage which are savoury treats from France accompanied by Purée de pois cassées aux lardons (split pea puree with bacon) I was already in heaven. Then Lili out did herself with a wonderful Floating islands (Îles flottantes) dessert. I imagined and truly felt I was in France in the centre of Bangkok!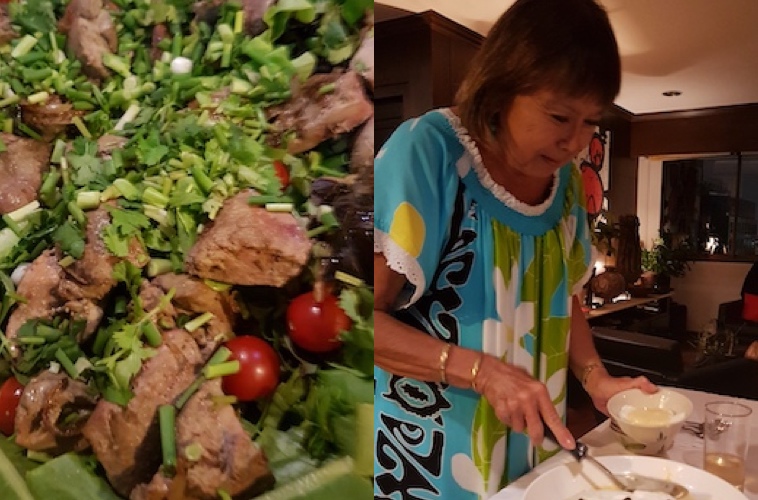 ZongziZongzi or joong in Cantonese, it's basically a Chinese version of a tamale: sticky rice wrapped inside bamboo leaves together with sausage, tender pork, salty duck egg yolks, red beans, gingko nuts and the tender, fall-apart pork belly, which how my mother used to make, then it is boiled in water until cooked through. I was over the moon because I am able to find it here in the markets in Bangkok. It is an easy lunch to make, simply boil it for about five minutes until it is piping hot. Memories of my mum's cooking came back to me with every bite!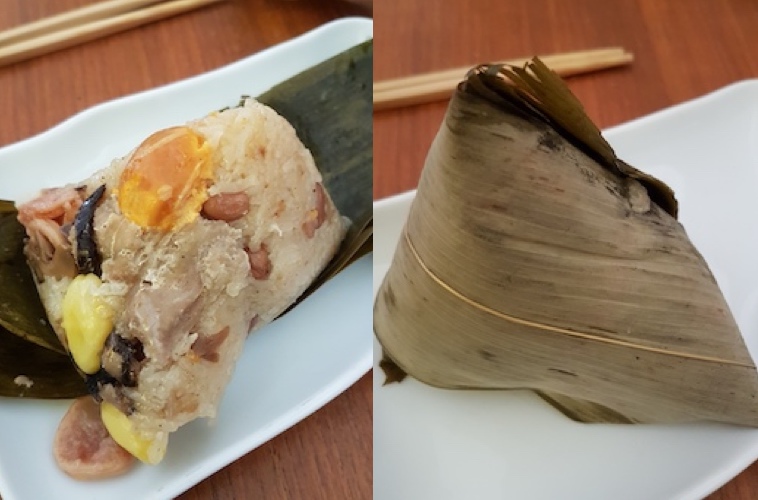 Chinese Cooking Kit
The other day, I received the Lee Kum Kee Chinese Cooking Essential kit which was filled with many of my favourite sauces. I was inspired immediately to make a fried rice with leftover rice I had in the freezer. I am on a campaign against food waste, so my frig & freezer is always filled with leftovers. Perfect for the wok. Once the cooked rice was thawed, I stir-fried in the wok to reheat it and then threw some leftover curry sauce which I reheat in the microwave oven. A quick fried egg, drizzled with Lee Kum Kee Premium Oyster sauce made it a perfectly delicious lunch! Try it, it's so easy and tasty!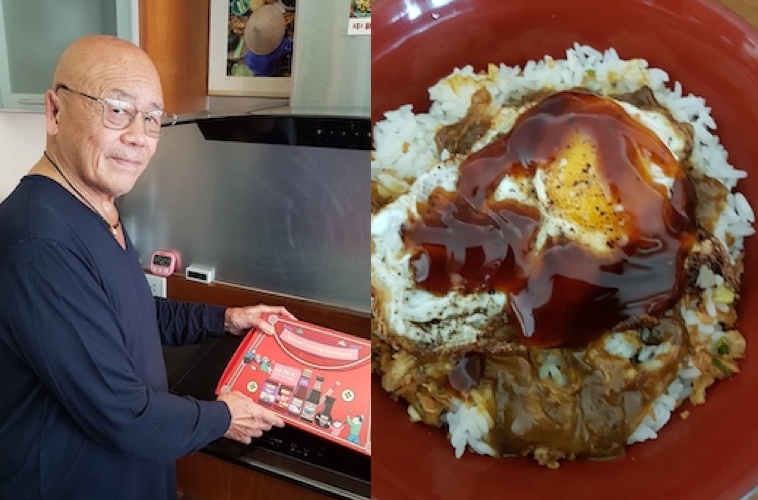 My Thai garden
My good friend, Khun Poomchai who has a magnificent garden in the middle of central Bangkok, knowing that I am a chef, came to my flat and brought a cornucopia of Thai herbs such as Thai basil, fragrant lemon grass, fresh chilli plant and other aromatic herbs from his garden. They look and smell wonderful on my terrace and now whenever I cook, all I have to do is to pluck the fresh herbs from my Thai garden! Thank you Poomchai!

Jab
I got my first jab today, so I am pretty thrilled! Better late than never. Please get your jabs and stay safe & healthy!!!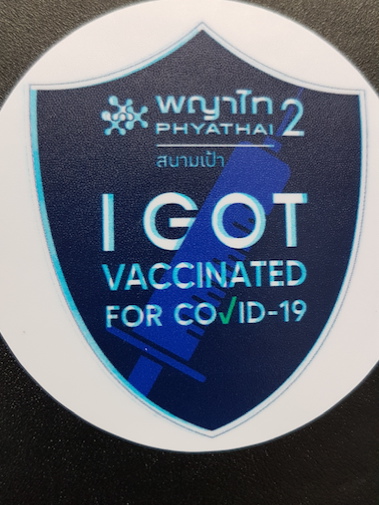 Nobu trick
My good friend, Japanese chef Nobu, taught me an easy marinating trick with fish. Simply make a marinade of miso paste, sugar and sake. Bring the mixture to a simmer and then allow it to cool thoroughly. The marinade will keep now for months. Then take any fish fillet, salmon works well too, and rub it with miso marinade paste and stick it in the fridge for two or three days. When you are ready to cook it, simply rub off the paste and pan fry the fish for a few minutes. When done, I nap the fish with Lee Kum Kee Teriyaki sauce. Bliss and so easy and delicious!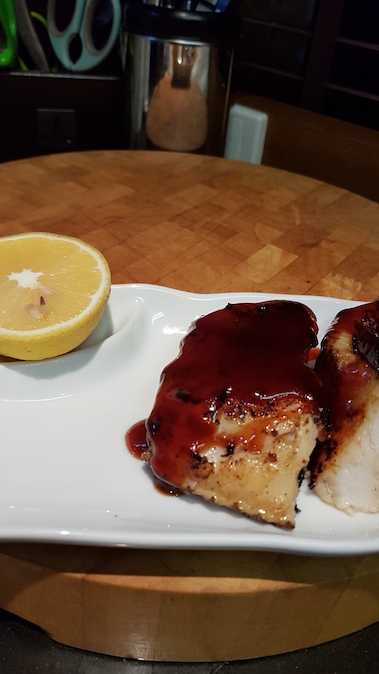 Hello! Thailand
Yesterday, I had a great time and a busy day with Hello! Thailand magazine. My small flat was filled with a young crew of video filming and photographers, as well as two lovely writers. One of them had already bought two of my woks in the UK when she was studying there. Small world! The Thai version of my Stir-fried Life book will be launched soon.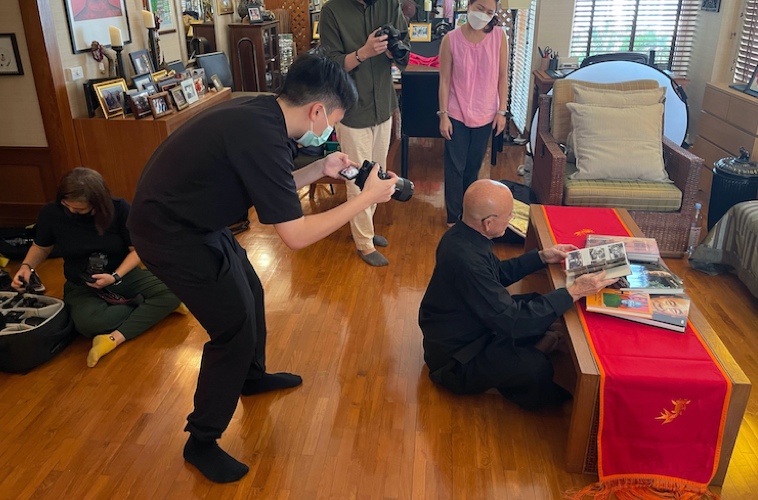 I am delighted to share with you the link to 'The Golden Chopsticks Little Book of Free Asian Delights' It is a gastro tour of East and South East Asia and I hope you like it! I think it's a great collection of recipes!
The Big Lunch: Feed your whole street with these summer sharing recipes!
Ching He Huang on travelling around China with chef Ken Hom
Mangosteen
One of the greatest gastronomic delights here in Bangkok is its abundance of wonderful tropical fruits and mangosteen is among my favourites. It now happens to be the season and the other night at dinner at my friend, Poomchai, I met Pat Ongcharit and his lovely wife, Viratchata Phinit-Akson who I learnt by chance has an organic farm that grows mangosteen. Both had studied and lived in Cambridge and saw my BBC Hot Wok series in the mid-1990's! What a small world! Upon leaving, Viratchata gave me a box of her mangosteen which is some of the best I ever had. Juicy, sweet and pure nectar and organic! I am an avid convert!

The Big Lunch: Feed your whole street with these summer sharing recipes
I am delighted to share with you the link to 'The Golden Chopsticks Little Book of Free Asian Delights' It is a gastro tour of East and South East Asia and I hope the book will create a real buzz around the industry at this much needed time. I hope you like it! I think it's a great collection of recipes!
My anti-waste sauce
I have always been a huge anti-food waste chef, long before it became fashionable. So how do I deal with bits and that left over in my freezer and fridge? I make my favourite Italian pasta sauce: first, I cook chop lots of coarsely chopped onions, shallots and garlic in olive oil. Then I add tins of chopped tomatoes (quite economical as well) and then I do a complete clean-out of my freezer and fridge by chopping up all my left-overs and wind up throwing everything in except the kitchen sink! I then simply season with salt, pepper, dried herbs and a touch of sugar and then simmer the whole lot for about 2 hours! When the sauce has finished cooking, I put them into small containers, let it cool and then freeze the whole lot. Every time I make pasta, I pair it with my delicious anti-waste sauce which I think would make all my Italian friends proud of me!!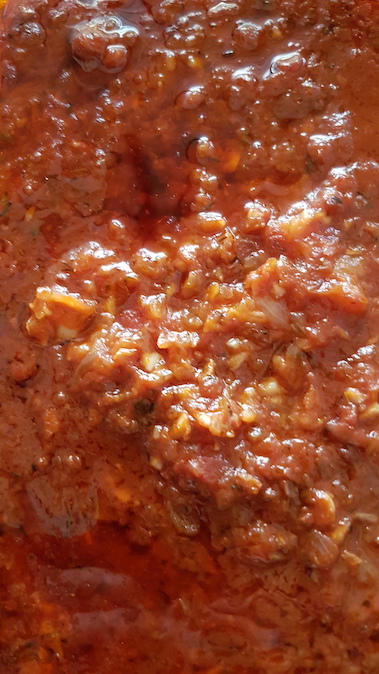 Bangkok Bliss
Of course, one of the greatest pleasures of living here in Bangkok is its delicious cuisine. There is a proliferation of sparkling organic raw ingredients as well in their wonderful supermarkets that entices me to take up my wok.  Another bonus is Thai people here are lovely, smiley and courteous which makes life even more pleasant. As someone who hates cold and snow, Bangkok has the ideal weather for me where it is often hot and sunny, even the rain is warm! Here are views from my Bangkok heavenly nest!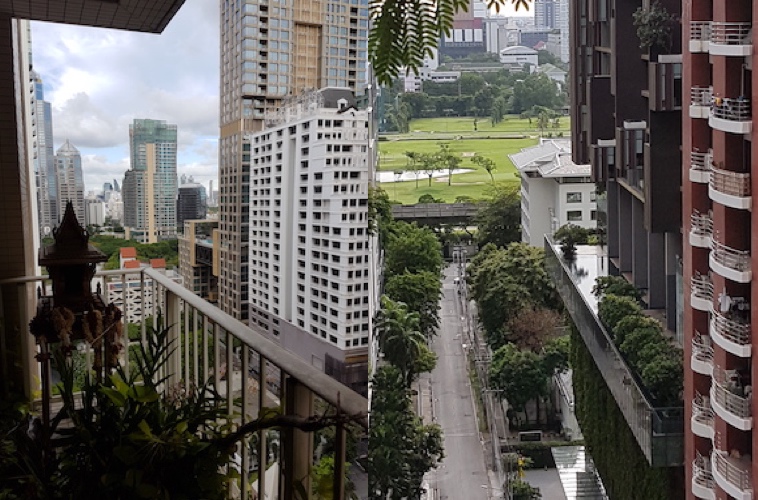 Ching He Huang on travelling around China with chef Ken Hom
A vegetable feast
Occasionally I get into a real veggie mood and make vegetables the only ingredient in my stir-fried. At the market, I found organic carrots, organic baby corn and organic bitter melon. I blanched the carrots and corn for about 10 minutes in a vegetable stock, then added the bitter melon for another 8 minutes. I then drained the stock and then reduced it by half and set everything aside until I was ready to serve. Then I heated up my wok and when it was very hot, added a drizzle of vegetable oil and stirred in some roughly chopped garlic and spring onions. Then I add a splash of Shaoxing rice wine and the reserved stock and drained vegetables which I then cook for another 5 minutes. Finally, I drizzled in LKK vegetarian oyster sauce! A veritable vegetarian feast!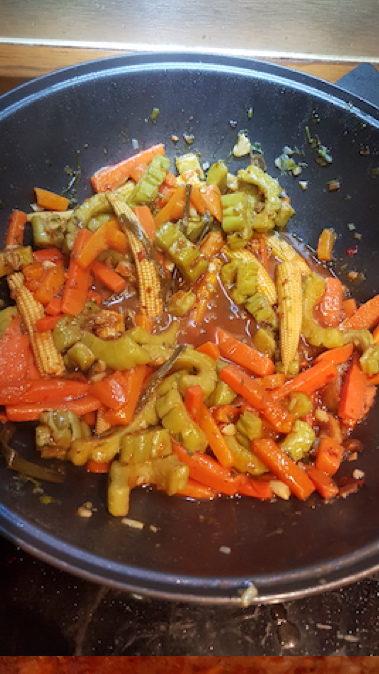 Quick Stir-fried Prawns with Brussel Sprouts
I could not believe my eyes when I found locally grown Brussel sprouts at my local supermarket here in Bangkok. The fresh prawns looked inviting so I decided to make a quick simple dish with the help of my favourite Lee Kum Kee sauces to which I tossed in some leftover cooked veggies which I had in the fridge from the night before (no waste!) Needless to say it was delicious and so simple & easy! Happy woking! See the recipe here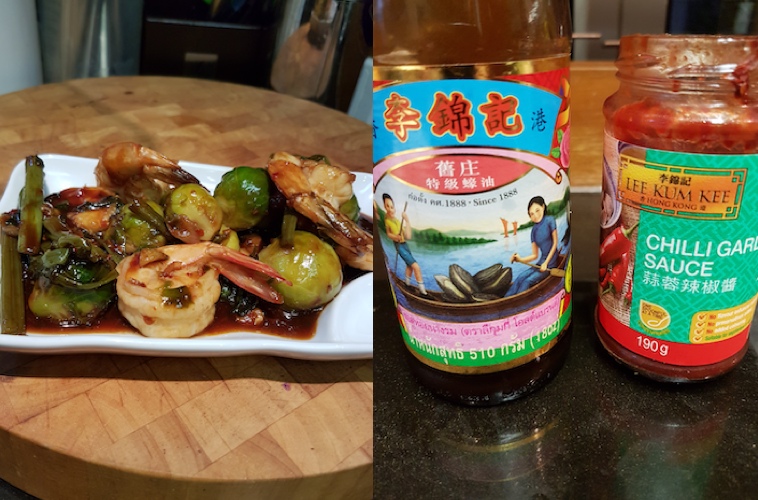 TogetherBand
I am proud to wear my #TOGETHERBAND clasp to support the urgent need to eliminate hunger, achieve food security and promote sustainable practices. Let's end starvation and stop famine before it starts. Join me in supporting #TOGETHERBAND and UN Sustainable Development Goal 2: Zero Hunger. Together we can make this a better planet for everyone!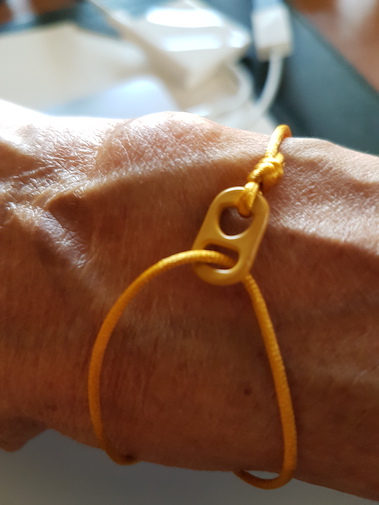 My old house in Berkeley
I can hardly believe that my old house in Berkeley, California where I had my cooking school and where I tested all my recipes for my first BBC series is again for sale! I sold it over 25 years ago, too soon, it seems Oh well, I hope whoever buys it will like cooking in my Peking duck oven and my huge restaurant wok!
Portrait of Ken available via the National Portrait Gallery 
Bangkok cooking
It is so easy to make quick and tasty dishes here in Bangkok where the availability of fresh ingredients are so varied. I brought some fresh flat rice noodles, chicken and bitter melon. I simply prepare the chicken in a classic marinade of LKK light soy sauce, LKK sesame oil, Shaoxing rice wine & cornflour. I blanched the melon in a stock and then simply stir-fried everything, finishing with my simple solution to quick cooking: Lee Kum Kee Premium Oyster Sauce. I have to say so myself, it was quite delicious!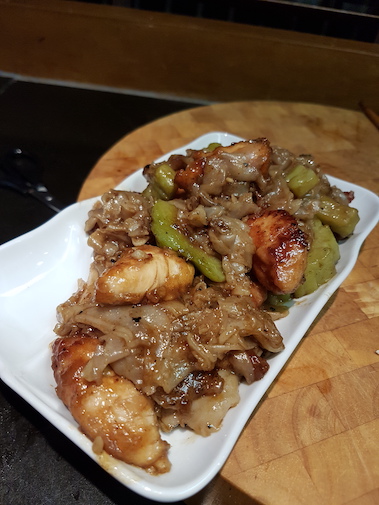 Birthday lunch for Lili
It was such a great pleasure to cook for my good friend, Lili for her birthday here in Bangkok. I kept it simple. We began with Chilean sea bass seasoned with chopped black truffles wrapped in rice paper. Then I made a Japanese Miyazaki Wagyu beef with Sauce Perigueux with truffles. Lili was over the moon and so was I to cook for her birthday!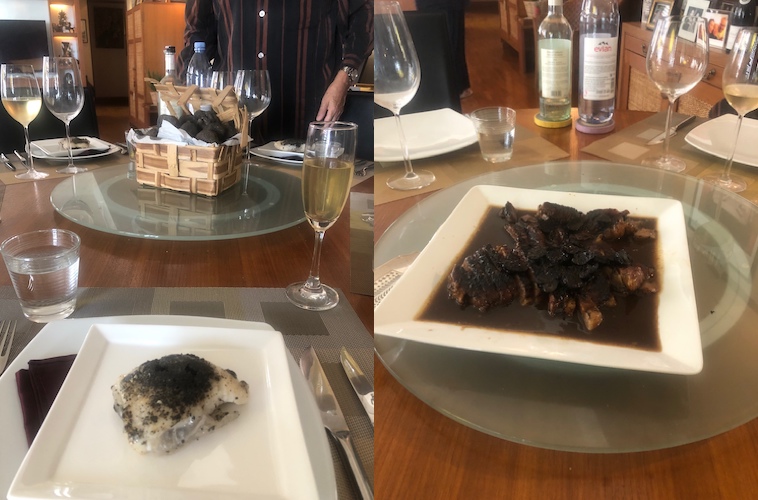 What you eat is linked to yin and yang! 'MSG is only used by Lazy cooks' Read in Gulf News
Ron's 80th blow-out!
Celebrating in restaurants these days are out of the question, so when my best friend, Ron (who was also my wine/sake mentor) birthday came, a mutual friend, Fred Meyer and his wife agreed to host the celebration at their home outdoors with the meal cooked by one of Bangkok's best chef, Chandler Schultz with wines provided by Ron. It was an amazing blow out. We started with a huge platter of fresh French oysters, followed by juicy moist lobster with an array of sauces. Homemade  ravioli was savory with light tasty sauce. Grilled Wagyu beef slices were accompanied by a shredded endive salad that provided an acidity balance to the rich meat. White asparagus was wrapped in caul fat which provided a crispy texture. Surprising, the hit of the evening was the most simple – super delicious chips! We all wish Ron, a great 80th and all good health!


Homesick!
Tonight here in Bangkok I was rather homesick for Britain, so you know what I did, I made an English breakfast for dinner. I was able to find English sausages from the UK, baked beans and added scramble eggs! I was transported by the traditional English breakfast to Britain through food! Of course it was delicious and quite nostalgic!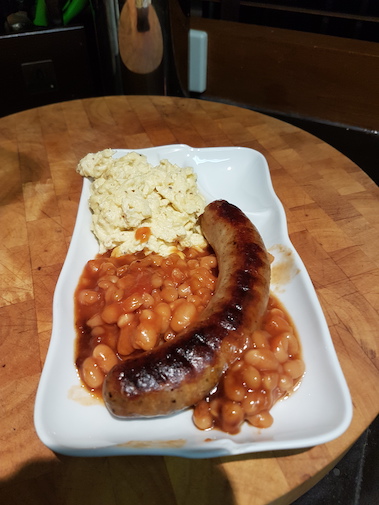 Siam Paragon
One of the great food pleasures of Bangkok is the indoor cool shopping malls which often contain food courts with a choice of the most inviting foods. I have not been to one of my favourites in ten months and recently revisited Siam Paragon which has been entirely renovated with a colourful inviting interior.
I ordered a Thai favourite: marinated fried chicken thighs, served with rice cooked in broth and slices of fresh cucumber. Nothing could be simpler or more delicious. It was a perfect quick satisfying lunch!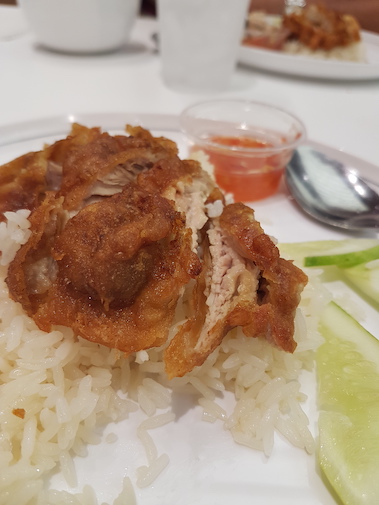 Bangkok Hospital
The other day I had to see my doctor at Bangkok Hospital for a follow-up, nothing serious. But the highlight of the visit was having lunch at the hospital cafeteria. With an array for food stalls to choose from, I selected a simple crispy noodle dish with chicken and vegetables. It was divine and so inexpensive — about a quid and half. Even the hospital food in Bangkok is delicious!!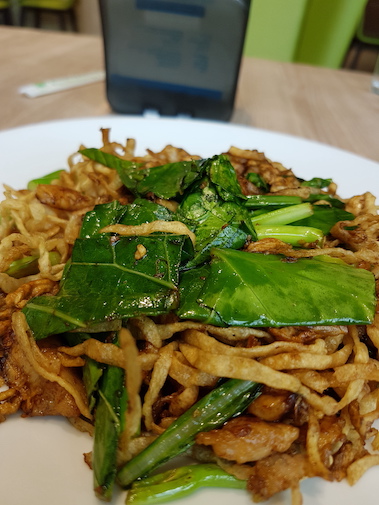 Read Ken's interview in Stiritup Magazine
Have a Zeed
One of my favourite Thai restaurants in Bangkok has a funny name: Have a Zeed But the food is truly wonderful. I had a good journalist friend, Gwen over for dinner and being lazy I ordered delivery from the restaurant. We had the most delicious crispy sea bass fried and bathed in a green papaya salad. The crab omelet was perfectly cooked and served with a spicy sauce. A simple broccoli stir-fried dish with salted fish was terrifically good. Their classic signature dish of grilled pork neck was as usual, a winner as was their calamari with salted egg yolks, all well worth ordering! A fantastic meal delivered with no work, except the dishes!

The Duke of Edinburgh I mourn with the rest of Britain the passing of the Duke of Edinburgh.
My haven, Ken Hom in the kitchen of his Paris home
Thai ingenuity
I continue to be amazed after living in Bangkok for over 20 years. Thailand is a hot, humid tropical country and now formerly outdoor markets are now located in shopping malls. You can find almost anything but it is the array of wonderful delicious Thai snacks and food that entices me the most. And you can shop in total comfort!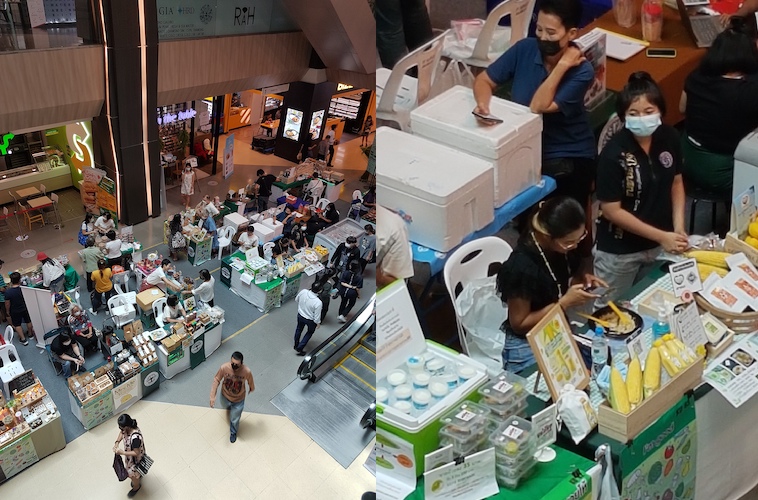 Non-stick pans for induction and gas stoves. The Best woks of 2021
Growing up with good food
I have always believed that the love of food must start at an early age! I rediscovered a photo from 1970 where I am teaching young children at the Circle Preschool in California how to eat and why eating well is so important. It is one of the best legacies you can give to any child!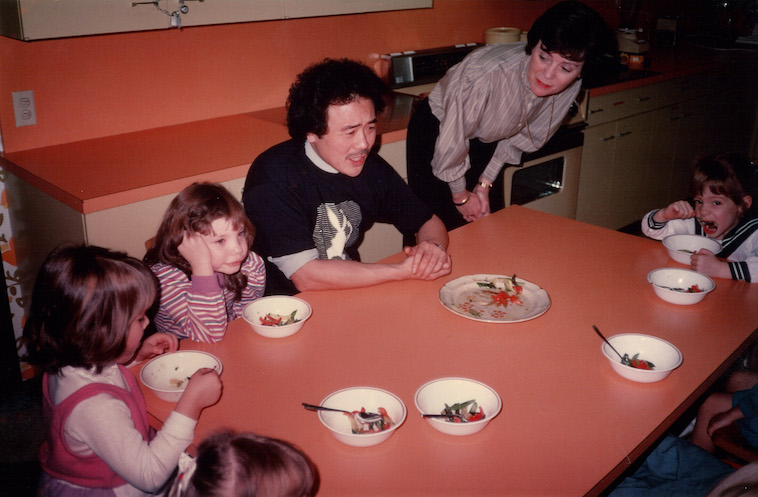 Good simple food
Some of the best cooking in the world is the simplest. Nothing beats a good hot dog with all the trimmings: spicy mayo, some jalapeño chillies, mustard, relish, onions. And fresh organic corn, cooked in salted water for just 3 minutes only and no more. Then splattered lots of organic French butter, salt & freshly ground black pepper. I think better than a 3-star Michelin!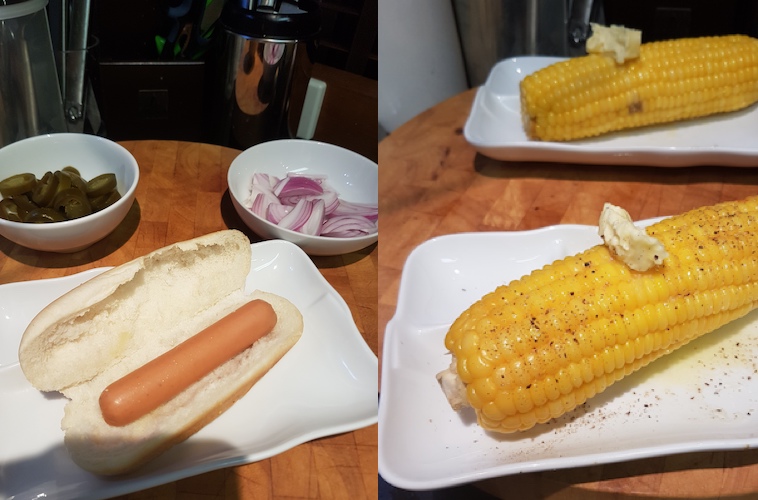 Songkran
Everyone is gearing up here in Bangkok to celebrate a muted Thai New Year. Celebrations are forbidden or cancelled because of Covid but there is decoration everywhere as in this shopping mall in my neighborhood. Happy Songkran to everyone!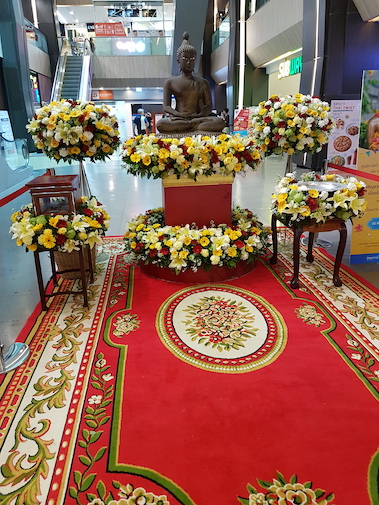 My Easter Supper
It is such a pleasure cooking in Bangkok because of ease of available fresh ingredients. I decide what to cook when I visit my local supermarket. So for Easter, I decided to stir-fry fresh prawns together with a variety of sweet peppers, garlic, onions and fresh flat rice noodles. Then finishing it all off with chili bean and oyster sauce. Delicious, easy and it was perfect for my Easter supper!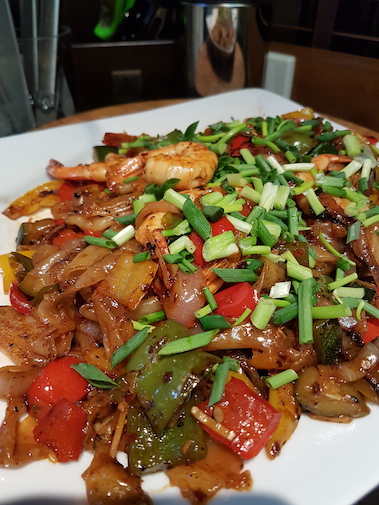 Bangkok
I love living in Bangkok because in the midst of soaring skyscrapers, you have the wonderful lively street stalls that are sending aromatic and delicious smells everywhere with their cooking. Here are views of my home together with a night view from one of my terraces. It is living in the best of two worlds!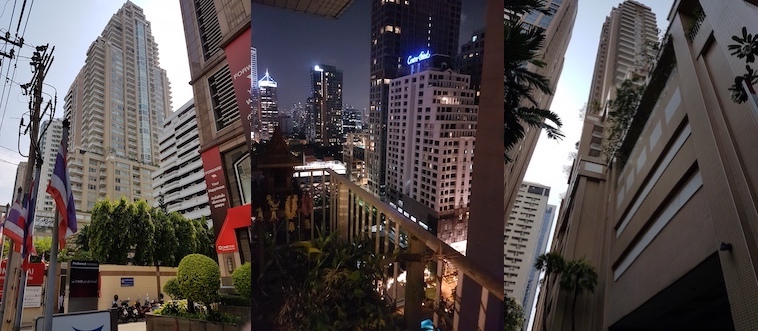 A home cooked meal
My good friend, Lili invited me to a meal at her home here in Bangkok. How could I resist? It is better and more convivial than a restaurant and certainly safer. But what a delectable meal! We began with a cooked salad of sweet peppers, onions and tomatoes that was a perfect light and delicious starter. Then came  a hearty savoury main course of lentils cooked with sausages and duck that was out of this world. We finished with a custard made with almond powder that was just the right finish to a magical evening!

See Simon Braz's internet cook-a-longs….a lockdown hit
Japanese Heaven!
One of the greatest glories of Japanese cuisine for me would certainly be uni or sea urchin. It is caviar for anyone who loves Japanese food. Although it is an expensive indulgence, at least here at the supermarkets of Bangkok, it is an affordable treat, so here I am sharing my Japanese heaven the other night.
More Japanese!
I have been unable to visit Japan in over a year and have to satisfy my addiction here in Bangkok by ordering from the many great Japanese restaurants. A favourite is Maisen at Central Embassy. An evening in front of the telly, I ordered Kurobuta Tenderloin Katsu Curry Rice. The tender moist pork piece came coated with a crispy crunchy coating accompanied by a filling Japanese rice and a mild flavorsome curry sauce that really hit the spot. Picked and fresh cabbage shreds was a welcome balance to the rich and delicious meal.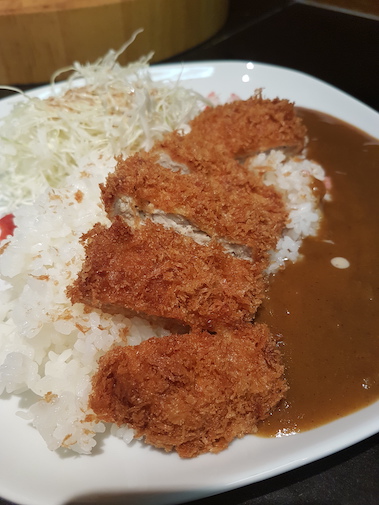 On the streets of Bangkok
As many of you must know by now, I am a great cat and dog lover. I find both species too wonderful for words and often can't resist petting them. Yesterday on the streets of Bangkok, I spotted this cat with his or her belly exposed for all to see and had to take a photo to share with you. In these challenging times, we need a photo like this to brighten up our day! PS – just wanted to clarify, the cat was very much alive, just resting in style!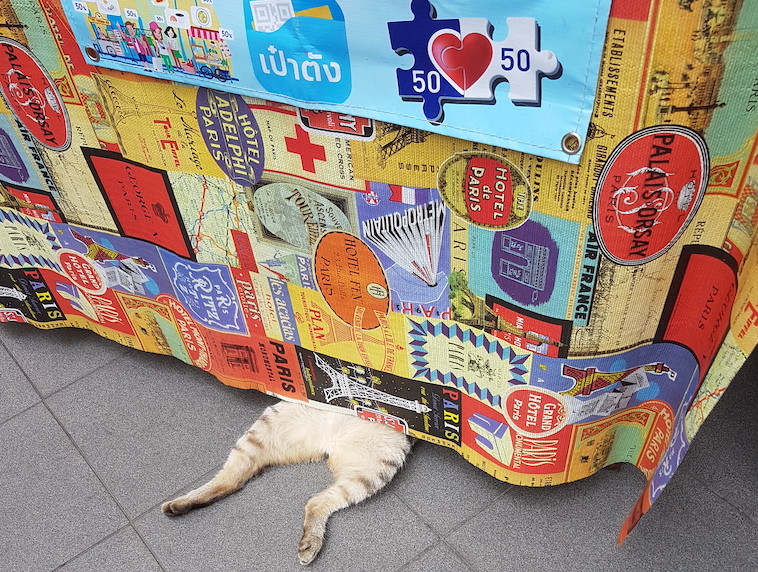 Famous wine cellars offered at Christie's
Bangkok
Bangkok is a foodie paradise not only for Thai food but Japanese as well. The city hosts a large Japanese expat community and Thais love Japanese food. It was easy for me to buy a quick sushi meal at my local supermarket. It is not only fresh but quite authentic and affordable. The meal makes for a quick, healthy light meal with no work and all washed down with great Japanese sake!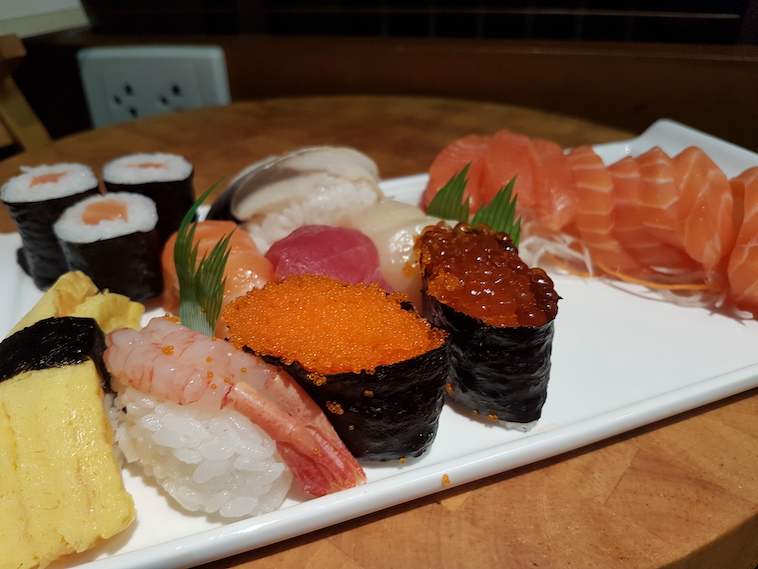 Bangkok street food
One of the great pleasures of living in Bangkok is the food stalls on the pavement. There is one outside of my flat that sells fried chicken in all forms. From skewers to thighs in crispy batter. But the best is the sinful crispy chicken skin cracklings. Wicked and probably not that healthy but super delicious! They are perfect with drinks and there is always a long queue but worth the wait!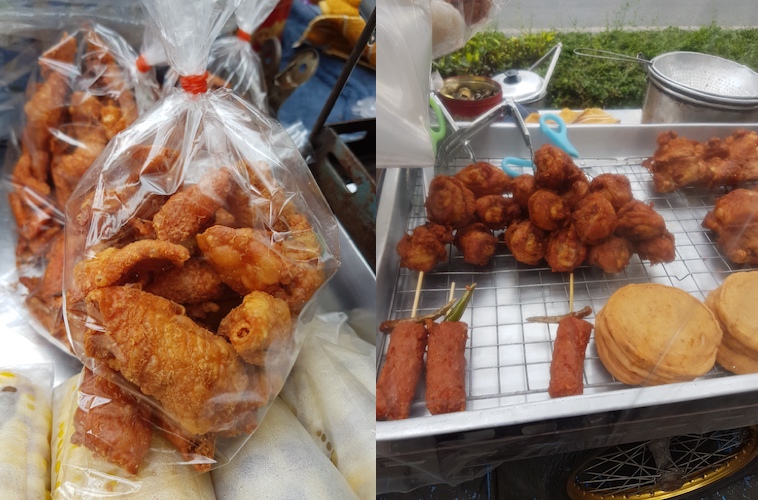 The latest article in which I feature in the Tencent News last week received over 1 million hits with many comments about Noodle Road, the show I presented for KBS and which won several awards.
Post quarantine
I am enjoying my time post quarantine by walking around Bangkok. I was quite amazed to see food labels with my name: Hom
Then I remember when I first cooked in Bangkok at the Mandarin Oriental in 1990 and the kitchen staff would smile and laugh at my name, Ken Hom They explained that the sound of Hom in the Thai language meant fragrant which I took as a compliment! Better to be called that then something else! So here is bottled water as well as crisps that I have found around town to give you a laugh!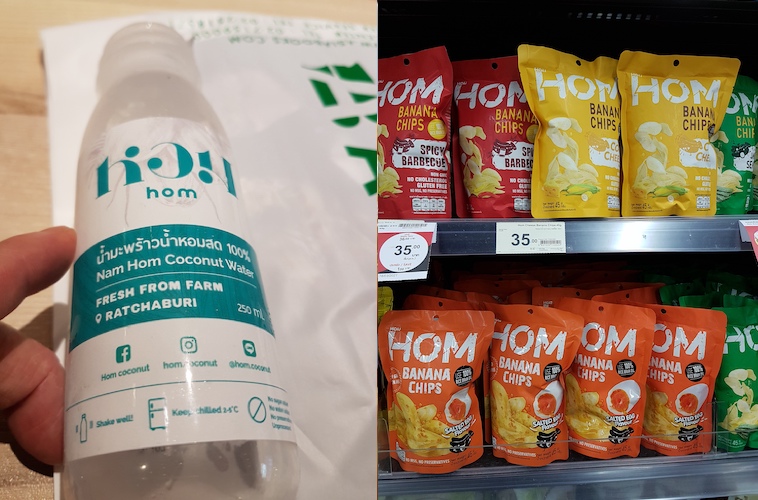 Quarantine celebration feast
Many people have asked me about my experience in quarantine. It was fine because I was busy with my exercise bike, catching up on reading as well as tv series. The time went by so quickly and I was lucky to be eating well. I felt that quarantine was a good way to protect me as well as the others from Covid. Daily temperature readings twice a day and two Covid tests made me feel safe, especially someone my age. When I left quarantine, my Thai friend, mentor and food guru invited me to his home for a Thai feast! A spread of Thai omelet, green curry, a wonderful flavourful prawn soup as well as many other dishes and all washed down with great Japanese sake. It was my first drink in 15 days which was the only aspect I did not like about quarantine!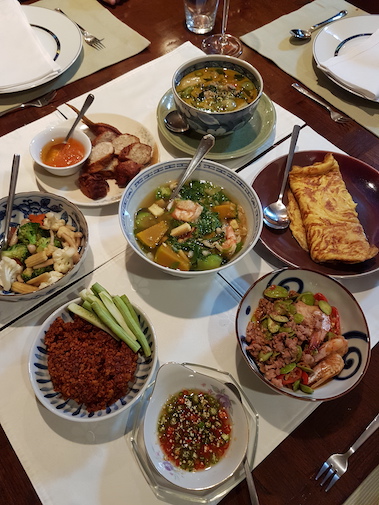 Last Quarantine Supper
My dilemma was what should I order for my last quarantine supper? The food during my two weeks has been quite good and tasty and I have practically eaten my way through all the offered dishes. I decide to keep my supper light. I began with calamari rings which I had ordered before because it was so good and crispy. I was not disappointed and was only happy the portion was small. I couldn't resist Som Tam which is spicy green papaya salad again as well. It was spicy, refreshing, tart and light all at the same time.  For my main course, I ordered a dish I never had during the quarantine. Pan seared sea bass with asparagus and a warm tomato salsa with capers. Perfectly cooked, the fish fillet was moist and paired well with the sauce. A truly wonderful end to quarantine!

Quarantine Asian
What I love about being in Asia is how Asian countries share the diversity of their cuisines. For example, you find Thai food on hotel menus in Hong Kong or Chinese food in Vietnam. Being in quarantine, I was pleased to see Nasi Goreng on the menu. I ordered it immediately with corn fritters. I was quite familiar with Nasi Goreng which I had many fond memories of when I worked in Jakarta. It is essentially Indonesian fried rice served with sambal (a rich peanut like sauce), chicken satay, prawn crackers and in this case, a most delicious crispy chicken wing as well. To crown off this wonderful dish was a perfectly fried egg. It was more than delicious and quite satisfying too. An Asian culinary tour in quarantine!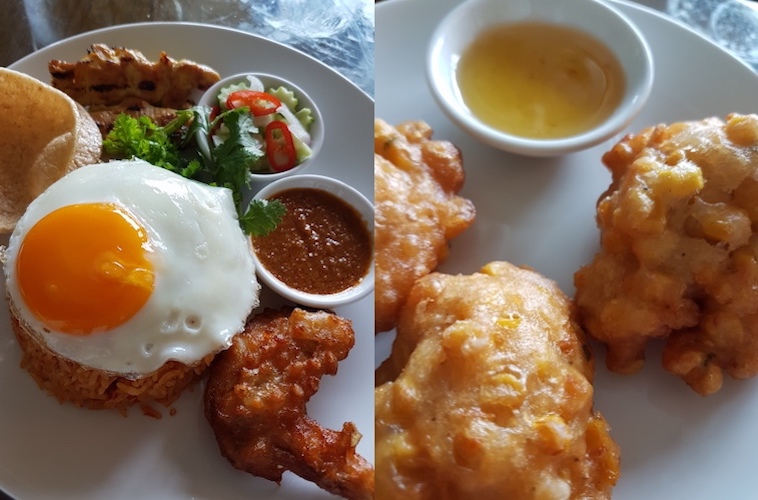 Quarantine Celebration
When I was tested negative for Covid the second time as required in quarantine, I was allowed to have dinner outdoors by the closed pool. Of course, it was just five people with social distancing and the Italian set menu was from Biscotti. What a treat to be able to enjoy a dining experience outside of my room. So under candlelight, the young chef from Genova gave us first a spoonful appetizer of cabbage with salmon that was a tasty start. This was followed up with a sizeable rich Burrata salad with baked tomatoes, grilled ciabatta toast with a basil dressing. An intense Porcini and wild mushroom soup with aromatic herbs was so good that I could easily have another one. When I thought it could not get any better, the ravioli ossobuco came with a black truffle sauce and shaved black truffles. I was in quarantine heaven! The finish of this amazing meal was a classic Panna Cotta, the silky cream treat was accompanied by a raspberry coulis and fresh berries.
I truly felt this magical dinner was my quarantine reward!

Quarantine Japanese food Redux
After a delicious but quite heavy Mexican blowout, I knew that my next meal had to be lighter. Quarantine is tough because one does not get to go out, walk and expend calories despite an exercise bike! So the obvious choice for my next meal would have to be at ShinTaro for a delectable but light meal. Edameme, boiled soybeans are a good start. You can't get fat with sashimi salad dressed in soy and wasabi. Nor with a zesty salmon tartare with avocado, olives, soy and wasabi. I then treated myself to Burikama which is grilled yellowtail collar, perfectly cooked and seasoned with salt and lemon that was moist and out of this world. I weighed myself the next morning and did not gain a single gram in quarantine! I love my Japanese diet!

Yesterday, another day in quarantine was considerably brightened by a welcome bouquet of flowers & fruits sent to me by my good friend, Richard, from the British Embassy in Bangkok! Quarantine is more than manageable with friends like him!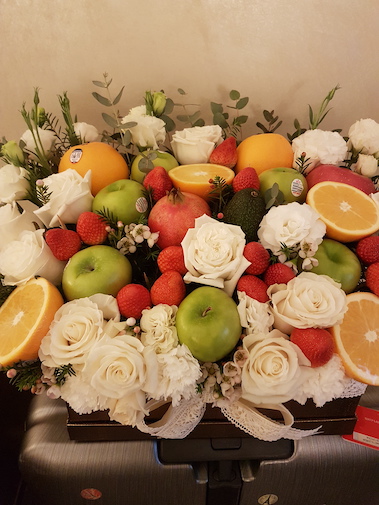 Quarantine Mexican food
When I left the USA over 25 years ago, one of the foods I missed the most living in France was Mexican. I could not believe my eyes when I saw a couple of Mexican snacks on the menu while in quarantine. The Quesadilia, a sandwich of sorts of tortilla filled with cheese and roast peppers, accompanied by a chunky avocado guacamole, a slightly spicy refreshing tomato salsa and sour cream was perfect. As was the Crispy Nachos with meat sauce with the accompaniments. I could not resist ordering some onion rings as well. Only the beer was missing! Quarantine transported me through food to another world!

Quarantine Thai food
It is rather frustrating to be in quarantine here in Bangkok which is a food paradise. I love walking through the street food stalls enjoying the fragrant smells of the rich Thai cuisine.  So I ordered the famous Paad Thai which is stir-fried Thai rice noodles, it came wrapped in a thin egg crepe with a fried egg on top which I requested.
This tasty rice noodle dish combines all the essential Thai flavours of sweet, sour, hot and spicy with refreshing garnishes which I mixed into the dish just before eating. Three juicy succulent prawns were hidden inside the noodles. A simple salad was a good side dish. I felt I was on the streets of Bangkok even in quarantine.

From the Global Times in China
Today is International Book Day which brings back memories of my second book which accompanied my first BBC series in 1984. I remember especially the Peking Duck which is the recipe I debut my series with. The recipe is quite solid as I tested it literally hundreds of times in my teaching career. Here is the recipe which can now be also found in Ken Hom's Complete Chinese Cookbook! Happy cooking!
The Independent: 10 best Chinese cookbooks: Learn to make tasty noodles, dumplings and more
Quarantine Italian food continued
There is something about Italian food that is addicting. It is certainly one of the world's favourite and it is easy to see why: simple, uncomplicated and delicious. Here on my 10th day of quarantine, I had my heart's desire. To start: crispy crunchy fried tender calamari rings with tartar sauce and then followed by homemade lasagna with classic Bolognese sauce that was so savoury that it made me forget that I was in quarantine. Viva Italia!

Quarantine Japanese food continued
My experience with the wonderful Japanese food from ShinTaro located in the hotel put me in the mood to explore the menu further. I began with the Yawara Miso Salad in which crispy soft shell crab in a bowlful of fresh greens and tossed with a zesty white miso dressing. I thought it was the perfect beginning of any meal. I was in the mood for tempura, always a marker for any top Japanese restaurant. So I chose Tempura Moriawase in which prawns, fish and vegetables coated in an ethereal batter and deep-fried perfectly. No hint of oil and crispy, crunchy but the prawns and fish all remained incredibly moist. Then I was offered a surprise dessert treat that I didn't even order. No wonder ShinTaro is one of Bangkok's most popular Japanese restaurants!!

Quarantine Japanese food
I am at the halfway point under quarantine and decided to celebrate by ordering Japanese food from ShinTaro located in the hotel. I was a frequent customer before Covid times and have always loved the quality and precision of the food and preparation. I was not disappointed. The miso soup was flavourful and delicious. My sushi selection of hamachi (yellowtail), ikura (salmon eggs) and tamago (egg omelet) was as fresh and good as any great sushi bar. To finish off, I had Unagi Don which is grilled eel with sweet soy sauce on top of rice. I thought I was in Japan while in quarantine! Thank you ShinTaro!!

Quarantine comfort food
What food do I hunger for under quarantine? The universal comfort food everyone wants — pasta! No wonder it is such an international favorite.  So I had penne pasta with a silky cream sauce but supplemented the pasta with a spicy Thai green papaya salad and a simple rich tomato soup. And to finish…..the best of Thailand: a flavorful mango sorbet. Simple, elegant and comforting — all perfect under quarantine!

Quarantine bliss
Delicious food makes quarantine more than bearable. Fortunately, the hotel where I am quarantined has great restaurants that I can order from. Madison is one of them. I was blessed with two delicious dishes that were absolutely divine. One was seared scallops from Hokkaido in northern Japanese that was sweet and juicy and combined with fennel, orange and pepper in a subtle hollandaise sauce. The other was grilled snow fish that was meltingly tender and moist served with a cauliflower, hazelnut beurre blanc sauce……it was magical. Both dishes were packed with flavour and light which is important in quarantine as to not gain weight!

Life in Quarantine
I returned to Bangkok a few days ago but had to be quarantined for 14 days. It is not as bad as it sounds as I have a positive attitude. I am staying at a hotel with a great view! I am keeping fit with an exercise bike which I use while looking at the view. The food is quite good as well. Today, I had a wonderful pizza and an amazing soft shell crab salad. To pass the time, I read and binge watch Netflix series: Emily in Paris and Lupin. But the most important aspect about quarantine is that I feel safe!

Fish & Chips
What is my go to food besides Chinese and Asian? Fish & Chips! Nothing beats fish & chips especially when you are quarantined. Mind you, it is not the big fat chips you get in Britain and no malt vinegar. But it does help relieve homesickness and is the best comfort food in the world. So, think of me when you are having your fish & chips!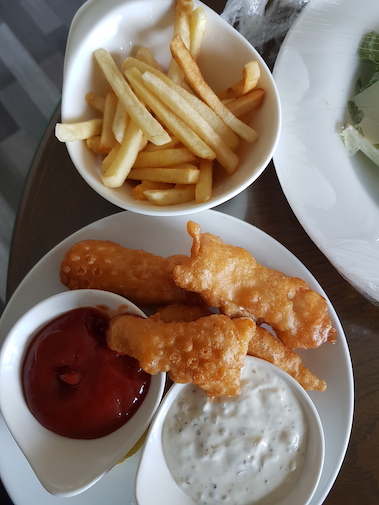 Food in Quarantine
I feel so lucky to be quarantined here in Bangkok. If you are wondering why, it was because of the Thai food, one of my favourites. Last night, I had a typical set menu which consisted of crispy vegetable spring rolls, a simple perfectly cooked egg salad with mayo, a spicy mushroom salad, stir-fried pork curry that was spicy and very tasty. Sliced fresh fruit as just the right coda for quarantine. Portions are small to help all of us to keep from gaining weight during our quarantine. With such delicious food, I thought it would not a problem!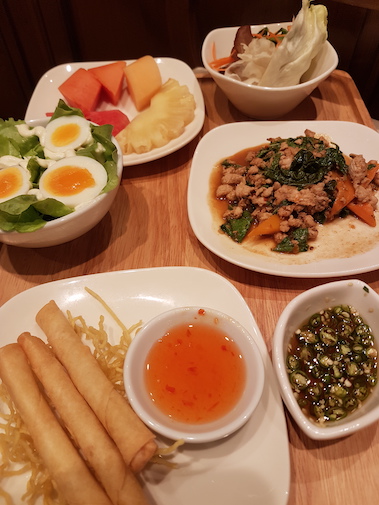 A walk down memory lane…….my BBC audition tape from almost 40 years ago!
Some of the best dishes in life are simple. For me, tinned corn is probably one of the world's best inventions: simple, convenient, quick and easy and also delicious. In this dish, I add butter and stir-in eggs. For an elegant touch, I add freshly sliced black truffles which my friends, the Pebeyres had sent me! I must confess it was a knockout wonderful inspired quick dish with the sweet corn and subtle eggs bringing out the aroma of the truffles!
Kung Hei Fat Choi – Wishing you a lot of prosperity. The Year of the Ox has only just began and we celebrate for a few weeks afterwards.  I want to renew my good wishes for you all and if you would like to catch my recent interview on talkRADIO on the Kevin O'Sullivan show, where I talk about Chinese New Year foods and traditions.
Chinese New Year is still being celebrated around the world. It was great to talk about foods and traditions on the Mike Graham show on talkRADIO.
First time on Saturday Kitchen with Zoom!

Lettuce soup today – have you ever tried it? In my book "Vegetarian Cookery" I say that as a child at home I ate only cooked lettuce, and I was a bit put off to see my Western friends eating it raw. Now this has been picked up in this great article, which is worth reading
Wishing all of you a very Happy Healthy Chinese New Year! Hope you were able to catch me, today 12 Feb, on
BBC news
about Chinese New Year!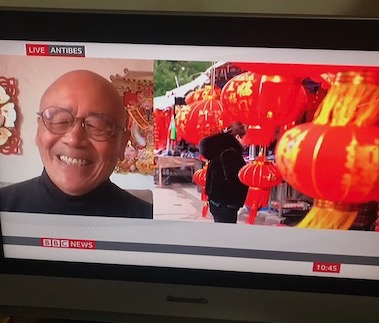 We kicked off the Chinese New Year 2021 celebrations with TalkRADIO, Thursday 11 February at 12:45-13:00 UK Time when I was taking to Mike Graham
It's almost Chinese New Year and you need a wok to cook up your feast from the recipes I provided you yesterday. The Ken Hom wok gets a great review and it's widely available. Did you know that one in seven people in the UK use a Ken Hom wok? "Wok this Way"!
This wonderful artistic tribute to Keith Floyd starts with a reference to the set used for my broadcasting debut, Ken Hom's Chinese Cookery, evoking art in California with the display of a David Hockney poster behind the worktop. Wonderful reading.
Three delicious recipes for the lunar New Year!
Treats in store for everyone. As well as appearing on Saturday Kitchen on 13 February, catch up on my latest news and Chinese new year cookery tips on radio on these programmes:
Thursday 11 February at 12:45-13:00 UK Time  with Mike Graham talkRADIO
Friday 12 February at 14:45-15:00 UK Time with Giles Coren on Times Radio 
Saturday 13 February at 11:45-12:00 UK Time with Kevin O'Sullivan on talkRADIO
Tune in if you can!
Chinese New Year is almost here and I am celebrating virtually with all of you.  Watch me on Saturday Kitchen on 13 February at 10 am UK time on BBC1 where I will be cooking a festive dish for  Matt Tebbutt.  It's the Year of The Ox, a special year for me as it's my own animal sign in the Chinese Calendar.  Wishing  you all Gong Hey Fat Choi or  if you prefer, Gong Xi Fa Cai – Happy Chinese New Year!
(I will be using a stock picture to go with the post)
Everyone has been asking what I have been cooking, most recently,  Bœuf Bourguignon, the famous French classic beef stew. I am not a huge beef eater and I rarely cook it. But I couldn't resist this wonderful dish which is perfect during these troubled times. I first, brown the beef pieces (make sure it is the least expensive cut), then I add lots of carrots, strong red wine, stock and tomato paste sauce. And then I slowly cook it for about 2 hours+ at 180c. What is great about this dish is that you can make it days ahead, cool and refrigerate it in the frig, next day, scrape off any fat and then simply reheat and serve with rice. A perfect winter stew for these times.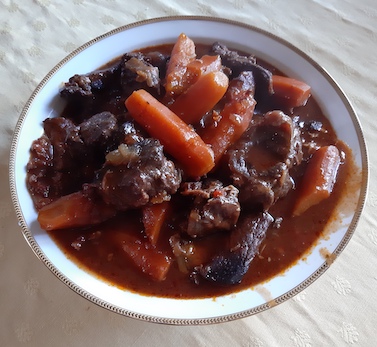 From Glasgow to Edinburgh via Shanghai, Mamasan's tour of Asia in a culinary box. Read all about it in the Edinburgh News!
For my Chinese speaking followers, a link to FT China- interview with former PM Tony Blair, in which I am mentioned twice when I cooked for his events. Non-Chinese speakers use the translation button when accessing the article. Happy reading!
I am so adamant against food waste that I even save the drippings and fat when I roast a chicken. Here is what I do with it……..I roast young potatoes! Not only are they amazingly delicious, but so easy to make and no waste!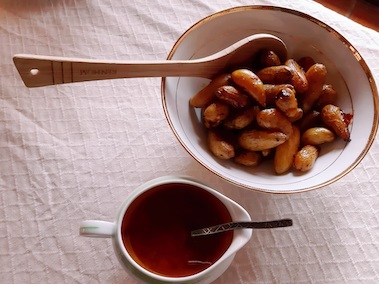 I love cooking for my grandsons, Philip, age 9 & Leo, age 10. However, Leo is hard to please as he is quite a picky eater. So with the help of Lee Kum Kee, I made a special barbecue chicken in the oven. First, I marinate chicken thighs and legs in Lee Kum Kee's Chicken marinade for about two days in the frig. Then I slowly cook them in the oven until almost done. At the last moment, I baste the chicken pieces with Lee Kum Kee hoisin sauce. Easy, tasty and guaranteed to please not only children but adults as well.  Needless to say, Chef Grandpa Ken was the hit of the evening!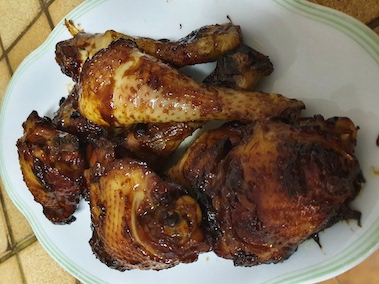 Veganuary
If you have been thinking of doing Veganuary but haven't quite started yet, I have some inspiring recipes to kick-start you.  They are all simple, delicious, and created especially for you. These are vegan recipes with my Asian twist:
Braised Beancurd Casserole Family Style
Spiced Chinese Cabbage (Chinese Leaves)
Steaming rice the Chinese way is simple, direct and efficient.  Although long-grain white rice is most often used.
The secret of preparing rice so that it is not sticky is to cook it first in an uncovered pot over high heat until most of the water has evaporated.  Then the heat should be turned very low, the pot covered, and the rice cooked slowly in the remaining steam.  As a child I was always instructed never to peek into the rice pot during this stage or else precious steam would escape and the rice would not be cooked properly, thus bringing bad luck.
Here is a good trick which I learned from my mother:  if you make sure that you cover the rice with about 1 inch of water it should always cook properly without sticking.  Cook it my mother's way and you will have perfect steamed rice, keeping in mind the following points:
♦ The water should be 1 inch above the surface of the rice; too much water will result in gummy rice.
♦ Never uncover the pot once the final simmering has begun; time the cooking and wait.
♦  Follow the directions below and you are on your way to perfect rice.
Put the rice into a large bowl and wash it in several changes of water until the water becomes clear.  Drain the rice, put it in a heavy pot with the water, and bring it to the boil.  Continue boiling until most of the surface liquid has evaporated.  This should take about 15 minutes.  The surface of the rice should have small indentations like a pitted crater.  At this point, cover the pot with a very tight-fitting lid, turn the heat as low as possible and let the rice cook undisturbed for 15 minutes.  There is no need to 'fluff' the rice; Just let it rest for 5 minutes before serving it.
Here is a great snack. Cook the rice a bit longer, about 10 minutes more and you will have a crust. Dig out the rice, leaving the crust and cook for another 15 minutes uncovered. Then drizzle a small bit of groundnut oil evenly over the crust. In about 5 minutes, the crust should come out and lightly salt. Terrific for snacking in front of the telly! Better than popcorn! Here is one I just made!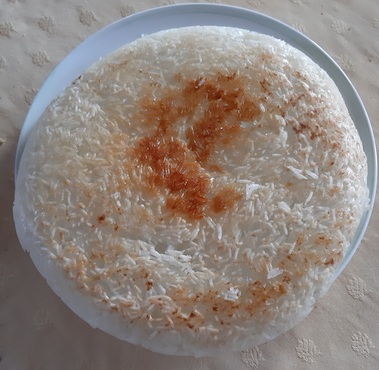 I am an adamant foe of food waste and really appalled that 30% of the world's food goes to waste. So, what is my solution? Cook your leftovers! I took all the leftover ham from Christmas eve and roast guinea fowl with risotto and chopped them in a food processor and covered it on a roasting pan with potato mash sprinkled with grated cheese into my version of parmentier. Simple baked at around 180c until bubbly and golden. It was delicious and a tasty contribution against waste!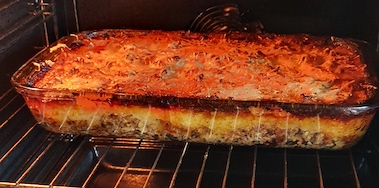 Albert Roux
I am greatly saddened to hear about the sad passing of Albert Roux, a culinary giant whose impact on the UK hospitality industry cannot even be measured. He leaves a great heritage and legacy for all of us who are in food. I was lucky to meet him several times and we shared a lot of laughter and we spoke in English and French. Albert was an example to all of us and he will be sorely missed. I want to convey my deepest sympathies to his lovely family.
In my family, some love to bake as well as cooking in the wok. Baking is ideal for a busy mother of two young children like her and she is extremely good at it. The other day, they made two delicious quiches, one with bacon and goat cheese and the other with simple Provencal herbs. But the piece of resistance was her Galette de Roi which is a traditional puff pastry filled with almond paste! Maybe I should recommend them for the Bake Off!

Here are some of my musings about pizza!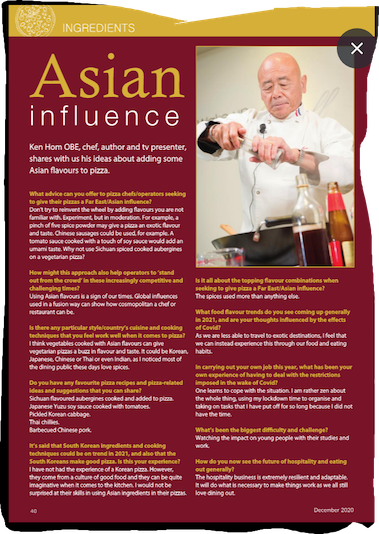 Despite my reputation as a wok wizard, I also love slow cooking that draws rich deep flavours from long attentive care.  As I was too lazy to cook on New Year's day, two days ago I decided to make a classic blanquette de veau, a traditional French veal stew. First, I blanched the pieces of veal, (skimming all the scum and fat) then slowly cooked it in chicken stock, skimming from time to time,  until tender at which point I added sliced mushrooms and carrots. All I had to do on the day I served it was to simply finish the stew by reducing the stock and then mounting the sauce with beaten egg yolks and cream. A splash of chopped chives and simply served with rice. Applauses all around and no stress!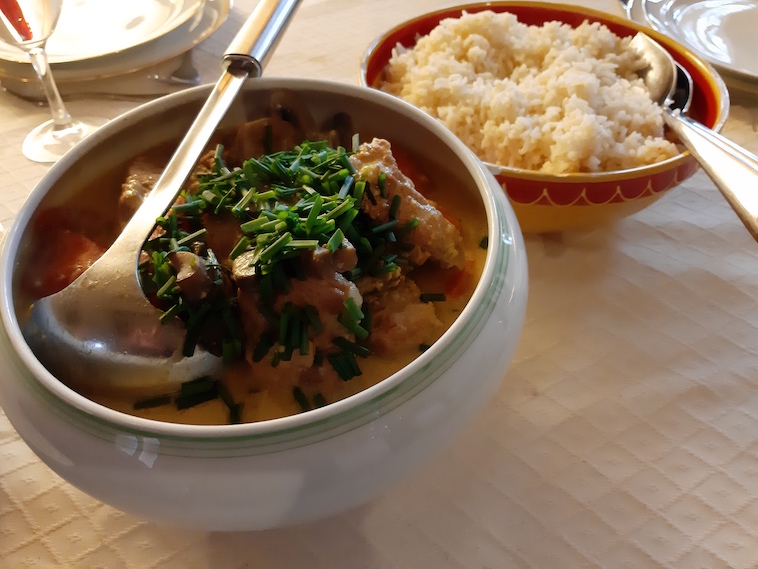 2020 has been very rough for the world. So I thought it would be appropriate to celebrate the coming of 2021 with a delicious New Year eve meal for my family. Indulgence was merited. We began with a rich delightful foie gras terrine, simple but elegant. This was followed by a roast guinea fowl stuffed with truffle risotto. A good beginning for a hopeful year!

My good friend Yue went Christmas shopping with her husband at John Lewis and guess what she saw there? She sent me this photo!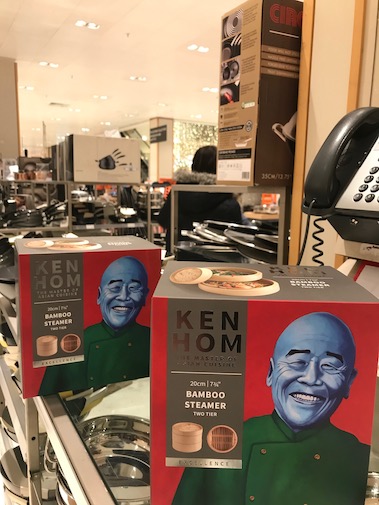 Pork ribs are easy to make during the holidays and it feeds a crowd. First, I sprinkle a mixture of all my favourite spices (a good way to clean out your cupboard!) with a bit of salt all over the ribs. Then I slowly cooked them in the oven around 120c for about 3-5 hours depending on the thickness of the ribs. I then cover them with Lee Kum Kee Spare Rib sauce. After the ribs have cooled, I wrap them in foil and pop them in the frig until I am ready to serve them. To reheat, preheat your oven to 180c and simply reheat them until they are hot, unwrap the foil during the last 10 minutes. You will have the most delicious and tender ribs for the holiday! Falling off the bones!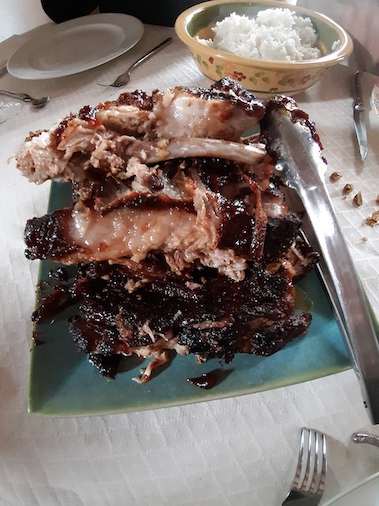 Wow, look what Santa brought me! The thickness of the book should keep me busy and out of trouble for quite a while!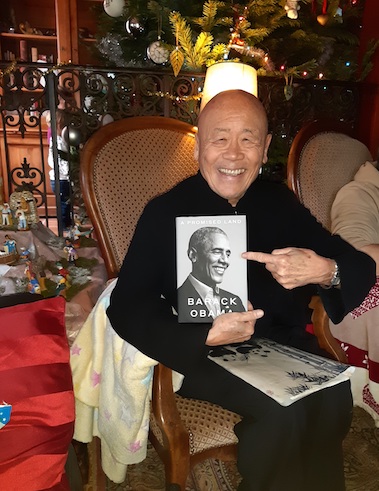 Today, for lunch we had raclette which is a dish indigenous to parts of Switzerland. The raclette cheese slices are heated, either in front of a fire or by a special machine, then scraped onto diners' plates. In our case we used the machine. It was fun, no work and the kids loved it. The melted cheese was added to simple boiled potatoes, accompanied by a simple salad and an array of charcuterie. Raclette dining is a great relaxed way to sociable eating and drinking and great fun, especially around Christmas.

You are probably wondering what I have been cooking? The audience is a mixture of adults and young children. Recently, I made a traditional Italian pasta Carbonara which an Italian chef taught me to make. A sure hit. For starters, I made Truffled Deviled Eggs using the Pebryres Truffle mayonnaise. Easy tasty food to please a crowd!

I am spending Christmas with my family in the south of France. The view from their window is the Alps. We share one of the best bounties of France, their cheese. A beautiful round of St. Nectaire as well as a choice of ripe delicious assortment. Eat well for the holidays and stay safe!

Please read my interview in Café Life and Pizza & Pasta Magazine, December issue.  You will find my one page feature on Page 40-41 for my slant on pizza with an Asian flavour influence and twist. has now been published in two sister publications. Bon appetit!!!!
Cooking up a storm this Christmas? Why not try my Cantonese inspired special  rack of lamb, where I use an Asian marinade to make it extra special!  The distinctive lamb flavour is robust enough to carry the East-West flavours of sesame oil, mustard, hoisin sauce and soy sauce for a real twist on a traditional recipe. The sesame oil is so versatile and the Hoisin sauce is my top choice every time.
Lee Kum Kee's range of oils and sauces is perfect for this dish – find the full recipe on the free cookbook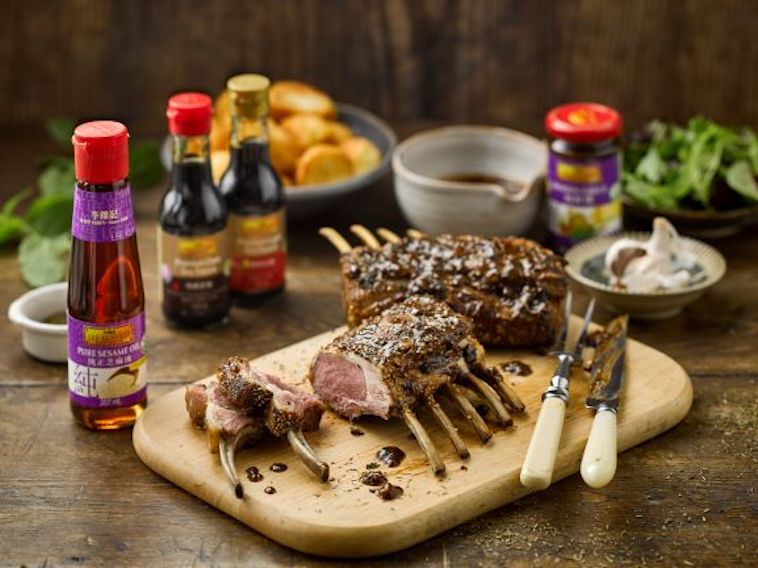 Finalists announced for Young Chef Young Waiter 2020
I recently curated an event for the GREAT campaign with the recent ASEAN Business & Investment Summit, in Hanoi. Of course, I was unable to be there with the travel restrictions. However, the chefs did a wonderful job of creating my dishes and I was told it was all incredibly well received by the guests and the UK Ambassador.
I was very saddened to hear about the passing of Dame Barbara Windsor. I had met her on a BBC show about 32 years ago when I was relatively unknown and she, a famous actress. She was so gracious, elegant and thoughtful and left a wonderful impression of a special person. My thoughts are with her friends and family. She will be missed.
Dear Friends I know it has been a hard and difficult year and I am hopeful 2021 will be better!
Wishing everyone a safe and healthy Christmas and a wonderful bright New Year filled with happiness & love!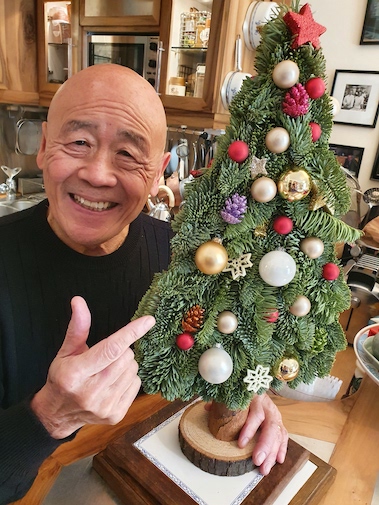 The oldest Chinese restaurant in America
I am a great cat lover (as well as dog) and I also love my Beaujolais wine!
A German friend sent me copies of the cookbooks she is using during the lockdown! Happy cooking!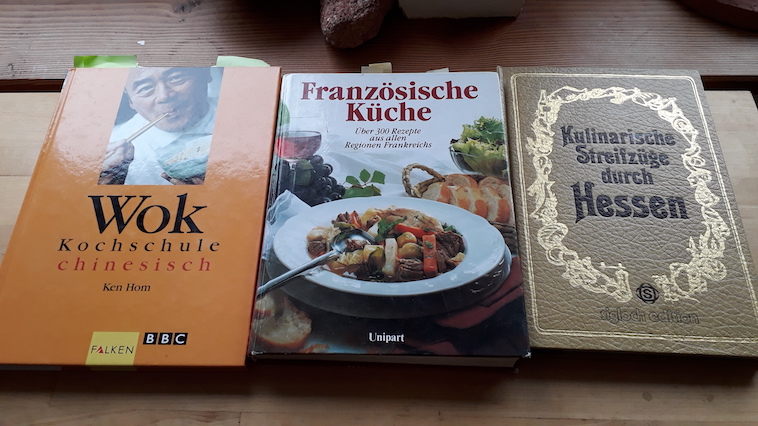 I was honoured to have been involved in John Hanley's inaugural #woktober campaign, a project based on nutritional awareness for all cancer patients. Cancer has taken a backseat due to Covid-19 this year, but whichever way you look at it, nutrition and cancer are intrinsically linked when it comes to building a solid immune system. I hear that John has already been asked about growing #woktober in 2021, and I look forward to being involved again. The campaign is reaching a broad audience, including the younger generation, with a fantastic social media engagement. From young art students at Kendal College to retired professionals, including cancer survivors, #woktober has caught the attention of all ages, and across many countries. I look forward to continuing to support this campaign in years to come
Who knows how to better roast a chicken than the Chinese???
Ken talks to award winning food writer Fuchsia Dunlop about his remarkable life and career and the food they love.
Food Network will be airing the first episode of 'Exploring China – A Culinary Adventure' at 9.00 pm UK time. It first aired on BBC2 a few years ago. It will bring back a lot of wonderful memories when the series was filmed, and if you missed it the first time round, I hope you will all be watching tonight. On Friday 16, the second episode will be aired at 6.00 pm UK time, therefore check for the time and enjoy. Chopsticks at the ready!
Homeless charity The Passage is given a helping hand by royalty and recipe writers
Ken shares his story of prostate cancer diagnosis and treatment "We leave this world with nothing, so give! It's only good karma."
The Duke of Cambridge has confessed to a lack of culinary skills in a foreword he has written for a homeless charity's cookbook A Taste Of Home features 40 starters, 40 main dishes and 40 desserts from contributors including Ken.
Happy Mid-Autumn Festival!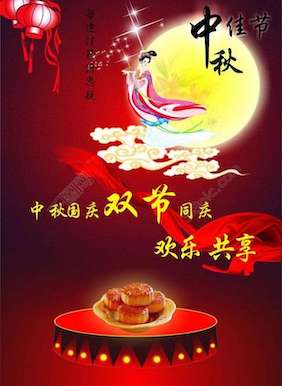 Many congratulations to chef Massimo Bottura! The UN Environment Programme (UNEP) today appointed Italian chef Massimo Bottura as its newest Goodwill Ambassador, in a move designed to step up the fight against the global problem of food waste and loss. He said "If we can use all of the ingredients to the fullest potential, we will reduce the amount of waste we are creating and shop more efficiently. In my role as UNEP Goodwill Ambassador, I will fight to reduce this global shame."
On the Road With: TV chef Ching-He Huang on flying around Hawaii and a life-changing trip across China Read more
Pierre Troisgros
One of the world's great chefs, Pierre Troisgros passed away at 92. I have been fortunate enough to dine at his restaurant and have gotten to know him over the years. I was a friend of his sons, Michel but especially Claude Troisgros who became a very close friend. Claude is a successful chef, restauranteur and tv presenter in Rio de Janeiro and I was invited a number of time to be on his popular programme. I knew that Pierre was very proud of him. I for one shall miss his guidance and presence, Pierre Troisgros, rest in peace.
Ballyclare chef, Callum Irwin, is bound for Hong Hong after receiving major award.
Callum Irwin, who has recently graduated from Ulster University with a first class honours degree in Culinary Arts Management, is the recipient of the inaugural Ken Hom – Lee Kum Kee Scholarship Congratulations Callum!
'Back in time for dinner 1980s'  From my good friend the terrific great cook, Sabrina Ghayour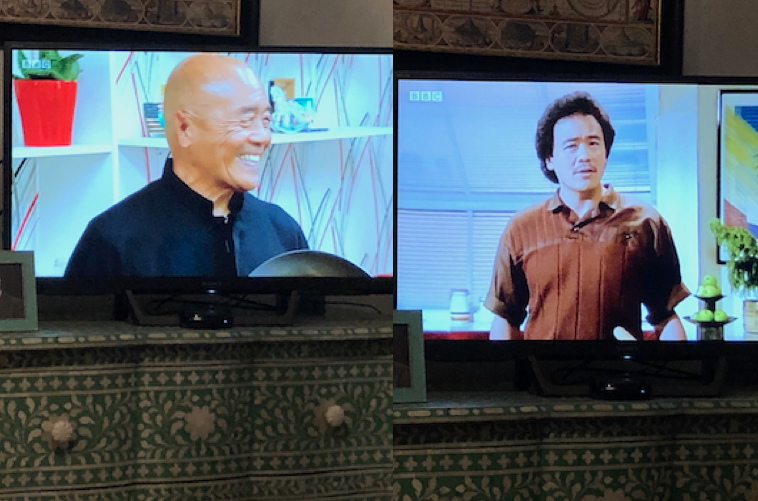 Could you be the next winner of the Scholoarship? Applications for the Ken Hom – Lee Kum Kee Scholarship 2021 will open in November 2020.
Could Online Event with Ken! Book your place here. Ken Hom's 'Stir Fried Life' with Fuchsia Dunlop Tue 13 Oct 2020, 19:30 – 20:30
Stop food waste! Food waste is on top of my list these days. In order to protect and save the planet, not wasting food is one of the ways we can do our share. Last week, I cooked a Peking duck feast for a friend's 80th birthday and we were eight at the table. I served the crispy skin with a touch of sugar as a first course, then the breast meat was shredded and served with the traditional Chinese pancakes, spring onions, cucumber and hoisin sauce and the third course was all the legs and thighs chopped up and stir-fried with garlic & onions and peeled chopped green apples and oyster sauce —- all served in lettuce cups. The next day, I made soup out of the remaining carcass of the duck and when the soup was done, I stripped all the remaining bits of meat from the bones and served it to the neighbourhood cats. All this from just one duck! No waste!!!
Spending summers in southwest France has always been a treat especially for anyone who loves cooking like me! Across the street from my house is a Saturday organic market bursting with fresh produce, artisan cheeses and my favourite duck/chicken producer, Ghislaine Borie who sells an array of duck & chicken products that are superb and extremely tasty. She even makes a duck confit from one of my recipes! Well worth buying I must say!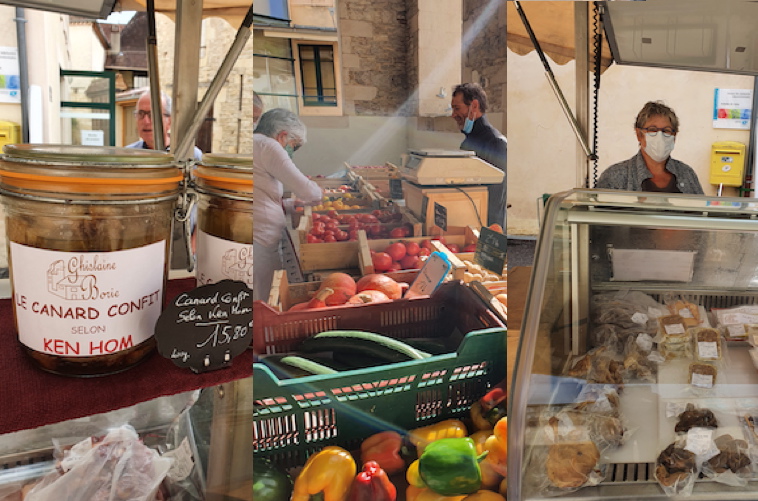 My summer cat visitors keep coming to visit. The other day they took joy in playing in an empty box in my kitchen! A real treat for a cat lover like me!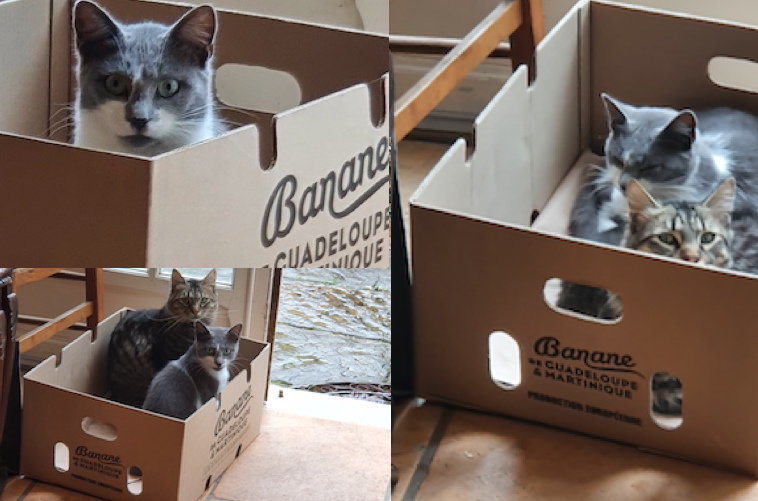 My bar in my summer home is filled with goodies, especially Japanese whiskey. But FIZZ which consists of 80 joyful cocktails and mocktails by Olly Smith is my bible! It takes a pride of place in my bar. Olly Smith, of course, is a great drinks guru whom I met on BBC Saturday Kitchen. We became fast friends as we exchanged tips on our favourite drinks! He picks the best wines for all my recipes!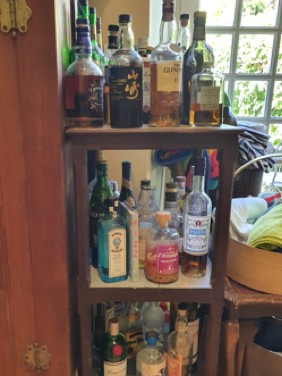 Ten expert cooking tips to create authentic Chinese cuisine at home
Read about the Top 10 Best Woks 2020
Every summer, I am lucky to have cat visitors. Of course, I feed them with leftovers (they go crazy and love prawn shells!)  as well as good cat food. Each year it is a different lot and I know when I am gone, there will be others feeding them. As a lifelong cat lover I want to share their lovely expressions with all of you!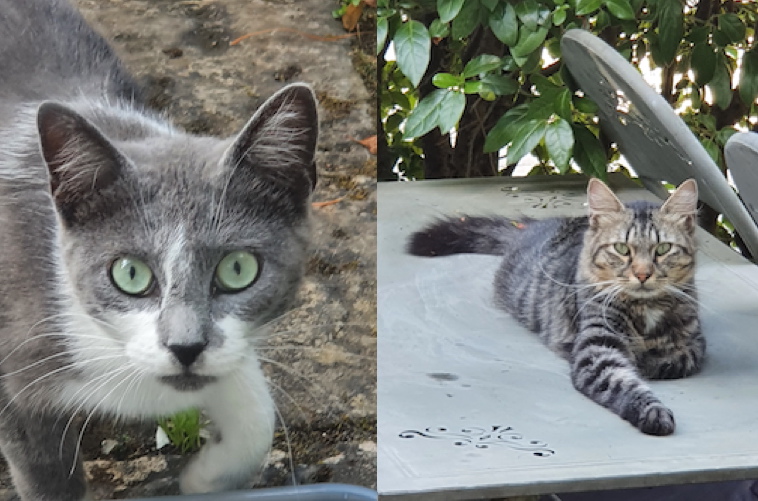 Dean Edwards says so! 'It meant I got to work with all my favourite chefs – Ken Hom, Jean-Christophe Novelli, Gary Rhodes and Angela Hartnett – so I decided to go for it.'
The new ckbk app is now in the Apple app store all around the world.. all my books are featured there!
Ken recounts the European holiday that changed his life from the Telegraph on Saturday.
I have been spending the summer enjoying the hot weather, practicing Tai Chi and cooking with local ingredients from southwest France, including organic duck foie gras. Wishing everyone a safe, delicious and healthy summer!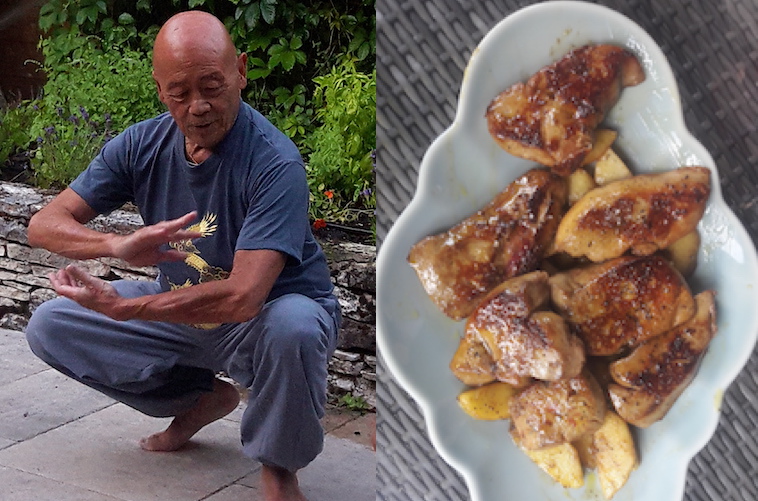 Published 1st August in the Express – my diagnosis of prostate cancer 10 years ago.
A special food and drink edition of BBC 'Pointless Celebrities'. Contestants include Ken Hom, Ching-He Huang, Candice Brown and Atul Kochhar
Vietnam is an essential stop for gap-years, with its bright, clean food flavours
Cake art from Thailand
I am thrilled to be back in France and enjoyed one of my favourite food treats: Pan Bagnat. It consists of a good crispy baguette with organic ripe tomatoes, eggs boiled for no more than 8 minutes, anchovies, massive amounts of fragrant basil leaves, fresh garlic, salt, pepper and lots of good olive oil. It is truly summer in a sandwich! Have a great summer!!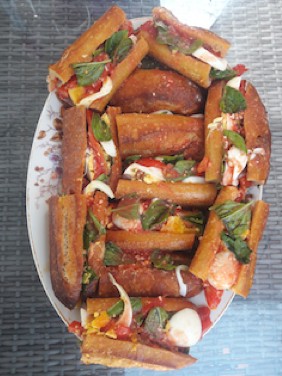 Chopsticks philosophy!
I am thrilled to report that my Zoom cook-along Today's Special went for £2,000! The beneficiary is, of course, a part of Action Against Hunger and Hospitality Action. I'm delighted to report that the overall figure raised was just over £220,000. All thanks to the generosity of chefs and restaurants across the industry at this incredibly difficult time. I know that this amazing sum will make a real difference to a lot of people's lives. I am honored to be part of it!
HRH The Duke of Cambridge writes foreword for Kyle Cathie's charity cookbook
Chinese and their food!!!!
Stir-fried Peas with Fresh Coriander-Spring Onions-Sesame Oil
Because of their natural sweetness and succulent texture peas should be celebrated especially since this is British Peas Week!  Here I have enhanced their virtues with some spirited seasonings.  A quick and easy and tasty vegetable dish. Bon Appetit!
Shopping List:1 lb (450g) fresh or frozen peas
Fresh coriander
Spring onions
Staples: Garlic
Sesame oil
Preparation Time: 11 minutes (fresh)  5 minutes (frozen)
Cooking Time:3 1/2 minutes
Serves 4-6
1 pound (450g) fresh or frozen peas
1 tablespoon oil, preferably groundnut
2 tablespoons fresh coriander, finely chopped
2 tablespoons spring onions, finely chopped
2 teaspoons garlic, finely chopped
1 teaspoon sugar
1 teaspoon salt
1/2 teaspoon freshly ground white pepper
2 teaspoons sesame oil
If you are using fresh peas, blanch them in boiling water for 2 minutes, drain and set aside. If you are using frozen peas, let them thaw at room temperature.
Heat a wok or large frying pan until it is hot, then add the oil. Add the peas and stir-fry for 30 seconds, then add the fresh coriander, spring onions, garlic, sugar, salt and pepper and continue to stir-fry for 3 minutes or until the peas are cooked. Add the sesame oil and give the mixture a final stir and serve at once.
Hint: * This dish can be made ahead of time and served at room temperature.
I want to salute the NHS on its 72nd birthday! Especially to all the NHS workers who risk their lives to save ours! The NHS is special because of all of you workers on the front line! My humble and best wishes to your good health! Thank you!
A newly-launched online banking platform has been named as one of the faces of the government's 'GREAT Inspirations' campaign
Delighted to be supporting Action Against Hunger and Hospitality in Action even virtually! Supporting both Action Against Hunger and Hospitality Action you can bid for a Zoom masterclass
My Affair with Food. Read Ken's interview in Taste Magazine (pages.14-19)
Our mums. I was devastated to hear the news about the passing of Raymond Blanc's mum who was such an inspiration to him. As a son of a single mum who was the secret behind my success, so my deep sympathies to Raymond. We are all united in the love for our mums who have inspired our cooking and our lives!
One of my best friends from Hong Kong, Grace, sent me these to celebrate the Happy Dragon Boat Festival which I want to share with all of you as well!Happy Dragon Boat Festival!!!!

You can find the Chinese edition of My Stir-fried Life on Amazon
This was sent to me via twitter..very funny! 'Throughout his life my dad's been mistaken for the legend' :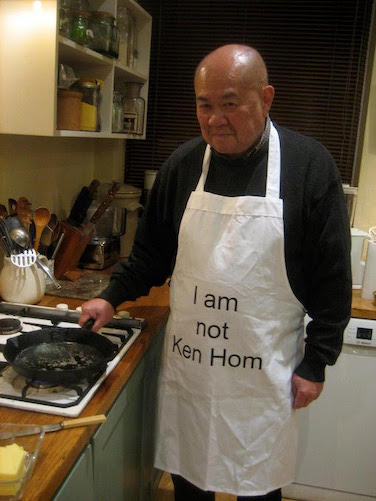 On Wednesday 1st July, prizes from the food and drink industry's leading lights will be up for grabs via Today's Special, a huge online charity auction which will be streamed live on Zoom. All money raised will be split between two charities, Action Against Hunger and Hospitality Action
Neff has revealed a new partnership with online cookbook site ckbk that allows the integration of its extensive recipe library with Home Connect.
From the Courier UK: Cooking all over the world: The celebrity chefs that made us fall in love with food
Bravo and congratulations to Footballer Marcus Rashford in his battle to have the free school meal voucher scheme extended! We cannot tolerate hungry children in Great Britain or anywhere!
Top chefs auction off high-end food, and lessons on how to cook it, to help save struggling hospitality industry
A very enlightening and funny talk about Chinese food
Everyone here in Bangkok wears a face mask when going out. I know it is a pain and quite inconvenient, especially when dining. But finally I found the perfect solution! Watch this video Bon appétit!
I would like to wish Her Majesty, The Queen, a very Happy Birthday. Wishing her a long life filled with happiness and good health! She is such an inspiration to us all and we love her! This short film is such a tribute for someone very special.
Nostalgia – I was unable to return in early spring to Europe because of the international lockdown. However, I feel lucky to be stuck in Bangkok, however, I do miss the UK. The other day, here in Bangkok, I saw something that almost brought tears to my eyes! My love for London and the UK!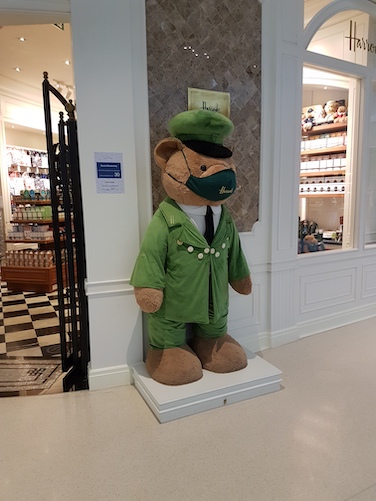 Remembering: The Stories of Chinese American WWII Veterans. My father will be among those finally honoured.
Are you ready for the AnySharp Tomato Challenge? Win £500..here's how it is done!
Support your local restaurant!
In these challenging times, I think it is all the more important that we do our part to support especially local restaurants. They need us more than ever. In that spirit, I went for lunch at Little Kitchen located inside Central Department store in Chidlom here in Bangkok. All the staff was delighted to see me as I them. I order my favorite: Stir-fried rice noodles with salted fish and crispy noodles. I was in heaven! So please support your favourite local restaurant, they need us now more than ever!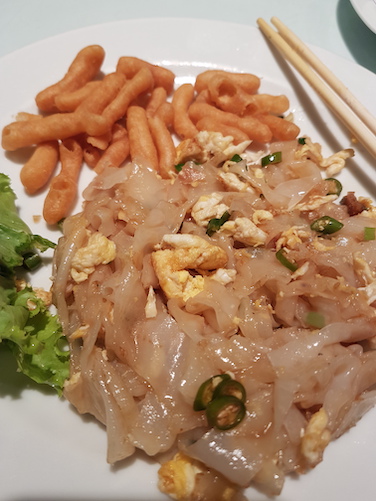 I received this wonderful newsletter from Karen Christensen, CEO and Publisher of Berkshire Publishing
I am so pleased to share my 15 minutes on Talk Radio with Kevin O'Sullivan. My bit begins 1:44.53 minutes in.
One of the greatest pleasure as a food lover & chef is living in Bangkok. Outside of my flat is a street vendor making the most delicious mouth-watering crispy fried chicken (KFC eat your heart out). I suspect the secret is marinating the chicken thighs in fish sauce. But their best offering is their  sinful, un-PC and certainly unhealthy is their crispy chicken skin. Addictive but very bad for one's cholesterol……………but so…………….good……. Well, you only live once!!! Fantastic with gin/tonic or whiskey!

I was always fascinated by Taoism having grown up with some of the teaching though my mum. Taoists regard their diet as extremely important to their physical, mental and spiritual health in one way or another, especially where the amount of qi in the food is concerned. The Chinese word for food or dishes, cai originally means green vegetables. The invention of the vegetarian food tofu was credit to a Taoist priest.
So, I was thrilled when my good friend, Shane sent me a wonderful vegetarian Taoist feast of delectable tofu skin and mushroom cakes together with a rich tasty soup as well as stuffed cabbage and a melon stew. Perfect delicious and healthy food during these trying times!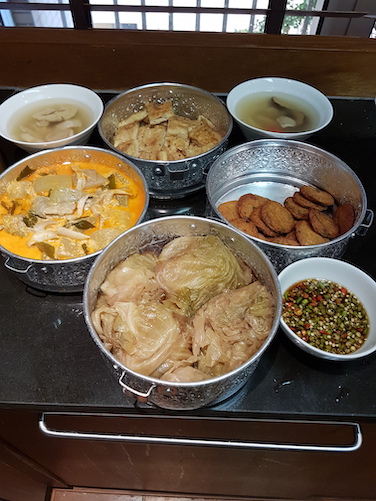 Time & Leisure Magazine catches up with Ken  to talk career highlights, foodie ventures, and what's next for the international chef.
I am so pleased to see so many entries for the Ken Hom Scholarship with the Oxford Cultural Collective and Lee Kum Kee. Watch my interview on youtube.
During these days of confinement, I found myself reaching into my cookery history and making dishes I haven't made in decades. Here is a good example: I had some left over vegetables & cheese, so I decided to make a gratin. First, I blanched the vegetables in salted water. Then I made a classic cheese béchamel  (butter, flour & cheese, salt & freshly ground pepper) I pour this over the cooked vegetables and put the some cheese on top as well. Absolutely delicious! I don't know why I waited so long to make this classic dish!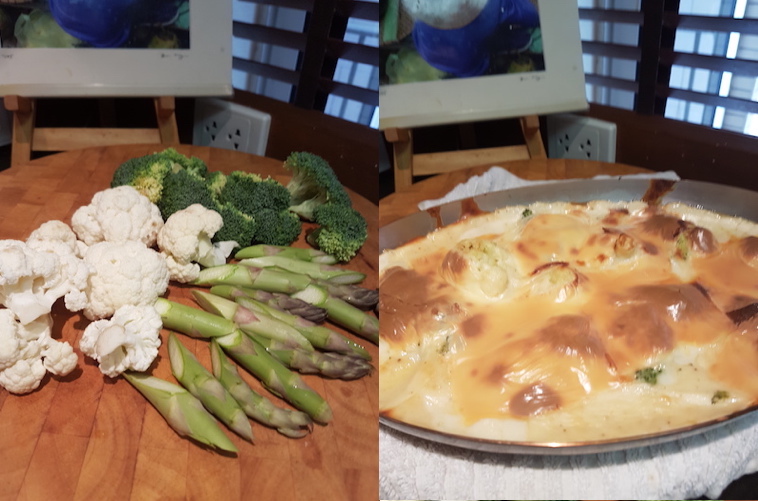 One of the positive aspect of staying at home is that I have been able to catch up on my reading. I have just finished The Dragon Throne by one of my favourite authors, Jonathan Fenby. I am eternally grateful to Jonathan who kindly agreed years ago to be the speaker at the Annual Ken Hom Lecture at Oxford Brookes University. The Dragon Throne is the history of China's 157 emperors. It is both fascinating and written in such a way that it makes the Game of Thrones look like child's play and is just a gripping.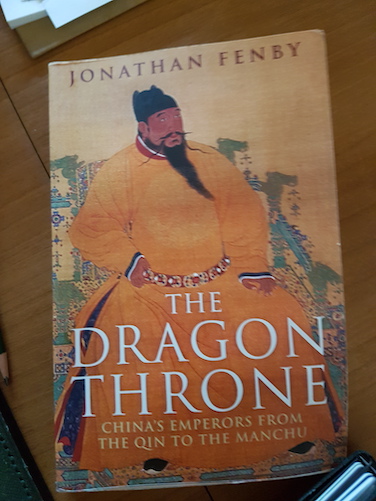 My good friend, Rupert Hoogewerf from the acclaimed Hurun Report, sent me this photo of him preparing his landmark 50th birthday dinner on Sunday for his family in Oxford. I was so moved and touched that Rupert used one of my books from 1994 to prepare the meal! Wishing Rupert and his family — much good health and delicious eating!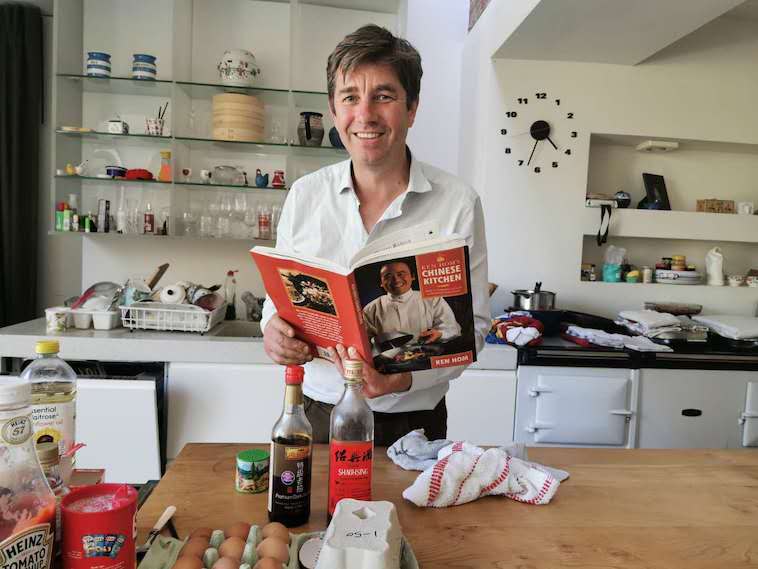 As many of you know, making pizzas are not my forte. So what do I do? When I am in Bangkok, as now, I order from my friend, the great Italian chef, Francesco Lenzi. His recipes are from his grandmother! How could you match that? His pizzas from Nonna Nella here in Bangkok are my life saver when I am to lazy to cook! What could be better?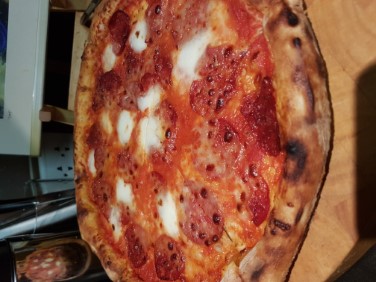 I was very touched by all the loving messages I got for my birthday! I think that this photo expresses very well the warm affection I got and wanted to thank everyone. I love you all and wish all of you good health and delicious cooking! Stay safe!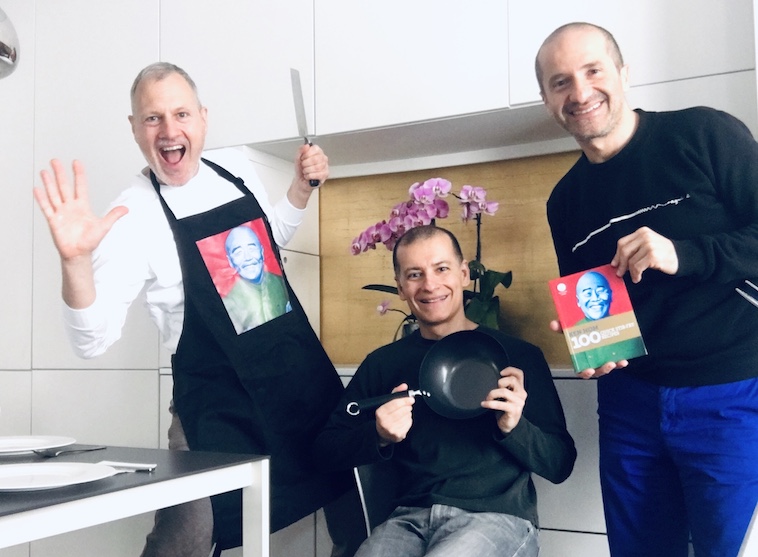 Looking for delectable recipes the weekend? May I suggest this link
Happy cooking & even tastier eating!!!
Are you looking for inspiration for your next meal? I have a suggestion for you. Go to 'thehappyfoodie' and pick a recipe for today, tomorrow and the day after. Thai Chicken Noodle Soup, Sichuan Chilli Prawns, Braised Duck, Vietnamese Braised Pork… the choice is yours, my best recipes, all there, all easy and all very tasty!
Yikes, I am being named in a new upcoming comedy!
In these dire times, we need to keep laughing. As a chef whose signature dish has been Peking duck, I could not resist sharing with you this cartoon! Stay safe & healthy!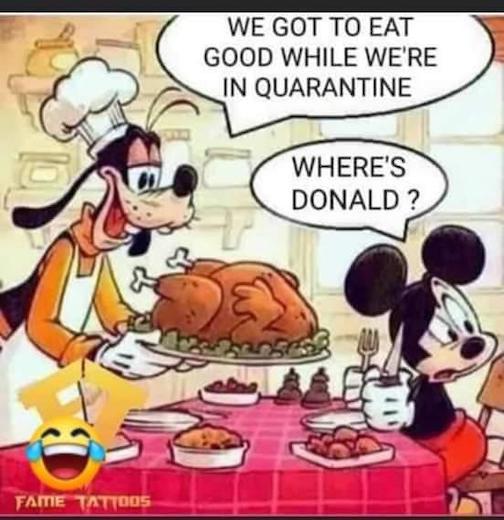 Comfort food
During these challenging times, we find comfort especially in familiar home cook dishes. The one I go for is Zongzi which my mum and favourite aunt use to make. It is a traditional Chinese rice dish made of glutinous rice stuffed with different savoury fillings and wrapped in bamboo leaves. They are cooked by steaming or boiling. Alas, it is a dish I never learn to make but can easily find it here in Bangkok.
Every bit brings back fond tasty memories of my beloved mum and auntie!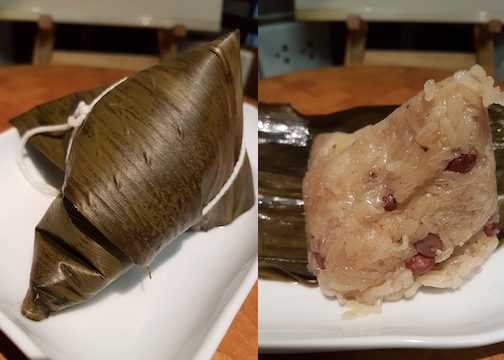 My good friend, Linette, recently lost her chef husband, Jacques But now in confinement, she said she is taking his place in the kitchen! Wishing her like everyone else to stay safe and healthy!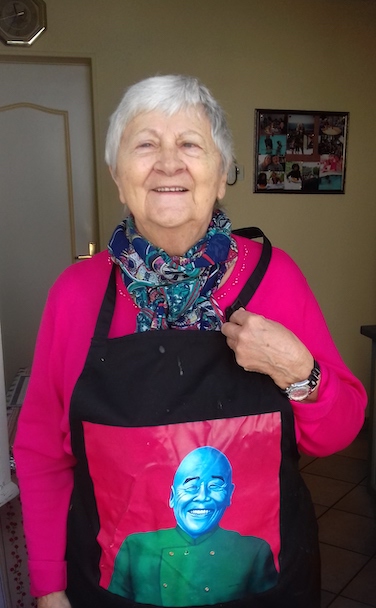 Glad to be part of the 'Best 10 Cookery shows to watch in Lockdown' as mentioned by the Guardian Newspaper
The Miracle of the Wok and Oyster Sauce
It is amazing what a tasty meal you can make with leftovers in the wok. First, I heated up my wok until it was very hot, then drizzle some vegetable oil. Then I dropped in chopped garlic and onion and stir them for a few seconds. Next came chopped sausages and chopped tofu. After a few stirs, I added a splash of water and rice wine (you can use dry sherry or any left over wine) Finally, I mixed in thin rice noodles and Lee Kum Kee oyster sauce. An instant delicious feast that was simple, easy and no stress!

One of the cuisines that I fell in love with after living in California for over 20 years was Mexican food. Here in Bangkok, I make tacos, my way. Taco shells are available in supermarkets. I simply marinate minced pork with soy sauce, rice wine and stir-fry in my wok before sprinkling taco spices. I am not a cooking snob  – I believe in convenience food if it does not have any additives. Is it authentic? What cares? As long as it tastes good!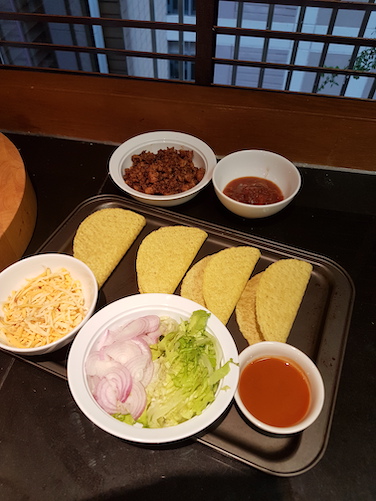 When Asian-Americans Have to Prove We Belong This isn't the first time we've been treated as a threat. NYTimes
China has sent medical supplies to 127 countries
I have noticed in Bangkok, where I am at the moment that everyone wears a face mask when going out. The infection numbers for the entire country of Thailand is very low compared to rest of the world, as in most Asian countries.I wear my mask whenever I go out and highly recommend that you do the same. Extra precaution in these challenging times can save lives! Wishing everyone GOOD HEALTH!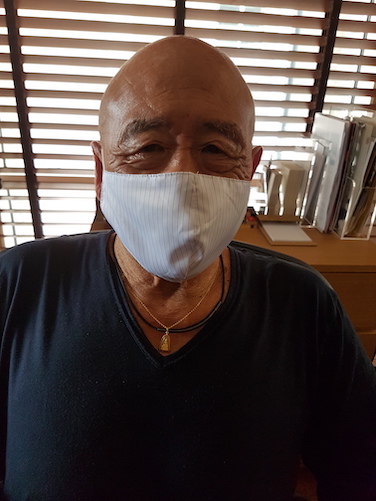 During these challenging times, I was so moved by reading that the appeal for volunteers by the NHS brought an avalanche of applicants! I salut these brave and giving people who epitomise the spirit of the blitz! Thank you!
I was so moved and touched by Her Majesty, The Queen's speech to the nation. It gave me courage as I know as she gave to the rest of the nation. She is our rock and pillar and I shall take to heart her every word. I continue to cook during these challenging time and look forward to the future!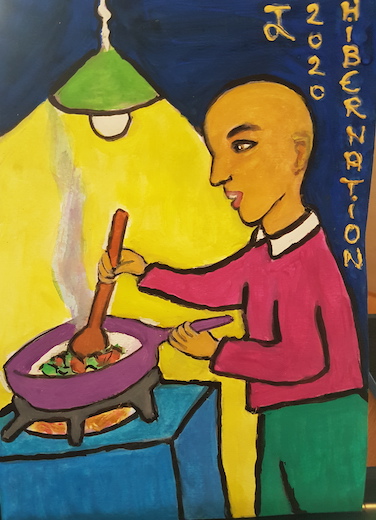 Farewell Brookes Restaurant
Following its recent closure, Don Sloan reflects on the pivotal role played by Brookes Restaurant in shaping an engaged, inclusive community of learning. Brookes Restaurant was located within the Oxford School of Hospitality Management at Oxford Brookes University.
Waste
One of the great lessons I learnt from growing up poor is to never waste food. It comes in very handy these days of containment when we can't go out as often as we like. I just made the most delectable dish of leftover rice with bits of sausages and chicken remaining from another meal and combined it with chopped onions and ginger with two beaten eggs with sesame oil and a piece of lettuce that I shredded. I heated my wok until it was very hot before I drizzle in vegetable oil, then toss in the onions and ginger first, followed by the leftover rice, etc. Finally, I stirred in the beaten eggs and then toss in the shredded lettuce. A last minute seasoning of salt & black pepper to taste, I had the most delicious meal made in a single wok. It was easy, quick and no stress!

The silver lining to this horrible virus is our growing appreciation of the bravery of NHS doctors and nurses who are on the front line. I was also moved by a story of Chef Takashi Kinoshita, a Michelin star chef in Dijon, who like Chef Andrew Wong in London, is cooking meals and delivering them in a borrowed van to the doctors and nurses in a Burgundy hospital who are fighting to save the lives of coronavirus patients. Such an inspiration during these terrible times.
If there's a silver lining during this global lock down is that I have had time to read books. My latest addiction is Becoming by Michelle Obama. From her childhood to becoming First Lady, it is such a gripping, powerful, intimate and inspiring memoir that it leaves me smiling and happy! I especially love her memories of growing up in Chicago which reminded me of my own childhood there. I can't wait to cook for her with my wok!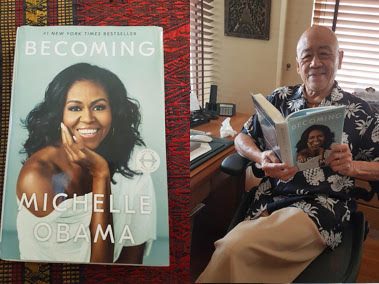 My good friend and chef Paul Bloomfield wrote to me that London was a ghost town and that business has vaporised. But look what he found online to cheer him up! His advice is to stay calm and hope this will all end soon!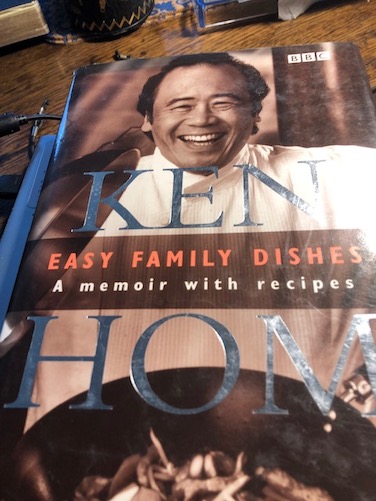 A beautiful poem sent by a good friend!
The Time We Spring-Cleaned the World
The world it got so busy,
There were people all around.
They left their germs behind them;
In the air and on the ground.
These germs grew bigger and stronger.
They wanted to come and stay.
They didn't want to hurt anyone
They just really wanted to play.
Sometimes they tried to hold your hand,
Or tickled your throat or your nose.
They could make you cough and sneeze
And make your face as red as a rose.
And so these germs took over.
They started to make people ill,
And with every cough we coughed
More and more germs would spill.
All the queens and kings had a meeting.
"It's time to clean the world up!" they said.
And so they had to close lots of fun stuff,
Just so these germs couldn't spread.
We couldn't go to cinemas
Or restaurants for our tea.
There was no football or parties,
The world got as quiet as can be.
The kids stopped going to school,
The mums and dads went to work less.
Then a great, big, giant scrubbing brush
Cleaned the sky and the sea and the mess!
Dads started teaching the sums,
Big brothers played with us more,
Mums were in charge of homework
And we read and played jigsaws galore!
The whole world was washing their hands
And building super toilet roll forts!
Outside was quiet and peaceful,
Now home was the place for all sports.
So we played in the world that was home
And our days filled up with fun and love,
And the germs they grew smaller and smaller
And the sun watched from up above.
Then one morning the sun woke up early,
She smiled and stretched her beams wide.
The world had been fully spring cleaned,
It was time to go back outside!
We opened our doors oh so slowly
And breathed in the clean and fresh air.
We promised that forever and always
Of this beautiful world we'd take care!
Herewith to share with everyone over the weekend, and quick tasty dish that is a favourite of my good friend, Will Symonds who lives in California! Share this with your family. Remember, when cooking fish in the wok, stir carefully as to not break up the fish. Wishing everyone good health!
STIR-FRIED FISH WITH PEAS
Serves 4
450 g (1 lb) fresh firm white fish fillets, such as cod, halibut or seabass
2 teaspoons salt
100 g (4 oz) fresh or frozen peas
2 tablespoons groundnut or peanut oil
50 g (2 oz) Parma ham or lean English smoked bacon, shredded
Sauce
150 ml (5 fl oz) Chicken Stock
1 tablespoon Shaoxing rice wine or dry sherry
1 tablespoon light soy sauce
1 teaspoon salt
½ teaspoon freshly ground white pepper
2 teaspoons sugar
2 teaspoons cornflour, blended with 2 teaspoons water
2 teaspoons sesame oil
Cut the fish fillets into strips 2.5 cm (1 inch) wide and sprinkle the salt evenly over them.  Let them sit for 20 minutes.  If you are using fresh peas, cook them for 5 minutes in saucepan of boiling water and then drain them in a colander. If you are using frozen peas, simply thaw them.
Heat a wok or large frying-pan and, when it is hot, add the oil.  Let the oil heat up and then add the fish strips.  Stir-fry these gently, taking care not to break them up.  Cook the strips for about 2 minutes, and then add the ham or bacon, peas and all the sauce ingredients except for the cornflour mixture and sesame oil.  Bring the sauce to a boil, add the cornflour mixture and stir this in well.  Cook for another minute, stir in the sesame oil and then serve at once.
Time & Leisure catches up with Ken to talk career highlights, foodie ventures, and what's next for the international chef.
I wish to salute all the good brave people who have volunteer their services to both the NHS and the older people in need. I am especially proud of my good friend, Chef Andrew Wong, one of the best chefs in London. His restaurant is closed because of the coronavirus but he has kept his staff and they are producing cook-at-home boxes (around 50-100) free of charge to vulnerable people who are struggling through this crisis. He is not only a great chef but Andrew has a heart of gold!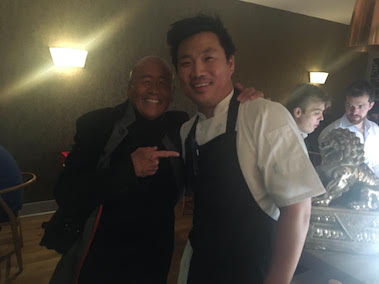 It is surprising what pops up from all this global self isolation. A old friend, dug up this article from the early 1980's. Yikes, I had a head full of hair!
I was sad to hear the news that HRH Prince of Wales tested positive for the coronavirus and having met him a number of times, I wish him a quick and speedy recovery to good health!
Asian-Americans meet a spasm of racist hate/ Thank you Mr Trump
During these rather strange times, I want to share simple, easy and healthy recipes that can be done quickly in the wok.
I shall begin with a favourite: Stir-fried Salmon with Lemon
When stir-frying any fish, it should be done gently so as not to break up the delicate flesh.
Serves 4
450 g (1 lb) fresh boneless salmon filets. You can use any firm fish as an alternative..such as cod.
2 teaspoons salt
3 tablespoons groundnut (peanut) oil
1 tablespoon groundnut (peanut) oil
salt and freshly ground black pepper, to taste
1 tablespoon ginger, finely shredded
1 teaspoon sugar
1 tablespoon lemon zest
1 whole lemon, segmented
2 teaspoons sesame oil
Cut the salmon into strips 2.5 cm (1 in) wide and sprinkle the salt evenly over them. Let them sit for 20 minutes.  Heat a wok or large frying-pan over high heat until it is hot. Add the oil, and when it is very hot and slightly smoking, turn the heat down to medium and add the salmon strips. Let them fried undisturbed for about 2 minutes and gently turn over until they are brown on both sides. Take care not to break them up. Remove them with a slotted spoon and drain on kitchen paper. Wipe the wok clean.
Reheat the wok, add 1 tablespoon of oil. Then add the ginger and stir-fry for 20 seconds to brown. Now add sugar, lemon zest, lemon segments, salt and pepper and stir-fry gently for about 1 minute. Return the salmon to the wok and gently mix with the lemon for about 1 minute. Then add the sesame oil and give the mixture a good stir. Using a slotted spoon, arrange the salmon and lemon on a warm serving platter and serve at once.
Please stay safe and wishing everyone good health!
Asian-Americans meet a spasm of racist hate/ Thank you Mr Trump
A message to all my friends
During these trying days, many of us are isolated in our homes. It is time to take out your woks to create new dishes and to refine your best dishes. Remember eating well is one of the best defence against the virus! So wok well! I wish all of you good health and happiness!
Chef Ken Hom OBE
My great friend and superb chef Sabrina Gaynor and her lovely mum, Shohreh have been spending time watching old episodes (1984) of your Chinese Cookery show. Yikes, I still had hair then! Wishing them all good health & love!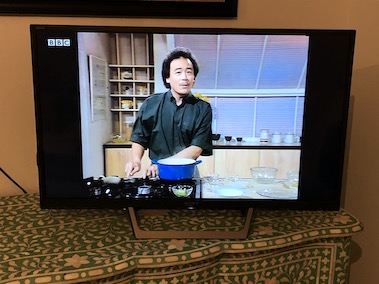 I am greatly sadden by the death of the legendary French-born chef and restaurateur Michel Roux. He has been a pioneer in cuisine in the UK and has been a model for me for many decades. Michel was an extraordinary man whose legacy will be with us for many years! I salut his life and my heart goes out to his lovely family.
Despite all the dire news, there is cause for celebration: International Women Day! I want to salute all the women of the world!!!!! Watch the video
The Foreign Correspondent Club of Thailand
It was such a privilege for me to be invited to talk about my stir-fried life at the Foreign Correspondent Club of Thailand in Bangkok. Hosted by my good friend, Gwen Robinson, who is also the president of the club. We talked about various aspects of my culinary life, my views about food and my experiences as a chef in Bangkok. I was touched meeting people that I have not seen in years but especially by meeting one of my BBC heros — Jonathan Head!



Ken Hom's Stir-Fried Life with Fuchsia Dunlop at the The British Library NW1 2DB Thursday – 16 Apr 2020, 19:00 – 20:30
An evening with Ken Hom 4 March FCCT Clubhouse, Bangkok
George Heriot's School Charity Dinner
It was such an uplifting occasion for me to cook with the students from the George Heriot's School in Edinburgh thanks to my colleague, Don Sloan. We raised over £11,000 for Action Against Hunger, one of my favourite charities. My good friend and great chef Paul Bloomfield assisted and organized the entire dinner with the students. I was moved by their motivation, hard work and dedication and it was great fun to share my experience with them.


I'm delighted to announce that I'm returning as head judge for this year's The Golden Chopsticks Awards.  If you'd like to see your favourite Oriental restaurant crowned winner then make sure to vote for them here! You could also win £500 if you vote!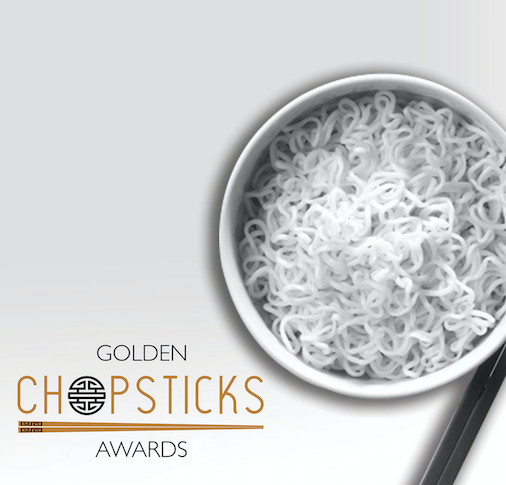 Celebrating Chinese New Year in London!
James Green
Amazing who one bumps into. Recently, at an event at Cosmo in Manchester, I was reunited with an old friend, James Green, who I had met more than 20 years ago while cooking at Old Trafford for Sir Alex Ferguson. Here is a photo of us with Ryan Giggs when I still had hair! and the photo of us now!

Ambiente
Although I was unable to attend the Ambiente fair at Frankfurt this year because I was cooking at Northcote. But my presence was nevertheless there!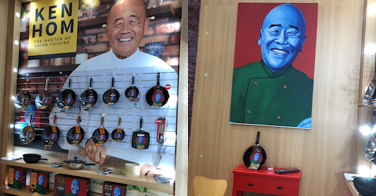 It was a great honor for me to host an Action Against Hunger charity benefit dinner at my home in Paris for Victoria & Ollie McGovern and Helen & Phil Brown.We began the meal with Crispy 5 spice confit duck wings and feet. Followed by Salmon Belly marinated five days in miso. Then I served Classic Beijing duck in three courses:
– Crispy skin with sugar
– Shredded duck meat served with Chinese pancakes & sauce Spring onions and cucumber
– Duck legs and thighs stir-fried with black Chinese mushrooms, pear apples, oyster sauce served with lettuce cups
I had to serve Crispy Noodles with chicken and beansprouts, as it was Chinese New Year and we finished the evening with Vanilla Ice Cream with dried soy beans and South American chocolates chips. It was a feast for a great cause!

I am proud to be an ambassador the GREAT campaign:
About the GREAT Britain campaign
The GREAT Britain campaign is the Government's most ambitious international marketing campaign ever, and showcases the very best of what Britain has to offer, encouraging the world to visit, study and do business with the UK.
The campaign is active in 144 countries worldwide and unifies the international growth promotion efforts of the Department for International Trade, VisitBritain, British Council, the Foreign & Commonwealth Office, 18 other government departments and organisations and hundreds of private sector companies.
Over 750 businesses and high-profile individuals back the brand with joint funding, sponsored activity and active support. They all work closely together to deliver jobs and growth across all parts of the UK.
The campaign supports around 120 separate events and activities a month, in approximately 200 locations worldwide.
The campaign generates significant returns for the UK in tourism, education, trade and investment. VisitBritain alone has secured over £850m from its GREAT-funded tourism campaigns since 2016.
The brand has been independently assessed by valuation experts (Brand Finance) who have shown that it has a current value of 271m.
The sophistication and effectiveness of the campaign is admired by academics and countries around the world, including our major competitors. To date, the GREAT campaign has received 70 national and international awards.
For more information, please follow us on social: Instagram Twitter and Facebook or go to our website: www.great.gov.uk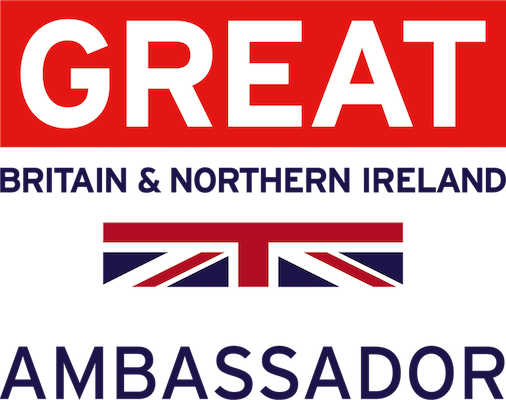 Wonton soup is a staple at Chinese restaurants around the world, but Emett advises that the recipe by acclaimed the Chinese American chef Ken Hom is "the only version you will need." Read in the Inside
Read Ken's article in The Times:  Ken Hom veg diet wards off my cancer
CEO of soup dumpling phenomenon Din Tai Fung dishes on the restaurant's secrets.
I am so excited about the upcoming Chinese New Year celebrations for the Year of the Rat. Already one of the best and largest Chinese supermarket in London's Chinatown is making a colourful splash!!!! Wishing everyone much happiness, prosperity and above all good health for the New Year!!!

Ken's public appearances:
Tuesday 21 January 2020 6.30 – 9.00 pm
Cosmo Restaurant,  8 Magdalen St, Oxford OX1 3AD.   Information and bookings on  01865 297575
A special evening with Ken Hom.   Enjoy a special menu of mouth-watering dishes created for Cosmo to celebrate  Chinese New Year. Chat to Ken Hom, and leave with a goody bag provided by Cosmo Restaurants.  Ken's autobiography 'My Stir Fried Life' available to purchase on the night.
Wednesday 22 January 2020 11.30 am – 1.30 pm
Cosmo Restaurant,  8 Magdalen St, Oxford OX1 3AD.   Information and bookings on  01865 297575
Book this special masterclass with Chef Ken Hom, learn some of the secrets of Chinese cooking whilst listening to his rich experiences and stories from his travels. Enjoy a sit down lunch after the masterclass.
Wednesday 22 January 2020 7.00 – 9.30 pm
Cosmo Restaurant, 48 Deansgate, Manchester M3 2FE  Tel. 0161 989 1388
A special evening with Ken Hom.   Enjoy a special menu of mouth-watering dishes created for Cosmo to celebrate  Chinese New Year. Chat to Ken Hom, and leave with a goody bag provided by Cosmo Restaurants.  Ken's autobiography 'My Stir Fried Life' available to purchase on the night.
Thursday 23 January 2020 11.30 am – 1.30 pm
Cosmo Restaurant, 48 Deansgate, Manchester M3 2FE  Tel. 0161 989 1388
Book this special masterclass with Chef Ken Hom, learn some of the secrets of Chinese cooking whilst listening to his rich experiences and stories from his travels. Enjoy a sit down lunch after the masterclass.
Sunday 26 January 2020 11.30 am – 4.00 pm
The Gate Restaurant, 87 Allitsen Road, St John's Wood, London NW8 7AS  Information and reservations on 020 7833 0401
Friday 7 February 2020
Come and see me at Northcote's famous Obsession dinners. I will be cooking on the 7th of February 2020!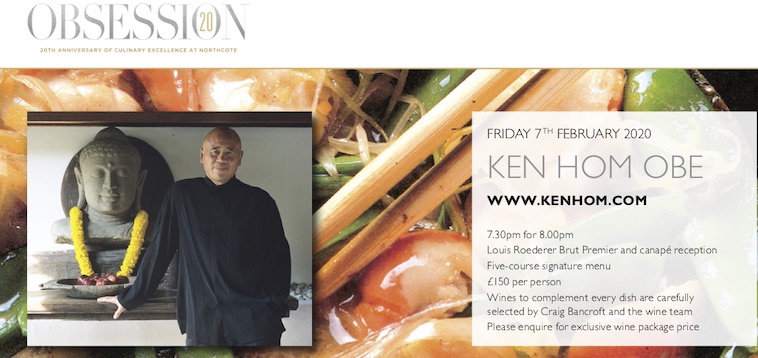 Ken's TV appearances:
Saturday 25 January 2020 2020 10.00 – 11.30 am
Watch Ken Hom on Saturday Kitchen Live BBC1 television, cooking recipes for a Chinese New Year banquet  – today it's the  Year of the Rat!
This Veganuary, Chef Ken Hom has created a wonderful vegan menu for The Gate, the plant-based London restaurant group. On Sunday 26 January he will host a special lunch where his menu will be available. Meet Ken Hom, listen to his stories and ask him why vegan dishes are popular on his menu.  Opportunity to buy his autobiography 'My Stir Fried Life'.
Read Ken's Treasured Family Recipes in Delicious Magazine
Applications now open for The Ken Hom Scholarship from Monday, 13th January.
I am delighted to launch the new scholarship with Lee Kum Kee: Ken Hom and Lee Kum Kee launch scholarship for future leaders of international hospitality industry.
For Veganuary, celebrity chef Ken Hom, has developed a special vegan menu for The Gate. See The Gate listed in the 10 of the best vegan-friendly restaurants in London
Play Paddy Power's Secret Santa gift guide and asking you to match it with the Premier League footballer
I am proud to be an ambassador the GREAT campaign  – here's a review of their activities worldwide, with highlights of those I have supported during 2019

I was so touched and moved when Lesley Franklin, the  Principal of George Heriot's School in Edinburgh sent me this photograph from their kitchen. They made Stir Fried Fish in Black Bean Sauce for the students who took an innovative and imaginative photo of the dish!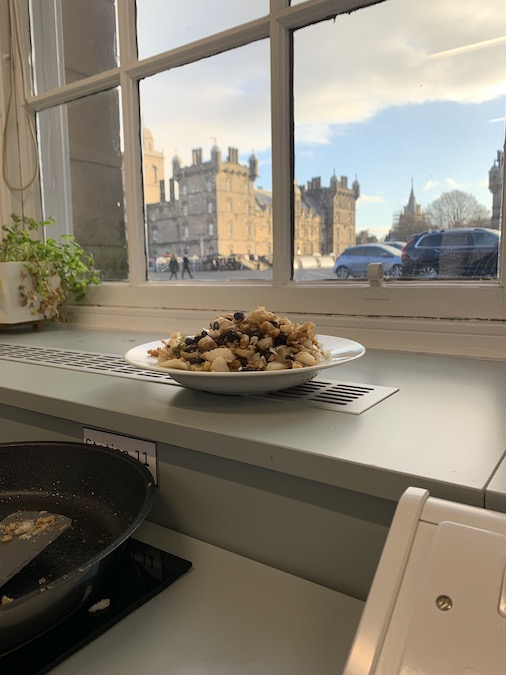 The fun's over for noodle-maker forced out of Chinatown home
I was devastated to hear of the tragic passing of Chef Gary Rhodes OBE, a good friend and a true culinary legend. I felt privileged and honoured to have appeared with him, a great many times on television. I will miss him as a dear and kind friend. My heartfelt sympathies to his family!
Look at what a friend found in a second hand shop! From the early 1980s!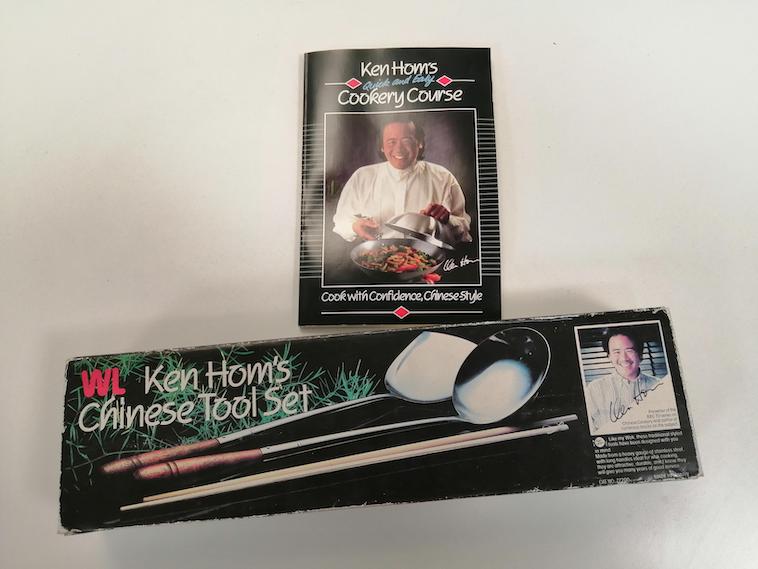 See Food is GREAT in Guangzhou. Promoting British food and drink in Guangzhou
Chinese noodles with Ken Hom: listen now
The best woks to transform your stir fry: The Telegraph
GREAT in Guangzhou
One of the pleasures of being a GREAT ambassador is promoting the best of British food. While in Guangzhou, I filmed a recipe using British cheese in won-tons. Easy to make and delicious and using a Chinese method to get the Chinese to discover why British cheese can be so tasty. That evening, we had a press & social media bash in which I spoke of my love for Britain and why its food deserves a taste! We also launched the Chinese edition of my book in which I write in depth about BBC and what a great institution it has been.


Celebrity chef menu at BODW Gala Dinner
BODW Gala Dinner participants will be treated to an exquisite menu designed by consultant celebrity chef, Ken Hom OBE. Ken has cooked for royalties and was awarded a 'services to culinary arts' for his impact in making Chinese cuisine a favourite in the UK. If you would like to have a taste of Ken's excellent culinary skill, and develop your professional network and extend business reach to BODW Speakers, Entrepreneurs and Creative Leaders, you must not miss this year's BODW Gala Dinner! Buy tickets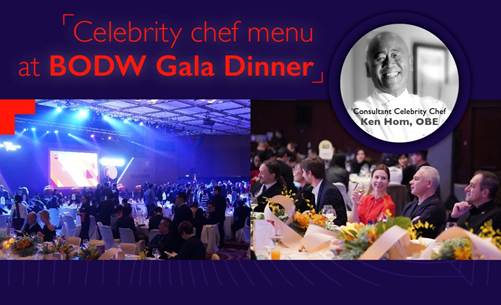 Kaiping
I was thrilled to return to Kaiping which is a city in southern China, in the Pearl River Delta and where my parents came from. I was amazed at the progress and changes in Kaiping within 7 years where I last filmed with the BBC for my series: Exploring China. There are now over 688,000 residents and more prosperous than ever. My cousins and mayor came out to greet me to celebrate the publication of my memoirs translated into Chinese. I felt as if I had returned home!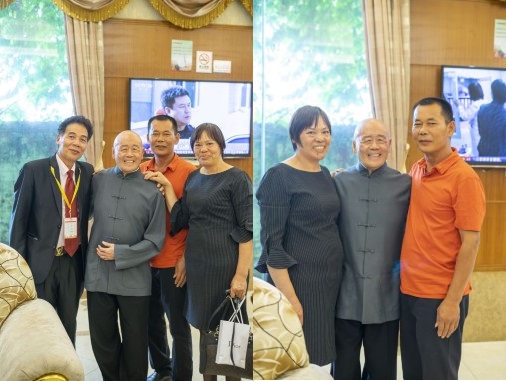 Top Celebrity Chefs Back exciting new 'Meatball Month' campaign in support of Muscle Dreams a charity helping children and young people with the muscle wasting disease, Muscular Dystrophy (MD) and allied neuromuscular conditions.
The launch of the Chinese edition of my book in China!
RMHC Family charity dinner 20 Oct 2019
What a great evening I had tonight support RMHC Hong Kong charity which helps sick children and their family. I donated copies of the Chinese edition of My Stir-fried Life and gave one to the Hong Kong iconic singer, Elisa Chan! We began with Pan-seared Scallops served with crispy ham, then a gentle rich Cream of Cauliflower soup followed, an oven-baked Sea Bass with Ginger-Spring Onion crust could not have been more moist and delicious. A Mascarpone Cheese cake was a brilliant finish. We managed to raise a record HK$5 million + for the very worthy charity!


I just wanted to share some exciting news with you all. For the first time ever we have launched a direct consumer website for Ken Hom. http://kenhomwoks.com/ is now live and operated by eAccess, the same partner that is currently running Zyliss.com and ColeandMasonUSA.com websites.  eAccess is excited to expand our partnership and will be able to support us with additional Marketing investment and expertise over the brand. Feel free to check out the website, and I hope you all find it to be a quality experience as intended.
We need to tackle food waste and we can start with the food industry & restaurants
'mrsbeard80' Tweeted: What a treat. BBC iplayer offered us @ChefKenHom from the archive. Patiently explaining unknown foods to his 1980s audience. Having to explain everything from ginger root to soy sauce. Wonderful!!
See the episodes on iPlayer (UK Only)
Norman Musa
I finally had the great pleasure of meeting and cooking for the great Malaysian chef, Norman Musa. His best selling book, AMAZING MALAYSIAN is filled with mouth-watering recipes and Norman is now working in Rotterdam. I wish him much success!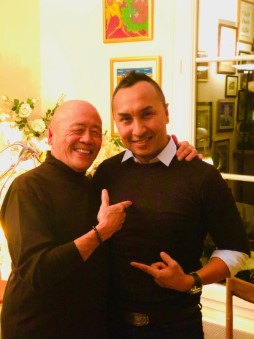 Jessye Norman
It was with much sadness that I read about the passing of the great singer, Jessye Norman. I remember cooking for her at the Oxford Literary Festival where she talked about her memoirs. Here is the menu I designed for her and she loved it. I will always treasure her warm hug.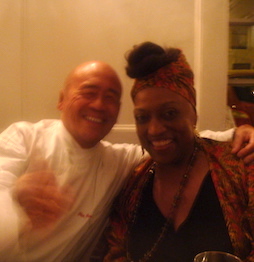 Ching-He Huang
I have always been a great fan of Ching-He Huang and we became close friends after our BBC series together, Exploring China: A Culinary Adventure. So I was honoured to be invited to the launch of her latest new book WOK ON which is brimming with quick delicious recipes all done in the wok. I have no doubt it will be a best seller!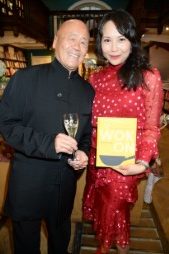 French President Jacques Chirac
I was sadden by the passing of former French President Jacques Chirac. I had the honour of cooking for him twice, first at a summit of 22 European and Asian heads of state and the second time at Pacific Oriental, a restaurant I help create in London. It was just a tete a tete between two heads of state, then Prime Minister Tony Blair and then French President Jacques Chirac. It was an intimate and wonderful experience and I remember how much the French President loved our slant on Asian food!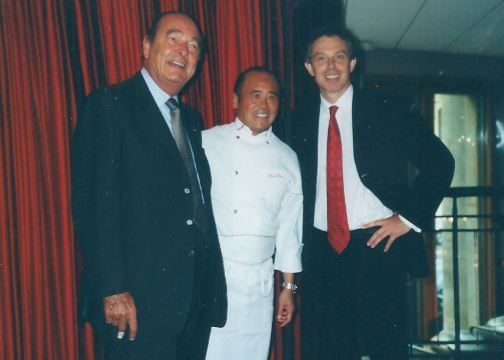 See and hear about Ken's first 80s TV audition for the BBC!
Very sad news: Oxford Brookes Restaurant is in my opinion one of the most important and indispensable part of the Hospitality school curriculum , as students get training in real situation they will have to face when they finish their studies. I find it extremely sad to hear that the University will be closing such a vital part of the school.
Hear Ken on BBC Radio Ken Hom: My life in five dishes. Ken tells us about his life through food
Ken's autobiography is now available in Chinese: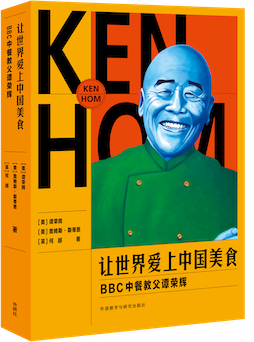 I am delighted to launch the new scholarship with Lee Kum Kee:
Ken Hom and Lee Kum Kee launch scholarship for future leaders of international hospitality industry.

Read more about the Scholarship in Hospitalitynet.org
The Annual Ken Hom Lecture 2019.
Monday, September 30 2019 China Exchange, 53 Gerrard Street, London, W1D 6JA
Chef Ken Hom OBE; XueFeng Bai, UK Director of Din Tai Fung; and John Guthrie, Employment Policy Adviser of UK Hospitality, to address the skills crisis in the Chinese restaurant sector.

Stand Up for Food this month:
We can all help save the planet and our future. We who prepare and serve food should do everything possible to adjust our wasteful habit of discarding perfectly good food. I've always hated seeing good food go to waste. Food waste has huge environmental and financial cost. StandUpForFood month is a great moment to make sure we've got food waste covered; for the better of our planet and our businesses.
Cut portion sizes and give diners doggy bags to reduce the 1million tons of food we waste every year.
WRAP targets food waste in hospitality and food service sector: MRW
Hospitality and food service sector targets food waste this September
RMHC Gala Dinner – Sept 2019
RMHC – Ronald McDonald House Charities in London helps sick children and their families is a charity I am proud to support. Last night, I hosted a gala dinner in my home in Paris — it was offered as an auction prize in March in a fund raising gala. It was brought by Ian & his lovely wife, Penny. They were joined by their close friends, Olivia & Derek. We began the evening with Foie gras with Pébeyre truffles and champagne. This was followed by Spicy & Pepper Prawns and Marinated Steamed Salmon. The main course was my classic Roasted Crispy Pork Belly. We drank Wandering Poet sake followed by Chateau Changyu Moser XV from China. It was a Chinese wine I had discovered in Saturday Kitchen with Olly Smith. We finished with a Warm mango compote with vanilla ice cream. A great was had by all and we managed to raise thousands of pounds for a very worthy cause!

Chicken on crispy noodles
I just love cooking for friends: simple, delicious and humble home cooked comfort dish. Nothing beats a classic Cantonese crispy dish with chicken, left over vegetable and bits and pieces from other triumphs…………the results were super delicious. On top of fresh egg noodles with deep-fried or pan-fried…………the combination of savoury of marinated chicken, beansprouts, chilli sauce from LLK and all the leftovers from the kitchen fridge………..all done in the KH wok and with Lee Kum Kee sauces. A perfect finish to any meal or how about a Christmas lunch!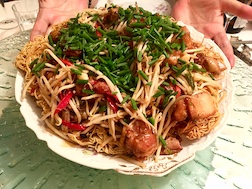 Three of the country's top foodies – find out their foodie thoughts.
A friend sent this to me:  Ken's humble beginnings
Cat Lover
I am such a great cat, as well as a dog lover! I wanted to share these wonderful photos of the most adorable kitties that I shared my summer with!

Judith Jones's culinary legacy tells an American story – Washington Post
Last Friday when I was invited for dinner….it was a great pleasure to meet again two stars of one of France's most popular soap opera (since 2004) called Plus Belle la Vie. I gave the stars Myra Tyliann & Marwan Berreni two t-shirts which they promptly put on!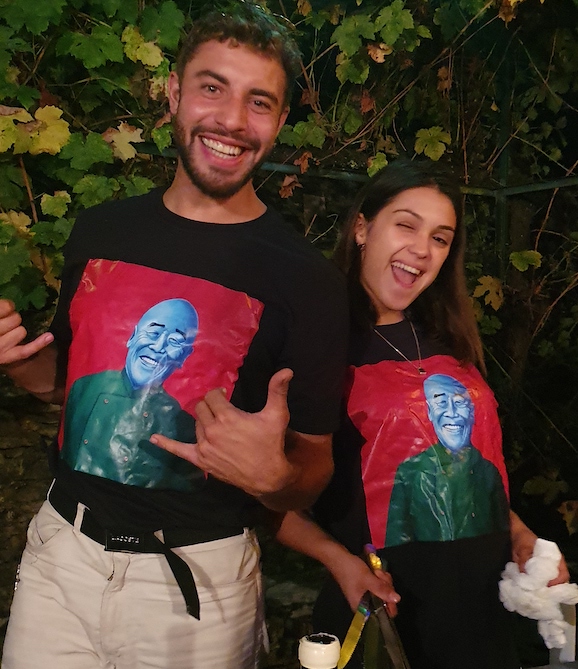 My advice With all the latest news report, I would like to offer the following counsel and advice!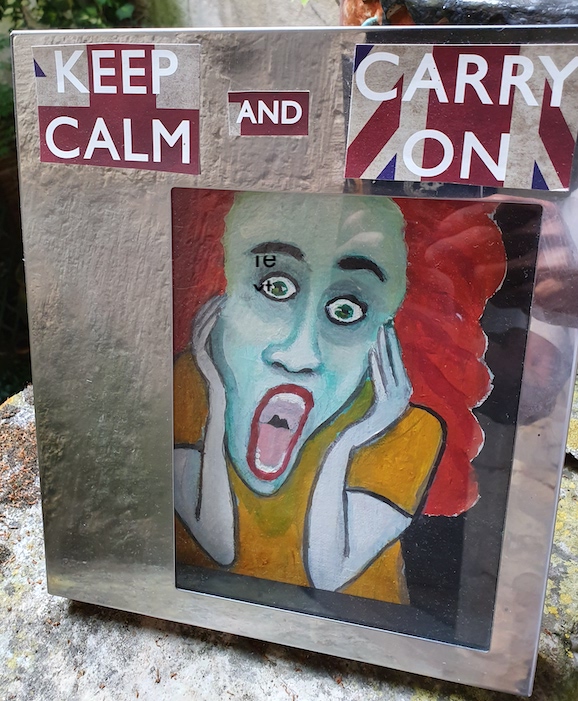 When the Amazon is burning…………we are all burning! We must do all we can to save our planet!
Stand Up for Food
We can all help save the planet and our future by starting with ourselves and adjusting our wasteful habits of discarding food. Before throwing away any food, think about how it can be used. Garlic peels are wonderful in a roast or in a stock. Ginger peels can be frozen and make a wonderful grog especially if you have sore throat. Recycle all your left over vegetables into a savoury soup. Food is as precious as our planet and if we all work together we will be able to make the world a better place without food waste!
Lot of Saveurs
Every other year in my village in France, we celebrate good food of the Lot (my region) at the end of summer with a huge gathering of delicious food, music, dancing and friendship. Vendors selling fresh baked bread, foie gras, organic salad, and cheese. This year was over five hundred people…..which included many British friends who live in the area. What a fantastic way to share the joys of life!


Please read carefully. This feature showcases the important work done by Action Against Hunger for which I am proud to be an ambassador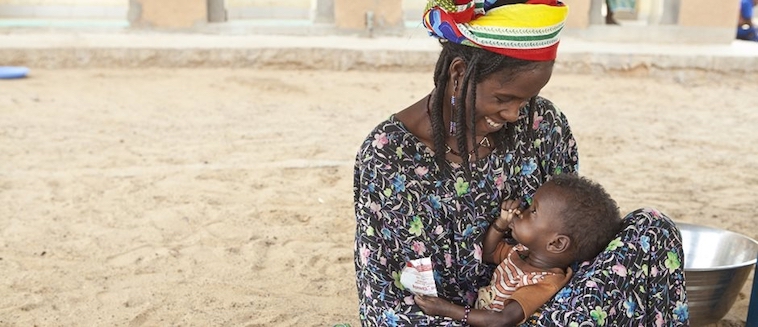 Wanted: captain for campaign to market Britain to the world
AAH Luncheon – August 2019
It was such a great pleasure to welcome Donna, Olly, Denise, Dave, Lorna and Tim to a BBQ luncheon which began with local bits of confit duck, Salt & Pepper Prawns and BBQ pork ribs marinated for many days in miso paste and sake, finally grilled with a mixture of Lee Kum Kee sauces! All of which was washed down with plenty of chilled rosé wines from the region. I wanted to thank this lovely group (their second fund-raising meal with me) for their support for Action Against Hunger, as well as Din Tai Fung for their chilli sauces and Any Sharp for their gift of knife sharpeners to all group! Great fun for a very worthy and important cause!

15th August
The 15th of August is a big summer holiday here in France. Each year, I love to host and cook a BBQ for friends from my village. This year was no exception. I made roasted BBQ ribs with my array of Lee Kum Kee sauces, served with a spicy egg fried rice and braised Sichuan aubergines. Of course, we drank lots of champagne and rosé wine. Louis, a 17 year son of friends came with his feminist jacket! Fantastic. The youngest guest, Louisa, almost 3 years old stole the party and here caught eating one of my dishes. My formula for love and world peace!!

Summer salad
For lunch the other day, I prepared a summer of mozzarella cheese balls with sweet ripe tomatoes, salt, freshly ground black pepper, olive oil and finished it off to basil and chive flowers. Meanwhile, my newfound friends (the lovely cats) continue to visit!

I am having a ball filming in my kitchen with New Zealand's top chef & tv personality, Josh Emett. We are sharing cooking & food tips for his new series, The Recipe!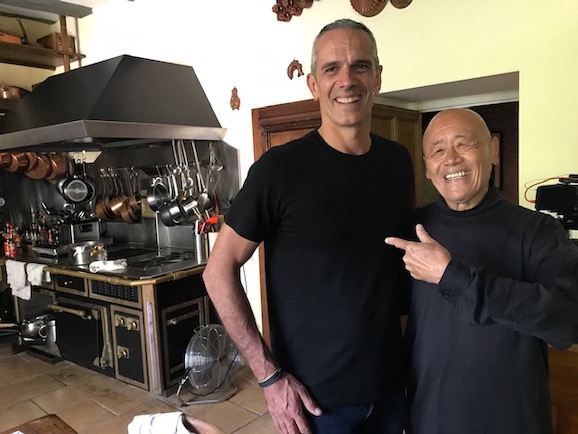 Read all about my new range of woks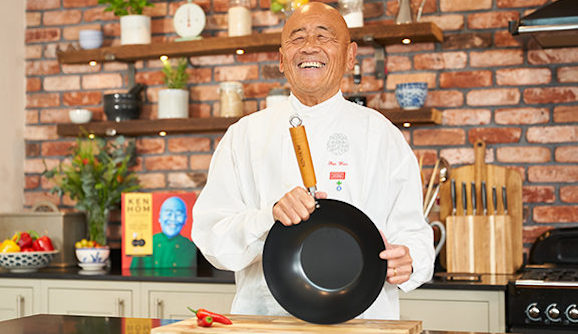 One of my great chef friends Nobuyuki Matsuhisa on his kitchen secrets
My good friend, Olivier De la Teyssonniere created one of the much success packing company in France called Bambou Diffusion. (www.bambou-diffusion.com) He brought me a surprise gift when he came for lunch the other day. Two foie gras cutters embossed! I must invite him again!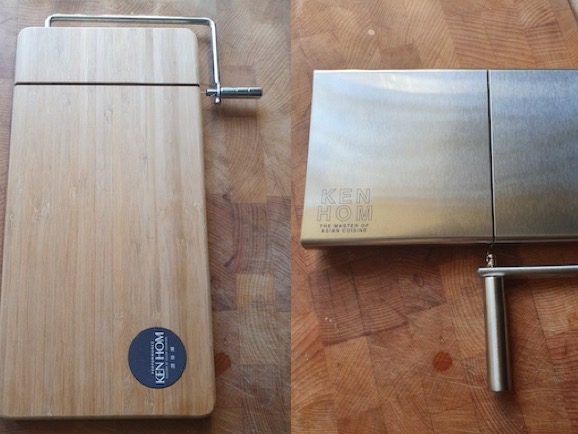 It is hard to believe that half of the summer is almost over. However, I am enjoying the bounty of wonderful sweet ripe tomatoes paired with fragrant basil with mozzarella cheese splash with good Italian olive oil. As I prepare my salad, my summer family of cats with their mother joins in! Bliss!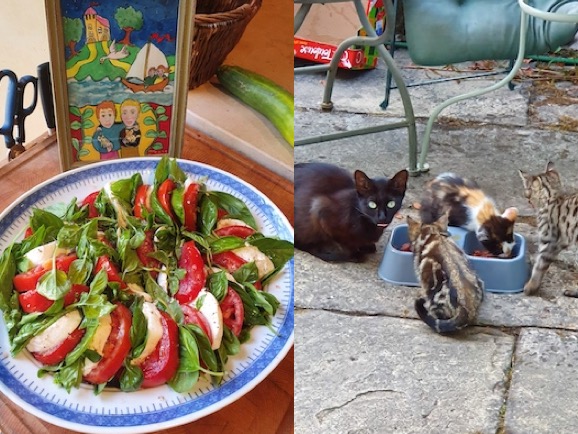 Food favourites with artist Adam King – Jimi Hendrix and microwave cooking
A friend sent this link to me….very funny indeed, I still had lots of hair!
Cocktails and Wine
My bar is filled with gin and whiskey but it is Olly Smith's book Fizz whose book is my bible for all my drinks! In my wine cellar, there is a portrait of my great friend, Paul Levy who presides in my cellar as the wine god. Two wonderful friends from the world of food & wine! I am one lucky guy!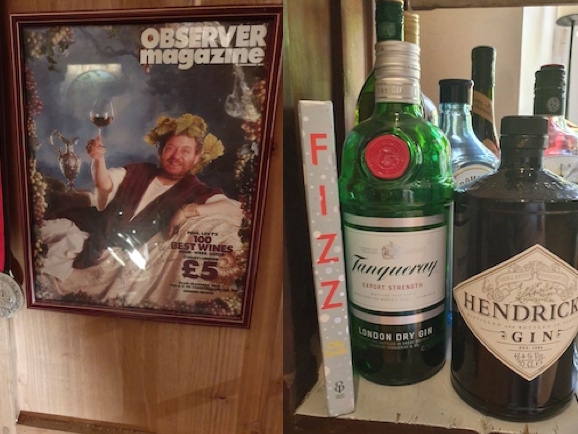 From Bangkok
A good friend was dining in Bangkok and saw this on the wall of the restaurant which he sent to me! All my recommendations still hold and are valid!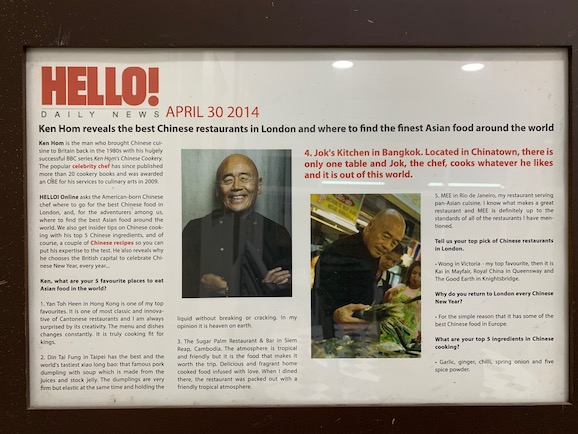 A busman's holiday
I have cooked professionally for over 59 years and yet I still love cooking especially for friends. With drinks we had local duck confit wings & bones as well as homemade duck foie gras.  I like mixing my Chinese food heritage with local fresh ingredients. The other night, I stir-fried tender pork fillets with chanterelles brought to me by one of my guests together with fresh courgettes from a friend's garden and finished off the dish with Lee Kum Kee Premium oyster sauce and LKK Chilli Bean sauce.  Everyone agreed it was a singular success and we toasted with lots of local Cahors wines!

Market Day
One of the great joys of cooking in France is market day. For my village, it is Tuesday where local farmers bring their summer bounty and there is even a fish monger. I love shopping and look what I came across, a local duck farmer, Ghislaine Borie making duck confit inspired by my recipe using Chinese spices! That is what good food is all about……….inspiring each other!

For Cat Lovers
The other day when I was preparing a light lunch with produce from friend's garden, I was visited by a family of cats….a mother with three beautiful kittens.
As a great cat lover, I was over the moon and since then they have all become permanent summer visitors in my garden. I couldn't be happier!

Summer bounty
Where else in the world your village mayor rings your door bell and bring you an abundance of organic vegetables and flowers from his garden? That is what exactly happen to me the other day. The early hot summer heat has produced some of the sweetest and crunchiest salad I have eaten in a long time. Vive la France!!!
14th July
The 14th July is France's biggest national holiday and leave it to the French who know how to celebrate with great food. My village in southwest France staged a magnificent feast. Our local butcher, roasted slowly beautiful pork loin that was melting and tender. All was served with scalloped potatoes. We drank local wine, followed by goat cheese, dessert and we then dance all night!

AAH Dinner
It was an honoured for me to host and cook for a lovely group of people who bid for an AAH Dinner at my summer home. It was their first visit ever to the Lot region. I began the meal with duck foie gras and confit duck bones, we then had salt & pepper prawns, miso marinated cod. The main course was crispy pork belly served in lettuce cups with Lee Kum Kee plum sauce and chilli sauces from Din Tai Fung.  We finished with a warm mango compote and vanilla ice cream. They were treated to the village's fireworks and upon leaving, I gave each of them an AnySharp for their kitchen as well as a Ken Hom apron! Of course, I thank them for their support for Action Against Hunger!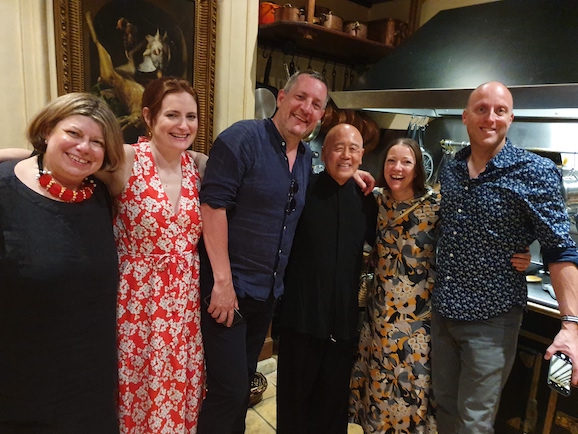 Summer in France
I love being in southwest France in the summer. It is all about good food, excellent wines and above all, long time friendships. On a warm summer evening, I was invited by Claude, our village mayor and his lovely wife, Dany to dinner. It was simply delicious………it was Dany's perfectly cooked omelet made with chanterelle mushrooms picked by Claude. A real joint affair and team work —- magical.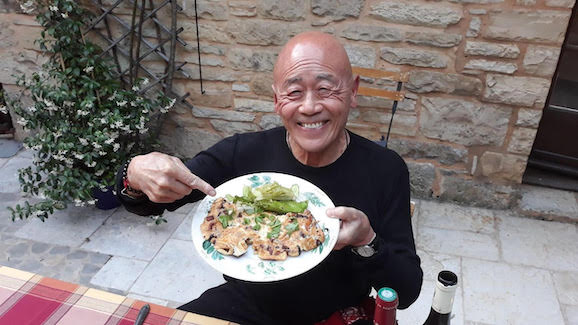 Waitrose article 'A Portrait of Ken Hom'.  Photographer, Jamie Lau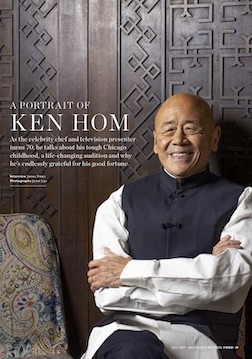 My father
Today, I received amazing news that a Congressional Gold Medal shall be awarded to my father, Hom Hong Jung in recognition of his dedicated service during World War II.
The Congressional Gold Medal is the highest civilian award in the United States awarded by Congress. The United States remains forever indebted to the bravery, valor, patriotism and dedication that the Chinese American Veterans of World War II displayed in defending and protecting democracy, at home and overseas.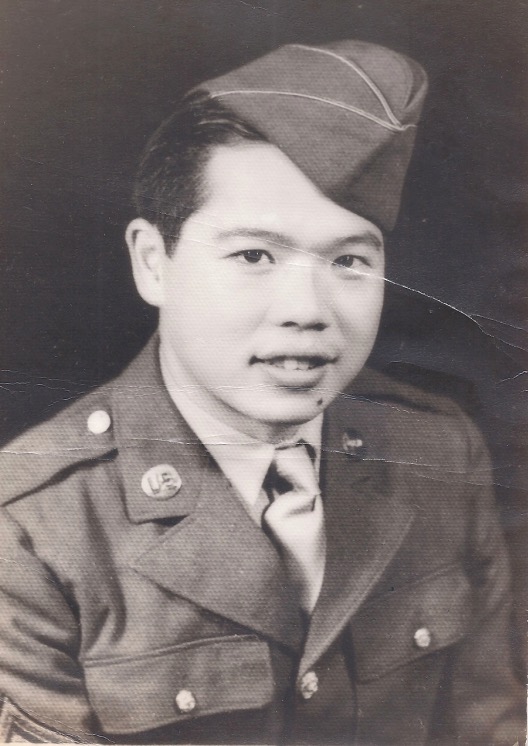 FIFA Women's World Cup
Very disappointed in tonight's Fifa Women's World Cup semi finals. The English team was wonderful and played well but alas they lost. It was heart breaking for me! I wanted them to be the world champion. Perhaps the next time????
I am over the moon that the English team won tonight's match over the Norwegian team. They were superior and played so well. I love the FIFA Women World Cup! Viva les femmes! I am so proud to be a feminist!
One of my recent joys have been watching the FIFA Women's World Cup! How fantastic to see women from all over the world playing great football and what an inspiration to young girls! Although my favourite team has been the French Blues, but I have been impressed by their rival teams and feel that may the best team win the FIFA Women's World Cup!
What a great audience we had at the Althorp Food Festival in May! I found these pictures which reminded me of a happy weekend with so many lovely people. Their next two events are in August, the Althorp Craft Fair 9-11 August and  the Children's Week 24-30 August 2019. The grounds are magnificent, it's well worth a visit this summer.

A new digital subscription service billed as "Spotify for cookbooks", is launching for the professional market with licences in place with publishers and big name UK chefs including Gary Rhodes and Ken Hom.
I am thrilled with the launch of Migrations: All Our Voices June 17th!
I am delighted that my old friend, Stefan Trepp has become the eighth chef to head the Dorchester hotel's kitchen! He is a very talented chef and a really nice guy. I had the great pleasure of cooking with him at The Oriental in Bangkok over 10 years ago when I did a 2 week pop up restaurant there at Lord Jim's. Stefan will be adding his touches, no doubt to the wonderful world of food in London!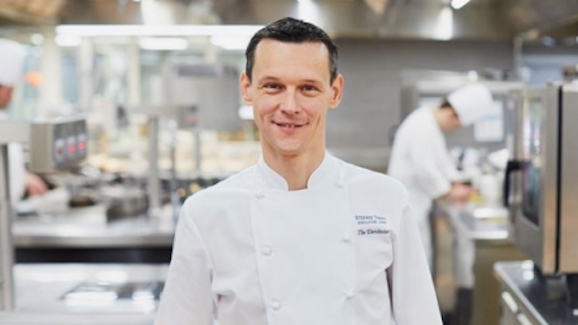 My heartiest congratulations to Liverpool winning the 2019 Champions League final in Madrid …Well done!!!!
With HRH The Prince of Wales at the Fortnum & Mason Food Awards in London!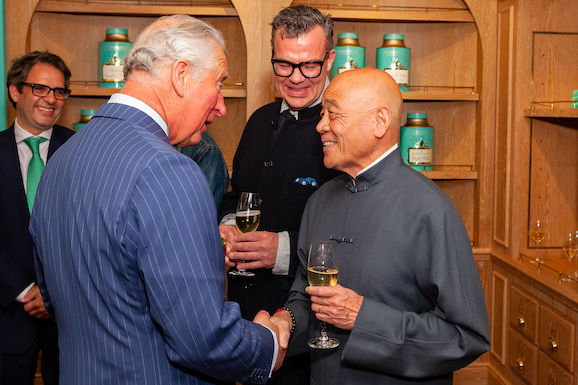 Don't miss Cherie Blair Foundation's interactive event "What difference could a global movement of 'sisterpreneurs' make?". Join thousands of advocates, activists & influencers seeking to advance gender equality and to redefine the future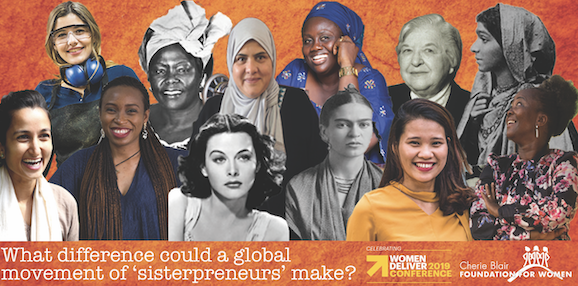 Get your fix for Ken's cookbooks:
Ken Hom's Quick Wok
Ken Hom Cooks Thai
Ken Hom's Hot Wok
Ken Hom's Vegetarian Cookery
Easy Family Dishes: A Memoir with Recipes
The Taste of China
Chinese Technique
For all my Chinese speaking followers please see this article in the Xinming Evening Post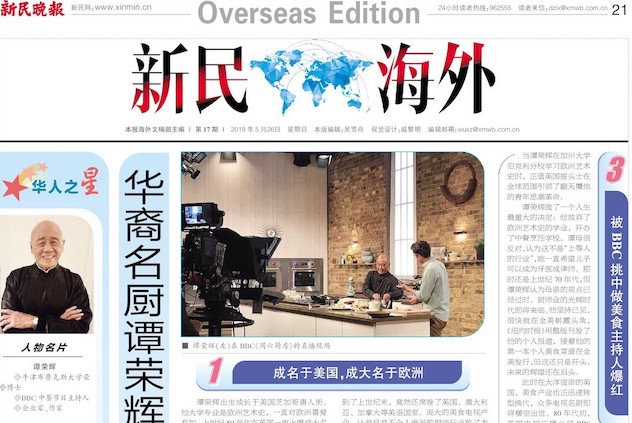 I could not resist cooking for friends for Eurovision last Saturday. I made a simple sautéed salmon which I had marinated in yuzu soy sauce and freshly squeezed ginger juice topped with lots of sliced spring onions! It was hit as well as the main course which was stir-fried chicken with cucumbers & peppers with Lee Kum Kee superb oyster sauce which I put on the top of crispy fried rice noodles! We drank lots of wine and had a great laugh at all the Eurovision contestants!

My friends at DKB Household threw a surprise birthday party for me and presented me with this delicious and original cake! A collaboration of 33 years filled with friendship and team work which has made the Ken Hom wok, the oldest chef branded cookware in the world! I am most grateful to the entire team at DKB!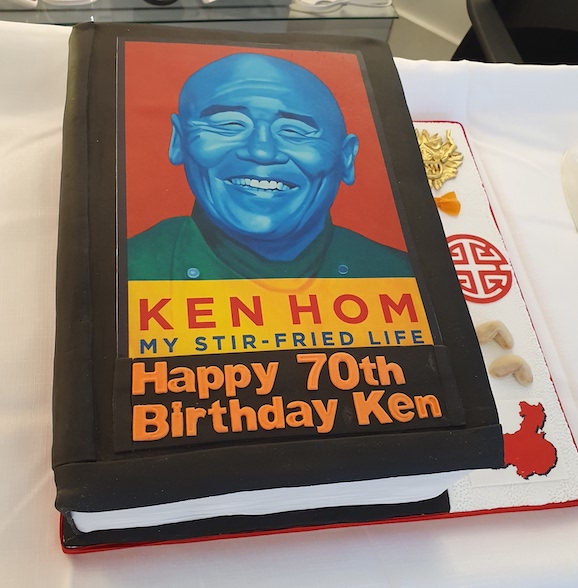 Look what a friend sent me from a boutique in Siem Reap!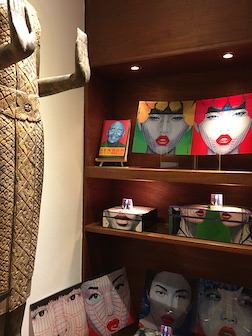 Judith Jones..she spent the next 50 yrs nurturing top food authors including me, with my book 'Easy Family Recipes from a Chinese-American Childhood'
An article on the 'Best Dumpling Bars in Sydney'
Articles on how Supermarkets could be fined for food waste
Ken's recent public appearances:
Looking forward to meeting you in London, Kingston Upon Thames, Edinburgh, Liverpool, Failsworth (Manchester)  and Hockley on my forthcoming wok tour. I will be cooking up a storm for you all, so don't miss the change to come and see the cookery demonstrations.  You will love the brand new packaging of the Ken Hom wok!   See you there.
Date: Wednesday 8 May
Store: James Selby, James Selby, 384 – 400 Holloway Rd, Holloway N7 6PR
Time: 12 – 13.30
Date: Thursday 9 May
Store: Fenwick, Wood Street, Kingston Upon Thames KT1 1TX
Time: 11.00 – 12.30
Date: Tuesday 14 May
Store: Martin & Frost, 4 Whitehill Road, Fort Kinnaird, Edinburgh, EH15 3HR
Time: 12.00 – 14.00
Date: Wednesday 15 May
Store: Taskers, Liver Industrial Estate, Long Lane, Liverpool L9 7ES
Time: 11.00 – 12.30
Store: Housing Units, Wickentree Lane, Failsworth M35 9BA
Time: 15.00 – 16.30
Date: Friday 17 May
Store: Fenwick, Brent Cross Shopping Centre, NW4 3FN
Time: 11.00 – 12.30
Store: Potters, 4-8 Main Road, Hockley SS5 4QS
Time: 15.30 – 17.00
One of my favourite cooking challenges is cooking at Refettorio Paris there I was asked to cook a meal for about 100 sleeping in rough/ homeless people — a three course meal.  I arrive in the afternoon not knowing what I will cook as I have presented with leftovers from a major supermarket. With the help of volunteers, we made: a tian (a sort of baked custard) of leeks and mushrooms and cheese, this was followed by a stir-fried guinea fowl with tomatoes and onions with Lee Kum Kee oyster sauce and their Chiu Chow chilli oil (the company kindly support my efforts with a donation of their fantastic sauces) and we finished with a chocolate mousse with a fruit salad. We got applause all around but for me the real heroes were all the volunteers who give up their Friday evening to work with me!!!


The Sun's top picks for Woks! See Ken's Performance Wok here.
I had a great time last night cooking with one of my favourite British chef, Mark Hix at one of his restaurant, Tramshed. I made my Chicken sun-dried tomatoes spring rolls and my classical Roast crispy pork belly!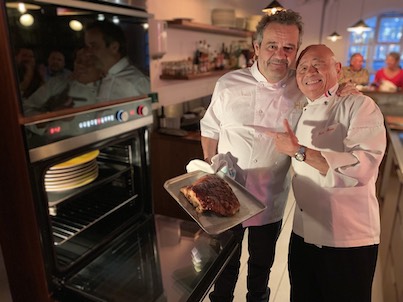 Edinburgh's Harajuku Kitchen crowned best in Scotland at Golden Chopsticks Awards
A glimpse back at the bygone days of April 1989.
Ken Hom on Britain's Asian food revolution
A master class on Chinese cuisine
If it tastes good, who cares?
See what's in store at John Lewis White City!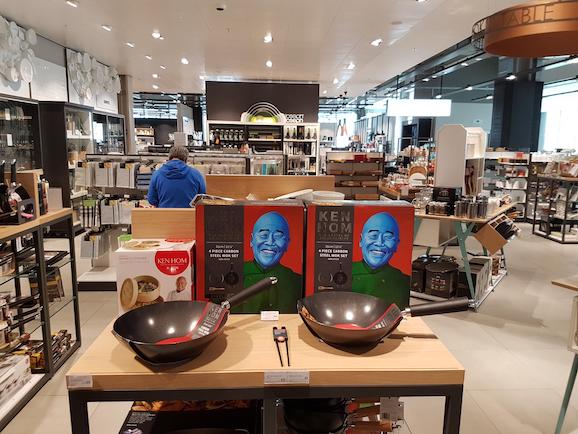 Recently I gave two Masterclass for Lee Kum Kee who makes the best and most authentic Chinese sauces in the world. Then venue was at my favourite cookery shop in London — Divertimenti but the most unexpected guest was 3 month old: Sadie Chi-Yan Ma, the daughter of one of my students. My youngest fan ever! I fell head over heels for her!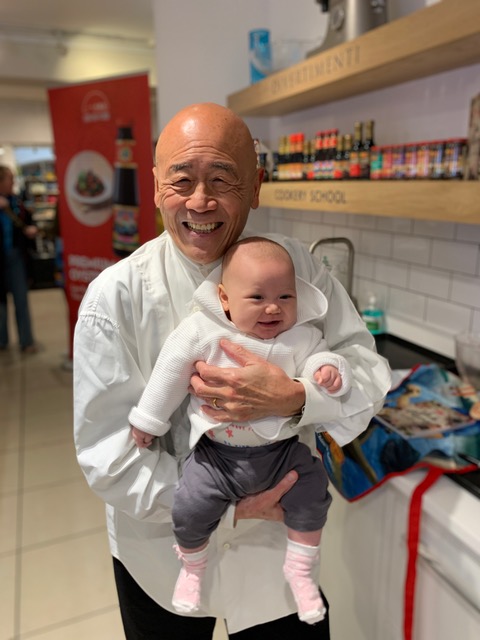 Check out Ken's range of Woks!
Golden Chopsticks Awards 2019 – two Glasgow restaurants in the running for best in Scotland
As a GREAT ambassador, it was a pleasure to appear at the VIV Asia 2019 show in Bangkok for two days. I love showing the world how good English beef and lamb could be, not only tasty but safe and traceable!
Xigua; International Influence on Chinese Food
Ken Hom dishing up a feast on the DKB stand at Ambiente.
Kitchenware ranked as the top redemption category in the gaming marketplace!
Innovation stifled by shortage of Chinese chefs: The Caterer.com
I found this trailer from 1984 on youtube about one of my first series 'Ken Hom's Chinese Cookery' – it's about 4.45 minutes into the short video, watch it and tell me what you think! – Trailer from 1984
I had a grand time at the Zest Quest Asia Awards 2019 A magical evening!

Image credit: Jade Nina Sarkhel

Image credit: Julian George
Ambiente – Frankfurt
Ambiente in Frankfurt is the leading international and largest consumer goods trade fair in the world. I gave two cookery demonstrations launching the new design for the Ken Hom wok. The art work by the famed Flemish artist who lives in Asia, Christian Develter was to say the least quite a sensation. Everyone loved it! It was the talk of the fair!

Voting has launched for this years Golden Chopsticks Awards
Andrew Wong, star chef of the Cantonese restaurant Kym's in London, celebrates Chinese new year. Read more in The Times
I am devastated at the news of Chef Andrew Fairlie who was not only a great chef and a very good nice person. I wish to convey my condolences to his lovely wife and children!
Read about the 12 Best Woks in the Independent
Celebrity chef and author Ken Hom joined forces with the Agriculture and Horticulture Development Board (AHDB) for this year's Oxford Farming Conference
How can pubs profit from Chinese New Year. Read the 'inapub' article
I was sadden to hear that my good friend, June Whitfield, passed away. She brought so much joy and laughter to all of us and I loved cooking for and with her!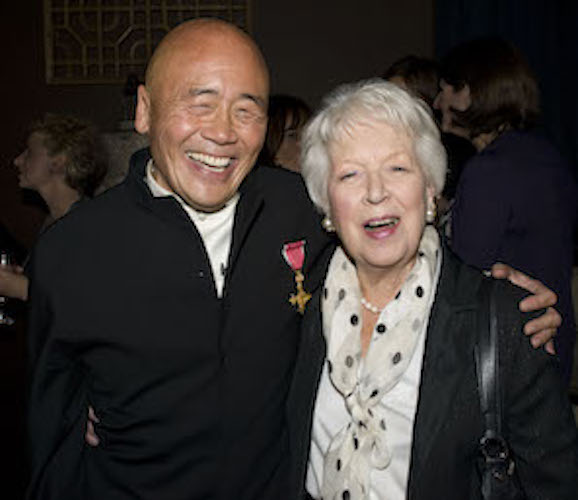 Getting ready to see the Queen when I was invited to Buckingham Palace on Tuesday night for a reception. Her Majesty looked splendid!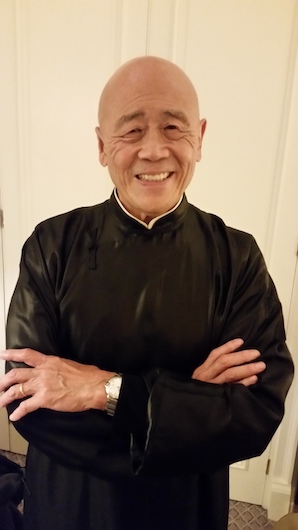 Read how pubs can profit from Chinese New Year
I was thrilled to learn that I sold two dinners at a recent Action Against Hunger event for £15,000! It is a wonderful charity that helps people worldwide and I am proud to be an ambassador!
His Royal Highness The Duke of Gloucester visits Thailand & presides at a fundraiser for Habitat's efforts in Thailand. The Duke was the guest of honour at a charity dinner hosted at the British Ambassador's Residence. The menu for "Dinner with the Duke" was curated by Michelin-starred chef Ken Hom.

A good friend of mine was in Alba, truffle hunting and spent and day in Turin, Italy and walked into a cookware shop and saw this display!!!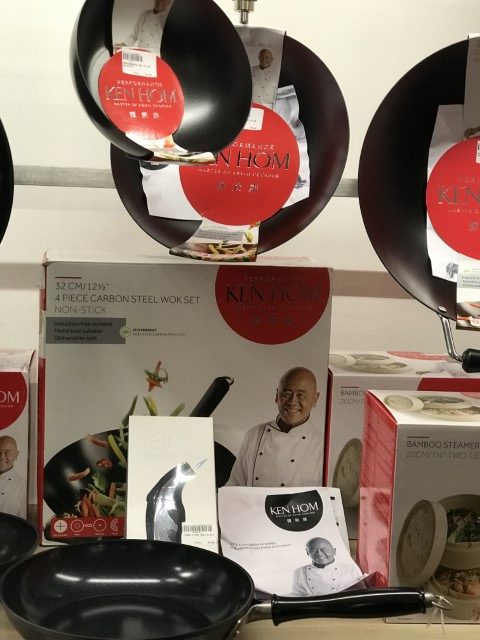 RMHC Family 2019
It was a great pleasure to be part of  supporting the annual Gala CharityDinner, "RMHC Family" in Hong Kong.  Held at the JW Marriott Hotel which served a delicious dinner for over 200 people: Perfect home cured salmon started the meal, then a savoury cream of asparagus soup followed. A choice of moist Chilean sea bass with a ginger tomato sauce or a roast supreme of chicken which was very tasty.
An exotic Mont Blanc dessert capped the evening in which the children performed Cantonese opera and Sam Hui, king of Cantopop directed a sing along. The event raised more than HKD5.7 million (£650,000)  for keeping sick children close with their families during one of the most difficult phases in their lives.It was a fun and love filled evening for a very good cause!


See Ken Hom on 'CCTV'  China's largest broadcaster (requires Adobe Flash to view)
I am so sadden by Khun Vichai's passing. He was a wonderful support for Leicester City and I loved how he was one of the best owner and leader for the club. We will all miss him!
Hosted by the Oxford Cultural Collective, the Yan-Kit So Memorial Award for Food Writers on Asia is one of the UK's most generous food-writing bursaries.  Applications invited for 2019 Yan-Kit So Memorial Award for food writers on asia.
A huge thank you to everyone who came to see me during my tour around the UK. I was touched by all your kind comments and affection that you showed me. A few brought my first book published in 1984! But the most impressive was a lovely lady who lived in Hong Kong and she brought her cookbook with my Hong Kong menu and a photo of me from the early 80's! Everyone had a good a laugh!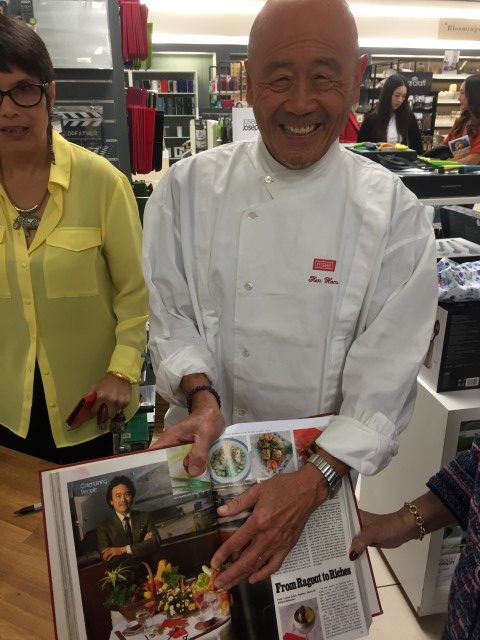 I was on tour with my hot wok at the following venues. I was delighted to cook for you!
28th September Meadow and Byrne, Dun Laoghaire, Dublin 1.30 – 3.00
29th September – Arnotts, Dublin 1.30 – 3.00
30th September – Sterling, Tillicoultry Clackmannanshire, 2.00-3.30
1st October, Fenwick, Newcastle, 1.00-2.30
2nd October, Boundary Mills, Colne 11.30-1.00
3rd October, Costco, Watford, 12.30-2.00
4th October, Beales, Bournemouth  1-2.30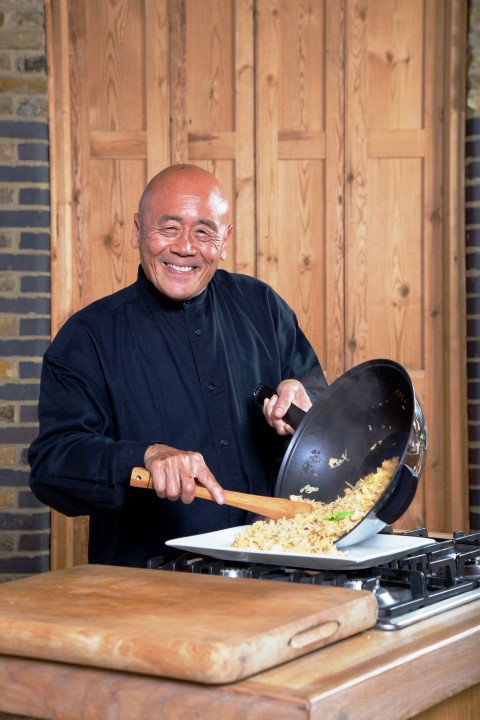 Lee Kum Kee Summer 2018
Lee Kum Kee, of course, is known for its range of authentic Chinese sauces. But this summer, I have been experimenting with their sauces in other ways. Here I barbecue organic lamb chops and spread their Char Siu Sauce (normally used with pork) and it was absolutely delicious. What a bonus to discover how versatile LKK sauces can be!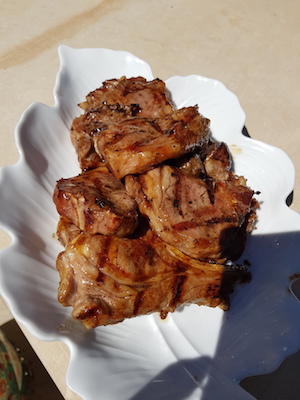 Paëlla
One of many French summer treats are the many village fetes. On Thursday we had a tasting of rose wines and then an evening of delicious Paëlla cooked by Pascal (our village butcher.) We were entertained by a lovely band and ate and drank all night! Another memorable summer evening in southwest France.


My good friend and inspiration Joel Robuchon has passed away at aged 73. A monument in our cuisine world, he was also a great teacher. He will be missed by all of us who learnt so much from him.
All good things must come to an end. My long partnership with MEE restaurant in Rio de Janeiro has now ended. I wish the MEE team much success in the future.
My good friend, Fabien Galtier, the famous rugby star dropped by and I had to give him a t-shirt! I also promised him a Chinese banquet!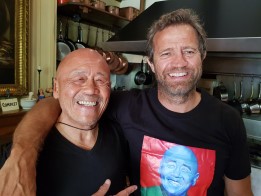 I have just received some breaking thrilling news: My Stir-fried Life will be published in Chinese next May 2019 by Wai Yan She the biggest Chinese state publishing house.
I am delighted that France won the World Cup tonight. They played well……..it was an incredible game.
I am completely devastated by England's lost in tonight's World Cup. The team played extremely well but were unlucky.
I am over the moon over the English latest win in the World Cup. I watched every minute and congratulate the English team on a job well done. Now to the Finals! I would be more than thrilled to cook you a Chinese banquet when you win the World Cup!
I am over the moon the England won! They deserved it!!
I was thrilled that the English team won 2-1! I watched every second and want to send congratulations to the English team for a wonderful match! Now win the World Cup!
Shocking news about Anthony Bourdain death at a youthful age 61. He brought the world of food, good cooking and chefs to everyone around the globe. He will be very missed!
Ken Hom event NL Bijenkorf Amsterdam
I had two wonderful sold out session of demonstrating my wok at  NL Bijenkorf (the largest department store in Holland) in Amsterdam on Saturday. I was so touched when I discovered a family drove for 1 1/2 hours to come for the demonstration. It was a great sunny day as well!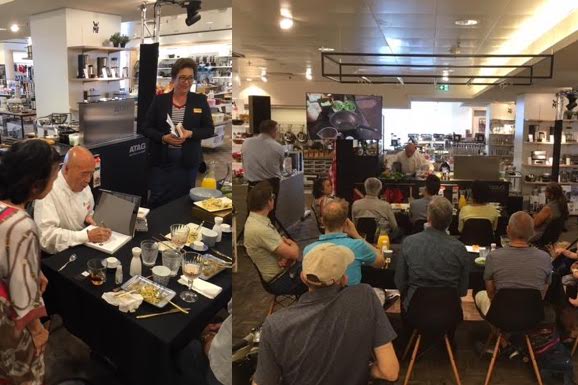 Apparently my story was on GCSE Chinese exam! A friend sent it to me. Very amusing!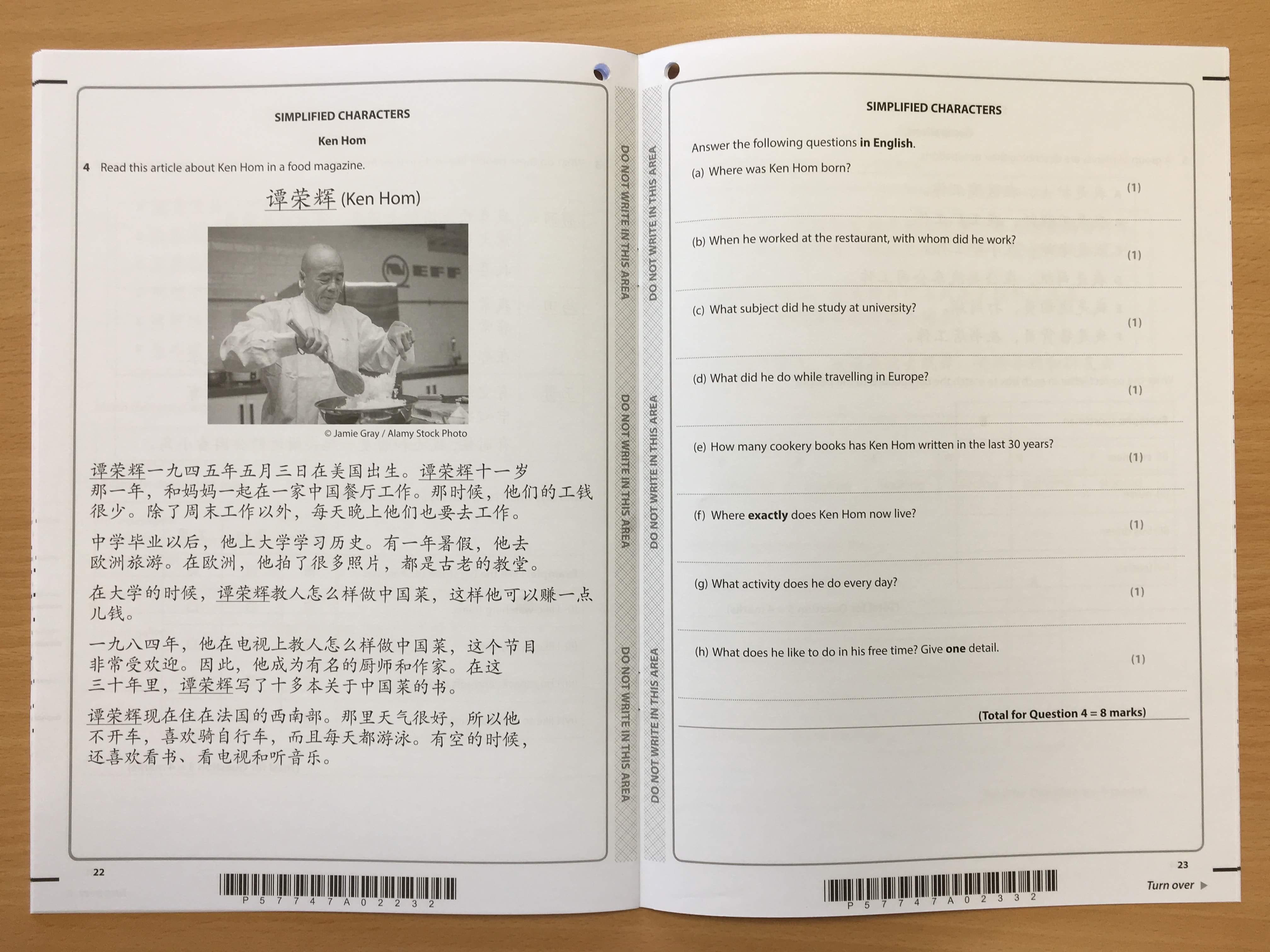 I am thrilled to hear that my good friend, Sir Alex Ferguson is out of intensive care and wish him a speedy recovery! I can't wait to cook for him when he is better!
Article in Hospitality and Catering News: 'London's Chinatown needs more creative solutions to guarantee its future as top hospitality destination'
What does Ken think of MSG? – find out here in this article in the Guardian
Ken chats to China Minutes see his interview here
Refettorio Paris 2/5/18
Last night I cooked at the Refettorio Paris located in the crypt of the famous Madeleine church. The project is dedicated to the fight against food waste and global awareness on hunger and food poverty for the homeless as well as refugees and individuals in situations of social vulnerability. Delivery in the morning included leeks, courgettes, onions, small young onions, mushrooms but alas, no meat. With the generous support and assistance from Lee Kum Kee who provided its famous sauces, I was able to cook for over 70 people plus 20 volunteers, a vegetarian feast:
A starter of braised leeks and caramelised onions in a rich hoisin sauce, a main course of egg fried rice with a vegetable stew of onions, courgettes and mushrooms with oyster sauce. We served baked apples with fresh cream for dessert and everyone was happy!


Ken accepting Outstanding contribution to Food at the Golden Chopsticks Award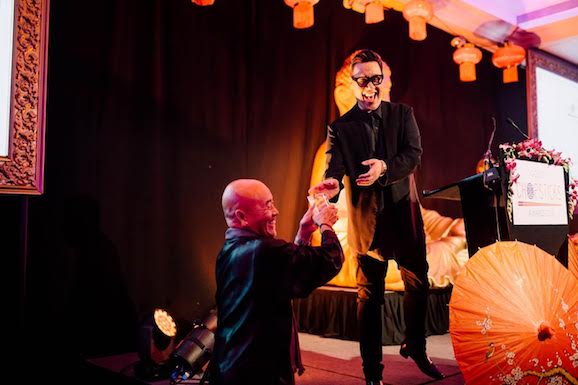 Ever wonder what Ken Hom's values for success are? Find out as Ken chats to China Minutes
Read about Ken on WeChat Article
Read Ken's latest article in Feng Shui World magazine – The Man With the Magic Wok
Chef Talk with Ken in Speciality Food Magazine
Stanley Tse
It was with great pride and joy for me to present Stanley Tse of SeeWoo UK , The Ken Hom Lifetime Achievement Award at the recent Golden Chopsticks event in London. Stanley was one of the pioneers importing Asian sauces and ingredients to
the UK, he was instrumental in making Asian tastes and flavours part of the UK food scene! Everyone is grateful and I am the first in the queue to salute this great man.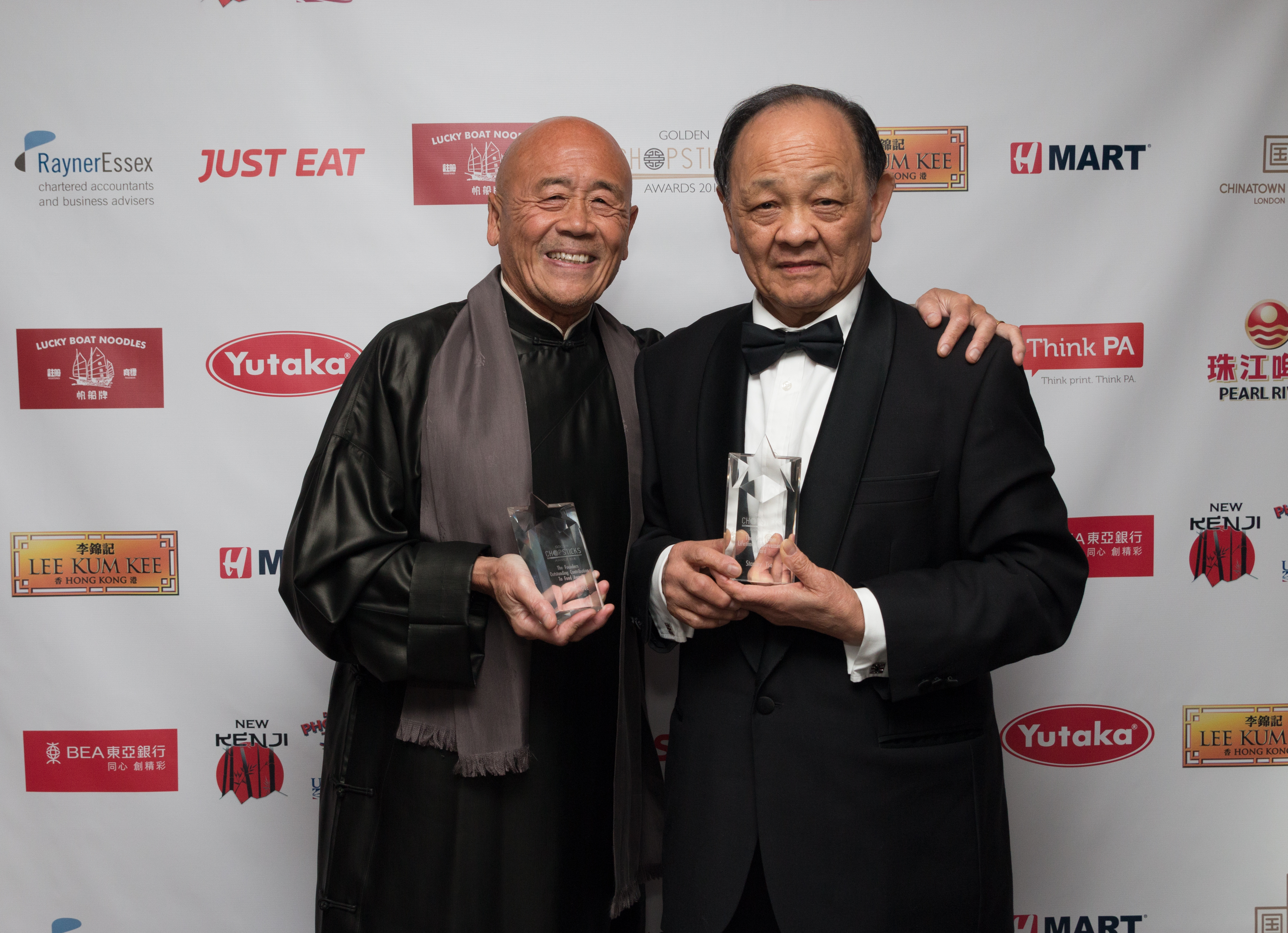 Ken on the Phoenix TV European Channel
Emirates Airline Literary Festival 2018
I was honoured to be asked to participate in the 10 th anniversary of the Emirates Airline Literary Festival 2018 in Dubai. Over a dinner event where I talked about my latest book, My Stir-fried Life. The dishes came from the book and was well received with over 200 people attending. I also did a lovely interview with the lovely presenter, Rebecca (her mother, Mary was an old friend of mine) for Euronews as well as live radio for the festival. It was all a spectacular festival!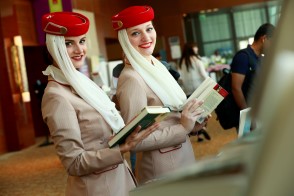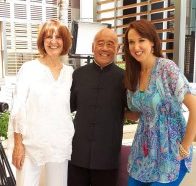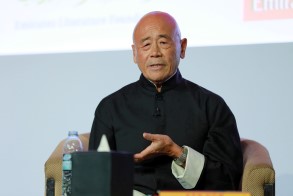 Food for thought: Literature and gastronomy festivals in Dubai
Ken receiving his Huran Lifetime Achievement Award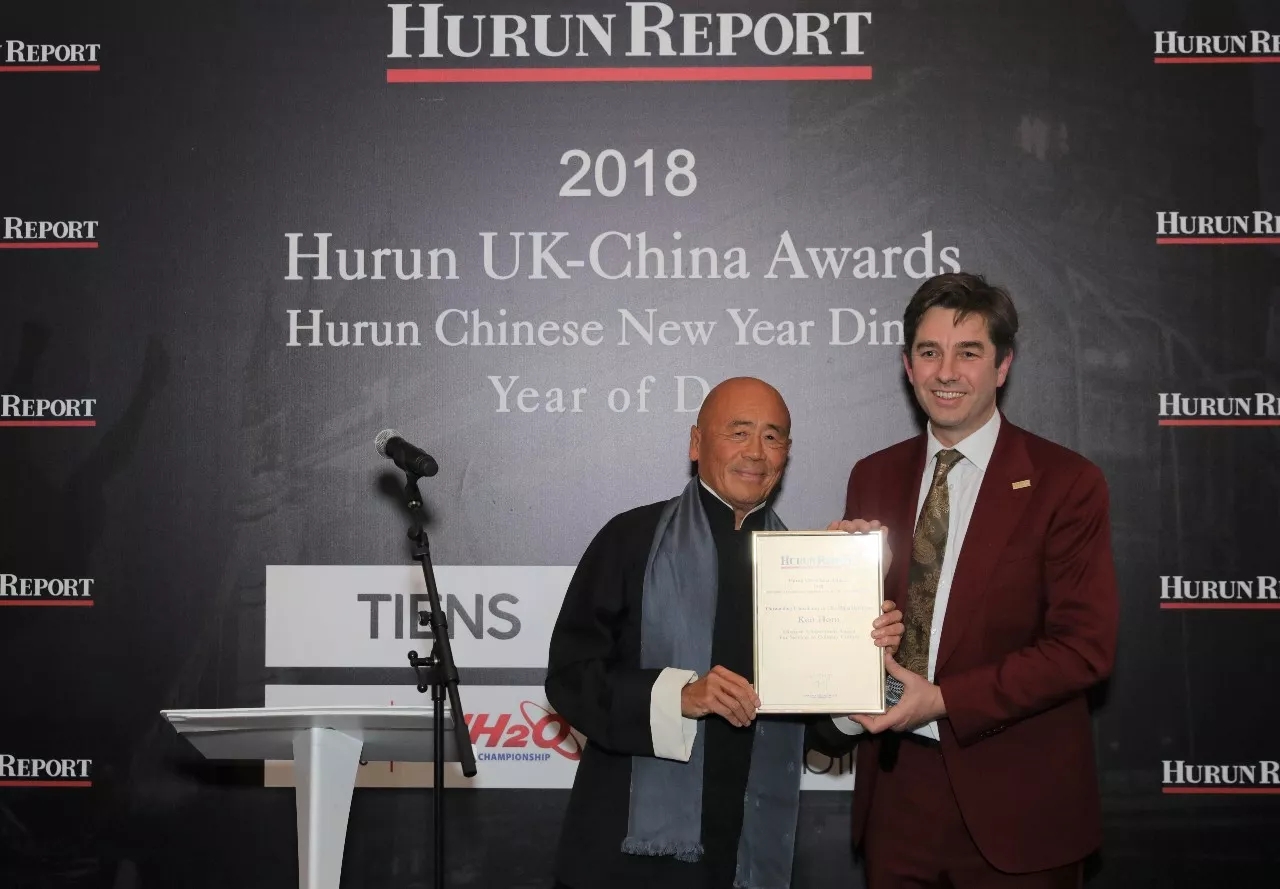 I really enjoyed being interviewed by DubaiEye 103.8FM & sharing my experiences with everyone, including the time I cooked for the fabulous Tina Turner – I was in awe!I I have many more stories to tell you as soon I get a minute!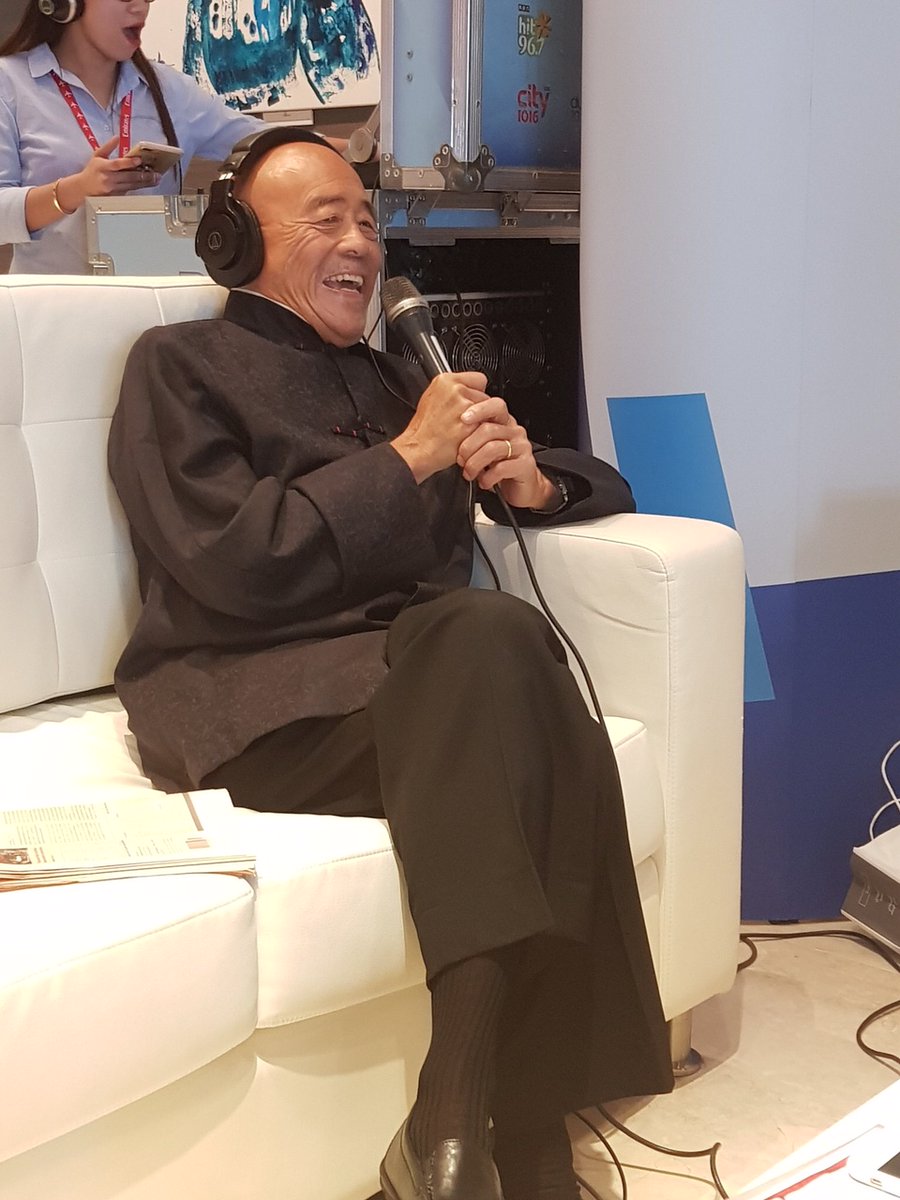 See some Ken on some classic cookery shows back on at the BBC
Ken says Cut the Portion Size! in Waitrose magazine March 2018
Whilst in London during Chinese New Year, I was interviewed by The Caterer and below is the feature which has now come out. Enjoy reading it And yes, eat, eat, eat, it's the only way you will learn about food!
"Eat, eat, eat… that is how you learn about food" read Ken in The Caterer
Read Ken Hom's Chinese New Year Memories in ChinaMinutes
Watch Ken's TV appearances:
Saturday 17 February 2018  10 am BBC1  Saturday Kitchen – Tune in to watch  Ken Hom cook his special  Chinese New Year Recipes
Did you see Ken on My Kitchen Rules UK on Tuesday 24 October on Channel 4 See the trailer here
On Saturday Kitchen, BBC1 I enjoyed cooking with two great chefs: Chef Angela Hartnett who was the host and Chef Tristan Welch. I was also thrilled to meet and cook for the special guest, Gregory Porter who I have been a fan for ages. A super singer and amazing jazz musician. I immediately streamed his new album which was a homage to Nat King Cole!

Ken on the Radio:
Friday 16 February 2018   Chinese New Year Day – The Year of the Dog  – Radio 2 Steve Wright in the Afternoon
It's Chinese New Year – tune into the Steve Wright's in the Afternoon Show to hear all about Chinese New Year and get my tips for some great festive food – 2 to 5 pm.
Friday 9 February 2018  around 12 noon  BBC Radio Wales – The Wynne Evans Show
For all my followers in Wales, tune in on Friday 9 February to hear me talk with Wynne Evans about Chinese New Year, Chinese recipes, my autobiography and more from 12 noon onward.
Ken's recent public appearances:
Delight your senses on an exploration of Vietnam's finest cuisine with Ken Hom in Ho Chi Minh City.  The tour is on the 9-23rd of March & Ken Hom will join you on days 12 and 13 of the tour. Together you will explore the aromatic scents and fresh flavours of local produce in one of the city's bustling food markets before a private cooking demonstration, during which Ken will reveal the secrets to creating sumptuous Vietnamese cuisine. You will also have the opportunity to hear stories from his venerable 35-year career and pose your own culinary questions during a private talk and informal Q&A.
9 March 2018. Ken appeared at the Emirates Literary Festival in Dubai at a special dinner talking about his latest book: My Stir-Fried Life.
Tuesday 20 February 2018  6.30 – 9.00 pm –  Ken Hom was at the annual Ken Hom Lecture, held at Asia House 63 Cavendish Street, London W1G 7LP     Ken Hom, with Fuchsia Dunlop, Freya Aitken-Turff and Geoff Leong discussed The Future of China Towns
Thursday 15 February 2018  – Sandbanks Hotel, Poole – lunchtime cookery demonstration followed by lunch –invited guests.  Evening Gala Dinner hosted by Ken Hom
Wednesday 14 February  2018 –   Haven Hotel, Poole – Special Valentine's Dinner with Ken Hom (sold out) Ken plays homage to Poole with the Poole Pirates
Monday 12 February 2018  – Ken is cooking a special dinner at Northcote  – the luxury country hotel in Lancashire featuring a Michelin star restaurant with fine dining and a cookery school run by Nigel Haworth and Lisa Allen. (Sorry now sold out)
I hope you were able to to see me at the Althorp Literary Festival on the 5th of October!
I was thrilled to be invited by Charles Spencer to the 14th Althorp Literary Festival to speak about my latest book, My Stir-fried Life. I was moved by everyone who came to my talk. I had a wonderful time sharing my hilarious life experiences at Althorp.

Action Against Hunger Benefit Dinner
It was such a delight for me to host and cook for four generous donors to Action Against Hunger last night at my flat here in Bangkok. The menu included Crispy Salt & Pepper Prawns, My classic Roast Pork belly with Truffle Risotto and organic salad. A warm Thai mango compote with vanilla ice cream topped off the evening. We drank a wonderful selection of premium sake with the dinner. Rupert, Clare, Paul and Gudrun as you can see from the photos were very happy and I again thank them for their contribution to AAH!

RMHC Hong Kong Annual Gala fund raising dinner 2017
I made an annual journey to Hong Kong every year in support of the RMHC Hong Kong charity, helping to raise funds so that ill children and their families can stay together until they recover. This year we raised HID$3.8 million (£380,000) in one evening and the theme was Star Wars and I had to have a photo with the storm troopers and another with, my good friend, Grace who is the chairperson and Iris Wong, the head of the house. Although it was as usual held in a large hotel, the JW Marriott, the food for five hundred people was delicious.  We began with Ahi tuna with king crab and Hokkaido scallop ceviche on a bed of slice watermelon with mango-ginger dressing which was a perfect light starter. The cream of celeriac soup with green apple and bacon lardons was absolutely delicious as was the Herb crusted Chilean sea bass with aubergine confit, tomato fondue, black olive potato and saffron sauce — moist and cooked as if it was from a restaurant kitchen. My hats off to the hotel kitchen crew. A lovely Citrus white chocolate mousse with a Yuzu curd and vanilla sable helped seal the evening! A worthy and delicious cause!


Read Ken's Best Cookbooks for Beginners at the Reading Lists
Fish & Chips – A history
Fish & Chips is without any doubt my favourite British dish. Every time I set foot in the British Isles, I immediately head to satisfy my addiction to fish & chips. So I was thrilled to read Panikos Panayi's book: Fish & Chips – A history. It was fascinating for me to learn how fried fish was introduced by immigrant Jews, how fried potatoes came via France and how other migrant communities, including the Chinese play a part in fish & chips. It is amazing book on one of the most popular British dish and I highly recommend it. Please excuse me, I must run to have my fish & chips!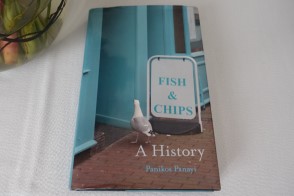 Crispy Noodles and tender chicken pair together perfectly for this comforting dish. It's a firm favourite among dim-sum diners in Hong Kong.
Ken talks to Lee Kum Kee
Paul Bocuse
I was very sad to learn of the death of my friend, the great chef, Paul Bocuse at age 91. I first met him in 1984 at his restaurant. He was an inspiration to chefs worldwide, not only in France and was incredibly generous to young chefs as a mentor. He will be missed by chefs worldwide.
Jacques Pébeyre
It was with great sadness when I learn the death of my good friend, Jacques Pébeyre at age 91. He was my mentor for truffles and was like a father to me. Jacques was a giant in the food world, selling the best truffles to chefs all over the world. He had a wonderful palate as well but it was his humour and gentleness as well as the great respect that he commanded which marked him as a very special person. His family welcomed me as a member and I shall miss him as much as they will.

AAH Fine Wine Auction 2017
Last Saturday, I'm extremely pleased that we raised £353,267 from the Action Against Hunger Fine Wine Auction and dinner! This amount was doubled with the assistance from the UK government and it was a pleasure working with the other wonderful chefs such as Ollie Dabbous, the fabulous Michel Roux and Paul Ainsworth. I made Crispy Chicken Sun-dried Tomato Spring Rolls which I demonstrated on Saturday Kitchen! As Ambassador for the charity, I was thrilled to contribute offering two dinners at my home for an incredible £16,000 in total.
It was such a memorable and magical evening with Hugh Bonneville as host and guests such as Marx Hix, Rick Stein, Neil Borthwick as well as my very good friend, Sabrina Ghayour. A huge thank you to Samuel Hauenstein – Swan for Action Against Hunger UK for the brilliant photos that captured each wonderful moment.


I was delighted to get this photo of 7 year old Meili cooking from one of my recipes and in her Ken Hom wok! She must be one of my youngest and cutest fan!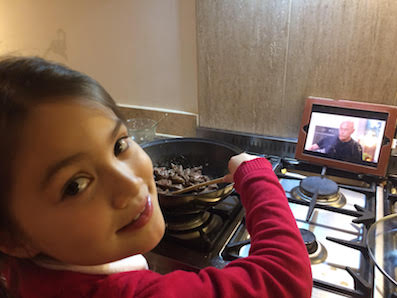 Antonio Carluccio
I am devastated to hear the news of my good friend,  Antonio Carluccio's passing yesterday. He has been a dear friend and an inspiration to me for over 38 years and it is hard to imagine a future without his jovial smile and laughter which easily fills the room. But he was also a sweet and generous man and incredibly sharing which perfectly reflected the essence of Italian food. I will miss him greatly!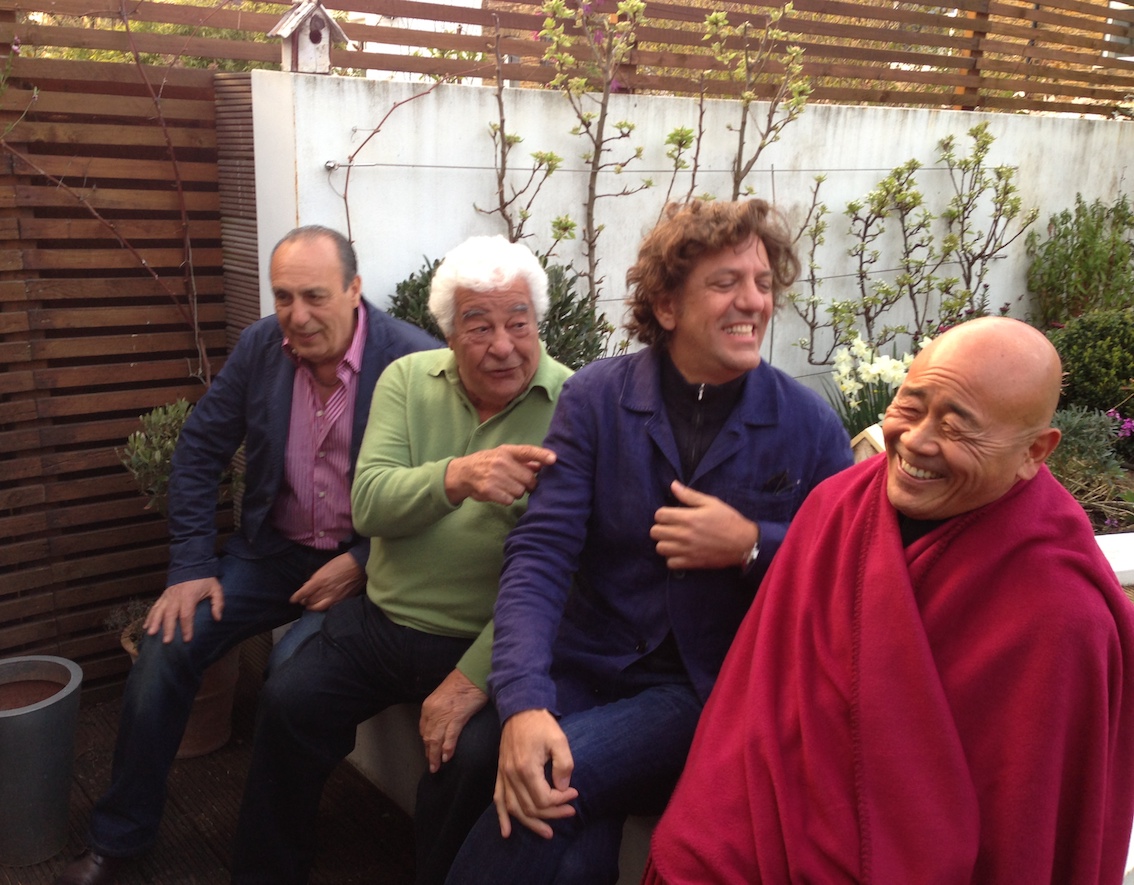 This photo taken by the great KT Bruce, the photographer for the Oxford festival of my good friend, Madhur Jaffrey and myself. I think it captures not only our long friendship but our mutual love affair for good food and life!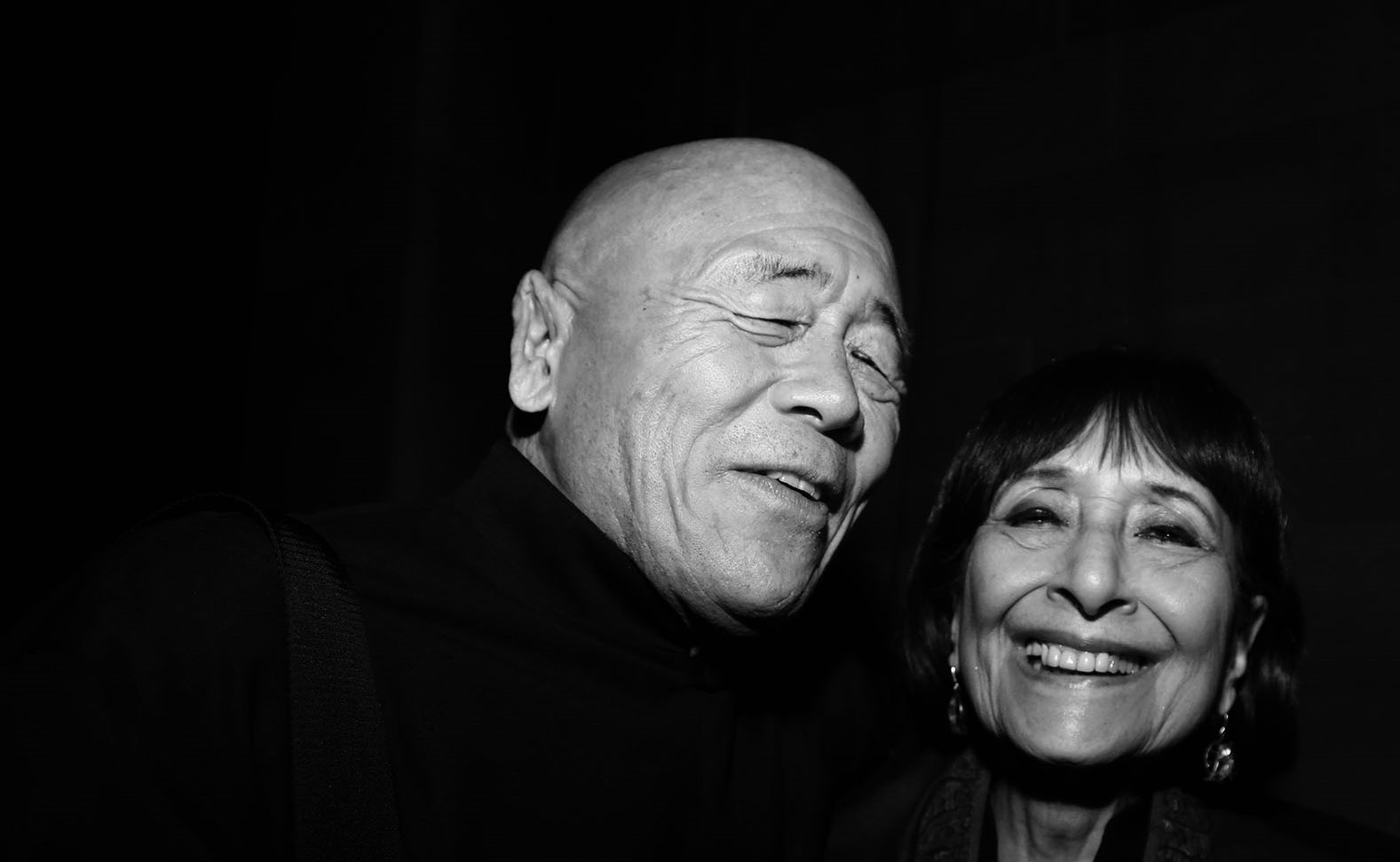 Food Link  Hong Kong
My good friend, Vanessa Hwang runs one of the best food charity – Food Link in Hong Kong. They take all the left-overs from hotel buffets and their chefs reinvent dishes based on what they get. Sometimes, even lobsters are on the menu! It is a fantastic idea which is spreading all over the globe and I hope it will come soon to London. Here is a recent video on Food Link in Hong Kong.
I am super delighted that Andrew Wong has finally got his long over due Michelin star! My heartiest congratulations to him, I think he is the top Chinese chef cooking in London if not the UK!
The Cookery Class held recently at my Michelin star MEE restaurant at the Belmond Copacabana Palace in Rio for the main influencers was a huge success I am pleased to report! Click here for details (in Portuguese)  I demonstrated unusual dishes such as stuffed peppers, bean sauce noodles and my favourite Salt & Pepper Prawns!

I have seen over my 17 years visiting Rio de Janeiro the immense changes in food and the intense interest now in especially Asian cuisine. So I invited some top social media foodies bloggers to MEE to sample some of our new offerings in a cooking class. It was a dim sum tour of China with Peking dumplings from Northern China, Sichuan spicy dumplings from Western China and finally Prawn toast from my region in southern China. Viva Rio de Janeiro!

Bijenkorf demo in Holland
I had the most wonderful time demonstrating at the Bijenkorf department store this weekend and I was very touch by the eager and enthusiastic interest in two sold out sessions.  Of course, I used Lee Kum Kee sauces which are easily available in Holland! I can't wait to make a return visit!

Sir David Tang
My good friend, Sir David Tang left this planet the way he has always lived with style! I will miss him and especially his humorous columns in the Weekend FT.
How Chop Suey Saved San Francisco's Chinatown
The Ken Hom wok was displayed recently at the China International Modern Home Expo   —— here are photos from China Daily!!

I would like share this video from the National Education Association where one of my closest and best friend, Kent Wong  received a civil and human rights award. I am so proud of him and his achievement!
A few days after MEE received the VEJA award,  MEE received the award of 5 Forks in the Rio Gastronomia!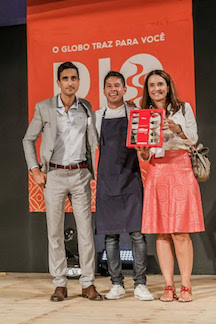 We are thrilled that the top magazine in Rio de Janeiro VEJA has picked MEE once again as the Best Oriental restaurant in Rio! Congratulations to all our kitchen and service team!

It was such a thrill to meet, dine and drink with one of my favourite BBC correspondent, Caroline Wyatt and my good friend Mary! She is as wonderful in person as she is on the screen and she loves good food!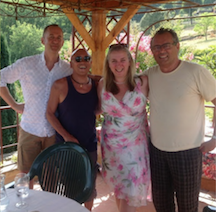 Graduation at Oxford Brookes University
I was honoured last week when I was asked to give the graduation speech at Oxford Brookes University. Throughout my nine years of association with the university, especially the Oxford School of Hospitality Management,  I was inspired by the many students who came from all over the world. But the greatest pleasure has been working with  Don Sloan​ the Head of School. His impressive leadership and connection with the students help make the school one of the best in the world!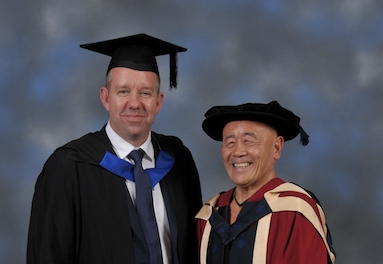 The Ken Hom Library is the book collection and archive of renowned chef, author, and television presenter Ken Hom. The core of the library is the book collection that Ken used throughout his career, with an emphasis on Asian cookery, including Chinese, Korean, Thai and Japanese. The Ken Hom Library is located in the Special Collections Reading Room of Headington Library, Oxford Brookes University.
My heart goes out to the victims of the Grenfell Tower tragedy as well as to all their friends and family. It is hard to express my profound sorrow for everyone's suffering!
London Attack
My heart goes out to the victims of the horrible attacks in London. I am praying for their families and friends.
Manchester Attack
I was shocked by the attack on one of my favourite UK cities – Manchester. Senseless violence against innocent people must be condemned. I stand firmly today with everyone in Manchester and grieve with them.
I wanted to share with you a feature from a Chinese website which has over 800 million visitors a month. It's titled : 'What the British called the Chinese food godfather had his origins in Kaiping'. It is a piece introducing me to the Chinese public…it is about all that I have done to promote Chinese food and culture to the West. Here is the piece here and you can click the 'translate' button which comes up on the right hand side of the page, in the chrome browser, when you follow the link, to see the english translation. There is also a video included. Do enjoy!
Ratiu Friends and Family Weekend 2017
I recently spent the weekend with Pamela Ratiu at their family foundation in Transylvania. It was a first for me and on Saturday, I was honoured to meet HRH The Prince of Wales again. We first met over thirty years ago when we both had hair and he still has plenty! We discussed Alice Water's Edible Schoolyard charity in Berkeley, California of which I have been a supporter since the beginning. Sustainable, good organic food for everyone is one of Prince Charles' goals which I fully support!

"Introducing Ken Hom, author of My Stir-Fried Life" by Karen Christensen
Roy Ackerman.  I was deeply sadden to learn of the passing of Roy Ackerman, one of the giant in our hospitality industry. I was privileged to meet him on numerous occasion and found him a true foundation of knowledge and inspiration. He will be sorely missed by all of us!
My good friend, Ewan Venters the CEO of the fabulous Fortnum & Mason sent me this photo of his summertime pool side reading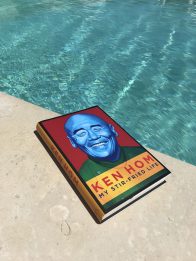 I am delighted to announce that my restaurant MEE at Belmond Copacabana Palace in Rio de Janeiro has retained its Michelin star for the third year running! There are only six restaurants in Rio with Michelin stars, one star being the highest score anyone has. I am so proud of my kitchen and restaurant team, well done everyone!
Our great kitchen team who has maintain the quality and consistency of MEE! Congratulations to all of them for maintaining our Michelin star for the third year in a row! You are the best!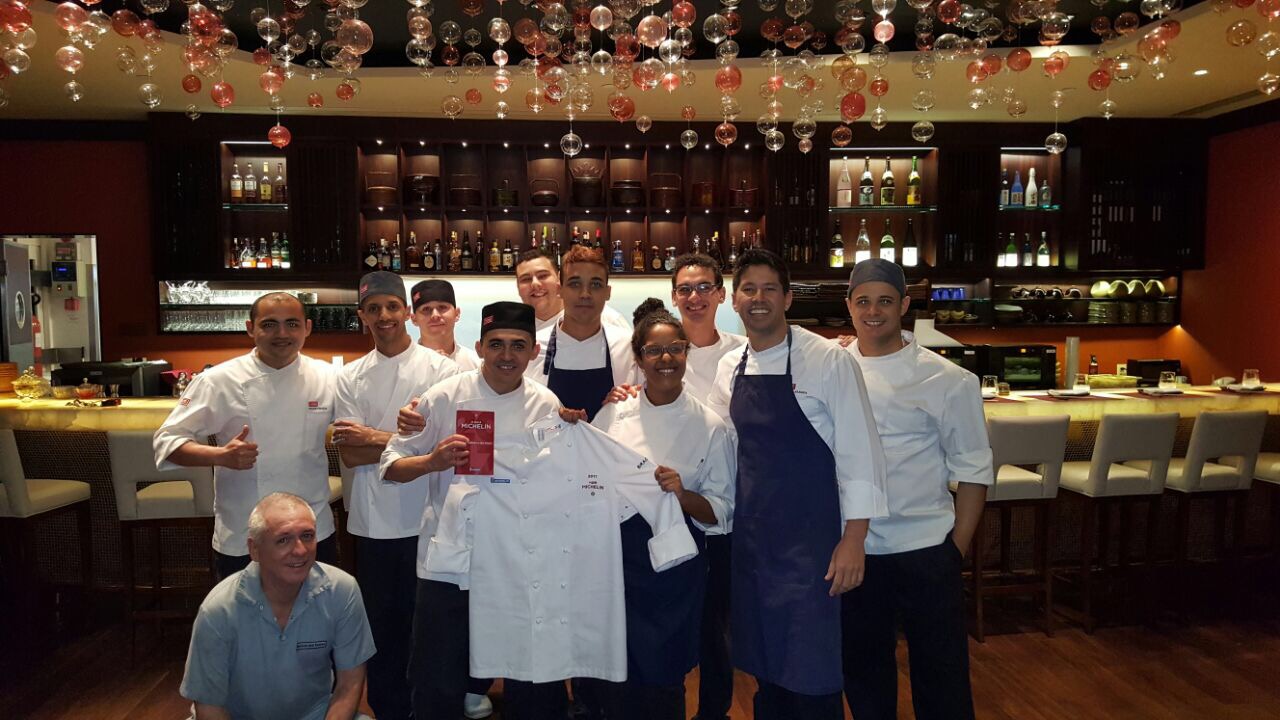 Ken shares the three cookbooks he couldn't live without in an interview with the 'readinglist'
I had a fabulous time showing how to easily make four dishes in no time, last Saturday afternoon at the Outburst Festival sponsor by Oxford Brookes University! All cooked in just one Ken Hom wok!
I had a fabulous time showing how to easily make four dishes in no time, at the Oxford Brookes University Festival All cooked in just one Ken Hom wok!

I am such an irresistible cat lover. I fell in love with Whiskers at the Oxford home of my friends. She was so lovable at 17 years old!
Another favourite photo that a fan sent me about 2 years ago when he captured his cat nesting in his Ken Hom wok! That is a cat with great taste!

When I reflected on the sad recent events in London, it made me want to reread one of the most uplifting books I have read in recent years. It is called Progress and a well written case for optimism and how far mankind has come in the last few hundred years. What is especially touching for me with my work with Action Against Hunger is the progress we have made to eliminate hunger and boosted nutrition. We all need to share good food together for a better world!
Over a million children are at imminent risk of dying from life-threatening hunger across Nigeria, Somalia, Yemen and South Sudan.
Without immediate help, they risk dying of hunger. Famine has been officially declared in South Sudan – the first famine anywhere in the world since 2011. But South Sudan is not the only country facing a catastrophe. The children of Somalia, Yemen and Nigeria are at risk of famine too. See how you can help with Action Against Hunger
I've been supporting Earth Hour where you? See what happened on the day with WWF
Check out my climate-conscious recipes for WWF's Earth Hour
Ken Hom article on Instagram and the Future of Chinese Cuisine
My great friend and fantastic photographer, KT Bruce took this photo of me with Maureen Lipman, the famous actress and author at the closing dinner of this year's Oxford Literary Festival! Congratulations to all as this was one of the best festival of all time and celebrating the 21 st year anniversary as well!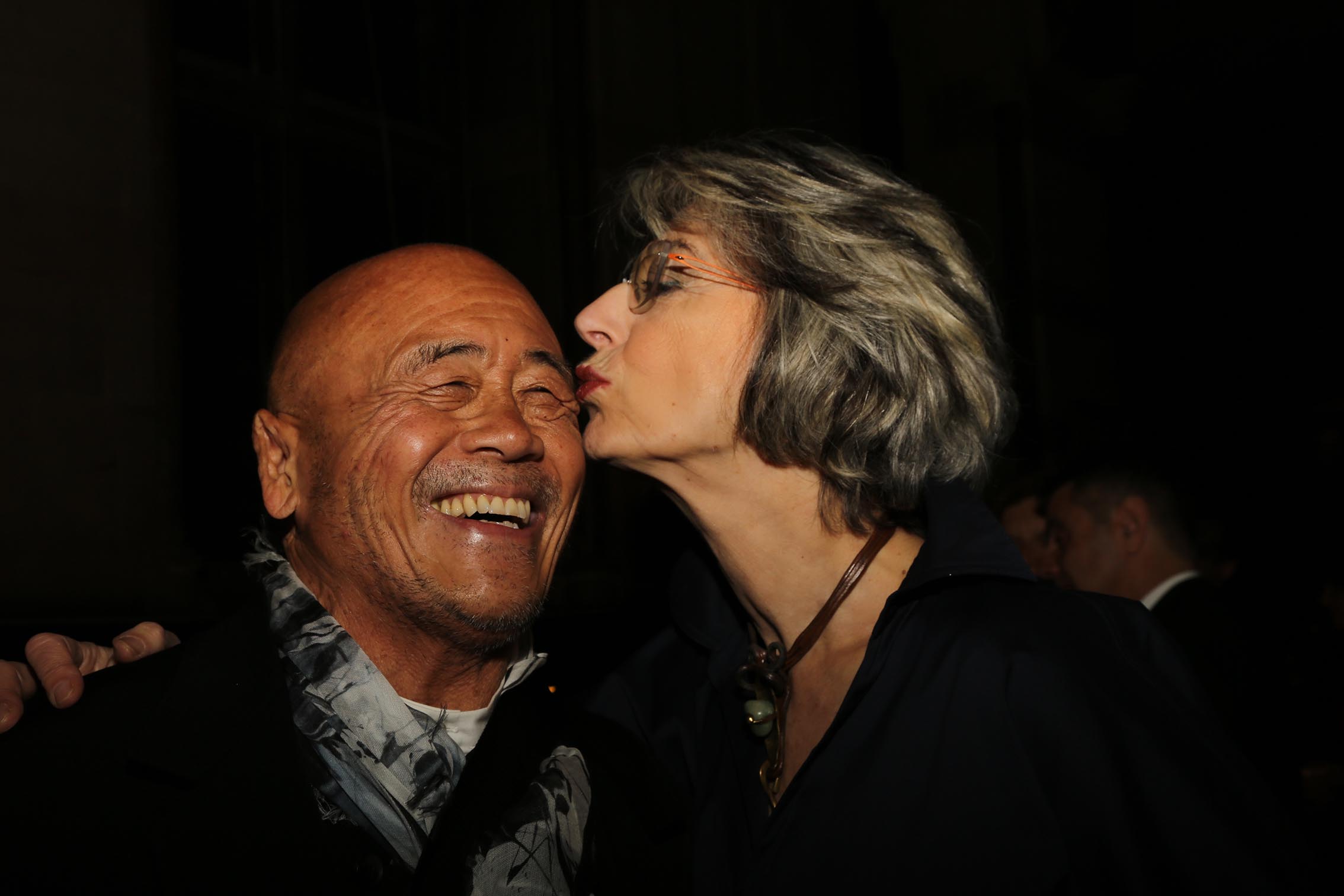 Watch Ken's recent TV appearances:
BBC1's Saturday Kitchen on the 28th January 2017
Listen to Ken's on recent Radio broadcasts:
Listen to Ken daily chats with Rob Cowan with a selection of his favourite classical music
on Radio 3! You can download the the complete conversation with Ken as a podcast here (UK only)
BBC1's Saturday Kitchen on the 28th January 2017
Ocean Palace in Sandbanks Hotel, Poole – Chapter 2
Sharing with you my beautiful day & evening at Ocean Place. I was touched by everyone I met and the support they showed by buying my book — which all went to Action Against Hunger. My guide and host, John Butterworth showed me the charms of Poole!

Ocean Palace in Sandbanks Hotel, Poole
I was lucky to be at the fabulous Ocean Place last Saturday for an event benefiting my favourite charity, Action Against Hunger. I made an interesting menu with the talented kitchen head by Chef Ping. It was a sold out event and with all the lovely people who came, it was a love fest! Zoe Wilson who organised it and her beautiful mum, both made my evening. The setting was one of the most beautiful I have seen in Poole, right on the beach. We also did a Facebook interview live!

The Hong Kong Economic and Trade Office celebrate the 20th anniversary of the establishment of Hong Kong Special Administrative Region with Ken Hom OBE as one of the key speakers on the day. See Ken on this video from 'Implausibleblog'
Ken was in the Foodie Lab at this year's Ideal Home Show.
Ken at the Oxford Literary Festival 2017 – talking with Donald Sloan
This photo was taken at my talk at the Oxford Literary Festival earlier this month. Frank is the photographer for Oxford Brookes University and often takes photos of events I have been involved in. There was a light on the wall and he could not resist taking it…he said the halo fitted me well!
Very amusing, indeed.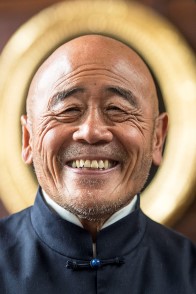 Listen to Ken on BBC4 Loose Ends broadcast on Sat 28 Jan 2017
Ken and the Vietnamese stir fry at Brookes Restaurant part of the Oxford School of Hospitality Management
Ken supporting the Ronald McDonald House Charity at the "A Superheroes Night" 20th Anniversary Gala Dinner at the JW Marriott Hong Kong on 29 October 2016.

Helping to raise more funds for the RMHC Hong Kong, a children's charity.
Chef Jacky Yu was generously let Ken use his cooking school to cook for Bob, Marlene, Grace, Kendall & Christian! My friends, the Pebeyres helped by providing the truffles.

I was very excited to be hosting friend and actor Stanley Tucci and his wife Felicity and the head of Fortnum & Mason Ewan Venters at my home in Paris they were the top bidders for a meal with Ken Hom for Action Against Hunger Benefit Dinner, and a lot of money was raised on the night for this worthy charity. We start with fresh black truffle 'sandwiches' and champagne, plus many other delicacies, with wines to match of course!
See Ken in the Jules Verne Magazine and his delicious recipe for Chicken with Black Been Sauce
We won another prestigious award again for MEE It is the restaurant of the Year award given by the government tourist bureau.
There to receive the award was Rejane, our sake expert; Wemerson Oliverira, our assistant manager and Chef Guido, our talented young sous-chef! Bravo, well done.
At our Michelin star pan-Asian restaurant, MEE in Rio de Janeiro, we use only Maldon sea salt because it is the best in the world.
Ken shares his favourite Sherry-inspired recipe to celebrate the year of the rooster Very Sherry Chinese New Year
Dim Sum Table Talk with Ken Hom
I was incredibly gutted when I heard that my friend, AA Gill has passed away. It was a bit of a shock as I was with him at the China Exchange at the end of Sept and he was in prime form. A great food lover & writer. I will certainly miss him!
Listen to Ken talk about his life with Steve Allen on LBC.
MEE has just won the Best Asian Restaurant Award in Rio de Janeiro!
Congratulations to all our fantastic team in the kitchen as well as in the dining room!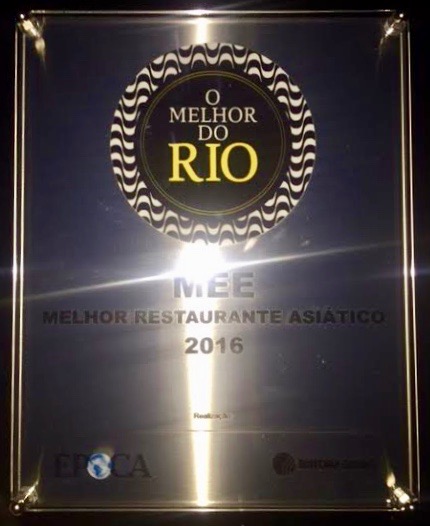 Ken Hom's autobiography 'My Stir-Fried Life' released 29 September 2016! – 'My Stir-Fried Life' is a high-spirited, life-enriching feast in an ever-sunny world, where the chopsticks never stop clattering, the platters are always abundant, and dreams – no matter how ridiculously unbelievable – can and do come true.
Ken's good friend Grace, who is the chairperson of RMHC HK, has just sold another copy of my latest book 'My Stir-Fried Life' for HKD 10,000 raising a total of HKD 48,800 (over £5000) for RMHC HK, the children charity in Hong Kong !!! I am delighted that my books are being put to good use.
Proud to have supported Action Against Hunger again this year and help raise a record £338,135 for this worthy charity.
I'm delighted to be supporting the GREAT Britain campaign. Check out this link of me in Thailand!
Ken Hom – 'Why I'm an ambassador for the GREAT Britain campaign'  Video
In this 'GREAT' Conversation talking with the outstanding creative talent Jo Malone we discuss our inspirations and the impact the UK has had on our careers. Video
See Ken's recommendations for some classic cook books
Ken recalls what it was like to cook for Tina Turner
Ken Hom shares some anecdotes and musings with Country & Town House
Ken's latest article in the This Is Money website – 'my woks are built to last'
Stories of Chinese Food and Identity in America – Exhibition at Museum of Chinese in America 6 October 2016 – 26 March 2017. Read a review
Celebrating the 30th anniversary of the Ken Hom Wok – read the Blogs at The Hedonist and Man In London
Wok & Chilli – a chat with Ken at Blender & Basil
Read Ken in the Luxury London Website article 'A Taste Of The East'
The chef shares one of his favourite recipes with Luxury London for Chinese New Year – Chicken Chow Mein
Ken's Chinese New Year recipes to make at home in the Liverpool Echo
Ken's latest article in the Telegraph – the easy way to cook with a wok
Ken's latest article in the Financial Times
Read Ken's secret to the perfect Club Sandwich on British Airways The Club page
A successful media launch here in Hong Kong promoting English beef for the GREAT campaign, Ken's recipe with Asian flavours and using Maldon sea salt was a hit! The Chinese press was impressed with the aroma and taste of British beef paired with Asian spices.
Choice cuts of beef and beer to cheer promoted in HK!

Having a wonderful time filming with the biggest home shopping TrueSelect channel in Thailand, sharing the Ken Hom wok with Thais!!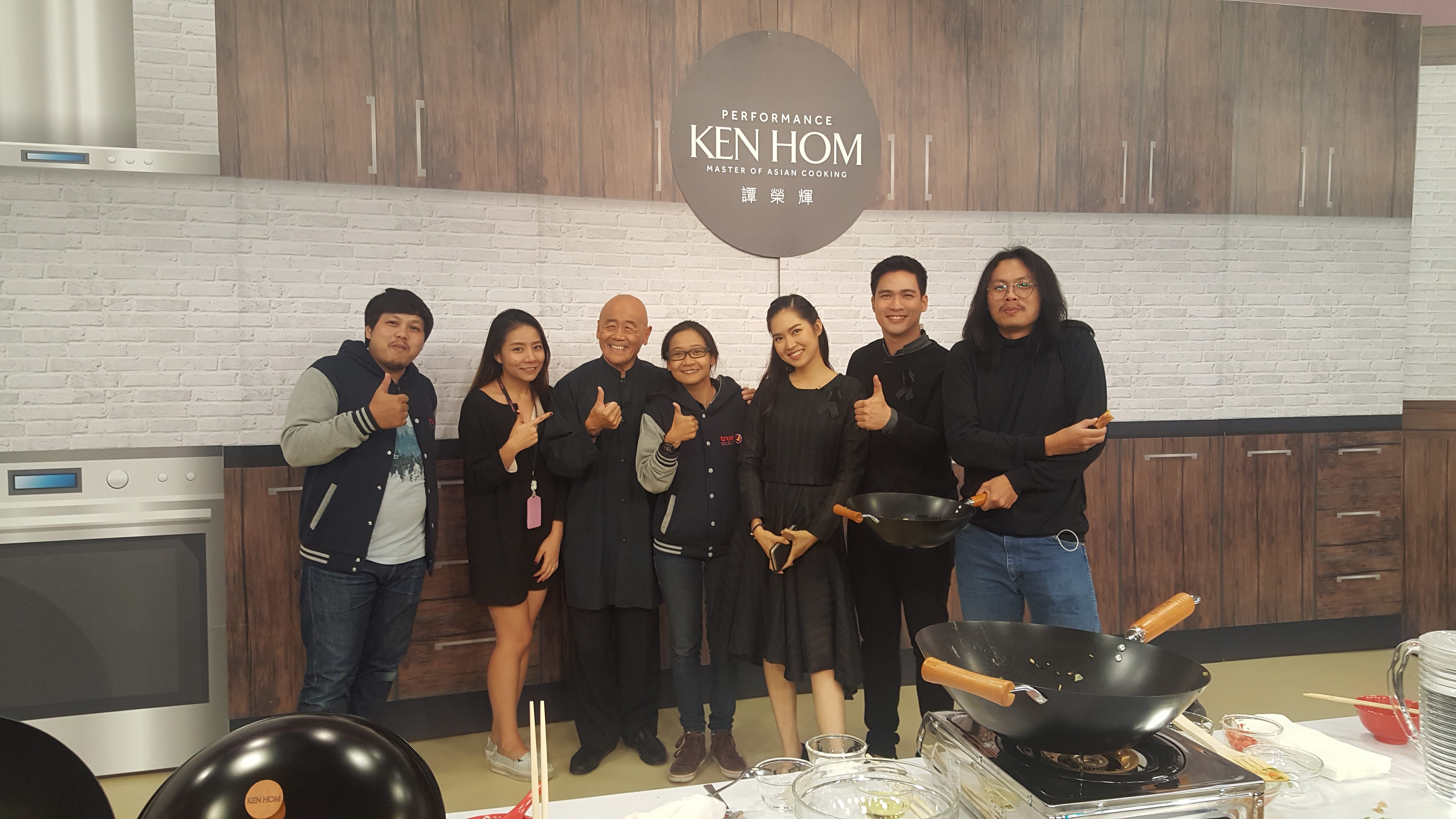 The Battle of the Noodles: AA Gill and Giorgio Locatelli Vs Ken Hom and Sir David Tang at China Exchange – London See the battle here:
Ken's book 'My Stir-Fried Life' seen in Angkor Wat! – At Christian Develter's studio.

Ken talking about how to make the perfect Vietnamese stir-fry with Telegraph Travel
Sir David Tang delivered the 2015 Ken Hom Lecture at the Oxford School of Hospitality Management at Oxford Brookes University. The event hosted by Ken on 24th November was a huge success.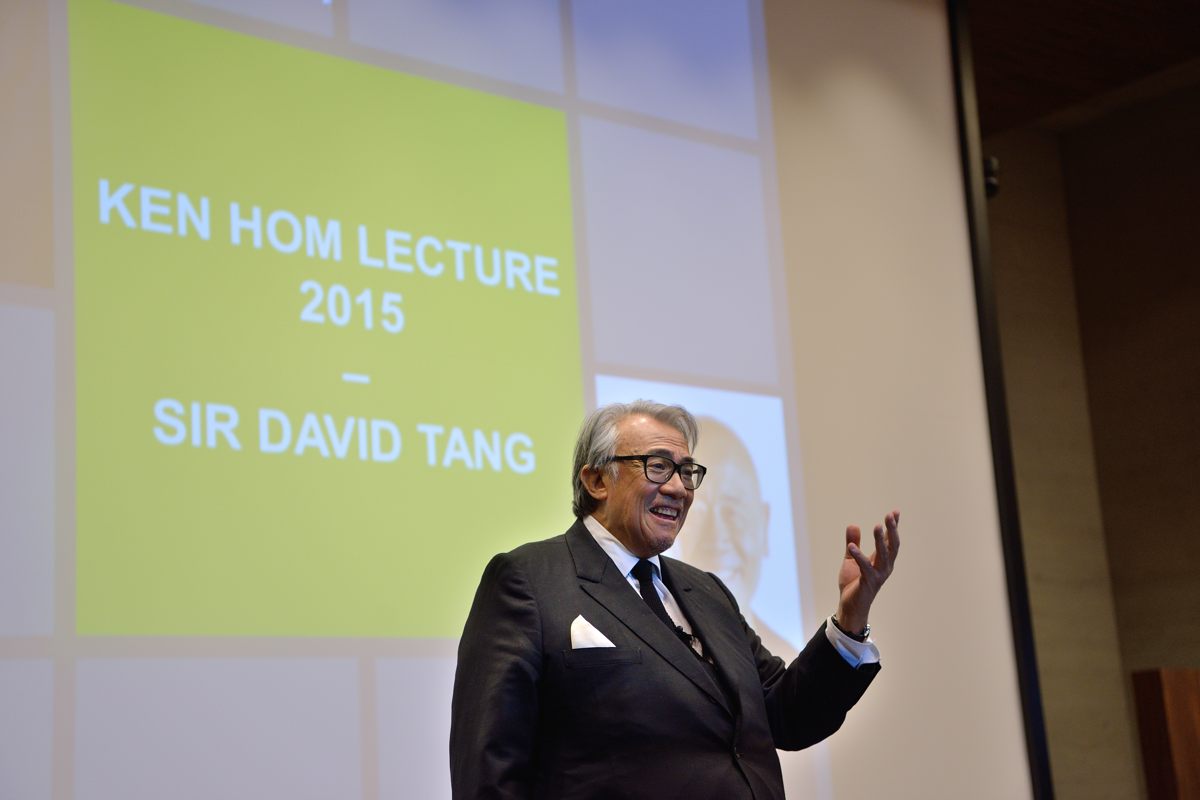 A special "Dinner with the Stars" was held on 16 September at the Copacabana Palace hotel.
Charity dinner with the six Michelin star chefs of Rio de Janeiro. All the chefs with Andrea Natal, the General Manager of the Copacabana Palace Hotel together with Pierre Olivier Petit, the Executive Chef. An amazing evening of food, wine and friendship among chefs!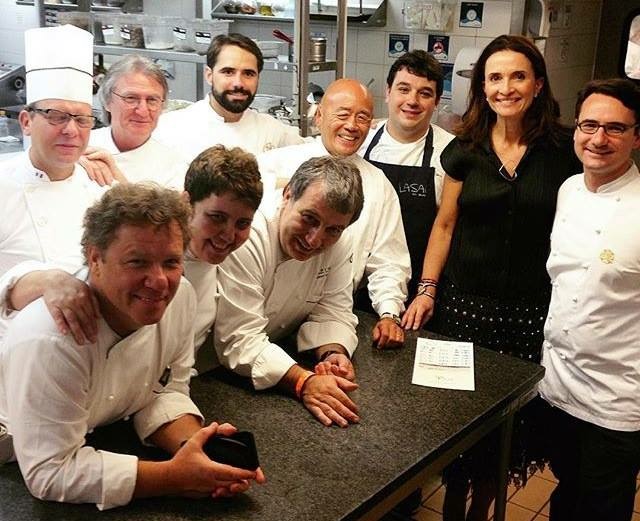 Ken at the Milan Expo with the GREAT campaign and meeting Lord Bilimoria (chairman of Cobra) in Milan after many years!
MEE restaurant in Rio de Janeiro earns a Michelin star in its first year! Read more here: MEE news Michelin.com O Globo News Veja Rio
Ken serves up his stir-fried life story with the China Daily UK
Tea and Talk with Ken Hom and the HK Tatler – 'The world-renowned Chinese chef shares his journey of becoming the most recognised chef of his trade and his food obsessions'
Chinese Financial Times article about Chinese food & restaurants in Europe
'There's no place like Hom' article in Surrey Magazine
Ken appeared in "Back In Time For Dinner" on the 7th April 2015.  A BBC2 series starting in which one British family embark on an extraordinary time-travelling adventure to discover how a post-war revolution in the food we eat has transformed the way we live.
Ken Hom's British home from home – Interview with the Daily Mail
New article on Chinese site qq.com about Ken
My favourite photograph – Interview with Ken and the Sunday Express magazine
Why I laugh in the face of stress – Interview with Ken and the Daily Express
Appointed GREAT ambassador by Prime Minister David Cameron for work promoting the United Kingdom.
The GREAT Britain campaign is the UK Government's most ambitious international marketing campaign ever. It showcases the very best of what Britain has to offer to encourage the world to visit, study and do business with the UK.  For more information on the GREAT campaign visit www.greatbritaincampaign.com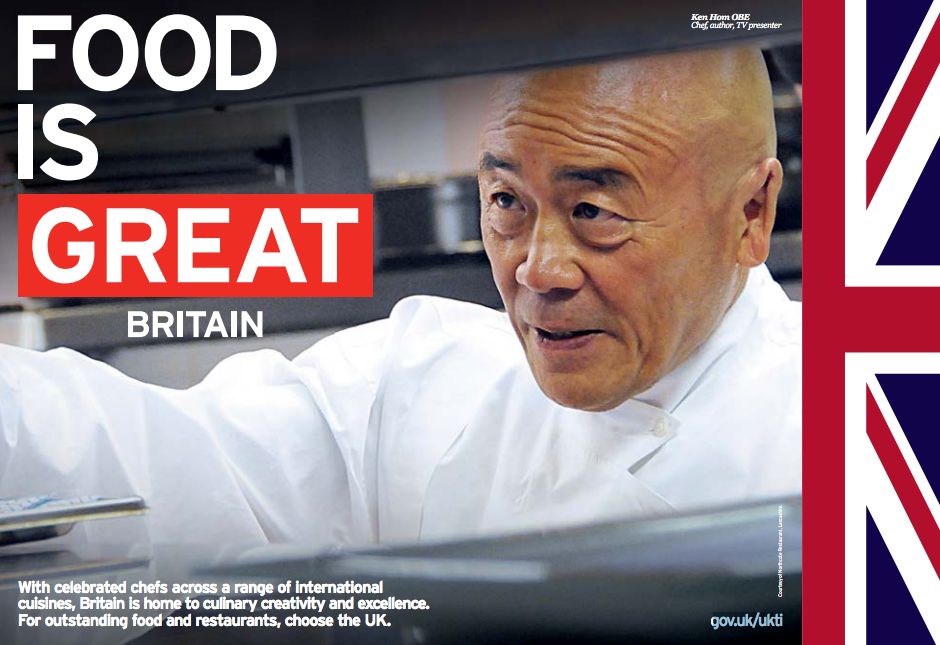 Related Links:
Hospitalityandcateringnews.com
RenardResources.com
Neehao.co.uk
MandCreport.com  (subscription only so you can only see the headlines)
Read the reviews of the Exhibition 'Sour, sweet, bitter and spicy' at the Museum of Chinese in America:
The New York Times – A Banquet of Chinese Experience
China Daily – Museum celebrates Chinese food – in ceramic
SinoVision.net video review (Chinese)
SinoVision.net video review (English)
Food.mic – Chicken soup for the conflicted Chinese-American soul
Gotham Center for New York City History – Sour, Sweet, Bitter, Spicy: Stories of Chinese Food and Identity in America
Cool Hunting – Storytelling by way of cooking Chinese food 
The World Journey (Chinese)
latest book
My Stir-Fried Life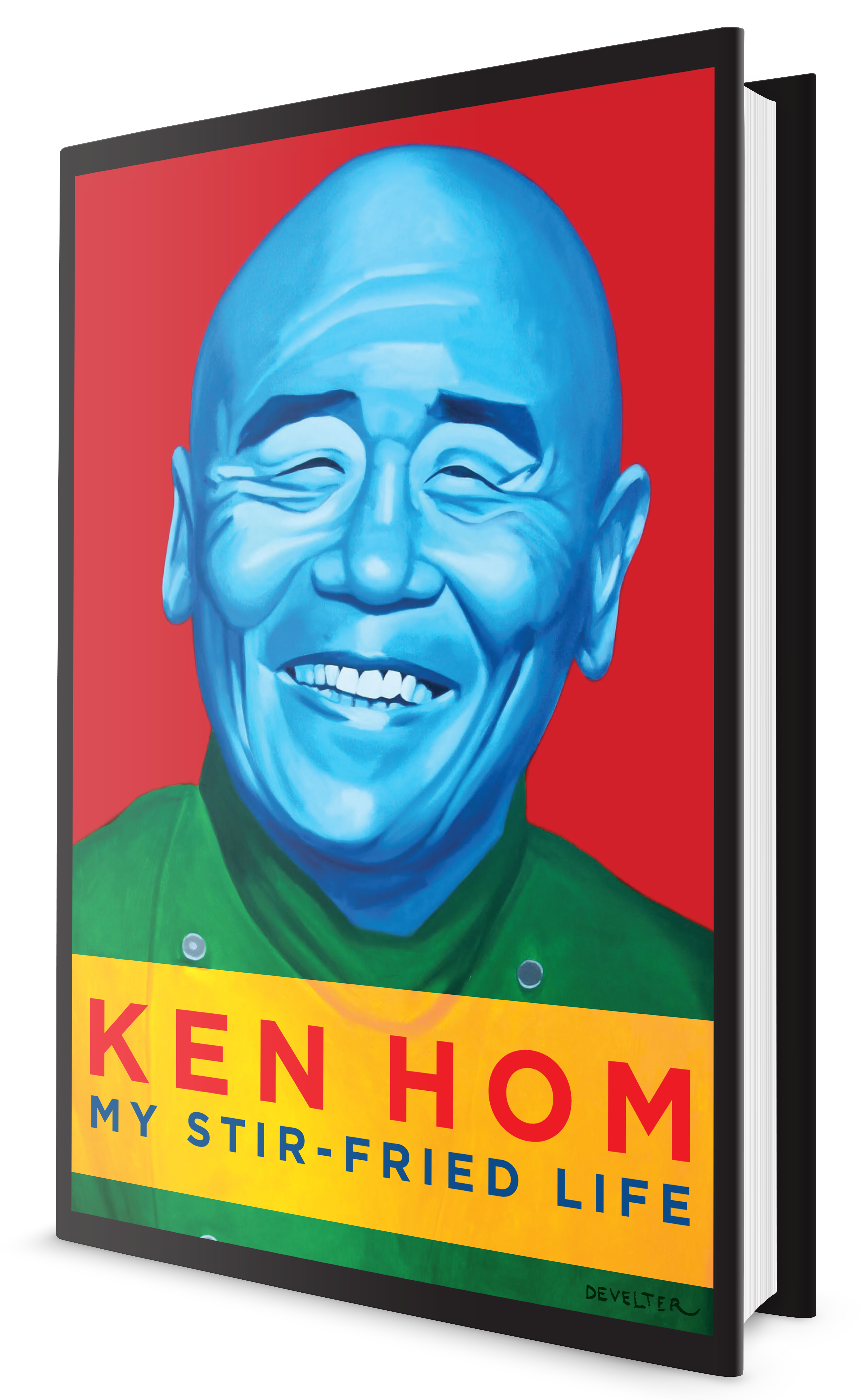 My Stir-Fried Life. Ken Hom.  The Robson Press 2016. ISBN 978-1-8495-4978-3