W

hat has Ken been eating?
Sharing food and restaurants experiences!
---
The Punter – Oxford
One of the great traditions I love in the UK is the Sunday late lunch at the local pub.
Last Sunday, I went with friends to their local pub, The Punter in Oxford after my talk at the Oxford Literary Festival. The food was delicious, tasty and unpretentious. From the Free range Scotch eggs, to the crispy Edamame bean with vanilla salt. I could not resist….Panko crumbed fish & chips with peas and tartar sauce, a lovely modern version of my favourite English dish. It was a magical day that was topped off by every one bringing their dogs…..I loved every moment!


FT Weekend Oxford Literary Festival 2017
I had the most extraordinary experience when I was invited to the FT Weekend Oxford Literary Festival 2017 closing dinner held at The Great Hall, Keble College. The guest speaker for the beautiful amazing actress and writer, Maureen Lipman and we were lucky to eat the most delicious dinner designed and supervised by my great friend and chef, Jeremiah Tower. We had a delicate white truffle and celery root timbale with Cornish crab meat with artichoke, lobster and mussel essence balanced by a lemon parsley salad. This was followed by a hearty, and very tasty BBQ duck leg with a spring vegetable risotto with an ancho chili mint broth and we finished with a spectacular rose and rhubarb fool, meringues and crème carême dessert. An extremely fitting close to the festival's 21 st anniversary!

Open House at the Central Embassy in Bangkok
I went to the opening of Open House at the Central Embassy in Bangkok. It is the creation of my good friend, Shane who is also the publisher of my Truffle book. Open House is a beautiful space with restaurants such as Peppina serving Italian pizzas, a wine bar, an oyster bar, ice cream bar, Thai restaurant, a grill restaurant……all surround by books, including mines! It is a must to visit when you come to Bangkok!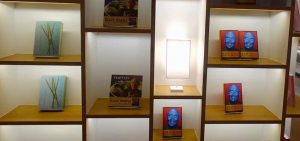 Tonkin-Annam – Bangkok
I am a great fan of Vietnamese cuisine. I find it flavourful, aromatic and light. I love their use of herbs and rice paper wrappers. Just before departing Bangkok, I was told to try Tonkin-Annam and how happy I was to sample their delicious cooking. It is a small unpretentious place near the grounds of the Royal Palace and certainly worth going. There is a wonderful rice paper stuffed with poached egg, crispy banana salad was tasty, the mung bean crepe was one of the best I ever had, as was the sugar cane with ground prawns. A stewed pork belly dish was another hit and the fresh spring rolls stuffed with prawns was quite amazing. We finished off with a sweet rice dumpling soup. Don't miss this restaurant if you go to Bangkok!

Lenzi Tuscan Kitchen – Bangkok
I have known Francesco Lenzi from his fantastic cooking at the Muse Hotel in Bangkok and I was thrilled to learn that he opened his own place serving great Italian family food.
Lenzi Tuscan kitchen has the warmth of a welcoming comforting home with a open kitchen that is a hive of activity. Francesco is serving some of the best Italian cooking in Bangkok, I felt I had stepped back into Tuscany. A platter of sensational ham, sausage and cheeses from his family farm kicked off the evening. A refreshing salad of rocket with cherry tomatoes, Parmesan cheese and Italian artichoke followed. A sea bass fillet with tomato, anchovy sauce with grilled polenta was perfect in its simplicity and packed with flavours. A final dish of stewed Tuscan sausage, again from the Lenzi farm in tomato sauce with cannellini beans and olives and herbs finished us off but left us so satisfied that we skipped dessert and just had coffee. The packed restaurant was testimony that only the best restaurants can survive the highly competitive Bangkok market. Lenzi Tuscan is certainly among them!

Le Cochon Blanc – Bangkok
My dining experience at the latest hot restaurant in Bangkok, Le Cochon Blanc was so good, I returned last week to try all the remaining items on the menu that I had missed previously. Lucky, I had booked because the restaurant was packed as the word of mouth seemed to have spread all over town. Ordering some of previously tried dishes confirmed our opinion about the high quality of cooking. Chef Chandler, presided over the hot open pit and cooking away with a happy smile.
The home smoked salmon was delicious but the Pate de Papy was as good as any I have had in France. The duck jambalaya was sensational and packed with flavours and spice, just the way I like it. I could eat the creamed spinach every night. And the baby carrots with Moroccan spices was magical. The chicken Piri Piri perfectly grilled, moist and flavourful with a sensational spicy piri piri sauce. The Tomahawk steak sold the show……a massive cut of wagyu beef slowly grilled on the bone was seasoned so well that it actually highlighted the great flavour of the beef. The Profitterole with homemade vanilla ice cream and chocolate sauce and the wonderful Apple tart with slow cooked apple with vanilla whipped cream finished us off. We all agreed that it was another amazing evening at Le Cochon Blanc. It will be on the top of my list when I return to Bangkok in the autumn.


Orihara sake bar – Bangkok
Japanese food mania seems to have gripped the Bangkok dining scene. Sometimes I feel I am in Tokyo…….so when I went to the Orihara sake bar, a branch of the Tokyo sake bar, I was not surprised to find a fantastic array of sake to choose from but delicious yakatori, Japanese street food on a skewer. Especially chicken from the liver to wings to the skin….in other words every part of the chicken. The seaweed and tofu salad was a good counter point. Do try the pork belly as well. Great food and amazing sake……..all in the heart of Bangkok!

Riedel Wine Bar & Cellar – Bangkok
Bangkok continues to surprise me by its quality of food and cooking. It is a city that not only has great Asian food but does European food just as well. Recently, I was invited to a dinner hosted by The Oxford Cultural Collective for a informal dinner at the Riedel Wine Bar & Cellar located at the Gaysorn shopping. We began with a delicious selection of artisanal charcuterie that was as good as any I have had in France with perfect sourdough toasted bread. A magical green pea soup with pancetta, smoked rainbow trout and crunchy walnuts. A wonderful combination of taste and texture. Grilled lamb chops with anchovies, rosemary mayonnaise and confit garlic was brilliant as well. A simple dessert of refreshing creme brulee was exactly the right finish to the meal.

Water Library Brasserie at Central Embassy, Bangkok
I am a great lover of Thai food but sometimes when I am in Bangkok, I do long for a good fish and chips. So where do I go? To the Water Library Brasserie at Central Embassy. The decor is out of 19th century Paris but the food is top notched. The delicious corn bread with truffle butter always a good way to open my appetite for my fish and chips!

Cherry Blossoms
The cherry blossoms are in full bloom here in a sunny spring like Tokyo!
However, the real treat for me has been the food. Truly amazing, worth the journey. I shall be sharing all the wonders of some of the most delicious food I have had in a long time in the coming days!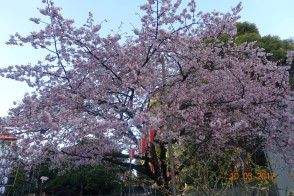 Tenichi Honten – Tokyo (Tempura house)
I don't think it is possible to leave Tokyo without trying one of the glories of Japanese cuisine: tempura. I am always amazed how the Japanese was able to refine batter and deep-fried food without any hint of grease or fat. So I went to the best in Tokyo: Tenichi Honten. You are given a set called Otoshi that includes a salad and fern heads with a nutty sesame dressing to open your appetite. You can sit at the counter while the chef individually deep-fry each piece of food and serve you as it comes hot from the oil. We began with prawn, then a single piece of a small whole fish, followed by gingko nut, squid, conger sea eel, crab, uni (sea urchin) wrapped in nori (seaweed), sashimi. The meal is finished with miso soup, rice and Japanese pickles.
But I was shocked at the most simple dessert: Japanese melon that was the sweetest, juiciness and most delicious I had ever eaten in my life! A perfect farewell to one of the food capital of the world: Tokyo

Seiyoryori Shima – Tokyo steakhouse
When my good friend, Ron Batori raved about one of the best meals he had in Toyko, I knew I had to go check it out. I was not prepared for what was a simple steakhouse located in an obscure nondescript office building basement that was difficult to find even though I was with a Japanese friend. The restaurant seats about 25 and looks ordinary except for the food. Chef Oshima Manabu serves a mixture of Japanese/Western dishes such as delicious large briny Japanese oysters and Japanese beef that was out of this world. Get a seat on the counter so that you can see all the action from the open kitchen.
I had the most wonderful all black truffle menu, every dish was truly wonderful but we all agree the highlight was the sauteed foie gras with artichokes and piles of fresh black truffle slices. All this was enjoyed at the magical Alain Ducasse restaurant at The Dorchester in London!

Azabu Juban Ozaki – Tokyo
This restaurant certainly deserve its reputation for one of best sushi in Tokyo. Raves from close friends sent me there. The meal began with a mixture of tender octopus, special clams and sea cucumber in a light sauce. Then came a wonderful tuna belly sushi followed by hairy crab. A selection of sashimi tasted as if it came directly from the sea: uni (sea urchin), abalone, flounder and sweet shrimp. A delicious tile fish was so good that I devoured it and forgot to take a photo! Sorry! Equally good was a red sea bream on a stunning blue plate. I also loved the oyster steamed with seaweed. More sushi. Then we finished with a refreshing almond pudding with grapefruit and orange jelly. Another unforgettable evening!

Shirosaka – Tokyo
Just went I thought food could not get better here in Tokyo than I ate another spectacular meal. This time at Shirosake where the chef, Hideki II was the former chef of my good friend, Tetsuya from Sydney. Each dish was an exquisite masterwork, we began with a sensational quail eggs with tuna, followed by a rich
flavourful oxtail soup, then fried sea bass with nori, pork belly with dikon could not have been better as was the amazing tiny seasonal shrimp with somei noodles. A wagyu beef was so tender, you almost didn't need to chew, finally rice followed and the dessert was a Japanese sandwich of rice crackers filled with mochi and strawberries. I thought: what an amazing city!

Sweet Po-Zu – Tokyo
About twenty years ago, I was introduced by Yuichi Yoshii, an expert in Japanese cuisine to this modest gyoza shop that serves some of the best dumplings I have ever had. They serve them pan-fried, poached in a light broth or steamed as buns and are the only items on the menu (except for rice & miso soup.) The restaurant seats only 16 and it situated in a district that is filled with bookshops and second hand book sellers. But is worth going just for these fantastic and most delicious gyozas! A must for any food lovers who is visiting to Tokyo!

Kikunoi – Tokyo
Considered one of the best restaurants in the world with three star Michelin, Kikunoi specialises in Kyoto Kaiseki cuisine the reflects the four seasons. We began with a poached red-pickled apricot bathed in a sea bream soft roe sauce. This was followed by an assortment of appetisers: bamboo shoot, squid, an unusual stalk, icefish sushi, rapini, fern heads, octopus with roe, lily bud petals with salmon roe and a mustard sesame seed dressed carrot. A sashimi of seasonal fish followed, then another sashimi of young blue fin tun with a magical mustard soy marinated egg yolk sauce, then we had a clam dumpling but what followed was one of the highlights of the evening: an whole abalone covered steamed in a cover of salt & seaweed which you push aside revealing the abalone with its liver sauce and sea urchin! Wow, what I could say! We then refreshen our palates with an assortment of salads. Followed by a hot pot with lobster, clam, sea bream, scallop and tofu. Steamed rice with sea bream and a cauliflower soup with Yuzu (Japanese lemon) fished our meal. We then had a choice of desserts: Toasted barley ice cream with rice cake and azuki bean paste or passion fruit sorbet in mango soup…….I tried both!
A truly memorable gastronomic voyage!


Just had another great meal at MEE with friends from Sao Paulo! Here are some of the highlights.

A must foodie experience for me when I am in Rio de Janeiro is a visit to Da Roberta food truck. Her addictive potato fries and delicious sandwiches are a must, all washed down with artisan beer!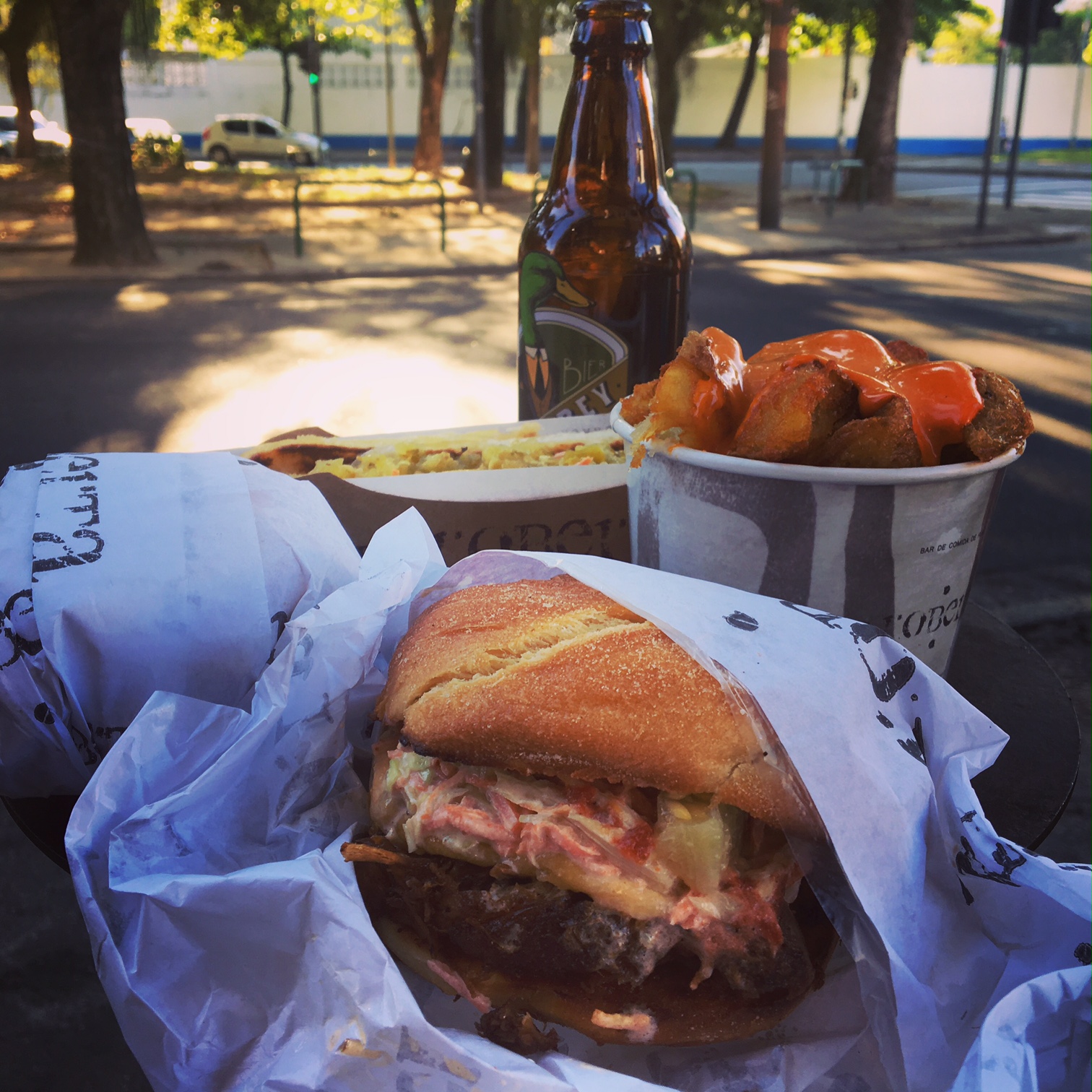 When I hunger for great Italian food when I am in Rio de Janeiro, the place I go to is Cipriani where the new Italian Chef Nello from Naples is making innovative Italian dishes. I recently has the tastiest pork belly with a simple spicy salad. The venue is quite beautiful as well!

Feijoada A slave dish that has become a national dish. Traditionally served with great festivity at the midday meal. This simple meal was prepared by slaves from leftovers they were given. Well-seasoned black beans and a side dish of various savoury pieces of smoked and sun-dried pork and beef. A Saturday tradition in Rio == heavy meal follow by a long nap. Cariocas (the people from Rio) congregate here to the best feijoada can be found at the Belmond Copacabana Palace Hotel. It is fitting that Brazil's most famous hotel would be serving the national dish. Be prepared to be very hungry and you must reserved the Saturday afternoon feijoada is extremely popular with the locals. The buffet is filled with of course, black beans, smoked and fried meats but also sausages of several types, salted meats, rice, oranges, salads complement this feast. Well worth the experience!

Issaya Siamese Club. The Issaya Siamese Club Restaurant is set in a beautifully restored colonial-style house built around 1920. It sits as an oasis amid the Blade Runner stacks of tall buildings of Bangkok and is surrounded by a lush tropical garden. A rare charming treat, indeed.  But after several meals there with many serious food friends, we all agree that it is the food that wins our hearts and stomachs. Delicious, full flavour Thai food with a modern touch.

I had my annual Christmas party luncheon again this year at one of my favourite Thai restaurant, here in Bangkok: Baa/Ga/Din. The chefs: the Thai culinary star, Chef Ton and his fantastic sous-chef, Chandler. One of the guest of honour was the British cook/author and foodie : Sabrina Ghayour and her lovely mum,  Shohreh Ghayour. Here is some of the amazing dishes over 30 guests enjoyed!
Merry Christmas to all of you and wishing you great health and good delicious food in the New Year!


In September, I went to the World Curry Festival and met the lovely Zulfi Karim, the Founder and Festival Director. He opened up a new world of culinary delights by taking me for dinner at the famed Tharavadu, home of Kerla cuisine in Leeds. It was a feast made in heaven!

I am often asked what is my favourite Chinese restaurant in Hong Kong. That is probably the most difficult answer. Hong Kong has some of the BEST Chinese restaurants in the world but still by far my favourite is Yan Toh Heen in Kowloon. Why? For me, it is Chinese cooking at its top, Michelin star quality but with simplicity… Perfection!!!

Whenever I am in Hong Kong and I am in the mood for something other than Chinese as well as looking for a quick lunch, I head for Nobu in Kowloon. The service is impeccable and fast and the food is top notched.
I usually order a great favourite of mines: Unagi Donburi, it comes with a salad and miso soup and if I am really famished, I would also order O-Toro Sashimi. You won't be ever disappointed in Nobu's classic dishes such as the Miso cod or the prawn popcorn or his wonderful seasonal salads.

Sometimes I think I am the luckiest person in the world. I get to eat some of the best food in the world. Hong Kong is certainly on the top of the list. My best friends, Grace & Kendall, serious foodies invited me to Dynasty restaurant in Hong Kong for a fantastic feast with friends. Here are some of the amazing dishes we enjoyed: A starter platter of chilled aubergine with mushrooms, crispy Chaozhou beancurd with the most tender BBQ pork, salted ox tongue and fish with five spice and chili; A perfect prawn dish with clams and asparagus, sautéed fillet of fish in black bean sauce, great seasonal vegetables, followed by a chicken baked with salt and then lobster with truffle essence and noodles and we finally finished with a mango cream with Chinese grapefruit. Lucky me!

It is quite an impossible task when dining in Hong Kong, every restaurant compete on a level which is one of the toughest in the world, especially for Chinese food. So I was not surprised when dining at Chinese Restaurant, Hyatt Regency Tsimshatsui to discover how delicious and good it was..magical is all I can say!

I don't often get to Pattaya, about 2 hours from Bangkok, but when I do I always make my way first to Gian's Italian Restaurant, it is great Italian food and the BEST pizza! It is real Italian!
Here is the pizza I just had a couple of weeks ago. I thought I was in Naples! It was so good and perfect!