W

hat has Ken been eating?
Sharing food and restaurants experiences!
---
I love the coronation decoration on the facade of The Dorchester. I celebrated by popping in and having my favourite British dish: Fish & Chips! Of course, the fish was perfectly cooked and moist and the chips were super crispy, the way I love them!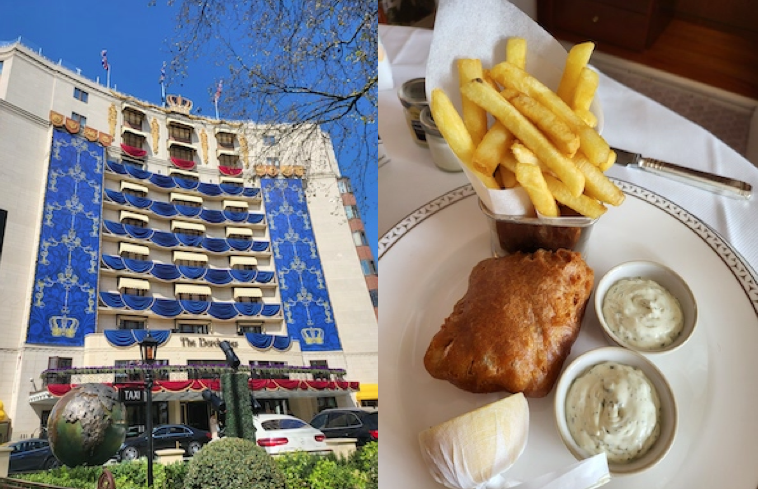 It was such a pleasure to catch up with Chef Prem, the head chef of Fortnum & Mason at Heathrow Terminal 5. The bar restaurant was heaving with customers enjoying his delicious food. One of my favourites was his take on crispy taco (made with gyoza skins) stuffed with fish tartare. Absolutely delicious! Don't miss it if you fly in or out of Heathrow Terminal 5!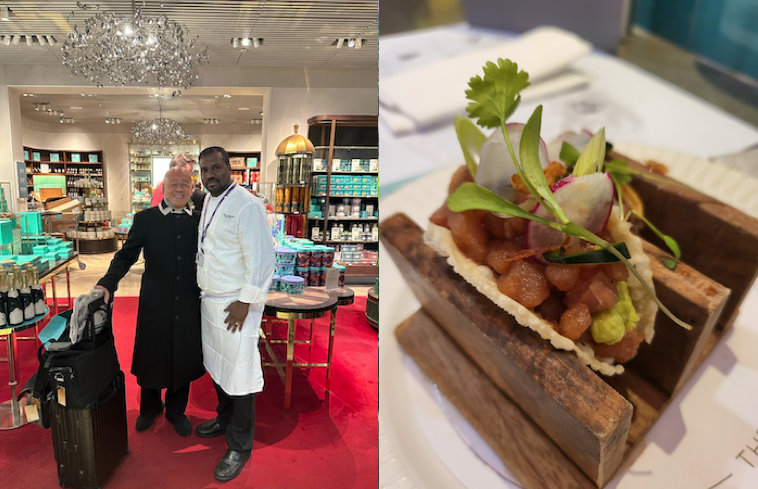 Steamed fish, Cantonese style
Chef Ken Hom's Cantonese-style steamed fish is perfect for a light and easy main course, packed with flavour. You can use whatever kind of white fish you like, and for the garnish you'll only need a few store-cupboard ingredients. Get the recipe for Ken Hom's steamed fish, Cantonese style here
NY Steak House
I rarely eat beef but will make an exception for top Japanese beef. The NY Steak House here in Bangkok serves the most tender, marbled and delicious small steak that makes it a special occasion. The chips were
crispy and tasty as were the onion rings, despite them being so thick! As a lover of any good food, I don't mind making an exception!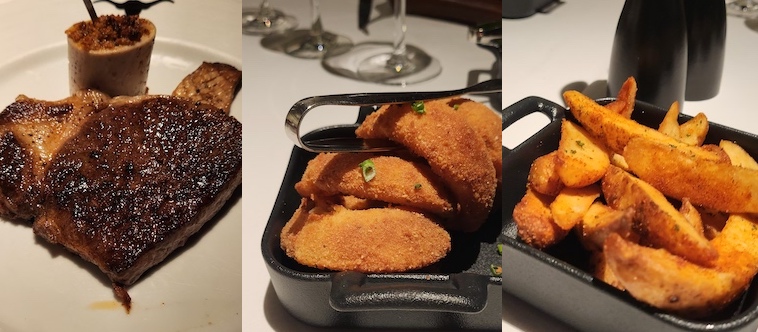 Mott 32 Bangkok
My foodie publisher, Shane, invited me to Mott 32 in Bangkok. Although the restaurant is part of a global restaurant group named after New York Chinatown. I found the food rather good despite the noisy ambience. Peking duck drying in the window was a nice greeting. The crispy pork belly was perfect and the barbecued Spanish pork was even better. A spicy squid dish was popular with our table as was the simple Chinese broccoli. A classic Cantonese fried noodle dish with sauce hit the mark. An amazing surprise dessert was an innovative pastry made to look like Xiao Long Bao, the fabled soup dumpling but filled with chocolate. I was transported to Hong Kong!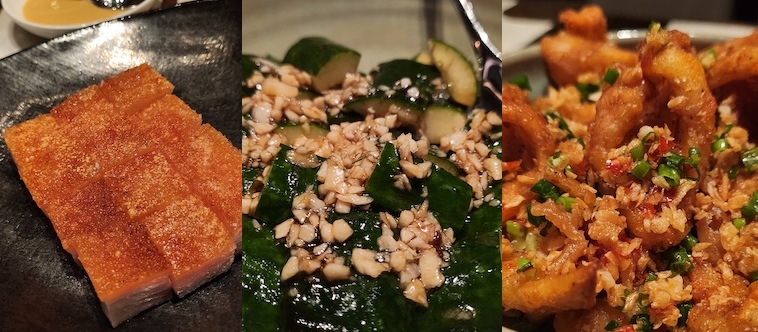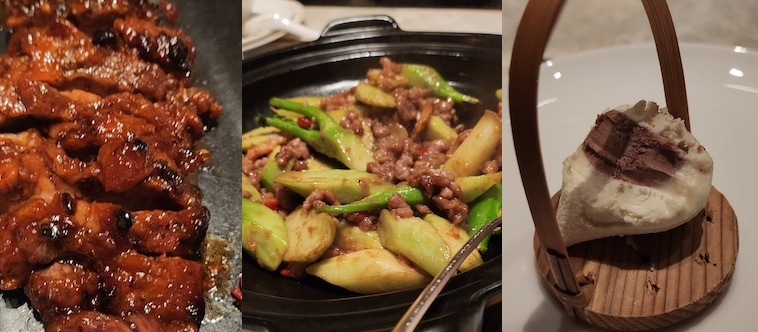 Din Tai Fung Bangkok
Thirty years ago I wrote about a small family restaurant I had discovered in Taipei, Taiwan called Din Tai Fung. One of the results of my raving article is that there are now over 170 restaurants worldwide including Bangkok which is where I had lunch the other day. And I was right, the offerings were just as good as I remember 30 years ago. The fabled steamed dumplings with soup inside were perfect and spot on, delicate and bursting with flavours. Stuffed mild chillies were as tasty as ever. Something new I never had before was steamed buns with warm sweet custard which was a truly wonderful sensation and taste. So if you are in Bangkok, don't miss the branch of Din Tai Fung at Central Embassy mall. You will see I was right!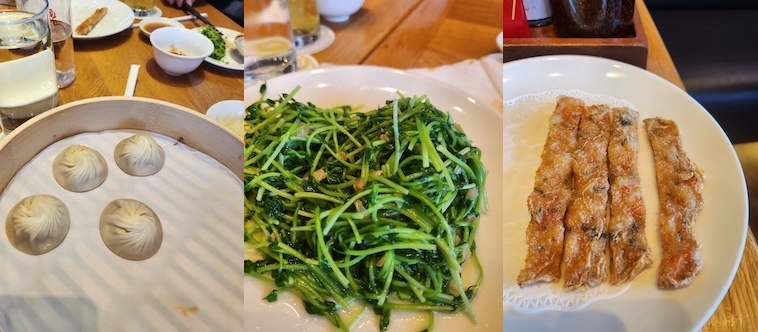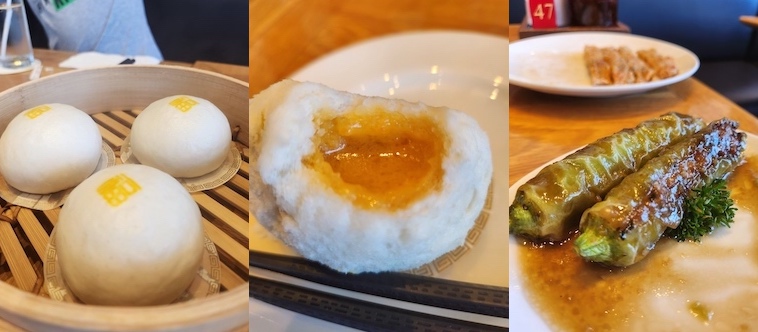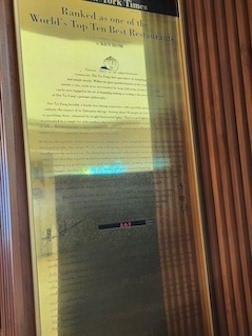 Hei Yin Chinese Restaurant
The latest new Chinese Cantonese restaurant to arrive in Bangkok is Hei Yin Chinese Restaurant. The chef, Jackie Chan from Hong Kong is simply the best. His Peking Duck is unrivaled, served in three courses: the crispy skin first with pancakes, then the rest of the duck is minced and stir-fried and served with lettuce and finally the soup made with the bones. Just when I thought it would not be better, he served his signature Suckling Pig with steamed buns. Wow! A magical caramelized banana in spun sugar topped off a super delicious evening!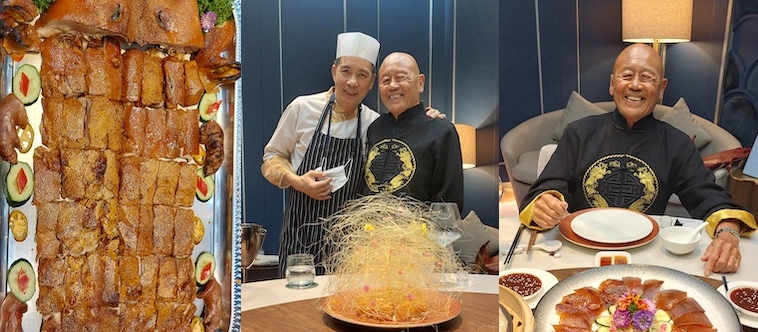 Phed Phed Pop
My Thai food guru invited me for dinner with a take away he brought from the latest popular food stall in the Central department store passageway called Phed Phed Pop. As a Thai, he knew that it must be good because there was always a queue. It is modern Thai food such as a mangosteen fruit salad with bits of herbs, chilli & garlic and a delicious yellow curry. The Thai omelet was crispy & moist at the same time. No wonder Bangkok is such a food heaven!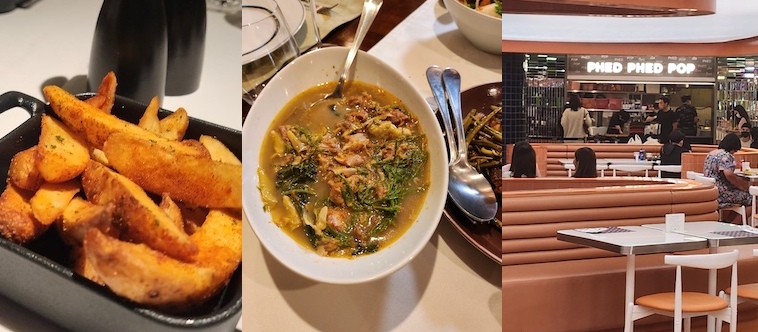 Man Ho
When Kevin (the Singaporean ambassador) and his lovely wife, Ching —– both serious foodies invited me to Man Ho, a Chinese restaurant here in Bangkok, I accepted without any hesitation. And I was in for a most delicious treat. Some of the highlights were the passion fruit custard that wetted our appetites. The smoked fish was dramatically tasty. It was the first time I had ever seen Peking duck flambé! The skin was crackling and addictive. The rest of the duck was stir-fried in a savory sauce. Sizzling rice dish followed and a fresh tropical fruit dessert finished our unforgettable dinner.

River Tree House (Baan Rabiang Nam)
If you are in Bangkok and want to celebrate a special occasion, I would highly recommend River Tree House, accessible by boat or taxi. It is a small riverside restaurant hidden behind a lush tropical garden set among old wooden houses and multi-level wooden terraces overlooking the Chaophraya river just north of Bangkok. But it is the delicious Thai food that attracts everyone. My long lazy luncheon was filled with many prawn dishes as well as refreshing salads. The fried shredded catfish was classic and tasty. Even the sweet & sour chicken was balanced with vegetables and fruit. The pineapple fried rice was savory and sweet at the same time. Well worth the journey!


Din Tai Fung Bangkok
Thirty years ago I wrote about a small family restaurant I had discovered in Taipei, Taiwan called Din Tai Fung. One of the results of my raving article is that there are now over 170 restaurants worldwide including Bangkok which is where I had lunch the other day. And I was right, the offerings were just as good as I remember 30 years ago. The fabled steamed dumplings with soup inside were perfect and spot on, delicate and bursting with flavours. Stuffed mild chillies were as tasty as ever. Something new I never had before was steamed buns with warm sweet custard which was a truly wonderful sensation and taste. So if you are in Bangkok, don't miss the branch of Din Tai Fung at Central Embassy mall. You will see I was right!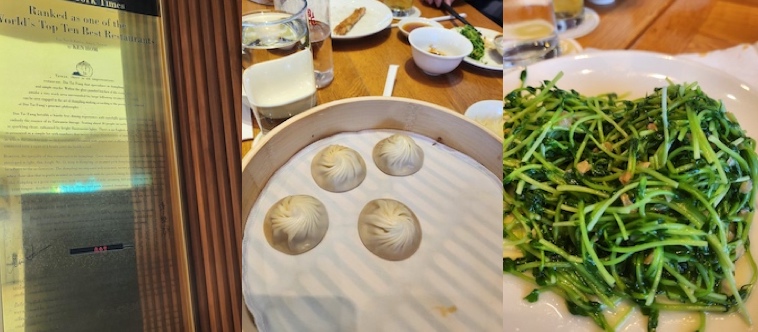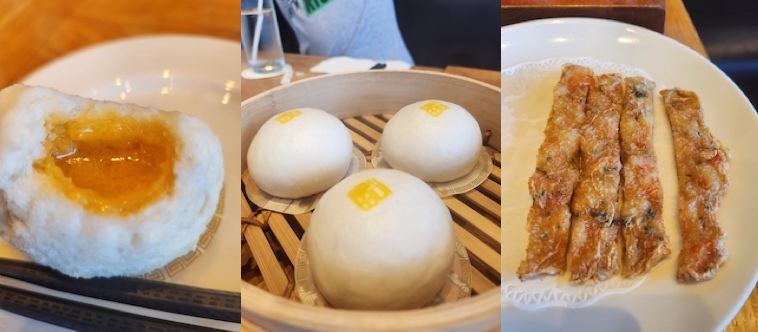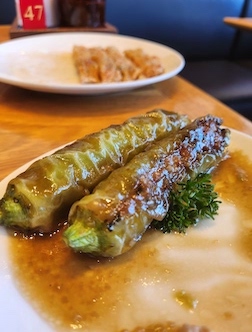 Hei Yin Chinese Restaurant
The latest new Chinese Cantonese restaurant to arrive in Bangkok is Hei Yin Chinese Restaurant. The chef, Jackie Chan from Hong Kong is simply the best. His Peking Duck is unrivaled, served in three courses: the crispy skin first with pancakes, then the rest of the duck is minced and stir-fried and served with lettuce and finally the soup made with the bones. Just when I thought it would not be better, he served his signature Suckling Pig with steamed buns. Wow! A magical caramelized banana in spun sugar topped off a super delicious evening!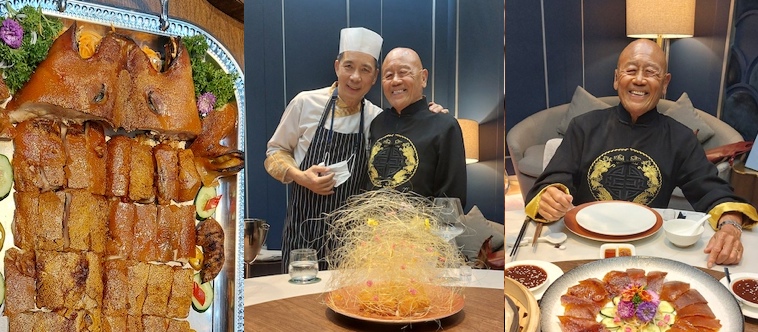 Phed Phed Pop
My Thai food guru invited me for dinner with a take away he brought from the latest popular food stall in the Central department store passageway called Phed Phed Pop. As a Thai, he knew that it must be good because there was always a queue. It is modern Thai food such as a mangosteen fruit salad with bits of herbs, chilli & garlic and a delicious yellow curry. The Thai omelet was crispy & moist at the same time. No wonder Bangkok is such a food heaven!

Lunar New Year Dinner
David Au, a good friend from Hong Kong but who also lives in Bangkok invited me to his home for a truly wonderful Chinese New Year feast. We dined on his mum's recipe of braised curry beef tendon with potatoes, a festive dish of tender sea cucumber with hairy seaweed, and a giant black mushroom cooked with baby Chinese cabbage were some of the many highlights. Then there was a spicy prawn dish that I don't think I could have made better myself. New Year is such a great occasion to catch up with friends, especially over good food!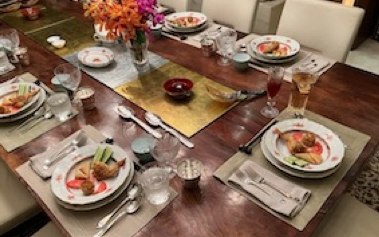 Eats Payao
I never cease to be amazed by the variety of great food on offer here in Bangkok. My friend, Michelle Han, the former news presenter from Channel 4 who now lives in Bangkok, took me to her local hangout for dinner. A very modest, down to earth restaurant with amazingly delicious food with a Malaysian influence. The tender & crispy salt & chilli squid could have come from any top Chinese kitchen. A vegetable platter came with an incendiary hot sauce that was addictive. The braised aubergine dish was so good, I was tempted to order more. But the chilli crab sold the show. It came with crispy golden fried bread to sop up the magical sauce. Such a fitting evening that we did not even attempt to order dessert!

One of my all time favourite comfort dishes is one my mum used to make. Chinese sausages steamed in rice and top off by a fried egg drizzled with oyster sauce. I am lucky living in Bangkok where I can find Chinese sausages. The rich sweet flavor and aroma of the sausages would slowly come together with the rice, dripping their savoriness into the rice to make it a special dish. Heaven on earth!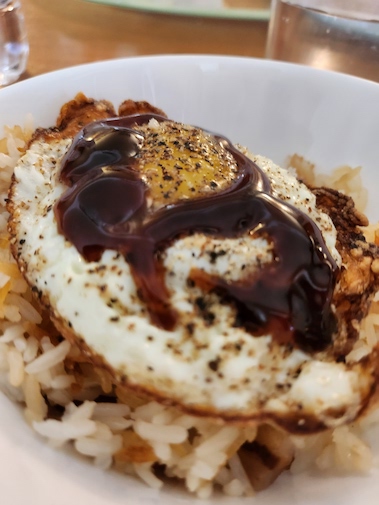 Chef Man
One of my favourite Chinese restaurants in Bangkok is Chef Man serving some of the best dim sum dumplings ever! A recent luncheon included prawns wrapped in crispy bean curd sheets, steamed dumplings of savory glutinous rice in lotus leaves, pan-fried dumplings filled with earthy Chinese chives and prawns wrapped with rice noodle sheets. The crispy pork belly was out of this world. One of my favourites is steamed chicken feet with fermented black beans. I felt like I had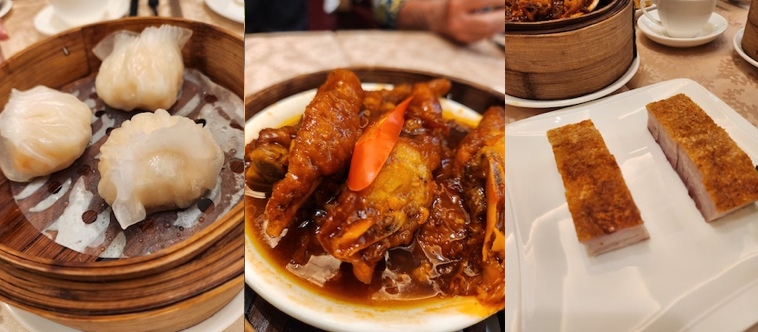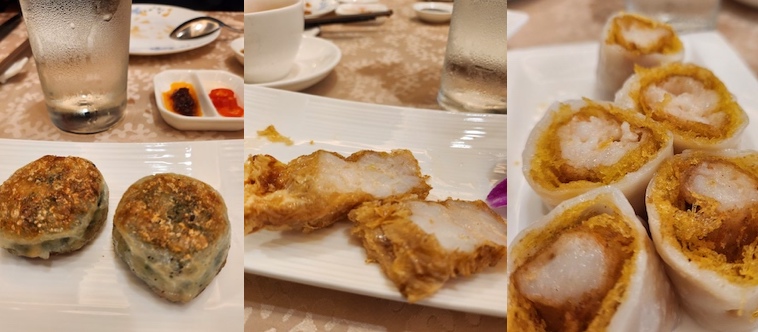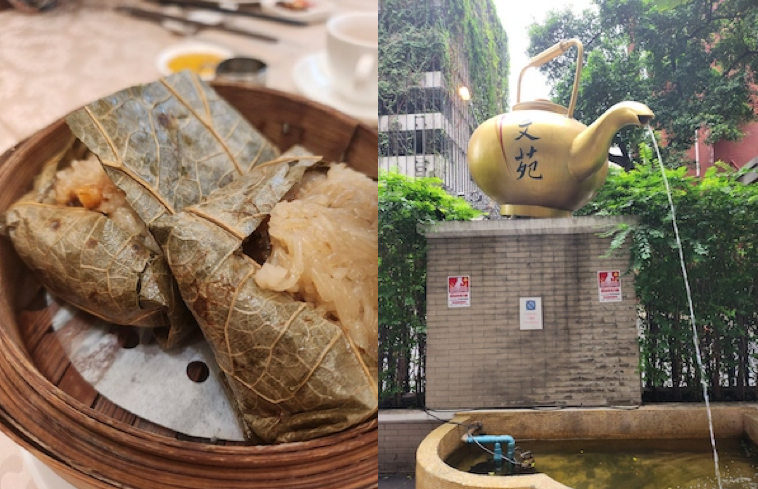 Hei Yin
The talk of the town here in Bangkok has been about Hei Yin, a new Cantonese Chinese restaurant. Now I know why. I went there last night with friends and we had the most perfectly delicious meal by Chef Jackie Chan. A plate of crispy tender flavourful pork belly kicked off the feast. Then came steamed delicate Shanghai hairy crab which is now in season with egg white and a vinegar ginger dipping sauce. A bowl of baby bok choy stir-fried with a savory sauce could not be better. A whole fish fry was crispy, tender and moist and packed with flavour. Then came crispy Cantonese noodles with a shredded chicken sauce. A spectacular fried banana with spun sugar finished a truly memorable dinner! Don't miss Hei Yin if you come to Bangkok!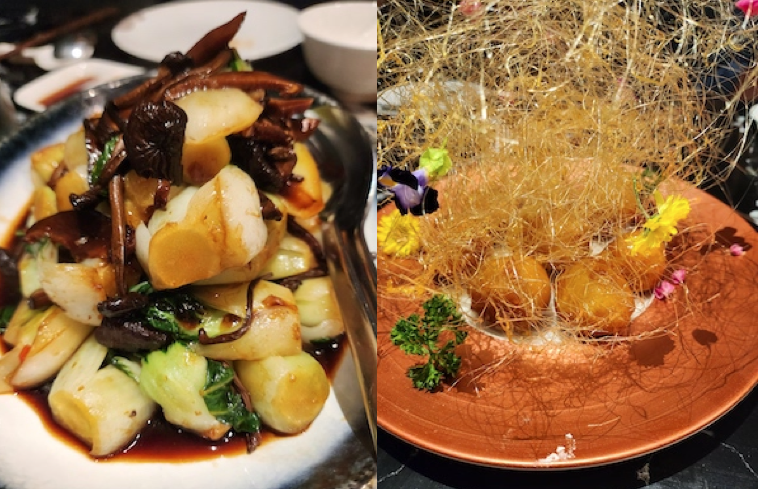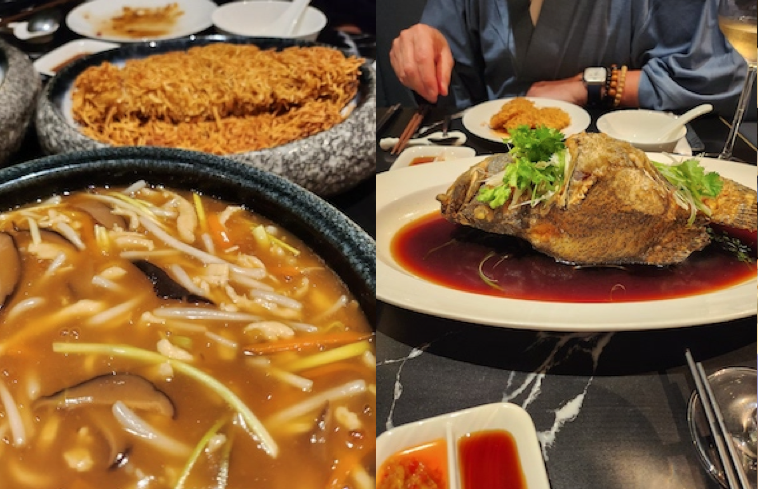 Bangkok has the most delicious array of Asian cuisines but there are times when I long for just simple grilled sausage with chips. That is what I made exactly the other night and to accompany this joyous combination, I drank Seigneur de Grezette, a rich full body wine made by my friend, Alain-Dominique Perrin in Cahors. I was transported to southwest France in the middle of Bangkok!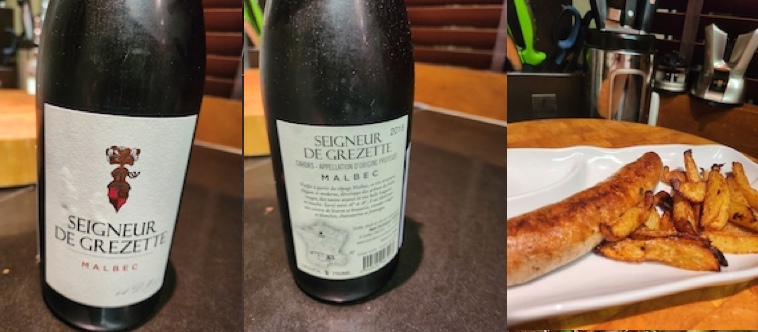 Quesillo (Venezuelan Flan)
I feel so lucky to have friends who are great cooks. Recently, I was invited to Colette's who is  a fantastic cook and hostess. The dinner was of course, delicious but the amazing dessert was even more sensational. It was a new discovery for me, Colette made Quesillo which is a rich Venezuelan Flan with a silky custard texture, yet light and was not too sweet. I am ordinary not a dessert person but her Quesillo won me over!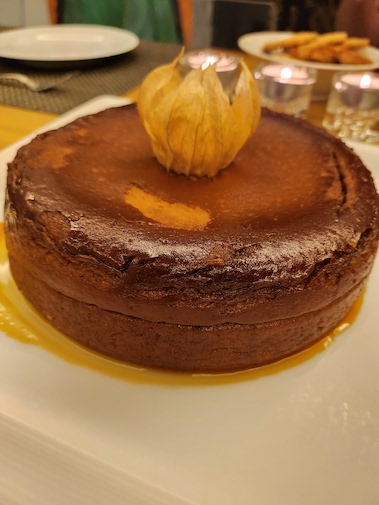 Siamese Boat Noodles
Thailand is a food crazy country. If there is a queue in front of any restaurant, that is a good sign that it must be good. My instincts are never wrong. I kept seeing massive queues in front of Siamese Boat Noodles, located at Central Embassy in Bangkok and when I finally was able to secure a table, I understood why. A simple bowl of noodles (you can pick which type you want, but stick with the traditional rice noodles), a choice of meat or vegetable (I chose sliced pork) and a simply amazing rich flavour packed broth. You can also choose your spiciness, I chose medium. Wow, so delicious and I was so right to follow the crowd especially in Bangkok!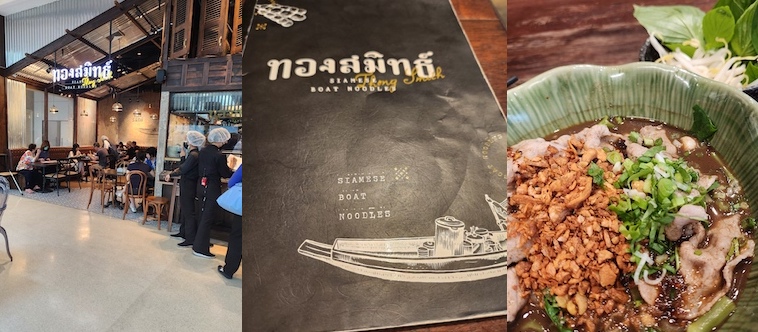 It is the end of the year and I have had time to reflect on two of the best fish & chips I have had this year. One of the best has been at The Chester Hotel in Aberdeen where I cooked at the Signature Food Festival with Chef Chris Gray. Perfectly tasty cooked fish & crispy chips.The other was when I cooked with the great British chef, Nigel Haworth at his restaurant, Three Fishes. His fish & chip like his cooking was perfect! I count myself as one lucky chef!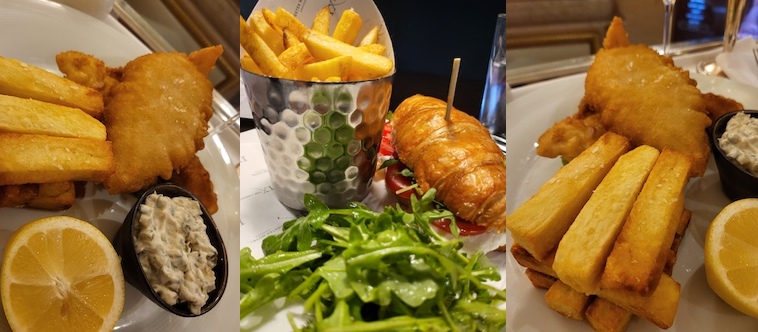 Saeng Tha Tien
My good friend and Thai publisher, Shane, invited me to the Thai restaurant, Saeng Tha Tien by the Grand Palace.  Not fancy fine dining but almost impossible to get a reservation. Why? It is simply great home-cooked Thai food by a university professor whose hobby has become viral through word of mouth! We began our 16 course meal with a stunning starter: strawberries in a spicy fermented shrimp paste.
Quite explosive beginning. The delicious food kept coming and soon I was losing track because it was all so good. One of the highlights was a savoury fried rice with bits of pork fat, refreshing Thai salads…….it just went on and on! Though I must say it was one of the best meals I have had in years!



Lofter
One of the great dilemmas of living in Bangkok are the enticing smells of food on the streets. But sometimes it is too hot to eat outside so where do I go to have street food in comfort? Lofter, located on the 7th Floor of the Central Department store, where they claim you can eat happily like a Thai. In air-conditioned comfort, you have a choice of an array of food stalls. Recently, I chose braised pork leg with rice which also came with a soup of bitter melon and pork ribs. The fragrant delicious homemade soup reminded me so much of my mum's cooking. And the savoury pork was so flavourful and melting tender. I was happy like a Thai!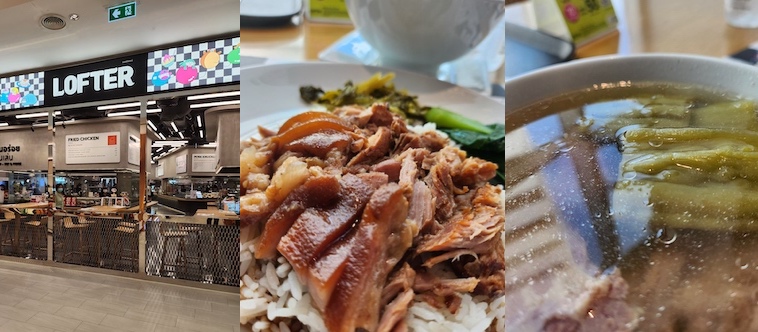 Foodie paradise
Bangkok is without a doubt a foodie paradise as well as inexpensive. For lunch, there is nowhere I love to go for a quick lunch than to the Siam Paragon food hall. There you have a choice of food stalls but my favourite, hands down, would be Go-Ang Pratunam. Their crispy fried chicken on top of steamed rice flavoured with broth and garnished with fresh cucumber slices and served with a rich clear chicken broth would be the equivalent of being in heaven! All for less than £2.30!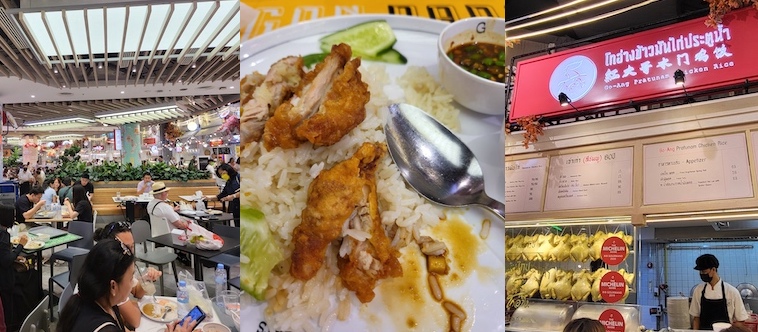 Food is such a great way to enter a different culture.
My family recently took me to a popular Moroccan restaurant called La Pigeot smack in the middle of Valbonne, a wonderful village in southern France. I was transported back to Morocco through the delicious couscous. I am not surprised it was called a family restaurant because I felt at home through the delicious comfort cooking! If you are in the area, well worth a visit!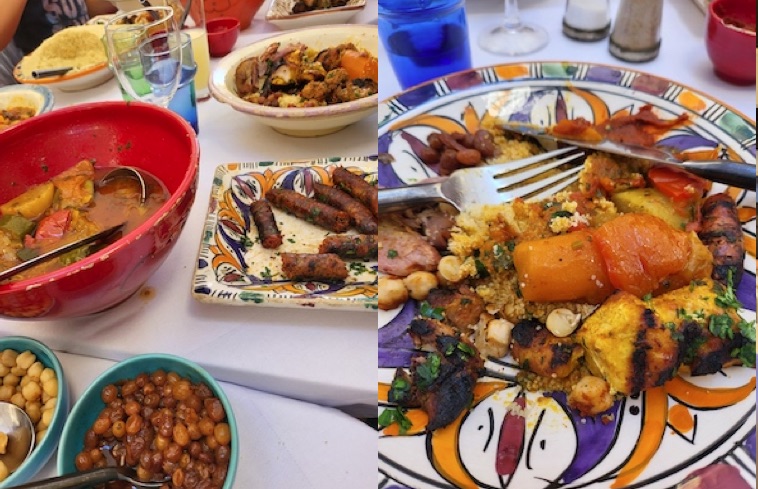 Italian in Paris!
An old foodie friend, Ariana Daguin, who I have not seen for a long time arrived in Paris and suggested we have dinner at an Italian bistro with her mum. Surprising enough, I was not disappointed. The popular small restaurant with a funny name was packed and the food was top-notch. The fried calamari was crispy and not greasy. The freshly made pasta topped with slices of fresh truffles was earthy and delicious. My thin veal dish was perfectly cooked. Of course, we had a constant flow of good wine as well! I felt like I was in Italy in the middle of Paris!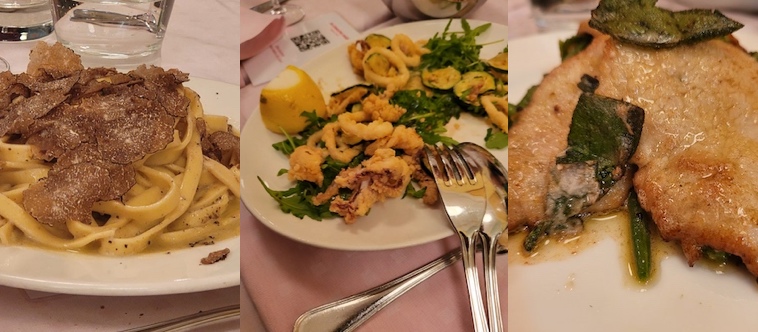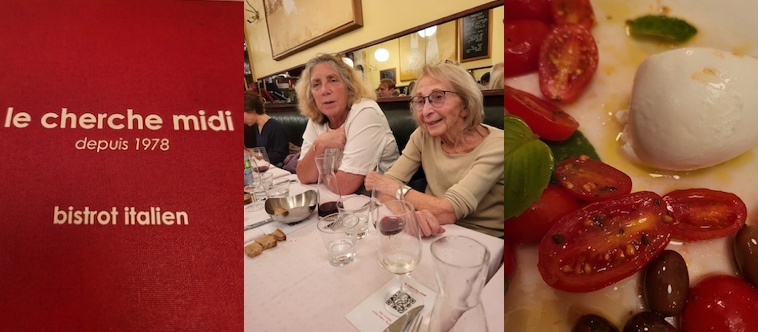 British cheese
I think nothing beats British cheese especially in a gratin. First, I blanched cauliflower florets, then I made a light Béchamel  (white sauce) and then topped it all off with slices of wonderful cheddar. What could be better? A vegetarian culinary dream and quite inexpensive as well and you have the bonus of it being quite healthy. Bon Appetit!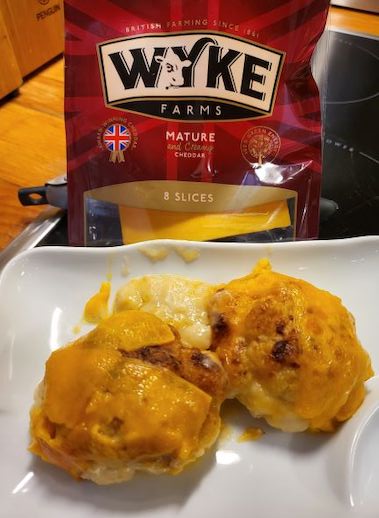 I have never been to Chester and was bowled over how beautiful and historical it was. I was impressed by the delicious and well prepared fish & chips I had at the Chester Grosvenor. A perfectly crispy batter coated the moist tender fish with thick fat chips! Heaven in Chester! Well worth a visit!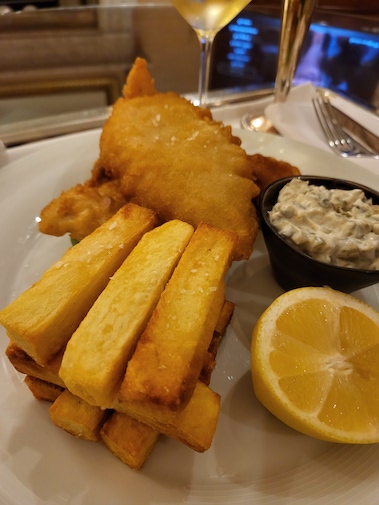 Croque-Madame is basically a popular French grilled cheese sandwich topped with a fried egg. Today, I made mine with Scottish Island Orkney cheddar cheese slices I was able to find in my local Parisian supermarket. I must say it was absolutely delicious!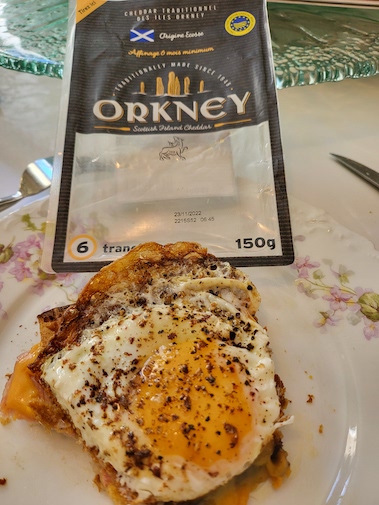 Fish & Chips
My addiction to fish & chips knows no bounds. One of the best I had recently was at the Chester Hotel in Aberdeen. The beer batter was crispy, the fish was flavourful and moist, the crispy chips were out of the world. All of this wondrous dish was accompanied by homemade tartar sauce!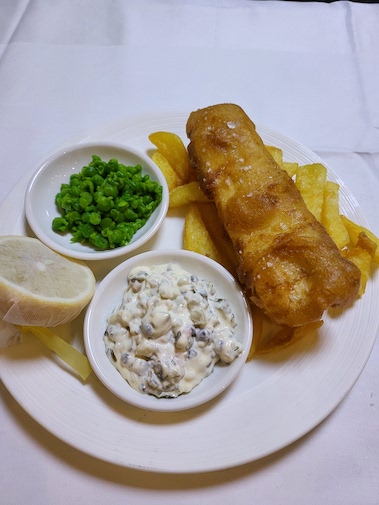 The team I worked with at the Signature Food Festival headed by Chef Chris Gray from the Chester Hotel in Aberdeen was amazing. They were top professionals but full of energy and fun! No wonder I love being a chef!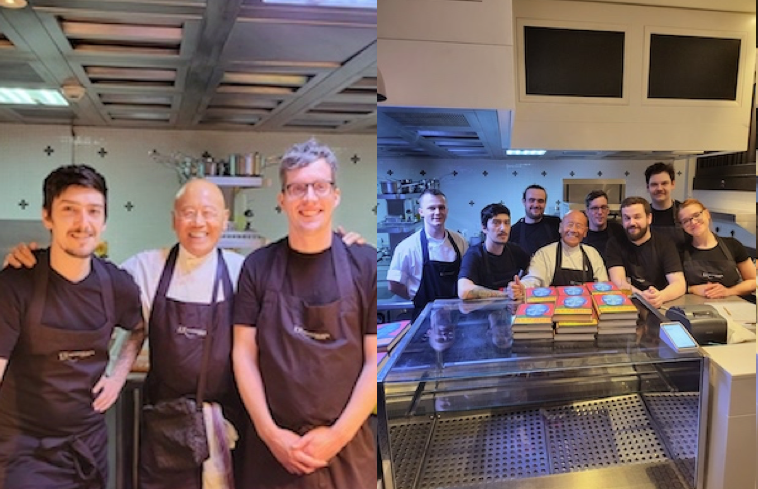 Here are some of the dishes from my dinners at the Signature Food Festival in Aberdeen: Grilled Indonesian Prawn Skewers, Steamed Scottish Salmon, and Roast Crispy Pork Belly.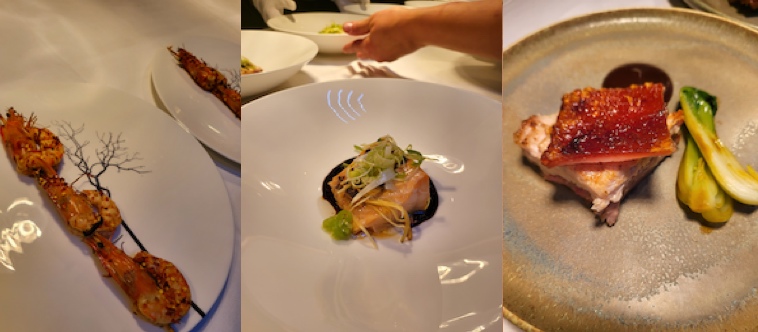 Signature Food Festival – Aberdeen
I had such a great time working with Chef Chris Gray at the Chester Hotel in Aberdeen cooking two dinners, raising funds for local Scottish charity. Of course, my menu featured the best Scottish salmon! I was also touched by the warmth and generosity of the people of Aberdeen.
Aberdeen
I am thrilled to be in Aberdeen and enjoyed a wonderful and delicious Scottish breakfast!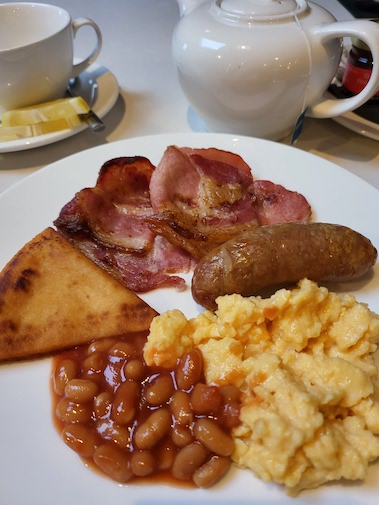 Mimi
There is really nothing like a home cooked meal made with love. When my friend, Mimi, who is a fantastic artist as well (here is one of her recent paintings) invited me over for lunch, I could not wait and I was not wrong. She made a couscous, which is the name of durum wheat semolina in which a delicious stew spooned on top. It was brought to France by Arab immigrants and now part of French cuisine.  Mimi's couscous was bits of tender lamb with onions, carrots and potatoes in a savoury sauce and served with grilled merguez lamb sausages. Out of this world!  A fruit tart was a perfectly fitting end to a 6 hour lunch, of course, with plenty of wine to wash it all down!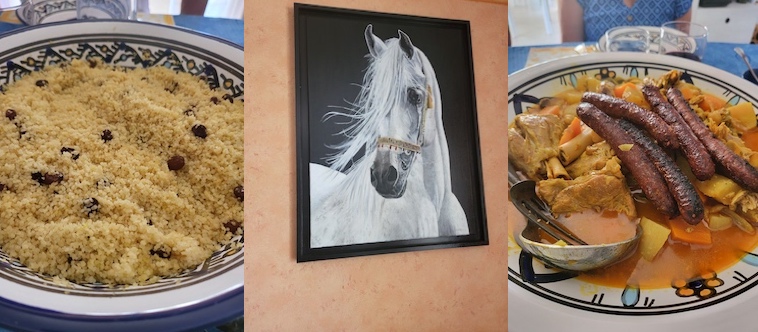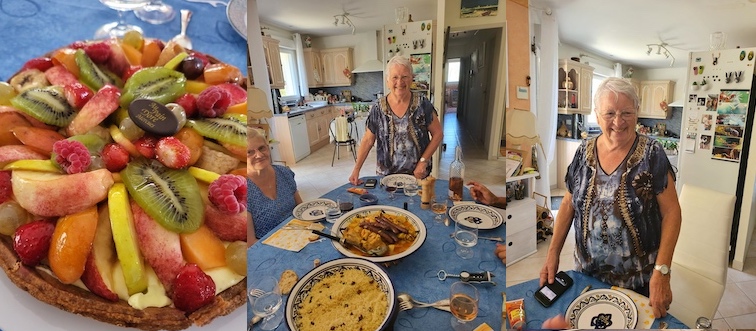 Pastis
My good friend, the Michelin star chef now retired, Alexis Pelissou invited me over for dinner. It was simple, elegant and super delicious. Grilled sweet fresh vegetables from his garden. Then an excellent perfectly cooked lamb. His lovely wife, Martine served excellent wines throughout the meal. The star hit was Pastis, the dessert. It has absolutely nothing to do with the homonymous anise drink, pastis , except that its name has the same origin: the Occitan word "pastís" means dough, pastry, mixture. It probably had Arabic origins. The dessert cake is made of extremely thin sweet pastry  – filo  folded in an accordion and drizzled during cooking with a specific sauce. Super crispy and out of this world!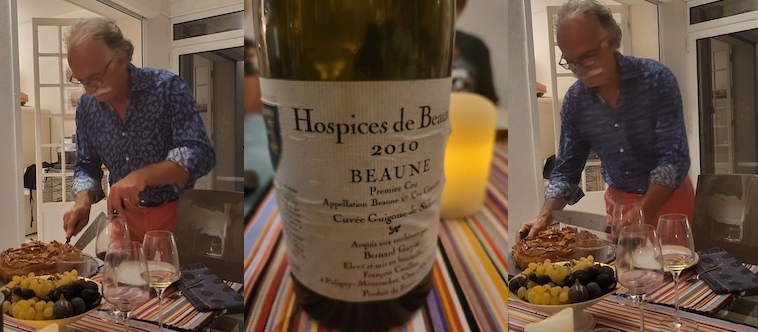 Plaisir des Sens
Looking for a delicious experience, Le Temps Retrouvé recommended Plaisir des Sens, not far from Sarlat run by Bruno Marien and his lovely wife, Lydie. The magical unpretentious meal began with a sensational cepes and escargot starter that was so good, I was tempted seriously to order another. The texture of the mushroom and snails was revelation bathed in a buttery garlic parsley sauce. The main course was guinea fowl that was perfectly cooked, seasoned well and moist. A simple dessert of braised fresh figs topped what was one of the best meals I have had in a long time! Well worth a visit!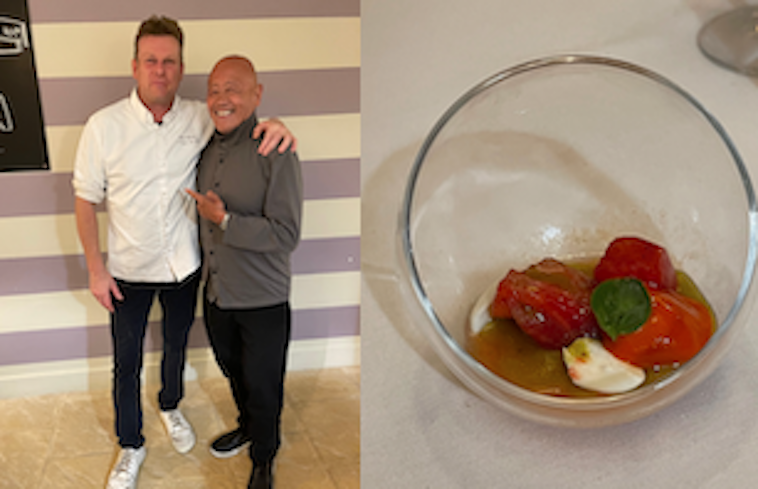 Sarlat-la-Canéda
Sarlat is a popular destination of British tourists as it is located in Dordogne where many British live. I recently returned after an absence of over 15 years. I discovered a beautiful small hotel called Le Temps Retrouvé within walking distance of the centre of the old town. What makes it extra appealing is the wonderful park that is part of the hotel with squirrels running about. For dinner, the owners organised a delicious chicken tagine. In the old town, I found a great shop called Salt & Pepper which sold all sorts of spices. And I was able to appease my addiction for fish & chips at Brasserie Costa!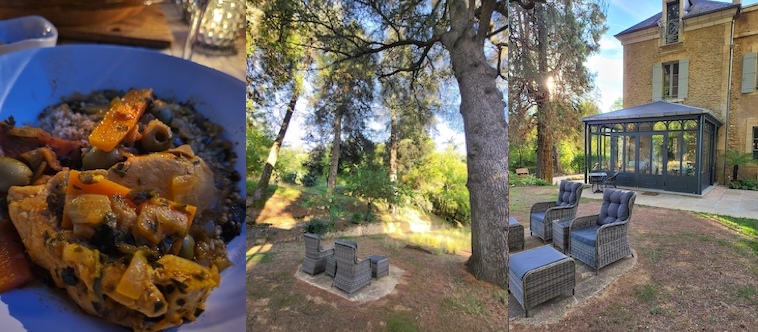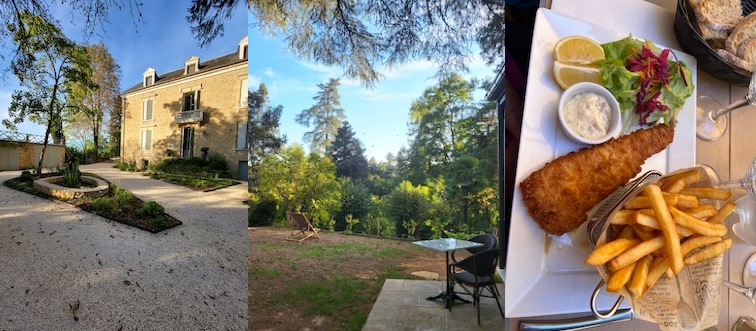 Borie Farm
The Bories run a well known duck farm and every summer they host an evening picnic. Anyone is free to join in and buy their food from various vendors they invite to participate. A huge grill is made available to cook what you buy. Wine makers sell their organic wines and children are running around. Of course, ice cream cones are on offer!  It is great delicious fun!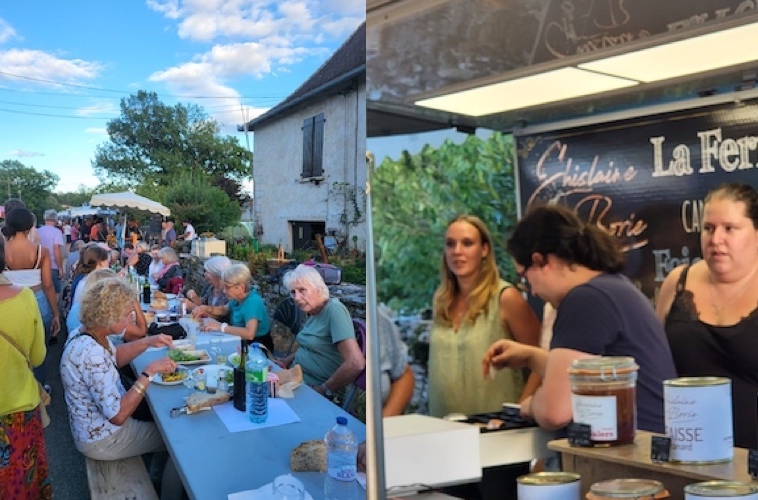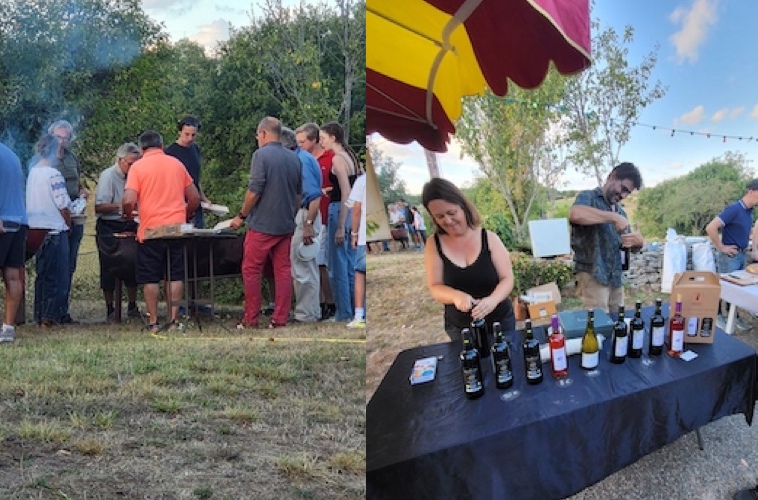 Carbonnade Flamande
Normally, I am not a great beef lover but when Marie-Noëlle invited me for her famous Carbonnade Flamande, I could not resist. It is a famous Flemish dish made with beef cheeks and braised slowly in beer until tender and melting. She served it simply with perfectly cooked potatoes. I had to admit it was out of this world. So perfectly delicious!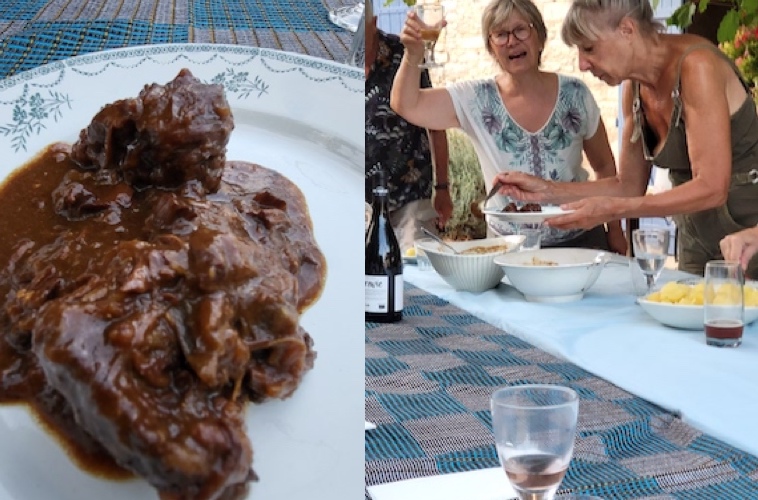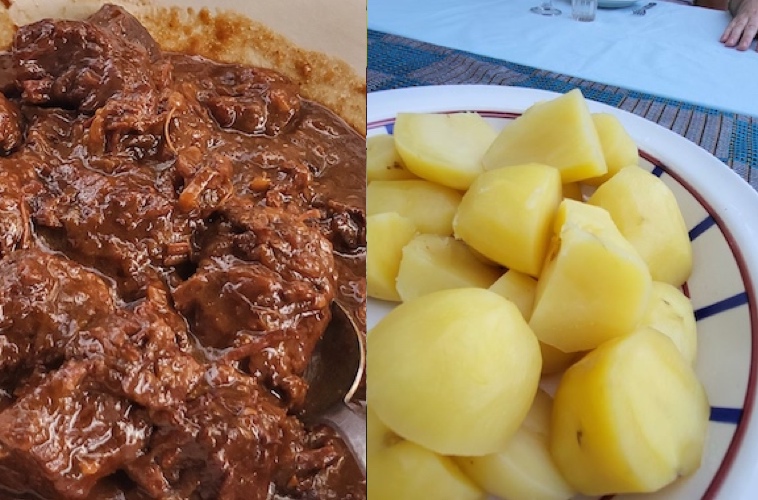 Salon des Vins
My good friend, Jancis Robinson, the great wine writer, gave me some wise sound advice many years ago. She said "drink local." So, every year, I attend the Salon des Vins just across the street from where I live and sample all the latest local offerings. I can then order for the year based on my testing and then buy an extra bottle or two to share for the meal that follows: roasted pork loin and fried rice with vegetables cooked by Pascal, our local butcher. A cheese course, followed by a light dessert. What a wonderful way to discover the latest vintages of Cahors wines!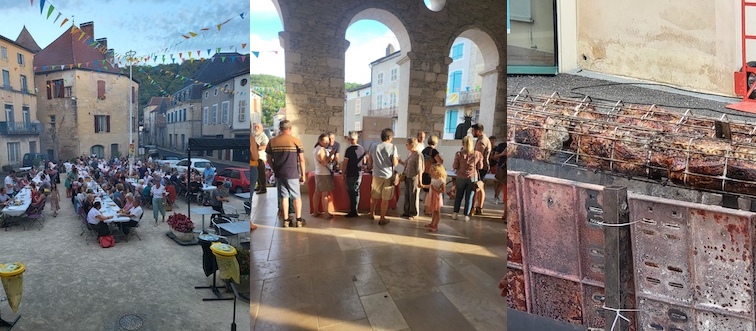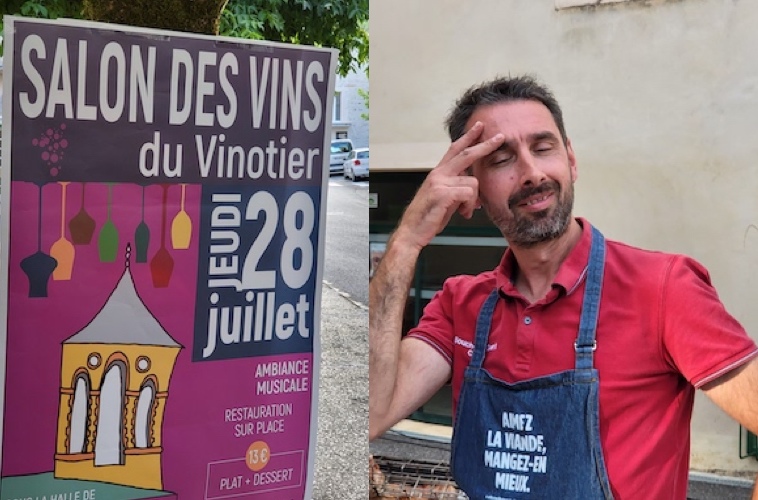 On Monday night, I attended one of the best fetes in my area in Salvezou. My local butcher, Pascal, cooked a rather fantastic meal. We began with a simple salad and bacon bits, this was followed by a home made rustic pate of game. Then came the star of the evening: roast lamb and pork together with a gratin of potatoes. Of course, all washed down with an abundance of wines. A cheese course followed and a wonderful fruit dessert topped what was just the beginning of the evening. Singing and dancing followed…….all lasting into the wee hours. Luckily it was a balmy summer evening!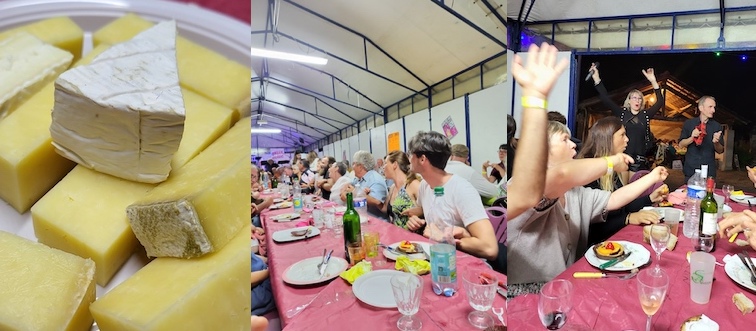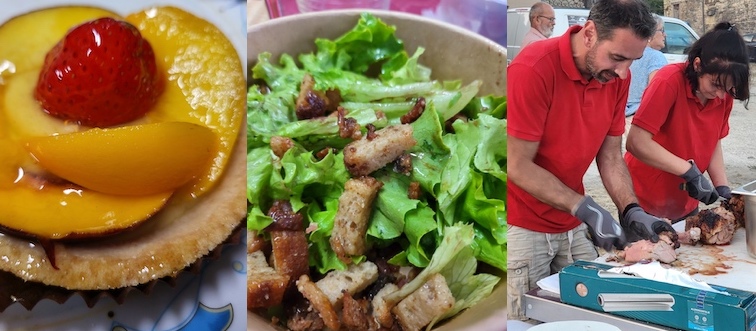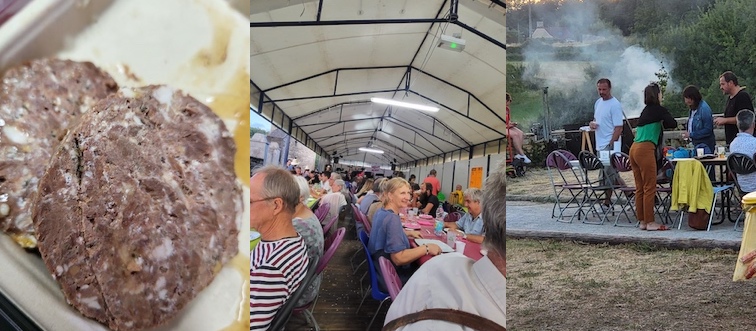 Remi & MariLou
I watch over the years Remi growing up, then becoming an air force pilot at 18 years old and finally marrying his childhood sweetheart, MariLou. Now they have restored a beautiful old home and hope to welcome visitors to their new impressive B&B. They invited me over for the inauguration and laid on a feast of freshly made pizzas. While the children played, we ate the delicious pizzas which we washed down with equally tasty local Cahors wines. I have no doubt their B&B once opened officially will be a smash hit!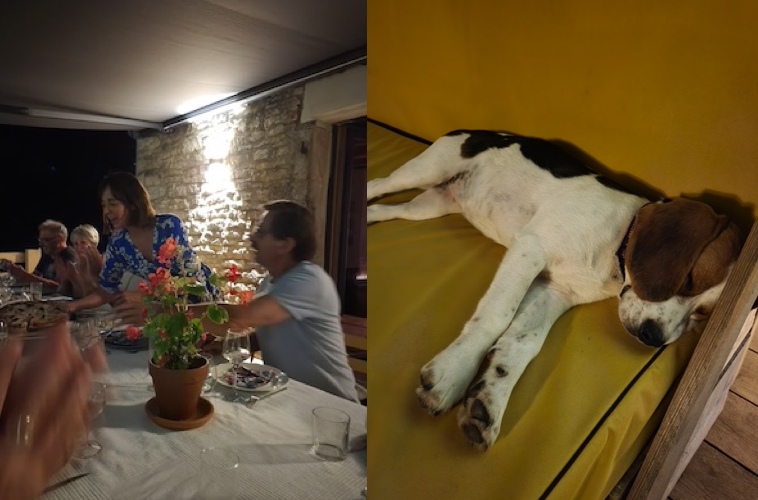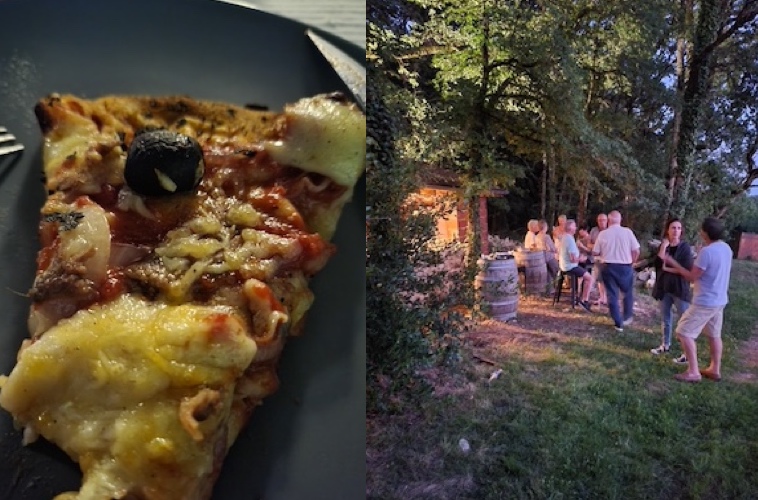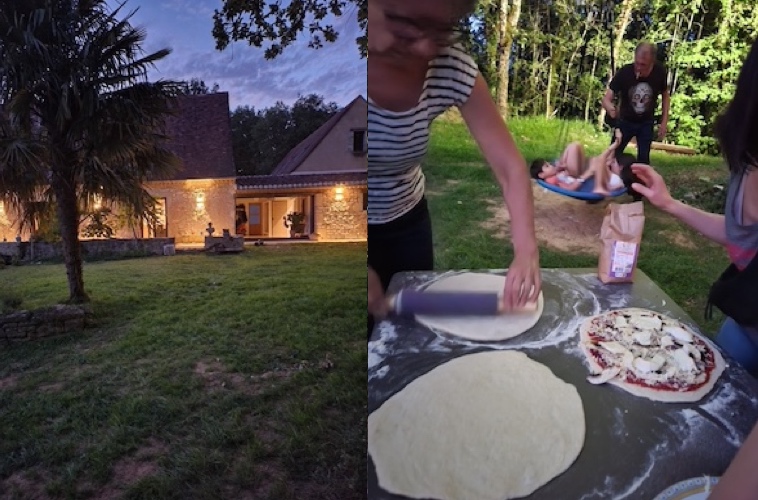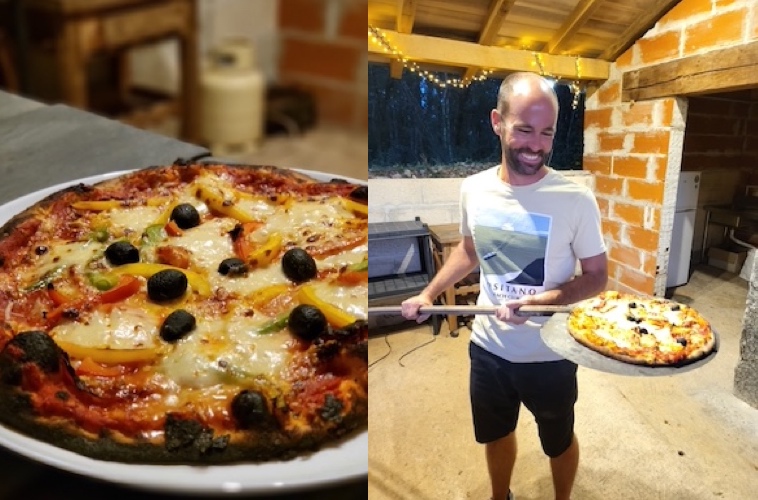 I love being invited out here in France as everyone loves to share their favourite dishes. Friends from Lille made this wonderful rice casserole with bits of bacon and sausages and rice and all slowly baked in the oven. It was so delicious that I had three helpings! Another neighbour contributed dessert, a homemade caramel egg flan which was perfect as it was not too sweet. What are neighbours for?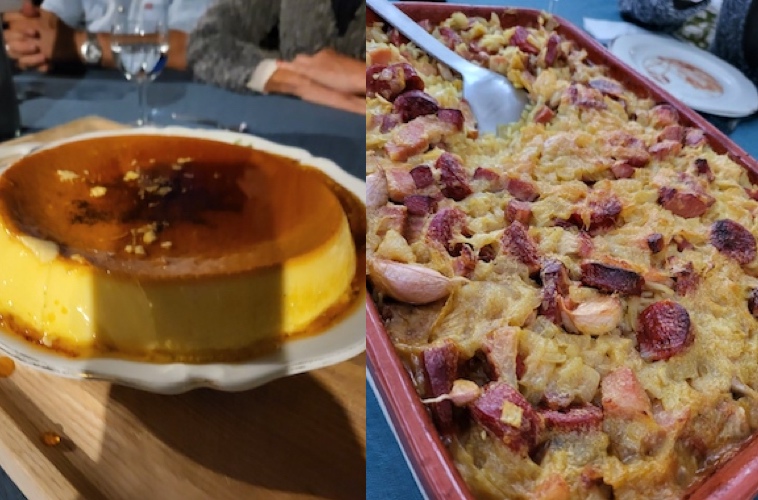 Village feast
Every French village celebrates 14th July, but alas with the pandemic it was put off for the last two years. But this year, in my village everyone could not wait to celebrate with good food, drink, music and dancing. We began the feast with half of a sweet ripe melon with local ham, the main course was tender braised savoury veal with potato gratin….all washed down with rose and red wine. Cheese and an apple tart finished a magical evening that continued into the wee hours with the band playing and everyone dancing!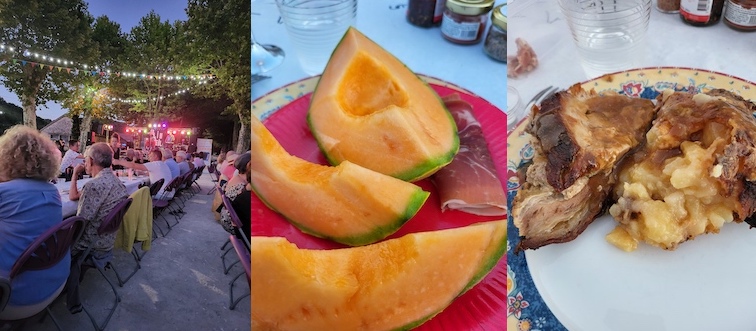 Feast of Mussels
My good friend, Olivier, invited me to join him and his Spanish girlfriend for a feast of mussels and chips. We began with a salad of Italian burrata, sliced ripe tomatoes and onions which we all drizzled with delicious Portuguese olive oil. Then he served a tasty casserole of mussels cooked in herbs and white wine, all accompanied by home made chips. A simple but elegant summer meal with lots of chilled rose wine!
Life could not be better!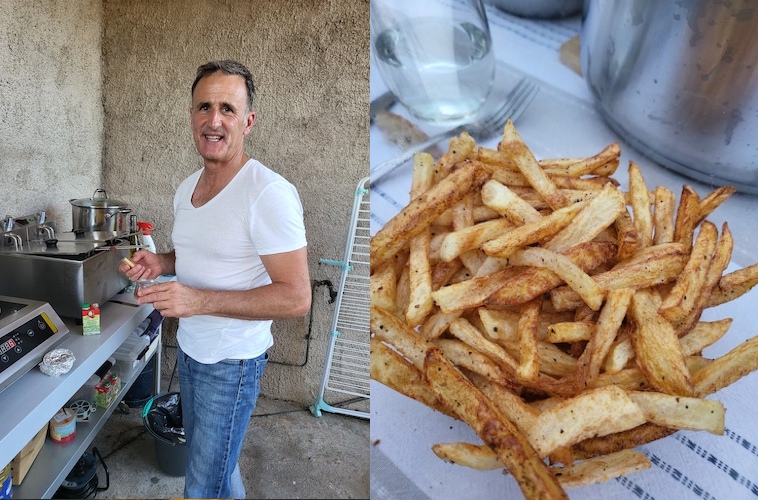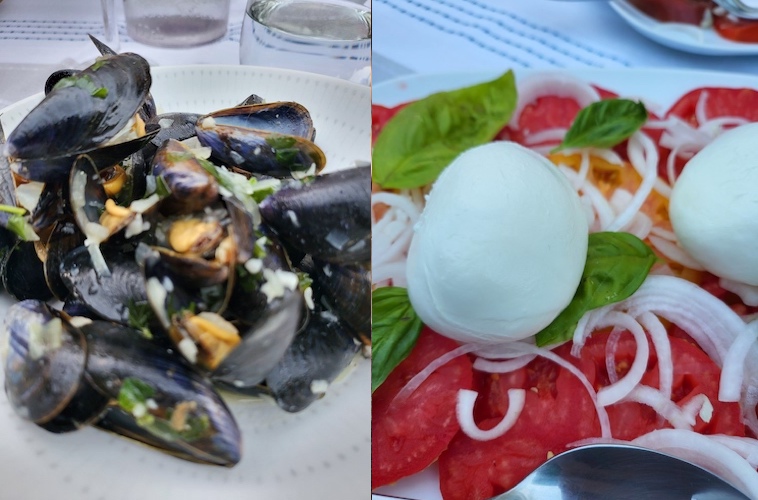 Village feast
Every French village celebrates 14th July, but alas with the pandemic it was put off for the last two years. But this year, in my village everyone could not wait to celebrate with good food, drink, music and dancing. We began the feast with half of a sweet ripe melon with local ham, the main course was tender braised savoury veal with potato gratin….all washed down with rose and red wine. Cheese and an apple tart finished a magical evening that continued into the wee hours with the band playing and everyone dancing!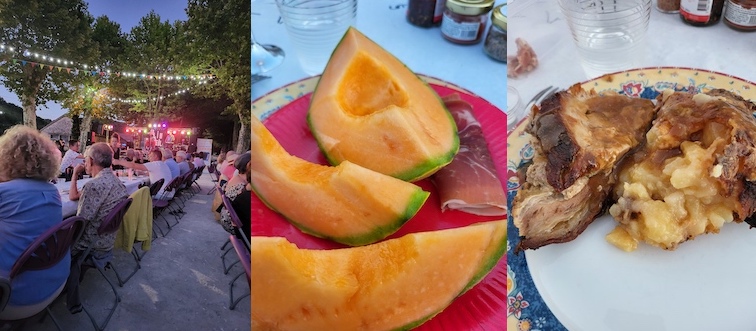 Feast of Mussels
My good friend, Olivier, invited me to join him and his Spanish girlfriend for a feast of mussels and chips. We began with a salad of Italian burrata, sliced ripe tomatoes and onions which we all drizzled with delicious Portuguese olive oil. Then he served a tasty casserole of mussels cooked in herbs and white wine, all accompanied by home made chips. A simple but elegant summer meal with lots of chilled rose wine!
Life could not be better!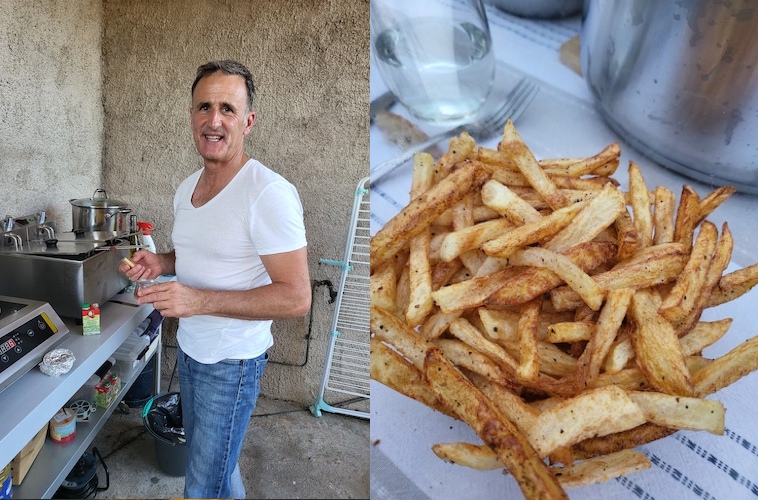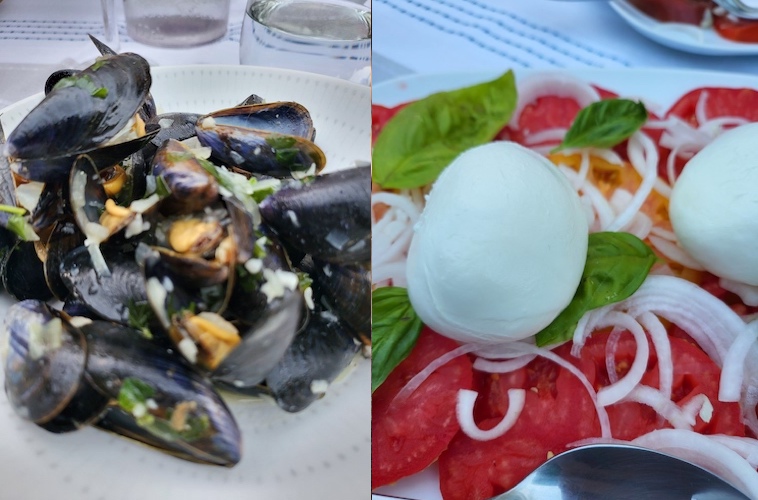 Momo's mushrooms
One of the great bonuses of living in a small French village is having neighbors like Momo who brought me a tray of fresh mushrooms she found in the forest. I sliced and saute them in butter and olive oil. Of course, a dash of salt & freshly ground pepper. Finally, when they are cooked, I put in chopped fresh parsley which I plucked from the garden together with garlic and cook for a couple of minutes. The delicious result made me say Vive la France!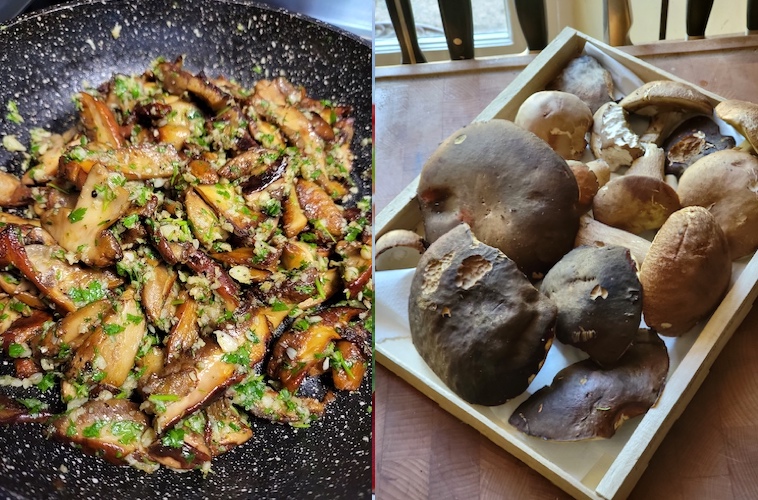 Tian
Tian
When I lived as a student in southeast France, my Franco-Italian adoptive mother, Bruna, often made delicious recipe with either spinach or courgette in a wonderful gratin dish that she called " tian. " It was a tasty treat whose wonderful fragrance as it came out of the oven announced its pleasures and sharpened one's appetite. It is simple to make: soak leftover cooked rice in milk, then saute fresh courgette slices in olive oil until cooked, minced lots of fresh garlic with parsley & basil, salt, pepper and combine with beaten eggs and Parmesan cheese. Add to a gratin dish and bake until done. A wonderful vegetarian dish that is delicious hot or cold!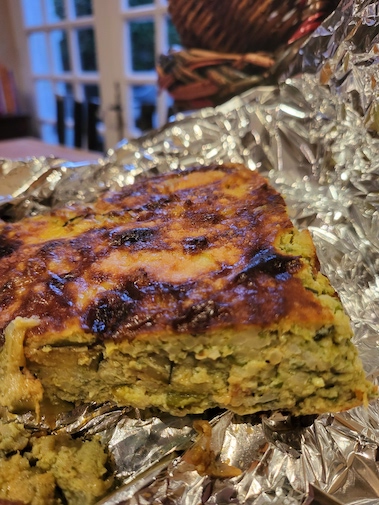 Pain bagnat
Pain bagnat is summer in a sandwich that is a specialty of Nice, France. The sandwich is composed of crispy freshly made bread which I buy from my local bakery here in France. Olive oil drizzled in bread cut in half and then stuffed hard boiled eggs, anchovies, fresh tomatoes, salt & freshly ground pepper and lots of fresh basil leaves. Wash it all down with perfectly chilled rose wine and you will be in heaven!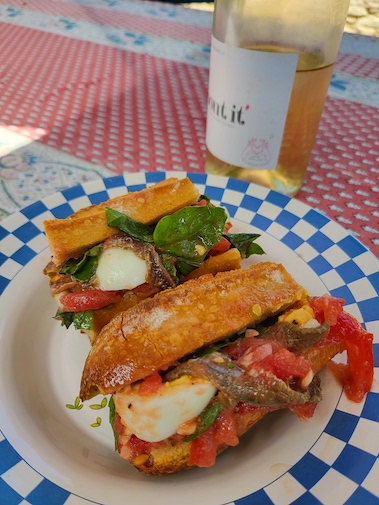 When I go shopping at the open air market in my village here in France, I always go with a basket of paper bags that I have previously saved. It helps the sellers and the ecology. After once or twice, it just becomes a matter of habit. Good for the planet and everyone!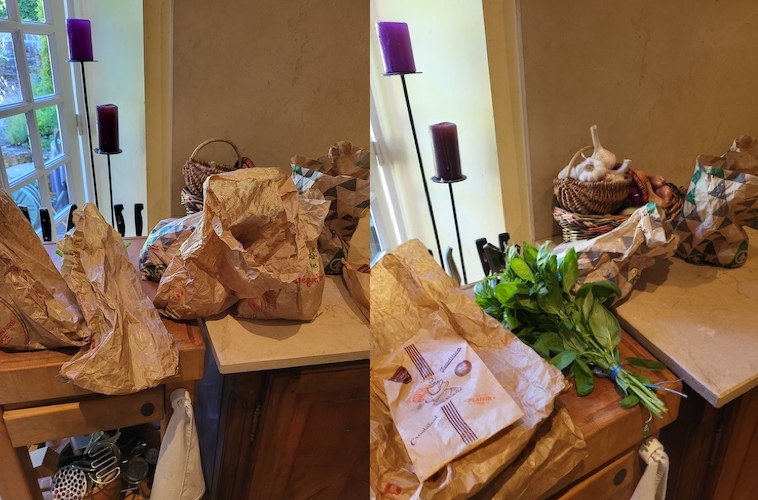 Healthy chips
I love my chips —- very crispy and brown. I now make them in my Tefal Actifry using just 1 tablespoon of oil. A very healthy and easy way to enjoy one of my tasty vices. I have even tried it with duck fat! To make them even better, I serve them with Lee Kum Kee Sriracha Mayo, an even tastier addiction!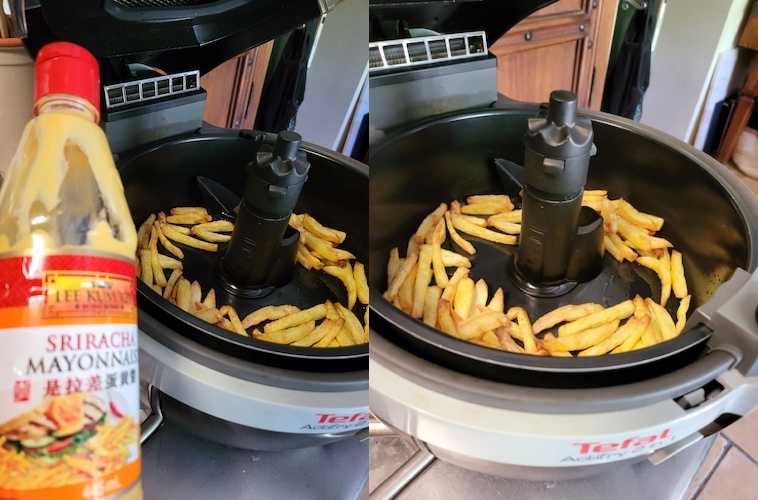 My summer bar is stocked with my favourite Japanese whiskeys, gin, etc.  as well as my drink guru, Olly Smith's book, a key reference as well as a perfect guide to summer drinks!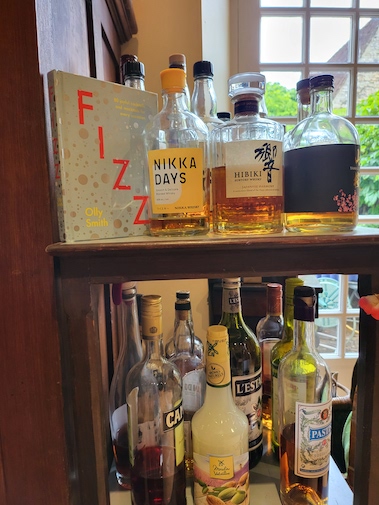 My good friend, Olivier, came over for a lunch of Japanese chicken curry and look what he brought me fresh from his garden: a treasure of wonderful organic vegetables! A feast for the gods!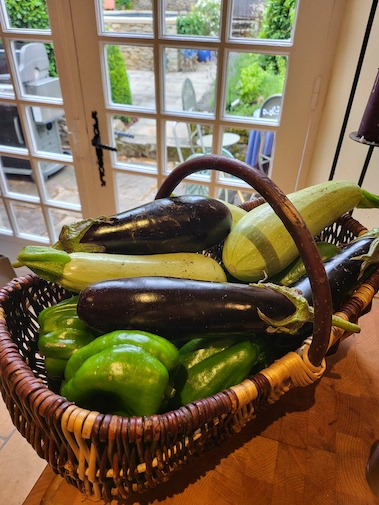 Feast
There has been no village feast or public gatherings since 2020. So when the Music Festival open, a pig roasting was scheduled. With my local butcher, Pascal, roasting two pigs with his partner and the sold out event was highlighted with a very good local music band: Degats Locos, singing a mixture of French and English music. The menu began with a simple green salad, followed by a delicious wild boar pate, then came the piece de resistance: crackling, tender, juicy succulent roast pig with beans. We ate, drank and danced. With children having a time of their lives, it made me reflect on why I love being in France!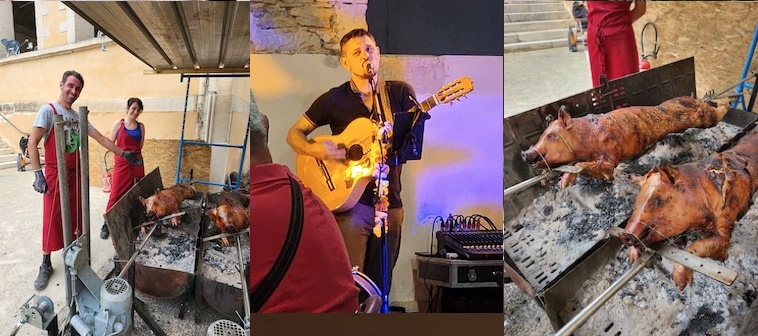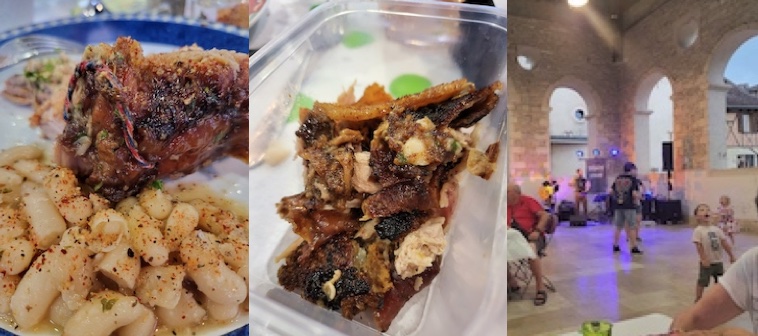 Club Sandwich by Ken Hom
I have always be fascinated by the club sandwich. Working in some of the best hotels in the world, I know every restaurant and hotel (especially in room service is seeking the best club sandwich. What are the criteria of a great club sandwich: the bread should either be toasted or very crispy, preferably on whole wheat. The bacon should be crispy, the lettuce – fresh and crunchy, the chicken moist and tasteful and above all good egg mayonnaise. I always order mines with extra egg mayonnaise.
The result is a wonderful combination of tastes and textures that is at the same time satisfying and comforting. So who has one of the best club sandwich in the world for me?  The Dorchester in London
The Dorchester Club Sandwich which I have had countless of time meets not only all those criteria I have given above but it has always been consistent as well in quality, execution, and taste. And their chips are perfect, the way I love them— very crispy!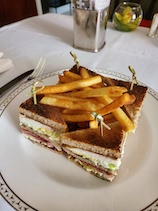 New China
I thought I hit the jackpot when I ate recently at New China in London's Chinatown.
Most of the Chinese restaurants serve Cantonese food but New China served other regions. A parade of cold dishes, typical of northern China, such as pickled cucumbers, beef brisket salad, shredded cabbage and wood ears salad was already on the table. Perfect when you are hungry as it whets the appetite. Outstanding dishes then followed. A crispy sweet & sour whole fish was mouth watering. But my favourite was an incendiary Sichuan dish of beef slices in a swirl of numbing addicting broth which I could not stop eating. A surprise finish was caramelised sweet potato fritter that I found amazingly delicious!  Don't miss New China!


Burleigh Court Hotel
I was fortunate to stay at the Burleigh Court Hotel while appearing at the Stroud Festival of Food & Drink. Burleigh Court is a beautiful manor house hotel overlooking the Golden Valley full of warm and welcoming Cotswolds country charm, blending old world and modern interiors. The Utrillo Jazz Trio also plays from time to time. But it was Chef Martyn Davies cooking that bowled me over. The Sous Vide Pigs Cheek comprised of a delicious savoury ham hock bonbon with a smoky apple puree and tomato swede chutney which I could have eaten every day! The Pan Seared Stone Bass Fillet was moist and flavourful as well as perfectly cooked on a bed of braised vegetables. And the Triple Cooked Chips was out of this world —- super crispy the way I like. The experience was well worth the trip!

No.131
I discovered a cool Georgian hotel Cheltenham – No.131 in the Cotswolds. The place was hopping with a wonderful bar scene. But what impressed me the most was the sushi bar. I reckon the food was on par with one of my favourites in London, Nobu. It was impeccable top quality, super fresh fish served in a very classy style. The service was friendly and knowledgeable. A world class dining experience in Cheltenham!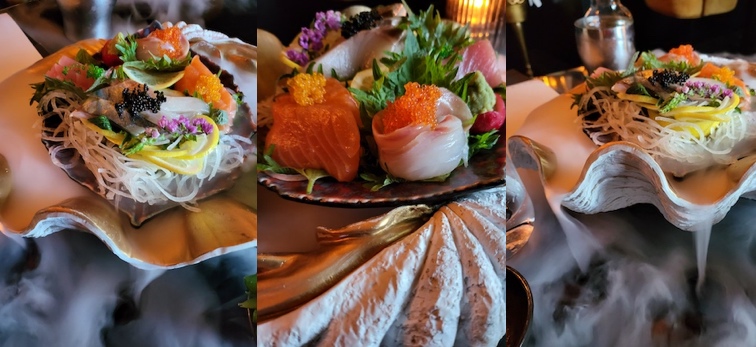 Ducasse sur Seine
If you ever want to experience the most spectacular dining experience in Paris, then you must book at Ducasse sur Seine which is what I did for one of my favourite family member's 50th birthday. It is Alain Ducasse's electric boat that you board across from the Eiffel Tower. As we set sail, the mouth watering set menu began with sweet and sour artichokes and other crispy bits. The white asparagus from Provence was brimming with spring like freshness with a spiky maltaise sauce. My crispy veal sweetbread was out of this world: crunchy, tender complimented by earthy mushrooms and gold caviar. All this while, sailing around the Seine and what got even more amazing is when all the lights came on the beautiful monuments and bridges. Finally, a wow factor…..came the chocolate birthday cake! Worth visiting Paris!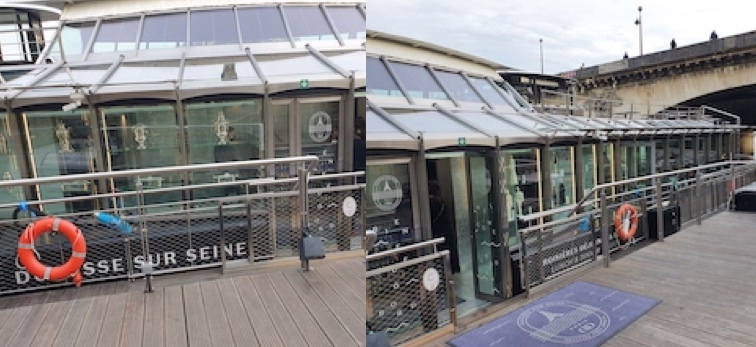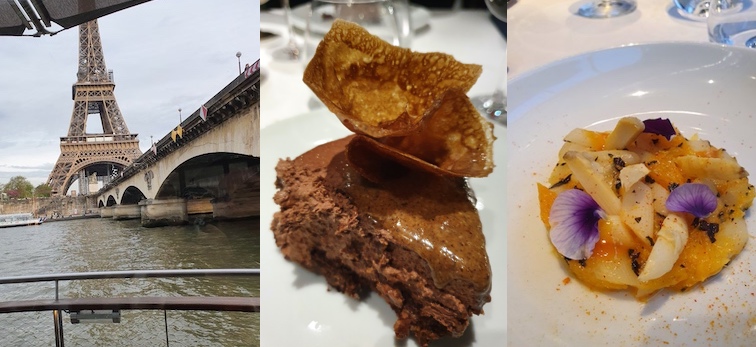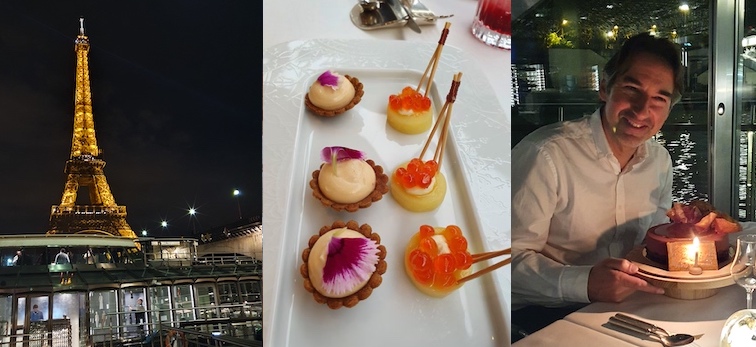 Truffles
To celebrate a good Singaporean friend's return to Bangkok, I made a truffle dinner for him. We began with scrambled eggs seasoned with truffle salt, chopped tin black truffles, freshly ground black pepper and cream. For the main course, I served salmon fillet which I had marinated in teriyaki sauce, which I then layered with truffle slices and wrapped in Vietnamese rice paper. A simple green salad accompanied the fish. Simple but tasty!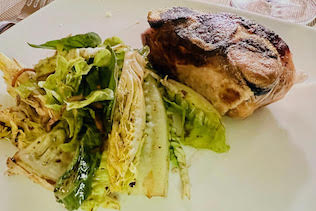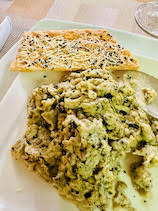 Little Kitchen
When I want a quick but delicious lunch I pop by Little Kitchen located in the passageway of the  2nd floor of Central Chidlom, a popular department store in Bangkok. I almost always order my favourite. Stir-fried rice noodles with salted dried fish or chicken. It is accompanied by crunchy bits of fried dough and salad. Always perfect!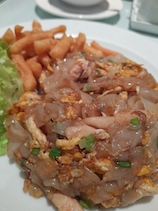 Chef Man Ratchadamri
Chef Man Ratchadamri is a great Chinese restaurant in my Bangkok neighbourhood that is always packed. No wonder, their dim sum menu is authentic and quite delicious. Pork spareribs are tender and bursting with flavours. I love their prawns wrapped in crispy beancurd skin and rice noodles. A fantastic mixing of textures. Their crispy taro filled dumplings are as good as any I have had in Hong Kong.  Glutinous rice steamed dumplings wrapped in lotus leaves could have been made by my mum. But my favourite is always the savoury chicken feet whose natural collagen keeps me looking young!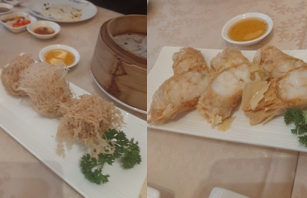 Bangkok Hospital
Every year I do my annual medical checkup at Bangkok Hospital. One of the side benefits is a voucher for the hospital canteen. Like all food in Thailand, it is more like a street food market. Individual stalls serving freshly cooked dishes. I took a simple chicken with crispy noodles that was more than satisfying. I could not resist the soup rice porridge with prawns that was light and packed with flavour. Not bad especially when the voucher was worth £3.50! Worth the checkup alone!

Tonchin Ramen
Tonchin originated in Tokyo, Japan in 1992. Brothers Katsuhiro and Motohiro Sugeno, had a simple goal to provide excellent food. 25 years after the first opening they brought Tonchin to the world beginning first in New York. So when my good friend and Thai publisher, Shane, told me about Tonchin at Mercury Ville, I had to try it. I can now see why it is always full with long queues. As a lover of ramen, I know now why Tonchin is widely popular. Their ramen was a rich intensely flavour broth with noodles, pork slices and smoked pork belly, With a sprinkle of chopped spring onions, a leaf of crispy seaweed and a perfect onsen egg ——– I was in ramen heaven!

Ms Jigger
I discovered a delightful tasty Italian restaurant named Ms Jigger which is located on the ground floor of the Kimpton Maa-Lai Hotel in Bangkok. It is literally across the street from where I live. With friends, we enjoyed a wonderful warm balmy evening eating outdoors. The food was simple but delicious. The bread basket of focaccia and bread sticks transported me back to Italy. The burrata salad was light and tasteful as well as the egg parmigiana. The mushroom soup was as flavourful as the pasta with mussels. If the service was not Thai, I could easily have been in Italy in the middle of Bangkok!

Steamed fish Cantonese Style
Steamed fish Cantonese Style is a dish I grew up with. However, today I can do this in the microwave. A tasty, healthy and delicious dish in minutes. Simply take firm white fish fillets, such as cod or sole or salmon fillets, crush some fresh ginger and squeeze this over the fish. Salt and pepper to taste. Top the fish with finely shredded fresh ginger. You can do this an hour or so in advance. Wrap in cling film and refrigerate. Shred some spring onions and set it aside.
When you are ready to cook, place the wrapped fish in the microwave and cook at full power for 4-5 minutes depending on the thickness of the fish. When the fish is cooked, pour some light soy sauce over the fish and then top with shredded spring onions. Quickly heat about a tablespoon of vegetable oil together with 2 teaspoons of sesame oil. When smoking, pour this over the fish! Viola, a quick and easy dish fit for a princess or prince!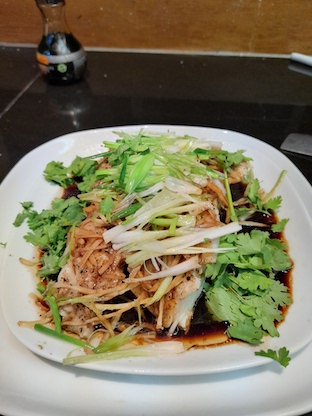 BBQ Ribs
When I heard from my old friend, Steven, that he was coming to Bangkok from Beijing I invited him over for dinner. We began with truffle devilled eggs and then BBQ ribs which are easy to make, fool proof and quite delicious. First, marinate the ribs in teriyaki for at least 2 days or more. On the day of the dinner, roast them in a 180c oven for about 1 hour. Then lower the temperature to about 100c, cover on both sides with Lee Kum Kee Char Siu sauce, cover with foil and continue to roast for another 1 hour. About 40 minutes before serving, remove the foil and continue to roast for 30 minutes in a 100c oven. Savoury and sure to please!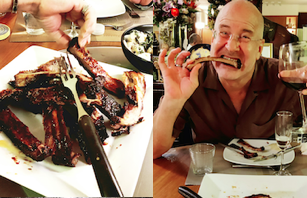 Chef holiday
Even chefs like myself like to take a holiday sometimes. Living in Bangkok is perhaps the ideal: great food without any work. When I feel lazy and want to chill out, I simply go outside of my street here in Bangkok. The  couple makes the best crispy fried chicken (probably marinated in fish sauce.) Her green papaya salad redolent with Thai flavours is the perfect accompaniment for an easy but healthy and tasty meal. No work!

Thai noodles
Central Embassy here in Bangkok is a rather high end shopping mall but I go there to eat not shop. There is a Thai boat noodle restaurant that always have long queues but yesterday it was quiet so I could not resist trying their classic noodle dish. There is not only a choice of different types of noodles to choose from but you can have mild spicy to very hot which I ordered. I was not disappointed. The broth was deliciously rich with crunchy vegetables, fresh bean sprouts and wickedly spicy. So the lesson here? Follow the queues!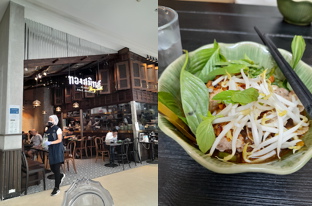 Chinese sausages
Today, I treated myself by buying some Cantonese Chinese sausages. Alas, many of the so-called Chinese sausages that I find here in Bangkok are too sweet and lean. The fattest of the sausages is what gives it a special flavour. I also brought some cured bacon and duck liver sausages!
Here is my mum's recipe which she served with a fried egg drizzled with Lee Kum Kee oyster sauce! Yum!
Serves 4
Enough Thai fragrant or long-grain rice to fill a glass measuring jug to 15 fl oz(400ml) level
6 Chinese pork sausages
Put the rice in a heavy bottom medium-sized pot. Pour in enough water to cover the rice about 2.54 cm (1-inch.) Bring the rice to a boil and continue to cook until most of the water has evaporated. Reduce the heat to the lowest point possible, cover tightly and cook for 2 minutes.
Cut the sausages diagonally into 5.08cm (2 inch) slices. Put the sausages on top of the steaming rice, cover again tightly and continue to cook for 15 minutes. The rice and sausage will cook slowly in the remaining steam. Turn off the heat and let it rest still covered for another 15 minutes before serving.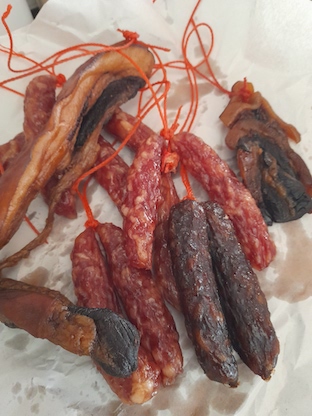 Petits Plats Bangkok
When a restaurant Petits Plats featuring French Mediterranean cuisine opened across the street from my apartment, I was intrigued. The place was always packed, so when my good friend, Lili suggested we have lunch there, I could not resist. Petit Croque Madame, a ham, egg and Comte cheese bechamel was as good as any I had in Paris. Homemade Pappardelle with lamb ragout sauce was as delicious as the linguine with clams in a light white wine sauce. Normally, I don't do dessert but it looked irresistible, so we tried French toast that was crispy as well as the Tiramisu and Profiteroles with chocolate sauce. All light, delectable and not too sweet. It was all a lovely addition to the great Bangkok dining scene!


Seiryu
What has saved many restaurants during these challenging times has been delivery service. And why not? I love getting delivery from cuisines I like but are not part of my repertoire. Japanese is one of them. So here in Bangkok, I ordered from Seiryu, a favourite, for a tasty light dinner. Impeccable fresh scallop sashimi with crab claws and tamago (egg omelet) is perfect with a spicy scallop salad. Delicious perfection in simplicity! Also a great way to support your favourites in the hospitality business!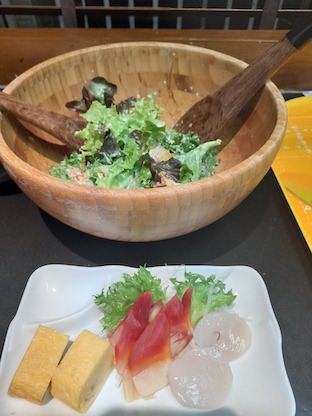 Chef Man
When my good friend Lilli invited me to lunch at Chef Man, one of the best Cantonese restaurants in Bangkok, I was thrilled. As usual, expectations were not only met but exceeded my wildest palate dreams. We began with a series of dim sum dumplings that were all excellent: fish paste wrapped in crispy tofu skin, steamed soup filled dumplings, pan-fried Chinese chives dumplings — all were as good as any I have had in Hong Kong. The glutinous rice was not only savoury but addicting. The aubergine dish was melting with just the right seasoning. And one of their signature dishes, roast pork belly, was so perfect that I don't think I could have done a better job! If you come to Bangkok, don't miss Chef Man!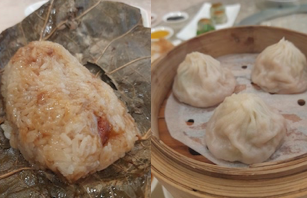 Ceres
Prawns here in Bangkok are big & juicy. The other evening, I simply made a batter with Ceres mix and some cold Thai beer. And last night, I made a traditional fishcake with Ceres Fishcake mix. It was so quick and easy. I poached some white fish fillets in milk, when cool, I combined the fish and milk with the Fishcake mix. Easy as pie! Then I portion them out and refrigerate the cakes. When it came time to cook them, I dip the cakes in beaten egg and then in Japanese panko breadcrumbs. They were an absolutely delicious delight with my Waitrose tartare sauce!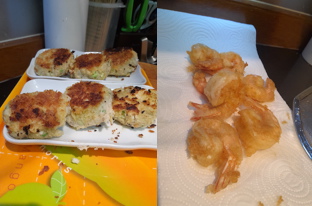 Lofter in Bangkok
Bangkok is without a doubt a food paradise. The Lofter is the latest food hall serving Thai food. Located on the 7th floor of the Central Department store with something for everyone. I could not resist what looked like a tempting spicy noodle soup with braised chicken wings and feet. It was unbelievably delicious, filling and for the price of a sandwich. Not only was it amazingly satisfying but I got my quota of collagen without surgery!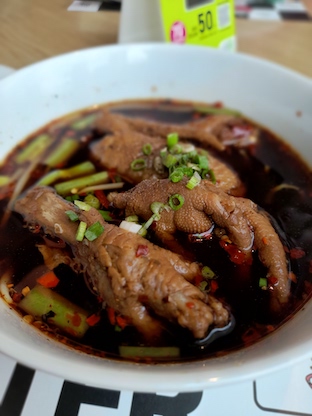 Din Tai Fung
Din Tai Fung is famous worldwide for its extraordinary dumplings. There is a great branch in London. But their noodles are equally delicious, as is their famous fried pork but a favourite which I recently had here in Din Tai Fung at Central Embassy in Bangkok is their stuffed chillies. I have to stop myself from ordering more than just one!

Bangkok's World of Food
One of the greatest pleasures of living in Bangkok is the access to great foods of the world. The other night, I had a wonderful light meal of organic ripe sweet tomatoes which I matched with Italian burrata cheese, chopped fresh Thai basil and a generous drizzling of Italian olive oil. I finished with English blue Stilton cheese with digestive biscuits and Portuguese port wine. A dinner made in heaven!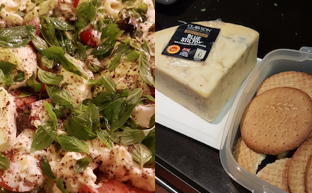 Maison Saigon
What I love about Vietnamese food which of course is flavourful and delicious but it is also light and healthy. One of the best places to enjoy authentic Vietnamese food is literally across the street from where I live in Bangkok  — Maison Saigon. I went there for a quick lunch outside amidst all the luscious palm trees and green lush vegetation was a rather magical setting.My table was in the shade and it was perfectly balmy. And the one bowl dish I ordered with light rice noodles, plenty of shredded fresh lettuce and vegetables with some roasted pork slices, crispy spring rolls and a prawn mixture wrapped around sugar cane was simply perfection!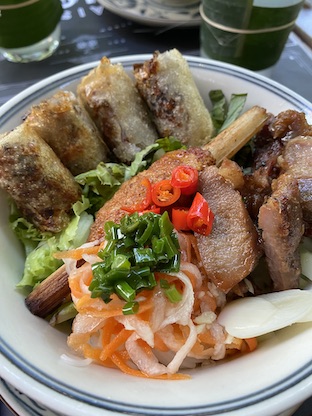 Bella Napoli
One of the best reasons to live in Bangkok is the array of wonderful cuisine you can have from around the world. Italian is one of my favourites besides Thai, Chinese, Japanese and Vietnamese. A good friend recommended Bella Napoli and I was not disappointed by the perfect pizza I ordered for delivery. It was thin crust, authentic, bursting with flavour and truly delicious. It is the type of simplicity I love in any good cooking and for a moment I felt like I was in Napoli in the middle of Bangkok!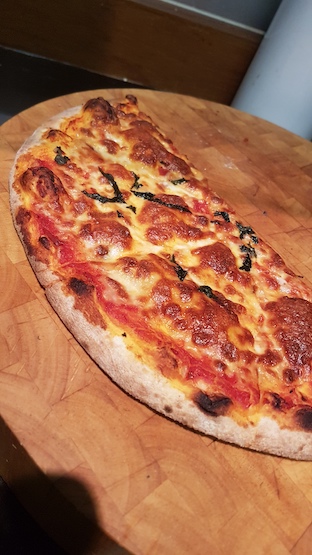 Ippudo
I have not been able to visit one of my favourite countries in the world: Japan. So when I hunger for Japanese food, I visit Ippudo located at the Central Embassy here in Bangkok. Today, I tried their wonderful special of the day: Kuro ramen noodles. The rich broth made from slow-simmered pork belly was slightly spicy and full of flavour. The chewy ramen noodles with crispy seaweed and perfectly cooked boiled eggs really hit the spot and I was transported to Japan through my palate!

Ken's original TV Wok in BBC centenary display
Indigo
After taking my good friend, Lili, to my favourite fish & chips here in Bangkok, she insisted on taking me to one of her favourites: Indigo. It is a popular French restaurant with the ambience of a bustling French café. We enjoyed a refreshing Caesar salad with chicken, lovely perfectly cooked scallops on a bed of delicious potato puree and a grilled salmon with white wine sauce. It was simple but elegant and a touch of France in Bangkok!

Din Tai Fung – Central Embassy
When my friend, Lili proposed a luncheon date, we both immediately said "let's go to Din Tai Fung. And why not? We both are addicted to their wonderful and magical Xiao Long Baos (Steamed Pork Dumplings), perfectly made savoury dumplings with pork or chicken and can be mixed with crab and all wrapped in a sheer light hand rolled delicate pastry. The open kitchen shows the chefs making them. Needless to say it was so delicious, we had a few steam trays of them. A luncheon decision with no regrets!

Din Tai Fung
I was longing for Xiao Long Bao, a fabled Chinese dumpling that is steamed with a rich soup inside. It takes great skill to make, so I went to the best in Bangkok, located at Central Embassy. Guess what greeted me at the entrance, a copy of my original article I wrote on the original restaurant in Taipei that was published in January 1993! Now Din Tai Fung restaurants can be found around the world and in London. What accounts for their success is the quality of dumplings as well as the rest of the menu. Don't take my word for it, do go and try their Xiao Long Bao!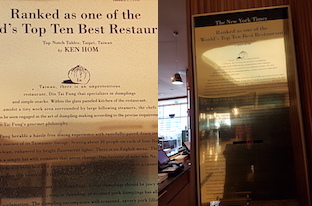 Hokkaido
We are in a new lockdown here in Bangkok after a surge of a second wave. Although most restaurants are closed as a precaution, take-aways are booming. An easy favourite of mines is literally across the street from my flat. Kamui specializes in Japanese dishes from Hokkaido in northern Japan. When I feel lazy, I take away the Katsu pork loin and fried prawn that comes with a mild Japanese curry sauce. To keep from gaining weight during lockdown, I order a shredded cabbage salad rather than rice to accompany the curry! No gain, only delicious pleasure!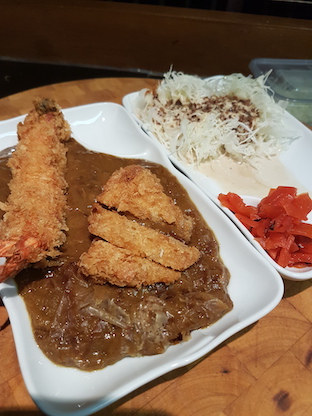 The other night, I decided to make one of favourite dishes: Sizzling Rice Prawns. Needless to say, it was a huge hit and here is the recipe:
Sizzling Rice Prawns
For convenience,  you can buy them dried rice cakes at Chinese grocers.
Serves 6
450 g (1 lb) uncooked prawns
2 tablespoons groundnut or peanut oil
1 tablespoon fresh ginger, finely chopped
1½ tablespoons garlic, finely chopped
3 tablespoons spring onions, finely chopped
1.2 ltr (2 pints) groundnut oil
8 square of store-bought dried rice pieces
Sauce
4 oz (100 g) green or red pepper (about 1), diced
1½ tablespoon cider vinegar or Chinese black rice vinegar
1 tablespoon dark soy sauce
2 teaspoons light soy sauce
1½ tablespoons chilli bean sauce
1½ tablespoons tomato paste
2 tablespoons Shaoxing rice wine or dry sherry
2 teaspoons sugar
300 ml (10 fl oz) Chicken Stock
1 tablespoon cornflour, blended with 2 tablespoons water
1 tablespoon sesame oil
Peel the prawns and discard the shells.  Using a small sharp knife split the prawns in half but leave them still attached at the back so that they splay out like butterflies.  If you are using large uncooked prawns, remove the fine digestive cord.  Rinse the prawns well in cold water and blot them dry with kitchen paper.
Heat a wok or large frying-pan over high heat until it is hot.  Add the 2 tablespoons of oil, and when it is very hot and slightly smoking, add the ginger and stir it quickly for a few seconds, then add the garlic and spring onions.  A few seconds later add the prawns and stir-fry them quickly until they become firm.  Then add all the sauce ingredients except the cornflour mixture and sesame oil.  Bring the mixture to the boil, remove it from the heat and stir in the cornflour mixture.  Bring back to the boil, stir in the sesame oil and then reduce the heat to a very slow simmer.
Now you are ready to fry the rice pieces or rice cake.  Heat a wok or deep-fry fryer over high heat until it is hot. Add the 1.2 ltr (2 pints) of oil, and when it is very hot and slightly smoking, drop in a small piece of the dried rice cake to test the heat.  It should bubble all over and immediately come up to the surface.  Now deep-fry the pieces of rice cake for about 1-2 minutes until they puff up and brown slightly.  Remove them immediately with a slotted spoon and set them to drain on a plate lined with kitchen paper.  Then quickly transfer the pieces of hot rice cakes to a platter and pour the hot prawn and sauce mixture over them.  It should sizzle dramatically.  Once you are skilled at preparing this dish, you can attempt to perform this trick at the dinner table.  (The oil used for deep-frying the rice cake can be saved and reused once it has cooled.  Filter it through coffee filter papers before storing it.)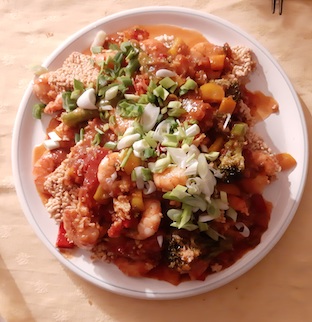 Despite the challenging times we are living in, life continues though we are keeping social distances and no kissing or hand shaking. Last night I was invited by neighbours for their annual Moules Frites (Mussels and Chips). The mussels cooked in white wine, celery and onions were sweet and succulent and the chips were crispy just the way I like them. A simple but truly delicious meal all washed down with lots of white wine!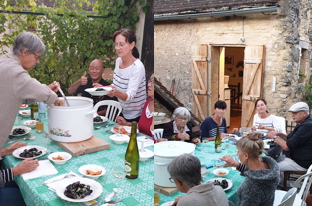 When Karen from Karen's Crave Marinades kindly sent me a batch of her famous marinade, I could not wait to try it. Amazingly fragrant, I used it with yogurt to marinate chicken pieces which I cooked in the oven. Then I made an impromptu curry with stock, onions, tomatoes and coconut milk. A super easy way to cook. It was heavenly delicious, rich but light at the same time and now I am a converted addict of Karen's Crave Marinades.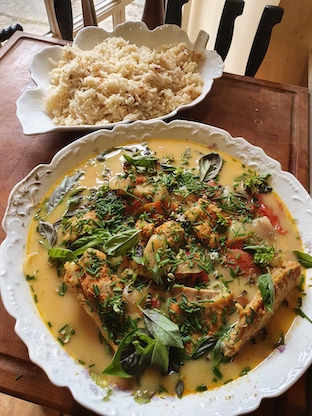 In my opinion there are very few cuisines that rival the popularity of Italy. Why? Because Italians are genius at taking simple good ingredients and creating a splendid delectable dish. I was inspired to make a classic Italian tomato salad: slices of ripe organic sweet tomatoes, layered with fragrant basil leaves and mozzarella cheese. Simple salt and freshly grinding of black pepper and drizzles of Italian olive oil. It was magical and super delicious!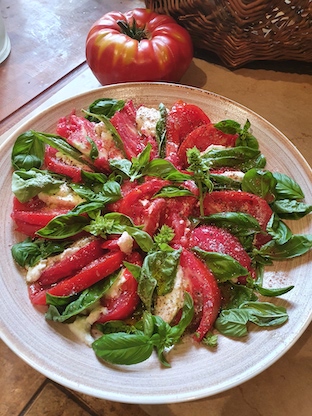 One of the wonders of a hot summer is the abundance of succulent, sweet and tasty vegetables. My friend, Olivier, came over to dinner and brought a huge harvest of ripe tomatoes, sprinkled with salt and freshly ground black pepper, sliced baby onions and lavished with organic olive oil. I garnish this with fresh basil flowers from my garden  — and all served on my Royal Crown Derby platter. I also made a salad of blanched leeks with a mustard vinaigrette. It was a delicious heavenly vegetarian dinner that would make Gate restaurant in London proud.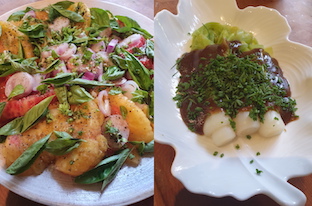 It has been months since I have adventured out to restaurants here in Bangkok but my good friend, Lili, mentioned Indigo, I was game. It is probably one of the best French restaurant in Bangkok with a relaxing ambience and very good food. We share an endive salad with cheese and walnuts with a perfect dressing, a tartar of scallops and tuna was light and tasting. Coddle egg with mushrooms was comfort food at its best. My confit of duck reminded me how much I missed France. Scallops on a potato and cauliflower puree was delicious as was the cod mash dish. Indigo is the perfect place if you are looking for good down to earth French cooking.


My good friend, Pavida Pananond who is from Thammasat Business School, Thammasat University came for dinner the other night and I wanted to make her something tasty, quick but light. I found tiny, tender squid at the market. After drying it on kitchen paper, I simply toss them in cornflour and quickly deep-fry them in my wok for literally less than a minute. Then I drained off all the oil and tossed them back into the wok with toasted garlic, salt, pepper & chilli! What could be simpler? Pavida loved it!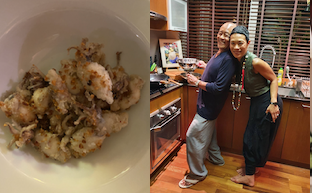 I deplore food waste of any kind! So what is my solution? Throw all your leftovers in a simple quick fried rice. I freeze leftover rice and then I empty the fridge of bits of sausages, chicken and stir-fry. At the last minute, I add a beaten egg with salt, pepper and sesame oil and you have a delicious lunch with no waste! Bon Appétit!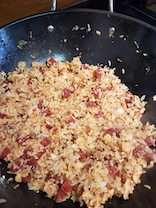 When my Thai food guru, Nong, invited me the dinner, it was an invitation I could not resist. He knew that I am a huge Japanese food lover, so he surprised me with a feast from Sushi CYU a restaurant located at Central World. The beautifully presented box of sushi was a dream come true supplemented by a box of uni (sea urchin roe). I was truly in food heaven! Thank you Nong!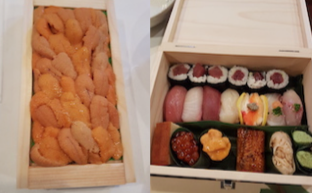 I recently  went to my first dinner party at my good friend & journalist, Gwen Robinson.  There I fell in love with Ninji, the kitty she got during the lock down and I was unable to meet for two months. I am a cat, as well as a dog lover. So this was a real treat for me. The meal was a banquet of amazing delicious Thai fish and vegetable dishes cooked by May, Gwen's Thai cook. Tofu, instead of minced pork with plenty of spices was addicting. The baked fish dish cooked perfectly. What a great way to celebrate the end of the lock down!

Maison Saigon
I often get a craving for Vietnamese food because it is light and very tasty. Where do I go? Literally a five minute walk across the street from my flat to Maison Saigon. I love their playful sense of humour –  they deal with social distancing by placing stuffed panda bears in the empty seats. Really funny and delightful but so is their food which I bring home as a takeaway. My latest dinner was steamed ham with chilli packed with flavors. Their special glutinous rice wrapped in bamboo leaves are available only on weekends and are delicious. Their prawns rolls are filling, herbaceous and quite ethereal.  I am one lucky guy!


Don Don Donki
Yesterday, from a foodie friend's tip, I went to Don Don Donki (I know it is a funny and strange name!) and discovered a fantastic Japanese food emporium in the middle of Bangkok. I had the distinct feeling that I was in Japan. The shelves were groaning with an array of Japanese food products and some of the best fish that I have ever seen outside of Japan. Since Japanese is one of my favourite food in the world,  guess what I had for dinner? Super fat salmon belly, Otoro tuna belly and real  treat & indulgence, a tray of uni (sea urchin.) It was my reward for surviving the lock down!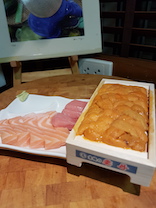 One of most remarkable recent meals I have enjoyed and discovered in Bangkok is Jaew at Jim Thompson. The menu has been crafted on the travels and experiences of Canadian Chef Andrew Martin. His adventurous offerings are served family style and are meant to share…..difficult in these trying times. So each dish can be portioned out and is worth trying. A grilled squid with a stir-fried sauce from Phuket and egg was sensational. I would go back for the grilled pork belly and braised shoulder with turmeric and tamarind. The roast duck breast with the duck leg in curry sauce as also magical. The menu has also plenty of locally inspired vegetarian dishes that are also worth trying. Jaew is a new jewel in the crown of Bangkok dining!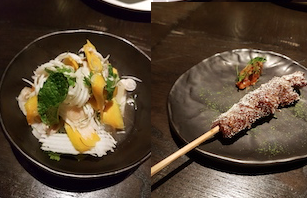 Northcote Obsession 20
I was delighted to be invited back to cook for Northcote Manor: Obsession 20. I greatly enjoyed working with Nigel & Lisa……..legends in the chef business and their fantastic team. My menu began with Crispy Shrimp Paste Chicken which was marinated for 2 days. This was followed by Salt & Pepper Prawns. My Beijing (Peking) duck was served in three courses: crispy skin dipped in sugar; the breast meat shredded and served with Chinese pancakes, spring onions, cucumber & hoisin sauce; while the thigh and leg meat was shredded and stir-fried with onions and diced apples wrapped in crispy lettuce and served with Sweet Pineapple Fried Rice. The dinner finished with Warm Banana Compote in Plum Wine with Candied Ginger. We also managed to raise over £39,000 for the charity Hospitality Action!  Guess who dropped by while I was working on my menu: the great chef, James Martin!
I am grateful to Allen Markey for his wonderful photos which capture the moment so well.




Northcote Obsession 20
I was lucky to attend another dinner at the
Northcote Manor: Obsession 20
this time by the Scottish chef, Stephen McLaughlin who cooked with the late chef Andrew Fairlie for many years. The dinner was a tribute to Andrew and we started with his Baked Hand Dived King Scallop, delicate and full of flavour from the sea. This was followed by a Wild Mushroom & Truffle Ravioli bursting with earthy flavour. The Home Smoked Scottish Lobster perfectly cooked bathed in a lime and herb butter sauce. The Assiette du Porc Gascony could have easily come from a three star French chef kitchen. While the Chocolate Cremeux topped a perfect gastronomic evening!

Northcote Manor: Obsession 20
Last night I had a magical dinner cooked by three legendary chefs: Rick Stein, Brian Turner & Nigel Haworth at Northcote Manor: Obsession 20 We started with deep-fried coconut pawns by Rick that was so moist and delicious. Nigel has a delicate cured salmon with a perfect roast scallop that was too die for. Rick's Gratin of mussels was so good. And Brian's Roast English veal with Yorkshire pudding highlighted the best of British cooking. Nigel's Melting Ginger Pudding finished us off the night and we went to bed groaning with pleasure!!! Great British food!

Fish & Chips at the Dorchester
Everyone knows of my fish & chips addiction. I could not resist trying the new version of the classic comfort dish at The Dorchester. It was nearly perfect. The mushy peas were sweet and tasty, the crispy fish was moist. My only advice to the chef is to not put the hot fish over the chips……….which makes them slightly soggy. In the future, I will ask for my chips on the side!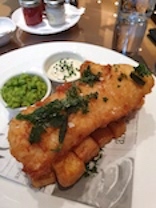 River Tree House – Revisit 2019
Perhaps one of my favourite restaurant is the River Tree House created and managed by Frederic Loyat. It is worth the trip down the Chao Praya river to his charming and enchanting restaurant where you sit outside by river and watch the boats go by as you eat some of the best home cooked food in Bangkok. Start with crispy prawns or delicious scallops or my favourite squid stir-fried with salted duck egg. The stewed pork melts away in a sea of aromatic sauce, even fried rice is wonderful. I love the soft shell salad with shredded green papaya, the contrast is delightful. Finish your feast with ripe sweet mango with sticky rice drizzled with fresh coconut milk. What is most outstanding feature about all those divine dishes was the vibrant freshness of all the ingredients.



As much as I love Thai food, my craving for fish & chips do come back every now and then. So where do I go in Bangkok? The Water Library restaurant located at Central Embassy. The fish & chips are made to perfection and I always leave happy and satisfied. So if you are visiting Bangkok and have the craving, trust me you will love Water Library and won't be disappointed!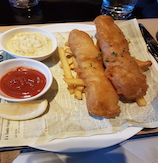 Charcoal Tandoor Grill & Mixology Bangkok
My foodie friends, Grace & Kendall invited me to Charcoal Tandoor Grill & Mixology in Bangkok. One is transported to India's northwestern frontier. Everything is cooked in tandoor clay ovens or grilled. Fragrant marinated chicken on skewers was tender and delicious. Even broccoli napped with cheese and slowly cooked with a smoky taste. A huge bread cooked on the grilled was crispy and addicting. As was the lamb chops grilled with spices. There is a menu of amusing mix cocktails as well that was fun! Charcoal was a fantastic tasty Indian food discovery in the heart of Bangkok. I will be returning!

Chanrey Tree Restaurant Siem Reap
I chose Chanrey Tree Restaurant as my final gastronomic destination. I was greeted by gorgeous pots of folded lotus leaves as I enter the lush courtyard setting in the heart of Siem Reap's riverside district. The food claims to be authentic Cambodian home-style cooking and it was delicious. I started with Crispy Prawns and Calamari which looked irresistible on the menu photo and it was. The crunchy seafood came with a sauce that was a fragrant mix of kaffir lime leaves, lemongrass, basil, and pepper and lime. It was so good, I had to ask for more. The Crispy Sticky Rice with 'Natang' Sauce also looked intriguing. Crispy rice crackers came with a thick and very tasty sauce made of prawns, minced pork, coconut milk and peanuts accompanied by Frangipani flower and vegetable tempura. Finally, I finished with
Eggplant (aubergine)  Salad with Sesame Dressing in which smoky grilled eggplant, mixed with watercress, cucumber, tomato, deep fried shallots, bean sprouts with crispy vermicelli noodles  — all tossed with an intense peanut sesame dressing. The dinner was so satisfying that I even skip dessert!

Viroth's Restaurant Siem Reap
I am pleasantly surprised at the number of good restaurants in Siem Reap. Another delicious discovery has been  Viroth's Restaurant located near the river and night market. Its outdoor green surroundings were the perfect venue for their delectable menu. Grilled pork ribs with Khmer spices and serve with tamarind sauce was perfect. Fried spicy squid with lemongrass, galangal and mixed with local herbs was addicting while the shrimps (small prawns) fried in coconut milk, cooked with curry spices, onions, lemongrass packed a real kick. Fried aubergine and soft tofu was an innovative combination which I had never seen. A dessert of banana in coconut milk finished another amazing Khmer dinner!

Cuisine Wat Damnak Siem Reap
Cuisine Wat Damnak is housed in a traditional Cambodian wooden house in the heart of Siem Reap's Wat Damnak village. It brings together authentic Cambodian flavors and French culinary technique to create a cuisine true to its Cambodian roots yet wholly unique. Chef Joannès Rivière's innovative cuisine is certainly worth the trip. The amuse-bouche was a light, lovely tofu mousse full of flavour that was an opening shot to an amazing culinary experience. The palm sugar braised tenderbeef cheek salad was paired with crunchy bean sprouts. Another lemongrass marinated seafood salad also delicious. A pan roasted Sunday fish with vegetables from the garden and a free range chicken sour soup is clearly inspired by the food traditions of Cambodia's golden age, when each day's fare was made up of herbs and vegetables from the family garden and fish and game from the surrounding fields.


Just when I thought it could not get better, came a savoury slow cooked pulled pork ribs with crispy pork belly and sausage. This was followed by a crunchy rice covered Mekong langoustine in a light but packed with flavour porridge. Both desserts of steamed Mondolkiri chocolate cake with passion fruit cream and the jackfruit sticky rice crème brûlee capped off what has been one of the best meal I have had this year! Unmissable if you travel to Siem Reap!
The Square 24 Siem Reap
I was urged by a good friend to try The Square 24 in Siem Reap and I am glad I did.
The restaurant is beautiful, and the decor is quite stunning. But it is the food that is the star here. The spring rolls were light and crispy, a perfect starter. A green mango salad with crispy pork belly were a sharp tasty contrast of citrus flavours with the rich pork. A fish amok (a type of curry) served with dipping sauces was so good I was tempted to order another. Finally, a dessert of roasted bananas in coconut sauce finished off the perfect Khmer meal!

Khmer Kitchen Restaurant
Siem Reap in Cambodia is bustling especially at night. I love wandering the night markets which is full of intriguing food stalls. I stopped to eat at the popular Khmer Kitchen restaurant located in the heart of the market. Besides the grilled meats, I decided to try the Khmer curry, which was rich with coconut milk, very tasty and surprising not too spicy. A fried fish was crispy and perfectly cooked and moist. However, the star of the evening was the fried pork ribs which had been marinated in a mixture of seven different sauces and was outstanding. The staff was also super nice and friendly. A lovely delicious welcome to Siem Reap!

Lon Lon Local Diner – Bangkok
What I love about the dining scene in Bangkok is that it is always full of delectable surprises. My Thai friend & publisher Shane, took me last night with friends to his local canteen called Lon Lon. It was a Thai informal diner that was not only value for money but chock full of delicious dishes, many of them a twist on traditional Thai flavours with a rustic home comforting flair. We all order the Pandan rice soup bowl instead of steamed rice, it works better and is lighter. Here are some of the highlights: A cabbage salted egg salad and cashew nuts was wonderful when a spoonful was dumped into the rice soup. Salted duck eggs seem to be everywhere in Bangkok these days, even as crisps! The stir-fried kale with crispy pork belly was so good, I could have order another. Chinese olives with minced pork was rich and tasty. A spicy duck thigh tingle with flavour. A fried seabass fillet with garlic and chilli was equally delicious. We finished an array of recommended desserts that was a perfect ending to a fantastic discovery!


Bamboo Tree, Luang Prabang
My knowledge of Laotian cuisine is minimum at best. Unlike Thai, it is unique and bursting with herbal flavours. At Bamboo Tree, a popular restaurant, I had crispy spring rolls with chicken that was delicious. The fried squid was slightly too dry but the spicy dipping sauce helped. I found a bamboo wrapped mushroom/rice combination a bit bland but the green chicken curry was kicking with rich spices made up for everything. The service was friendly and attentive. I would go back just for the curry!  A sweet coconut milk dessert was a perfect coda for the meal.

Nan Bei, Bangkok
Everyone in Bangkok was talking about the amazing Chinese food at Nan Bei so I had to eat there and I was not disappointed. On the contrary I was most impressed as it was some of the best Chinese food I had ever eaten in Thailand. Dish after dish came out that was a virtual gastronomical tour of China. We started the feast with lacy pot stickers that came with a refreshing sour cucumber salad. Spinach came with a rich sesame paste sauce. The jelly fish salad was one of the best I ever had. Sichuan beans and Ma Po Tofu could have easily come from any Chengdu kitchen — spicy and numbing. The Peking duck carved at the table was a work of art: crispy skin to dip in sugar, the moist gamy meat in pancakes, a rich soup made with the bones and thighs chopped and fried. Tiger prawns tossed with salted egg yolk and asparagus was the hit of the evening.  For a foodie city that is full of great Chinese restaurants……Nan Bei is exceptionally delicious and well worth a journey!


L' Elephant
While in Luang Prabang, Laos, one of the most recommended restaurant everyone talked about was L'Elephant. Although it was a French restaurant, I decided to give it a try and I am glad I did. The restaurant sits in a beautifully restored colonial townhouse on the penisula. The food was simple, comfort food, exactly the style of cooking I love especially when travelling. The onion soup could have easily come of out a Parisian bistro. The caesar salad was refreshing and tasty. The pasta dish could have easily been made by an Italian grandmother while the Mekong perch was moist and perfectly cooked paired with a Laotian herbal sauce. A magical blending of French-Lao creations and touches.

Pha Tad Ke Botanical Garden
When I received an irresistible invitation from Rick Gadella, the Director of Pha Tad Ke Botanical Garden in Luang Prabang, Laos, I was on the next flight from Bangkok. The Garden has over 1200 different plants and is a private charity that supports research and education. It has a popular café that serves healthy and tasty dishes with herbs and plants made from the garden. Our light luncheon began with a betel nut salad with an aubergine puree and various herbs and edible flowers and shredded fresh cabbage, a refreshing and beautiful starter. Next was a pomelo ( type of grapefruit) salad infused with herbs, followed by a delicious fried crispy chicken stir-fried with more herbs and finally a minced pork larb (salad). Instead of dessert we finished with a tasting of three types of herbal teas. Well worth the journey and
I love their motto: Sowing Seeds for the Future!

Legacy House Hong Kong
It seems that the latest culinary trend in Hong Kong is a return to simple comfort home cooked dishes. Nowhere is this better done that the recently opened Legacy House in the new Rosewood Hotel. There the chef has taken Shunde (a region in Guangdong) dishes and has taken them to new heights. Some of the highlights of my extraordinary meal there included the famed crispy fried pigeon that came as should be whole…. wonderfully delicious. The stewed abalone with black bean sauce was a culinary delight as was the perfectly juicy stir-fried spiced grouper fish fillet. I loved the prawns with crispy rice as well as the comforting check with udon noodles in chicken broth. A sweetened almond cream topped off the amazing meal! Hong Kong dining goes from strength to strength!


Yan Toh Heen luncheon Oct 2019
One of my favourite restaurants in Hong Kong is Yan Toh Heen and Chef Lau Yiu Fai who has been cooking there for over 30 years is one of my culinary hero! A recent meal there reaffirm all the qualities that make Chef Lau, a great chef and merits his two star Michelin. This time the theme of his recent explorations in Japan has resulted in a Hokkaido Autumn festival where he took traditional Cantonese dishes and infused them with premium Japanese ingredients. We began with a perfectly roasted barbecued suckling pig with assorted earthly mushrooms and black fungus with Yuzu dressing. The only way I could describe steamed pork dumpling with sea Urchin and bird's nest in pumpkin broth was pure ambrosia.
Equally tasty were the array of Yan Toh Heen superior dumplings and steamed lobster and crabmeat dumpling with vegetables that followed. Wok-fried prawns with white asparagus in homemade XO chili sauce had the classic hallmark grilled flavour of a hot wok. Stewed Hokkaido pork cheek with herbs and yellow rice sauce was tender and full of flavour. Crispy fried rice with crab claw in fish bouillon was a wonderful combination of textures and taste. We finished with Kagoshima purple potato with chilled Shochu sorbet and fresh fruit on a Snow Mountain! A truly magical meal from a master chef! Well worth the journey!

Thai Airways
On the occasion when I decide to treat myself to an upgrade with my miles on Thai Airways to business class and was thrilled I did. I was able to choose the Samrab Thai menu which consisted of a delicious savoury Gaeng Phed chicken curry with bamboo shoots served with Pu Ja (a deep fried minced crab meat stuffed inside of a crab shell) and a comforting minced pork ball with white radish in a rich but clear soup. Finally perfectly stir-fried asparagus in garlic and soy sauce with fragrant steamed Jasmine rice. A magical mouth watering welcome to Bangkok!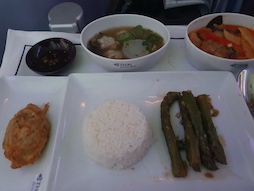 I confess! I am a fish & chips addict. Every time, I set food in the UK, I must have my fish & chips fix. Here recently, I ate a perfect fish & chips in room service at The Dorchester! I had a busy day and its was my reward!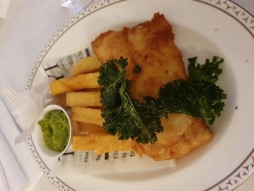 Tabasco. I am a frequent traveller and one of the dilemma and contradictions is when I am hungry and need to eat. I have discovered how to make airline food not only edible but delicious. I now travel all the time with my little bottles of three flavours of Tabasco! You won't feel guilty you ate the plane food!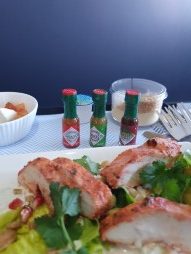 My great foodie friends, Grace & Kendall invited me last night to a real Shanghai feast in Hong Kong. We had the most divine tiny shrimp cooked with baby peas and black truffles. A dish comprised of crab legs cooked to perfection. Another dish of simply all the crab roe with egg was rich and addicting. Then came a sticky rice dish with sweet Shanghai crabs just coming into season. Just when I thought it was the end, came what we all agree was the highlight of the evening………a pork knuckle braised in a rich sauce. It was so tender, you could eat it easily with chopsticks. Worth the trip to Hong Kong!

52 – Paris
I was so lucky to discover a wonderful restaurant in Paris on Sunday. Everything on the menu was delicious and served by friendly smiling efficient service. An amazing blood sausage, as well as a luscious pea soup was part of the amazing choices. I was most impressed by the portion size which was perfect….just enough and not too much. We need to stop food waste and restaurants like 52 in Paris are on the forefront of the battle to save the planet!

Summer cooking
I find myself cooking the most in the summer! No wonder, when my friend, Olivier brings me fantastic organic produce his garden, I find it irresistible not to cook them. Wonderful, luscious, juicy sweet tomatoes….waiting to be stuffed or simply doused
with salt & freshly ground black pepper and drizzled with olive oil. Aubergines crying out to be stir-fried with ginger, garlic and spring onions. So, my advice is to make the most of what nature offers us in the summer and get into the kitchen!

Pain Bagnat or Pan Bagna
Pain Bagnat in French or Pan Bagna is Provençal summer epitomised  in a sandwich. First you need good bread and take out all the soft bits inside. Then you cut fresh ripe tomatoes and mix it with freshly chopped garlic. Boil one egg person for about 8 minutes and then slice. Have anchovy fillets in olive oil and lots of fresh basil leaves on hand. Now you are ready to assemble: First, drizzle olive oil on the inside of the bread, then take large spoonful of the tomatoes and garlic and spread it on the bread. Add the sliced boiled eggs, lots of basil leaves and finally the anchovies. Press and let sit for 10 minutes and enjoy your summer in a sandwich with a nice cold glass of rosé wine. Heaven on earth!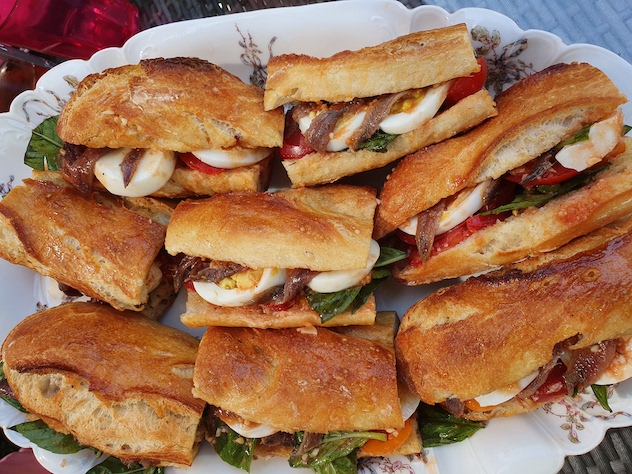 Vegetarian Paella
On Saturday, I was invited to a party by my good friend, Thierry, who is a passionate ecologist. He wanted to make a vegetarian Paella, even though he is not vegetarian. It consisted of all the abundant bounty of summer with tofu and rice. I assisted by bringing along my collection of Lee Kum Kee sauces which, no doubt, added a touch of delicious Asia to a very sustainable and tasty hit of the evening!

Peking duck at home
After the magnificent Tête de Veau cooked to perfection by my good friend & chef, Jacques Cotterel with his lovely wife, Linette last week, I decided to invite them over for a Chinese classic – Peking duck. I began the feast with a marinated salmon in miso and served it with a salt & pepper prawn. Then the duck in three courses: the first course was simply the crispy skin with sugar. Then came the duck meat with skin shredded served with pancakes, cucumber and spring onion and Lee Kum Kee Peking duck sauce. Finally, I stir-fried the duck legs and thighs, chopped with onion & garlic and for a sweet crispy touch – diced green apples. All of which was served with fresh iceberg cups! We drank Chateau Changyu Moser XV, a Chinese wine introduced to me by Olly Smith on Saturday Kitchen. It was a magical afternoon of food, wine and friendship!

Tête de Veau
I experienced another wonderful French classic Tête de Veau cooked to perfection by my good friend & chef, Jacques Cotterel with his lovely wife, Linette at their home in outside of Vernon. Although, Jacques has been retired from his successful restaurant for a number of years, he has not lost his touch. He started the magical meal with a simple dish of exquisitely sautéed foie gras with a sweet port sauce. We then had the famous Tête de Veau — homey dish cooked with various part of the veal head and then dressed with chopped parsley and onions accompanied with a vinegared sauce and boiled potatoes and carrots. I had two helpings as the dish was literally heaven on earth. The dessert was a tray of fresh tropical fruits just brought in from Bangkok!
Believe me……it was all pure magic!

Ducasse Sur Seine
This weekend I experienced one of the most magical dining experiences in my life. I hopped on with friends to dine at Ducasse Sur Seine which was launched last September. The food, as expected from one of the greatest living chefs today in the world, Alain Ducasse was superb but the two hour cruise down the Seine with arguably one of the most beautiful cities in the world — Paris was a match made in heaven. We began with a light but intense beetroot mousse which was out of this world. This was followed by a lovely crab starter and then blue lobster perfectly cooked with a rich lobster sauce. A veal fillet with stuffed vegetables fulfilled all expectations. A dense chocolate flavour dessert and a fruit of the season dessert plus delicious after dessert treats ——- all matched the splendid glory of Paris on the Seine! I have nothing but complete admiration for Alain Ducasse's vision of Paris with the world's most delectable menu! Congratulations!!!


My addiction to Fish & Chips knows no bounds. In my search for some of the very best in the UK, I thought I hit the jackpot last night when I dine at the charming Red Lion hotel in Northampton. A more than perfect fish & chips was my reward: the cod was moist with a lovely light batter, the mushy peas were sweet with a hint of mint and the chips…….cooked the way I love them: super crispy on the outside and tender and moist on the inside. I would like to go back to the Red Lion just to have a whole plate of chips! Well done!!! I finished with the classic English cheese Blue Bishop!!! A magical evening of the best of Britain!

Last week, I could not resist my fish & chip addiction and ran to The Seashell in Lisson Grove for a wonderful fish & chip feast! Happy Easter!!!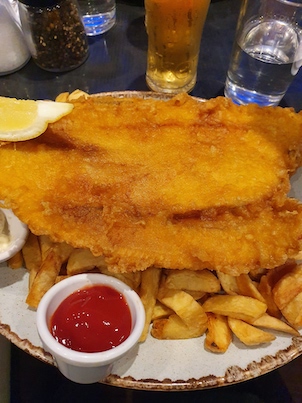 Imperial Treasure Fine Chinese Cuisine – London
I am simply amazed by the quality of Chinese food in both London and the entire UK. My good friend and an old colleague from my Oriental restaurant days, Kan Koo invited me to the newest hottest Chinese restaurant in central London, Imperial Treasure. Not sure about the decor but the food was tops! Their Peking duck is about as good as it gets. I also liked meeting the chef. Happy Chinese New Year and Happy Valentine! Treat yourself to the best Peking duck for Valentine!

Christmas Eve with Sabrina Ghayour
I had the most delicious Persian Christmas eve cooked by my good friend, Sabrina Ghayour, the celebrated chef and bestselling cookbook author. It was a feast made in heaven. Sabrina made for me the famous Persian rice dish with a crispy crust, I love the way, she flipped the entire pot of rice out without a hitch. It was so tasty, I could not stop eating it. Yet the meal was light and full of deep flavours: a dish of braised aubergines in tomato sauce, salads of vegetables, lamb wrapped in grape leaves were among the many dishes she made. It was certainly one of the most memorable Christmas eve feasts I have ever had!


Quán Ăn Ngon – Hanoi
Of the many great meals on my journey to Hanoi, I would say that Quán Ăn Ngon was probably the best. Highly recommended by my good Vietnamese friend and foodie, Liliane Devaux, I knew I was in for a special treat, as I had been to their branch in Ho Chi Minh City last March. The restaurant in Hanoi is even bigger with the kitchens wrapped around the restaurant so that you see chefs cooking your dishes from every angle. It was a festive affair as you enter what seems to be a huge courtyard with everyone sitting at communal tables. The service was friendly, efficient and helpful. I could not resist ordering the famous Vietnamese crispy mung bean pancake filled with savoury minced pork and crunchy bean sprout that you wrapped in rice paper and fresh herbs, it was the best version of this dish I ever had…..to die for. Delicious fried dumplings were equally good as was the prawn dish with crispy rice cakes. A final dish of simple stir-fried of morning glory was cooked to perfection. We drank a Vietnamese white wine from Dalat which went extremely well with the food. It was a magical evening of magnificent food and atmosphere.


M Krub
The Christmas holidays are a time for over indulgence. Last night, I was invited by my best friends, Grace & Kendall to what is probably the best Chinese restaurant in Bangkok, M Krub. It was the best of Cantonese haut cuisine: Hokkaido Scallop with Sweet Corn Salt Egg Yolk, a to die for Braised Bird's Nest in Supreme chicken broth, an out of this world: Stewed South African abalone, Goby fish in a delicate chicken sauce, Japanese rice with crab meat and finally a delicate sweeten tofu! A magical evening filled with friendship and superb food. Happy New Year!!!!

Baan Rabiang Nam
A wonderful restaurant by the Chao Praya river also known as River Tree House.
The cooling river breezes makes it an idea setting either for lunch or dinner. And the food is worth the journey from Bangkok. My favourite was this delicious fried chicken wing salad with crispy bits of pork floss. It was out of this world and I could have had two more plates. There is not a single dish on the menu that is not good. It is must stop for any serious foodie if you come to Bangkok!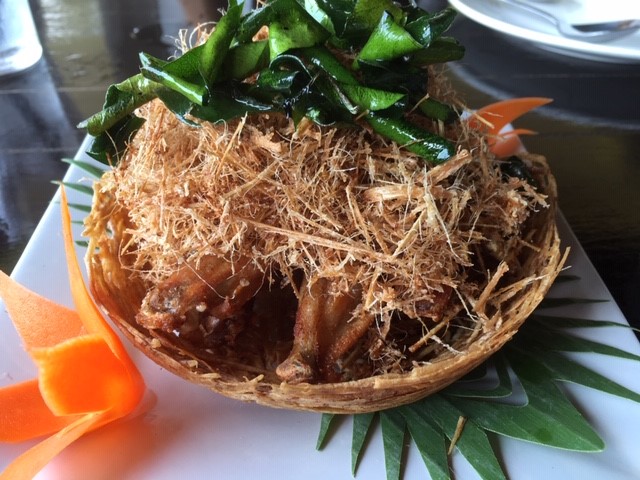 Dynasty restaurant – Hong Kong
One of the greatest pleasures for me has to be is dining out in Hong Kong. A recent memorable dinner for me was at Dynasty restaurant located in the Renaissance hotel. The talented Chinese chef there is reinterpreting traditional Cantonese dishes in a very modern way. Roasted suckling pig was paired with mixed vegetable, a nice light touch. Poached abalone with clams came in an ambrosial broth. Deep-fried lobster was succulent and delicious. While sautéed sliced garoupa fish was equally memorable. Deep-fried crispy chicken came encrusted with sesame seeds was amazingly tasty. Even the fried rice with crab meat and ginger, delicate but you could taste the sweetness of the crab. A lovely ending to this fabulous meal was an egg fritter glazed with honey sauce and a bake egg custard tart and chilled mango cream hit just the right notes!


Yan Toh Heen
Hong Kong has some of the world's best restaurants and Yan Toh Heen is one of my favourites. I love how Chinese chefs from Hong Kong are learning and thinking outside of the box. The restaurant has been newly furbished and recently reopen. The chef out did himself with a recent luncheon. It began with Wok-fried tender lobster with black truffle crowned by a delicious crispy taro net. The Double boiled sea whelk with Japanese Kagoshima melon was pure nectar. Wok-seared Chilean Sea bass with Yuzu sauce was so good, I could have eaten three more portions. I am not a huge beef lover but the Wok-fried Kagoshima Wagyu was so tender and bursting with flavour. Crispy fried rice with crab claw in fish bouillon was equally amazing. We finished with Basil Dragon Pear served with delicious ginger ice cream and the Chilled Mango cream was equally spectacular. We were served delicate Tieguanyin supreme tea throughout. One of the best meals `I have had this year! Worth the visit!


Kanidou Noda in Hong Kong
Just when I thought food in Hong Kong could not get better. My foodie friends, Grace and Kendall invited me to a tiny Japanese restaurant that specialises in crab which where all live in tanks.There is only one set menu ….. Kanidou Omakase. It was a procession of visually spectacular dishes that was all incredibly fresh and lively. We began with an appetiser of fish with a tiny crunchy edible sweet crab. Sashimi seemed to have jump from the ocean while the hot and grilled dish of crab legs had us begging for more. The crab fried rice was smoky and sweet. Even the final simple dessert of ice cream was the perfect tone to end a great meal. We drank a wonderful huge bottle of sake which Grace & Kendall had brought with them.



I always love coming back to Bangkok especially for the food. As soon as I arrived, my good friend, Nong (who is a real foodie) invited me to his home for a Thai seafood feast of a seafood custard in banana leaves, deep-fried crispy sea bass with a pungent spicy green sauce, stir-fried squid with salted duck eggs, a wonderful crispy crab spring rolls with tofu skin, a raw prawn salad and stir-fried pea tendrils. It was the best welcome back!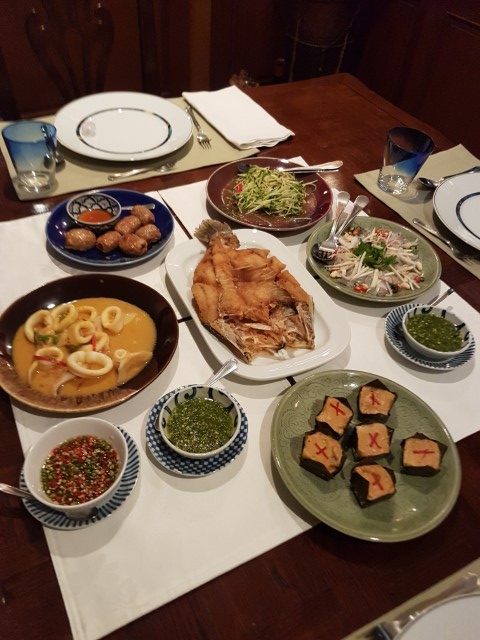 I have said before how much I love Fish and Chips & I just had the most perfect Fish & Chips at the MacDonald Bear Hotel in Woodstock, where I was cooking for a top event.
The fish was cooked perfecting moist with crackling batter. The fat chips were also crispy as I like them & the homemade tartar was so amazing, I order another…….all eaten in a unseasonably warm sunny weather! Heaven on earth!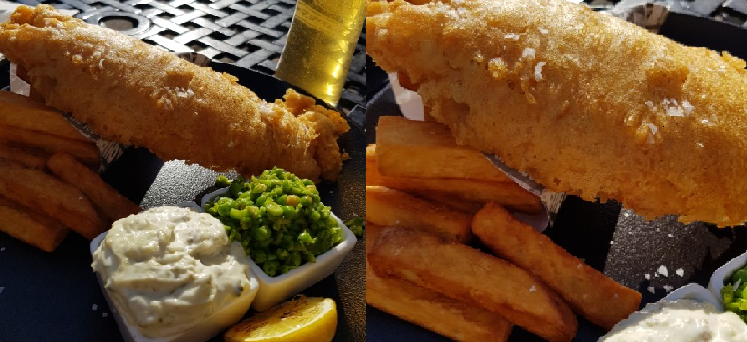 I just had the most wonderful version of  Pissaladière which is similar to both a pizza and a tart. It's origins are from Nice. Some make it with just onions……but some make it with a tomato sauce, anchovies, black olives and whole garlic. In any case, it is not only delicious but pure bliss to eat!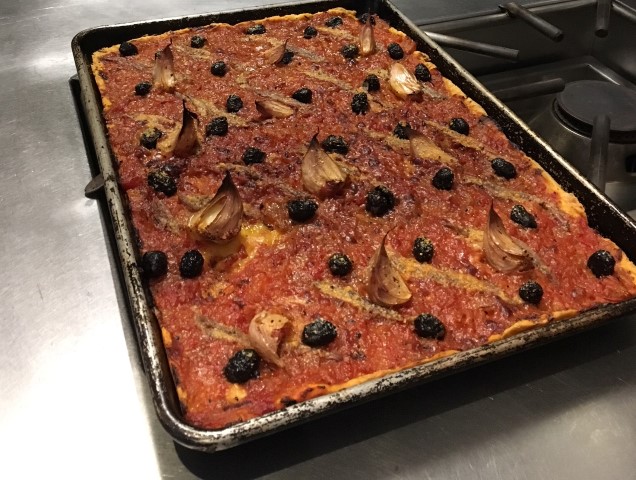 Summertime is always a bit excessive when it comes to food & drink. However, I have had a very healthy summer using my Tefal Actifry to make chips. The magical machine uses just 1 tablespoon of oil or fat but the chips come out perfectly cooked and crispy just the way I like it!  And the bonus is that it is easy to use and uncomplicated. My cooking tip for your good health!

The harvest and blessing from the hot summer we have been having this year has been magical, delicious and sweet tomatoes. A good friend has sent mounds of ripe tomatoes. My favourite way of cooking them is in a puff pastry tart on a thin bed of old conde cheese and very slowly so the tomatoes caramelised.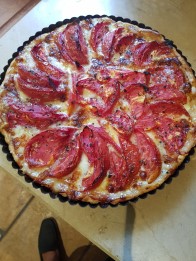 One of the great benefits of the hot sunny weather we have been having in Europe is the abundance of fantastic vegetables. A good friend, Oliver brings harvest from his organic garden every time he comes for dinner. Here is a tomato tart I just made! I love summer!

This has been a glorious summer and I have been revving in the wonderful bounty that has come from all the sun we have been getting. Last night dinner was sweet, ripe organic tomatoes with fresh basil leaves from the garden, mozzarella cheese from Italy and ripe avocado and all drizzle with aromatic olive oil! What could be better?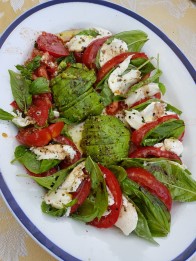 Nicolas ALZIARI – Nice
If you are ever in Nice, a foodie destination you must visit is Nicolas ALZIARI olive oil shop. It is one of the best and tasty organic olive oil produced in France. I usually make my way to their shop in the old town of Nice and stock up on their vast array of oils, olives, and vinegars. But you will also find a wonderful variety of local products such as jams, delicious honey and a great selection of wines from the region. Definitely worth a stop!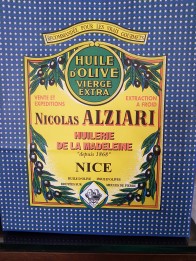 The Terrace – Nice
I had the most wonderful healthy tasty lunch with family at The Terrace located at the Hyatt Regency in Nice with a most spectacular view of the sea. We began with the famous Socca, a chick pea crepe on which we put a good amount of freshly ground black pepper. We also enjoyed Socca chips which were dried but still tasty. I order a colourful salad of fruit, vegetables and smoked salmon while a cousin orders a perfectly cooked chicken accompanied by vegetables. We drank several bottles of a lovely rose and I tuck into the assorted dessert which came with the coffee was so good that I ate half of it before I remember to take a photo ————sorry!
A worthwhile delicious stop if you are in Nice!


Reflecting on a great meal I had in London recently was with my associate, Luisa at Nobu in London. Everything I ate proved to me that Nobu is still at the top of his game. All his classics from slices of yellow tail in ponzu, coriander and fresh chilli was perfect. Nobu's cod in miso cooked unequal to none. Of course, the sake choice was amazing! Bravo Nobu and for his chef, Mark Edwards!​

The Art School Liverpool
Liverpool is one of my favourite cities and I was thrilled to discover The Art School, a delightful restaurant located in the stunning lantern room of the Victorian 1888 'Home for Destitute children' building on Sugnall Street and is merely a stone's throw away from Hope Street and Liverpool city centre. Chef Paul Askew's menu was so enticing as I wanted to eat every dish on it. A light sweet pea soup was offered which tasted as if picked from the garden. However, to start I choose Slow-cooked pork belly of Saddleback pork with dried fig jam which more than met my expectations. Breast and slow roast leg of corn fed guinea fowl was perfectly cooked accompanied by a delectable celeriac and black truffle puree and thyme & caper sauce. A dessert plate for sharing consisting of lemon & raspberry macaron, pear & dark chocolate tart convinced me that The Art School alone is worth a visit to Liverpool!

Seashell at Lisson Grove
Everything I set foot on the British Isles I need my fish & chips fix. So I decided on my last trip to revisit an old favourite the Seashell at Lisson Grove where I have not been in years. It was packed with many Chinese and Korean tourists but my fish & chips was as good as ever. I had dover sole that was covered with the crispest crust but remained tender and moist inside. The chips were similarly perfect. Worth the visit!

Quo Vadis
One of the best meals I have had in the past year was at Quo Vadis in London. I have no doubt that Chef Jeremy Lee is at the top of his game. But still I was surprised how he took the best simplest and fresh ingredients and made it a perfect experience. We began with thick asparagus wrapped in filo pastry, the asparagus cooked exactly right and juicy while the pastry provided a lovely crunch. Hake with a light sauce and fresh peas could not have been better while the chips were to die for. We were so full that we opted for cheese instead of dessert. A magical food experience!

Northcote Truffle evening 12 Feb 2108
I want to share these fantastic photos by the photographer, Allen Markey who wonderfully captured each delicious moment of that special Pébeyre black truffle evening in February when I cooked with my great friend and chef, Nigel Haworth at  Northcote Manor. The menu included: Truffle sandwiches, steamed fresh scallops with truffles, truffle risotto and my crackling pork belly marinated in truffle salt and finally Nigel's magical truffle tiramisu with banana ice cream.


Nathan Outlaw at Al Mahara – Burj Al Arab
One of the best meals I had so far this year has been at my good chef friend, Nathan Outlaw at Al Mahara at the Burj Al Arab in Dubai. I had cooked there about ten years ago and thrilled when Nathan took it over. The setting is spectacular but so was the food. A lovely light appetiser of pureed vegetables kick off the meal. The restaurant even had a sake made especially for them which I choose for the evening. A plate of briny oysters from England was the perfect starter. Pan-fried scallops with mounds of fresh sliced black truffles was next. Then a platter of amazing Scottish langoustine brought me back to the United Kingdom. A fresh fish fillet cooked just right, moist and flavoursome. Finally, a delicious prawn dish with asparagus finished
the meal that had me groaning with pleasure!



Baan Glom Gig
Bangkok is not only a great food city but living there makes me a lazy chef because delivery is so fast and easy. So when I had a couple of friends from Hong Kong for dinner, instead of cooking, I ordered delivery from Baan Glom Gig, a recommendation from my Thai food guru, Nong. We had a feast of delicious Omelette Mom's recipe, Fluffy Fried Catfish with Chili Paste, Fried Spring Rolls, Stir-fried Mix Vegetables, Stir-fried Chicken with Chili & Basil — — – and all with no sweat!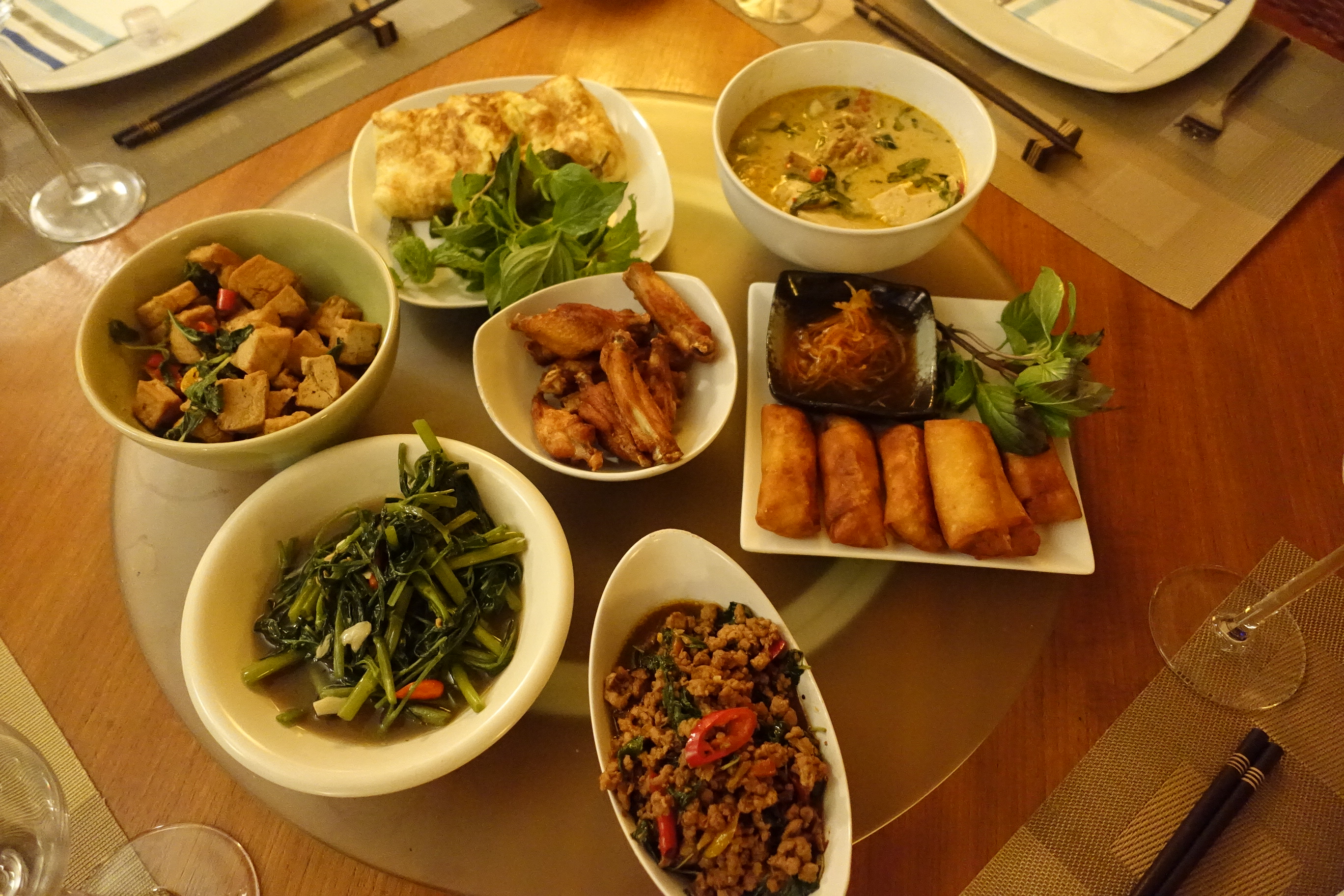 Quan Anh Ngon – Ho Chi Minh City
Vietnamese food has always been on the top of one of my favourite cuisines. It is light, delicious and bursting with herbal flavours. So when my good friend, Lili, who is half French and half Vietnamese offered to be my guide in Ho Chi Minh City (the former Saigon), I was on the next plane! She guided me to Quan Anh Ngon, a wonderful outdoor restaurant. Of course, I let her order. We began with the classic spring rolls filled with pork and crab paired with lettuce and fresh herbs. Vietnamese pancakes filled with fresh bean sprouts, herbs and pork was one of the best version I have ever eaten. The classic prawn paste on sugar cane came decomposed with the savoury prawn already peeled off the cane. A fluffy steamed rice noodle dish was delectable as was the cold prawn spring rolls wrapped in rice paper. We drank a lovely Vietnamese white wine with the meal that more than met my highest expectations!


Chinese New Year at China Tang
This Chinese New Year, I remembered my dear friend, Sir David Tang by dining one evening at China Tang. Drinking two fabulous Japanese sakes only proved how well sake works with Chinese food. The array of spicy sauces accompaniments are a hallmark of China Tang. Of course, the stellar crispy Peking duck with crackling skin and rich dark meat as always — magical. A perfect stir-fry Chinese greens with fresh garlic was next. Then came the traditional Chinese New Year lion dance which set the right tone for remembering David.


The Dorchester Grill
One of the activities I enjoy the most is mentoring students at the Oxford Brookes University at the School of Hospitality is the wide range of motivated young people from around the world. So when a recent graduate, Marco who I had previously mentored wanted to meet up, I immediately thought of The Dorchester Grill. It was because it has a fantastic version of my favourite British dish — fish & chips, reinterpreted, light and delicious. Marco who is Italian from Elba could not resist the Wagyu beef fillet. I began with a stuffed Dorset crab salad and being Italian, Marco chose Tagliatelli with truffles! It was British food at its best incorporating all that is best in global foods.


Northcote Manor Truffle Dinner 2018
One of my greatest perk as a chef is being invited to cook with another chef. So when Michelin star chef Nigel Haworth invited me to cook another truffle at Northcote Manor, how could I resist. The collaboration was supported by my Babe & Pierre-Jean Pebeyre from the famous truffle family. Our menu began with Truffle sandwiches – Tastou, then went on to Steamed Fresh Scallops with Truffles. Nigel's skills help to make the next course: Truffle risotto, one highlights of the evening and Cracking Chinese roast pork belly marinated in truffle salt proved to be another hit. We finished the celebration with Nigel's surprisingly delicious Truffle tiramisu with banana ice cream. The magical evening finished with a toast to the Pebeyres!


Valentine's Menu at The Point
When Chef Jason of The Point restaurant located in the Haven Hotel in Poole invited me to host a Valentine dinner I immediately accepted the challenge: to make a sexy and tasty menu. We began with poached oyster that was barely cooked swimming in a tasty champagne, lemon grass butter sauce. A vegetarian crackling rice paper asparagus rolls filled with chives, coriander and sun-dried tomatoes followed. I wanted to keep the meal as light as possible, so we made a small course of salmon wrapped in Chinese cabbage and steamed and served floating in a light sauce of black pepper, coriander and lime juice. My classic roast pork belly rubbed with Sichuan peppercorns was the highlight. Finally a refreshing ginger crème brûlée finished off in which I hope was a memorable Valentine Day!


Harbar Bistro
I managed to get my fish & chips fix again this time at The Harbar Bistro located in the Harbour Heights Hotel in Poole. The batter properly crispy and the fish perfectly cooked, moist and flavourful. The tartare sauce magnificently tart and the right foil for the fish. The crushed peas was sweet and the chips super crispy which is the way I love them. I was in heaven despite the cold windy weather eating one of my favourite dishes in the world!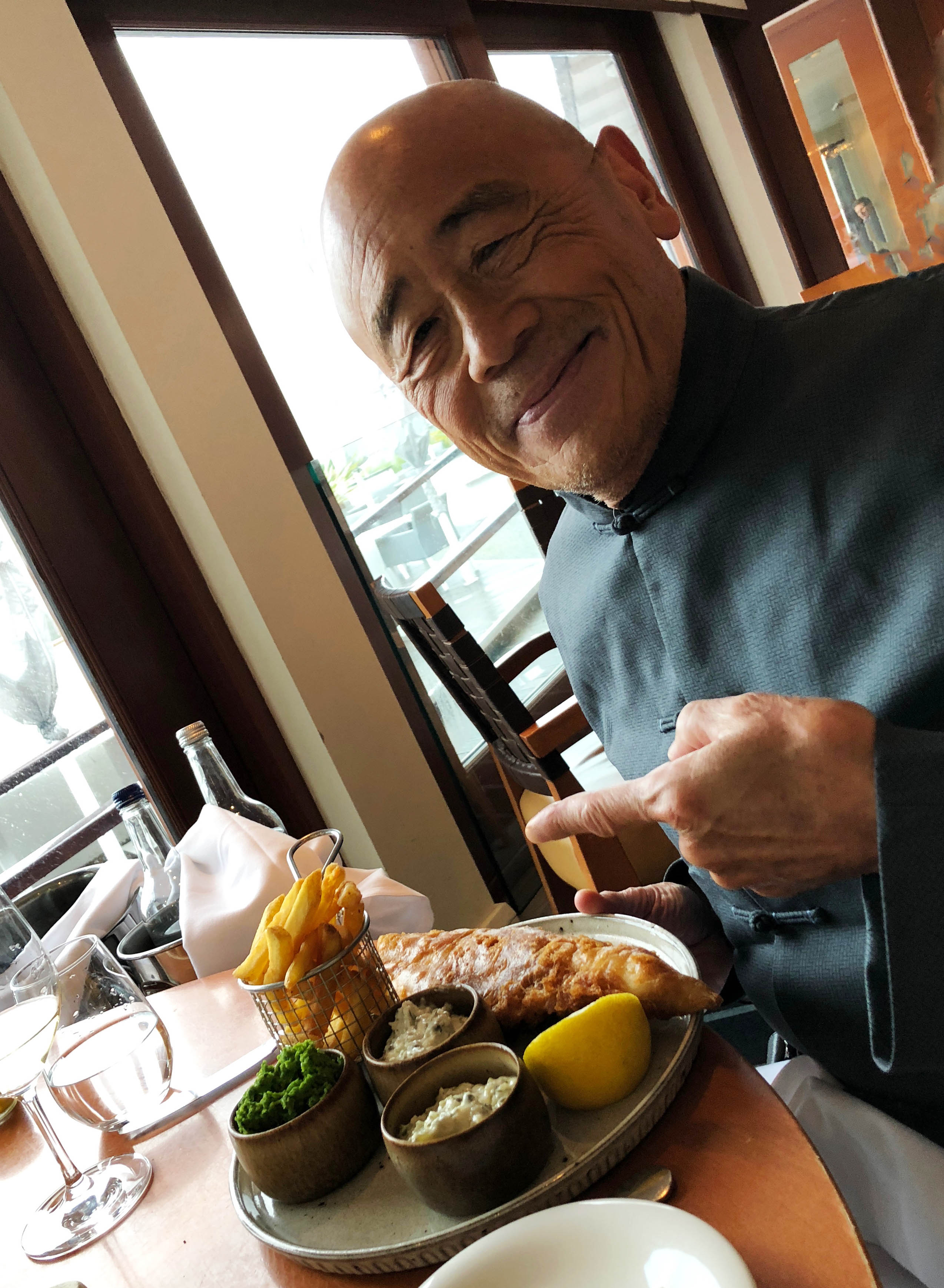 The Clog & Billycock
When the great Chef Nigel Haworth invited me to cook another truffle dinner at Northcote Manor, I had just one condition: fish & chips So Nigel took me to The Clog & Billycock, one of his gastro pubs in Blackburn. We began with an array of appetisers: sausages, fried squid, black pudding, and fried cauliflower — all delectable. Then came the piece de resistance: perfect fish & chips with some of the best mushy peas I have ever had.
As Michelin would say: Worth the journey.


Mani – Sao Paulo
I finished my month in Brazil with a demonstration of the Ken Hom wok at Spicy store and it ended with a bang when my good friends, Emily and Amanda took me out to dinner to celebrate at one of their favourite restaurants: Mani located nearby.
It was a modest looking restaurant with a large garden but it was the amazing cooking that remains on my tongue. The kitchen was staffed by young keen chefs who sent out rare beef on crispy toast and an assortment of tasty morels of mackerel,  vegetables all on crackling tapioca crackers. Everyone agreed that the squid ink pasta topped with fried and grilled squid was worth the visit alone. A rare tuna with Amazonian notes were also delicious and the local fish of the day in a tropical mixture of spices almost made me cancel my flight back! Mani is worth a visit!


KoMah  – San Paulo
Rua Conego Vicente Miguel Marino 378
Barra Funda
When Chef Claude Troisgros told me that I must eat at one of the hottest restaurant in San Paulo, I could not resist and we made a date as soon as I arrived. The taxi took me to a rather modest looking restaurant with not even a name in a neighbourhood quite far from the centre, I was intrigued. I met Chef Paulo Shin who proceeded to make one of the best meals I had ever had in Brazil. We began with an array of homemade Korean pickles, then came a most original tartar of sliced frozen wagyu beef with a wonderful sauce mixed with egg, then came a lovely noodle dish with coconut milk, then an amazing creamy omelet on top of a crispy sticky rice cake, finally topped by a rich braised beef rib that was meltingly tender but packed with flavour. A not too sweet chocolate cake and pear tart crumble finished off what was a terrific meal. No wonder, chefs are packing into KoMah, even Jamie Oliver came in 2016!




Frederic and Michele
When old friends invited me to their beach home at Praia de Pernambuco Juaruja outside of São Paulo, how could I resist? However, I saw it also as an opportunity to cook as well. I marinated pork ribs overnight and then I made a simple grill of chicken on skewers, the ribs, sausages and fresh vegetables. Their 5 ½ year old sweet daughter, Stella was charmed! Nothing beats cooking for friends.

Refettorio Gastromotiva
While one third of food produced in the world is wasted, millions of people stay hungry every day and live in constant food insecurity. Refettorio Gastromotiva is an initiative brought to Brazil by chefs Massimo Bottura (Food for Sol), David Hertz (Gastromotiva) and by the journalist Ale Forbes to contribute to fighting food waste, malnutrition and social exclusion. Refettorio – in latin Reficere – means recuperate and restore.
At the Refettorio Gastromotiva recuperating food is just as important as promoting and restoring the dignity of people. Refettorio Gastromotiva brings nourishment, culture and dignity for all, in a place full of art and culture. Launched during the 2016 Olympic Games, it became a human legacy for the city. It works as a food waste restaurant-school and I was privileged to be invited as a guest chef and had the pleasure of cooking dinner with donated ingredients for 90 homeless people.
I made up a menu starting with salad and sausages, followed by stir-fried beef with tomatoes (which was my mum's recipe) and finished with a papaya ice cream with fresh slices of ripe papaya. Then I cooked for the 20 lovely volunteers who ate the same meal. I like it so much, I asked to do it again on my next visit to Rio de Janeiro!
For a world with no waste.
For a world with more inclusion.


Chez Claude – Rio de Janeiro
One of my best friends is the great and famous Brazilian chef, Claude Troisgros. He host one of the most popular cookery programmes in Brazil and has a group of highly praised restaurants. So, I was eager to try his latest, Chez Claude located in the trendy neighbourhood of Leblon with a three-hour waiting time. The restaurant is small and when Claude is not travelling he is actually cooking there. We had a fabulous big ravioli filled with a puree of slightly sweet Brazilian potato. It was too delicious. I could have two more! A crepe filled with watercress was in a pool of blue cheese sauce. Grilled tender octopus with sausage was equally amazing. Caviar with scramble eggs would be a perfect breakfast dish. I could go on and on……but if you are in Rio de Janeiro, it is worth the wait!


Top Ten Best in Bangkok 2017
I have been raving about Le Cochon Blanc since it open March 2017 so I was thrilled when my good taste was confirmed by The Bangkok Post which chose the restaurant as one of the Top Ten Best for 2017! For Bangkok a real foodie paradise destination, it was high praise indeed especially for Chef Chandler Schultz and his original innovations and creative twists on so many traditional dishes. My more than fifteen dining experiences was the highlight of my 2017 dining experiences!
I am looking forward to eating at Le Cochon Blanc in 2018 and I am sure it will be a very Happy New Year!


Dinner at David Au
Although I love dining in restaurants, eating in someone's home is even more special. When my friend, David Au invited me to dinner, I was amazed to discover one of the best meal I had eaten this trip in Bangkok. When we started the meal with stuffed chicken wings and the crab salad, I knew that this would not be just an ordinary dinner. A perfectly balanced spicy green curry followed, then we feasted on a garlic juicy prawn. A rich stew duck with eggs was home cooking at its best. As was the delicate clear soup made with chicken and ham, which of course, we ate. A stir-fried beef dish was tender and bursting with flavour and I could not stop eating the final stir-fried vegetable. This meal only confirms to me that nothing beats fantastic comfort home cooking that is just simply delicious!


Le Cochon Blanc – Bangkok  – a revisit
My two visits to Le Cochon Blanc in Bangkok was so good in October that I had to go back when I returned in Dec and I was not wrong. Chef Chandler Schultz is going from strength to strength and his food simply gets better and more delicious. He has truly found his niche, cooking food that is inventive and innovative but personal with just the right creative touch of flavours. A smoked quinoa salad with eggplant puree, sherry vinegar and greens almost converted me to being a vegetarian as it was so good. I could not turn down his crispy veal sweetbread with grilled cauliflower and just the right touch of pork jus. A boneless Iberico lamb loin was so tender and bursting with flavour and matched with cabbage and hazelnut. Another outstanding dish was poached organic egg with chanterelle mushrooms, potatoes and Spanish vinegar was so delicious, we order another one! Dessert was equally outstanding, notable was the fried apple pie with vanilla ice cream and caramel. The strawberry shortcake was light as was the creme caramel. Don't miss the bitter chocolate petit pot! There is so much more………if you are visiting Bangkok, you must make a detour to Le Cochon Blanc!
Hong Bao – Central Embassy
Great Chinese food, inspired by Hong Kong has finally come to Bangkok. There is no better example than Hong Bao located at Central Embassy. We began with a rice roll stuffed with prawns that was delicious. The Peking duck was perfect  — crispy skin without a trace of fat. The meat was then minced and stir-fried and served with lettuce cups. The crispy tofu with salt & chilli was one of the best version I have ever had of this dish. Their version of Ma po tofu was as good as any I had in Chengdu. The crispy chicken with garlic was bursting with flavour. And even the green beans stir-fried with minced pork was out of this world as was a simple humble dish of cabbage stir-fried with pork belly. Finally, a stir-fried rice noodle dish finished our extraordinary meal. We were all transported to Chinese food heaven!



Christmas lunch 2017 – Le Cochon Blanc
I was so impressed by Le Cochon Blanc food that I decided to hold a Christmas lunch for friends. Of course, not only the food was great but so were the guests, including my good friend, chef and writer Sabrina Ghayour with her gorgeous mum, Shohreh Ghayour. Wishing everyone a super Christmas!


Sakagura – London
Last week I discovered a new wonderful Japanese restaurant in central London near Regent street called Sakagura. I would describe it as a relax Japanese bistro with an array of choices and a sake list to die for. I especially like the offering of flights of sake so that you taste several and learn about the merits of this great drink. The Japanese Wagyu from Kyushu Island was intensely flavourful and the Chicken Karaage had the deep taste of the garlic and ginger marinade and its crispy texture contrasts very well with the mayo and shichimi spice — a real winner. The Asian King Prawn tempura could not have been better as well the tasty Dragon roll filled with delicious kabayaki eel with rich avocado and prawn. This restaurant will definitely be on the top of my list when I return to London!

Paste Bangkok
For a couple of years now, I have been hearing good comments about the food at Paste in Bangkok, so for my last night on this trip, I decided to see for myself. Although it is at the Gaysorn shopping mall, the restaurant has a stunning view (ask for the banquette seating.) But is the food that is the star here. We began with a tasty shredded duck on rice crackers, a langoustine salad was perfect with just the right balance of acid and spices, an eggplant (aubergine) salad provided a soft textural context to the meal, the black cod was magical in tenderness and cooked just right. The tender beef cheek curry was bursting with flavours. Finally, the Kao Soi, a northern noodle dish put the finishing touches in one of the best meal I have had in years in Bangkok!


Xinn Tien Di – Bangkok
I have always been sceptical of Chinese food in Thailand. I often found it either too sweet, greasy and oily, over sauced or with the flavours off balanced.
Xinn Tien Di, located on the third floor of a deluxe shopping mall, however is very good. Savoury ribs, a Sichuan inspired chicken dish, crispy squid and a simple stir-fried pea tendrils was some of the highlights of a recent visit. I love the steamed pork with salted fish showered with shredded ginger which brought back memories of my mum's home cooking at its best.
However, the pièce de résistance is their Peking Duck which is wondrous and a real bargain. The skin is extremely crispy without a trace of fat and served with pancakes which is worth the visit alone if you just have that!


Kom-Ba-Wa – Bangkok
Bangkok is a treasure trove of culinary discoveries and the other night I hit gold at Kom-Ba-Wa, a Japanese restaurant that has been opened for about a year. A true gem with some of the freshest fish and seafood flown in fresh daily from the Tokyo fish market. A plate of uni (sea urchin) almost made me delirious with its nature sweet briny flavour. A platter of fresh sashimi looked like it just jumped out of the sea. We drank a magnificent bottle of sake that was milled down to 7% which meant most of the rice was gone and just the pure fragrance came through. A salad of salmon and avocado hit the spot. Gyoza filled with miso cod was rather amazing as well. Sushi was delicate and light. The chef sent a bizarre looking blue dessert that tasted better that it looked and was surprising quite delicious. Kow-Ba-Wa is a must on any list of Japanese food lover who comes to Bangkok!

Gianni – Bangkok
As much as I love Asian food, I do get a craving sometimes for Italian. I simply go to Gianni, a popular institution in Bangkok which by all consensus is the best and most reliable  in town. Just ten minutes away, this comfortable, relaxed restaurant has a huge and excellent Italian wine list.  Gianni is passionate about his cooking, with a unique blending of traditional and modern. Hokkaido scallops with barley and sweet peas was a perfect starter. He send out a tasty pottarga that he had brought back from Italy made from tuna combined with Italian cheese which was a revelation. You can see Gianni's Adriatic influence in his wonderful dishes made with local Thai fish and seafood. His papillotte: a sublime grilled combination of grilled fish fillets with scallop, and prawns is not to be missed. All ingredients are cooked in a way to bring out their natural sweetness without losing any of their delicate flavours and are never dry. Gianni's delicious cooking transported me to the Adriatic in the middle of Bangkok.

Rech – Hong Kong
When I am in Hong Kong, I want eat Chinese food, especially Cantonese. So it is rare, indeed when I decided to spend my last evening in Hong Kong at Rech. It is the first outpost of Alain Ducasse's famous fish restaurant Rech and was worth not only the visit but the food and service as well. But add one of the most incredible views of the Hong Kong harbour and you have a sure winner. I was not the only one who thought so, as the restaurant was packed on a Sunday night. I could not resist the belons oyster as a simple starter. Flown fresh from France, I almost could taste the French coast. For the main course, I decided on fresh French scallops that was simply grilled and served with artichoke and herbs, such a perfect dish after a five day marathon of eating. Dessert include Alain's signature baba au rhum with vanilla ice cream followed by a chocolate madeleine and ice cream. Such a fantastic send off! A must if you are going to Hong Kong!


Sunday Brunch at the Intercontinental Kowloon
Everyone in Asia love buffets and I have never seen any better than in Hong Kong. The Sunday brunch at the Intercontinental Kowloon is one of the best in Hong Kong. There is literally some cuisine or dish to please even the most difficult eater. But what I found what was stunning was the quality. Each station has top restaurant cooking which was constantly replenish instead of sitting on warming plates. The cuisines varied from French to Italian to Spanish to Chinese to Japanese to Thai —- a virtual eating trip around the world. And all of this with unlimited champagne or wine! You can't get a better delicious deal anywhere in the world.


Dynasty – Hong Kong
One of my final meals in Hong Kong was at my friends' favourite Cantonese restaurant: Dynasty located at the Renaissance Harbour View Hotel. The meal began with a sensational delicious Chinese barbecue pork that was so tender you could easily cut it with chopsticks and served with a pile of taro shreds which provided a lovely contrast in taste and texture. A lovely light refreshing soup of egg white with spinach followed. Then came a whole whelk stuffed that was so delectable that I could have easily had another. But lucky I still have room for the whole langoustine in a tangy curry sauce. We finished with a wok stir-fried rice noodle dish and a simple egg tart with a crispy pastry. No wonder, Hong Kong is such a food destination!


Little Kitchen – Bangkok
A very unlikely popular restaurant located in the passage way of Central Chitlom Department store feels like a café, with the passing patrons walking by. This strange setting offers a quick and simple menu of surprising delicious food that is extremely affordable.  It was recommended by a close Bangkok friend, Nong, who used to eat there with his school friends. A great favourite is the Charcoal Stir-fried Rice Noodles with egg and a choice of chicken or salted fish. Choose the fish version. Here, soft fresh rice noodles are stir-fried to perfection in a hot wok with preserved salted fish and comes with crispy crunchy fried dough and a simple salad for a totally satisfying comfort dish.

Ippoh – Hong Kong
Hong Kong has always had a reputation as an open port and so it has been with food. All types of cuisines are welcome here and Japanese is especially popular. My good friends, Grace & Kendall wanted to introduce me to  Chef Toyoichiro SEKI san from a top tempura restaurant, Ippoh in Osaka. Tempura cooking takes great skills: the oil must be changed constantly to keep it clean and fresh; the batter is mixed just so at the minute of cooking and finally good judgement tells the chef when to remove the food from the hot oil so that it is not oily or greasy. At Ippoh that is what you will find. We began with a steamed egg custard with uni (sea urchin) that was divine. A simple green salad refreshen our palate for the tempura to come with instructions from the chef to dip it into the sauce with grated dikon radish or simple salt or just lemon: prawn heads, whole prawns, a varies different types of fish, sweet potato, mushrooms, a prawn toast sandwich and a seaweed filled with sea urchin. We finished with a light rice soup and a sweet biscuit with fruit. Another prefect fantastic Hong Kong meal!



Liu Yuan Pavilion – Hong Kong
Hong Kong is not in danger of losing it's crown as one of the food capitals of the world!
A banquet given by my dear foodie friends, Grace & Kendall at Liu Yuan Pavilion proved how delicious Shanghai food can be interpreted using the best ingredients. This is the perfect time to indulge in the seasonal speciality of hairy crabs from that region. We began with salted duck that was tender and very tasty. Fried eels, another speciality was crunchy and crisp. Crackling beancurd skins was stuffed with mushrooms while jelly fish provided a nice sesame taste and texture.
Another diced tofu dish with seasonal vegetable was also very good and a surprising pea dish mixed with black truffles peaked our palates. A classic crisp chicken dish followed a superb plate of smoked duck eggs. A bowl of silken tofu with crab roe came and then one of the best dish of the evening: Crab cooked with sticky rice which none of us could stop eating despite being so full. Then a dish made of fish head in a most delicious stew was something I have never eaten amazed everyone at the table. A final rice filled with preserved fruits finished our magical evening. Hong Kong is certainly worth a voyage!



Open House – Water Library
I must admit that I have an addiction to fish & chips and when I am in Bangkok I get my fix at the Water Library at Central Embassy. Afterwards, I hang out at the hottest place in central Bangkok now – Open House. A happening in a vast place filled with books and delectable restaurants filled with many locals as well as tourists. My publisher, Shane who is translating and will be publishing my Stir-fried Life in Thai next year is the genius behind the concept. He is a great book lover and foodie and Open House is his ultimate dream and we are the beneficiaries. So make sure Open House is on your must visit list to Bangkok!

Hong Bao
As a chef, I cook for a living. So I am not above ordering takeaway, especially when I am in Bangkok. On a busman holiday, I ordered from Hong Bao, a great Chinese restaurant and I was not disappointed. The salt & pepper prawns……..was almost as good as mines. The Sichuan tofu was spot on and the stir-fried fresh rice noodles was almost perfect only marred by too much meat. Otherwise, quite perfect and I did not have to cook!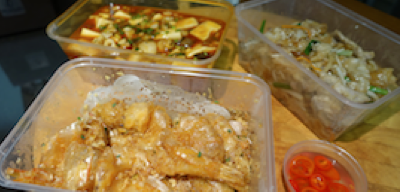 Have a Zeed in Bangkok  – a revisit
Have a Zeed, a rather odd name for a restaurant has become one of my favourite Thai restaurants, not because it is literally minutes away from my home.  I haven't been in six months and was pleased to discover it was as good as ever. Tender, succulent, tasty slices of grilled pork neck paired a delicious papaya salad was a match made in heaven. A simple Thai style omelet was comfort food at its best…..the omelet was fluffy and moist served with a spicy sweet sauce. Soft shell crab served on a bed of vegetables was hearty as well as spicy. I especially love the soft tender stir-fried fresh rice noodles with chicken and egg which reminded me of my childhood in Chinatown. It was cooked perfectly in a hot wok!

MEE team
I am so proud to be working with my team at MEE in Rio de Janeiro. Chef Kazuo is wonderfully skilled as not only a great sushi master but in charge of our kitchen with our very motivated team. Out front with Chef Kazuo, our Max, our extraordinary barista par excellence makes amazing cocktails incorporating Asian flavours. An experience not to be missed!

Le Cochon Blanc
Whenever I am in Bangkok, I love to indulge in my passion for Thai, as well as Japanese and Chinese. However, I do sometime want a slight change and then I go to Le Cochon Blanc. I went with a group of friends (better so you can order more courses) and we feasted on crab cakes, a wonderful Wagyu prime ribs and I got the best piece — the rib! Wild Brittany cod from France was perfectly cooked and moist as was the short ribs full of smoky flavours. The smoked organic baby chicken was magical as were the house smoked salmon. Even the side orders were fantastic — from the grilled cooked salad to the corn with coriander and house slaw. If you are in Bangkok and fancy a change, you will not be disappointed, I assure you in Le Cochon Blanc! No wonder it is so popular!


Sui Kin – Bangkok
Sui Kin is perhaps one of my favourite Japanese restaurants in Bangkok. A rather modest place but serving fantastic Japanese food. I love it because it is literally a 10 minute walk from where I live. The other evening, I enjoyed simple salmon roe sushi; a salad of avocado, tuna and tofu with a zesty dressing; grilled eel with rice; magnificent sandwich of daikon slices stuffed with poutargue (dried mullet roe) and simple salted grilled fish………which I ate so quickly that there was only one left when I took the photo!


Baan Glom Gig – Bangkok
Returning to Bangkok is also a great joy for me as a lover of Thai food. I was invited to some friends for dinner but instead of them cooking, they order Thai food delivery from their local favourite restaurant, Baan Glom Gig and what a feast is was! Rich intense green beef curry as well as perfectly cooked prawns with fried garlic, a Thai omelet was a nice contrast to all the hot spicy flavours, a crispy fermented fish was paired with fresh bean and cucumber, the Thai spring rolls were equally delicious as was the minced pork with prawns. I could barely managed any rice……what a wonderful welcome home!


Cipriani at the Copacabana Palace in Rio de Janeiro
I recently had a wonderful Italian gastronomic experience with Chef Aniello Cassese who just won the Most Revealing Chef award. He has revitalise the famous Cipriani with cooking that takes from his Neapolitan heritage as his years cooking with Gordon Ramsey. We began with a amuse bouche that combined textures and flavours then moved to a lovely carpaccio of scallops, squid ink coral crispy, chilli and vegetables, it was light and tasty. A dish of stuffed pasta paired with prawns that was delicious followed. A main dish that was the catch of the day came with Italian bruschetta flavours and Sicilian Pepperonata which was cooked perfectly and amazingly good. A light lemon granita cleared our palates for the brilliant chocolate dessert. Nello as he is known is one fantastic chef!


There is nothing more pleasurable that to cook for good friends who love to eat!
Recently, for friends from Cahors, I made Salt & Pepper Prawns: they are easy to make and are always a great hit. I then made Chinese Roast Pork Belly which I did years ago on Saturday Kitchen with James Martin. I served it a bit like Peking duck with pancakes, Lee Kum Kee hoisin sauce, spring onions and cucumbers. The evening concluded with traditional moon cakes and Japanese whiskey!

Jacques & Linette
Nothing in the world beats great home cooking especially if the cook is a retired successful chef. When Jacques & Linette invited me for lunch, I accepted without hesitation even though they are more than 45 minutes away from Paris. We began with a wonderful goat cheese simply wrapped in crispy filo and served with a salad. Then came a perfectly cooked rack of lamb with beans in a garlic puree sauce. Our mutual friend, Lilli from Bangkok made the dessert, a peach gratin that made a magical ending to the four hour lunch. The meal was worth the journey!

I often feel nostalgic especially about food. At a Chinese shop recently, I found freshly made rice noodles that my mum used to often make and so when I invited my good friend, Mike over for dinner I thought it would be a perfect dish, stir-fried in a hot wok with prawns. As dessert I served moon cake which is now in season with yogurt dusted with raspberry powder!

Dom Perignon
I have always been convinced that champagne goes perfectly with the complicated and varied flavours of Asian food. A recent pairing of several vintages of Dom Perignon hosted by Raphael Vidigal at MEE restaurant in Rio de Janeiro proved my case.
Everyone who sampled our tasting menu matched with champagne totally agreed!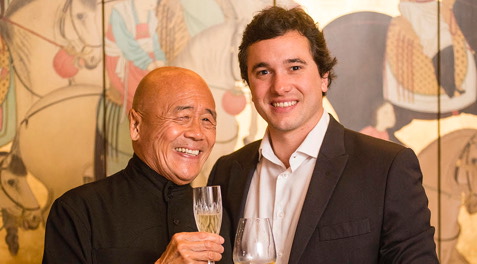 I travel whenever I can on British Airways and the main reason is the friendly and professional crew. I have just flown to Rio de Janeiro on BA and the crew, very international but full of British warmth made me feel as I was back in the UK. I invited them to have drinks and to sample some of our dishes at MEE restaurant. We sampled some beautiful sake and they sampled our tuna tartar as well as one of our best selling dishes – Crispy Vietnamese spring rolls and of course, our famous Crispy duck.

RMHC Gala Benefit Dinner – 5 Sept 2017
My good friend, Grace Fung got me involved with her RMHC (Ronald McDonald House Charity) in Hong Kong but I wanted to do something for the RMHC in the UK. So at the last auction, we sold a gala prize…..dinner at my small flat in Paris. Ron, Gayle, Eddie and Maria were the lucky winners! We began with Salt & Pepper Prawns but the highlight was Peking Duck in three courses: The first course was the crispy skin dipped in sugar with crackling wonton crackers, the second course was the breast meat shredded – served with pancakes, spring onions and cucumber and sauce, the last course was all the leg and thigh meat chopped up and stir-fried with mushrooms and shallots, alas, I forgot to put in the diced pear apples. Too much good wine and a great and unforgettable evening on behalf of RMHC charity!


Mr Porter
A good friend, Michiel took me to dine at one of the hottest new restaurants in Amsterdam located on the top floor of the W Hotel. It not only had a view to die for but great cooking as well. Although, it is in large part a steak house, the yellow tail sashimi was fresh, delicious and spicy. Michiel order the aged beef with foie gras which was tasty napped with a rich sauce. I had the sea bass spicy tomato casserole which was perfectly cooked with whole spicy fresh chilli. Beware the portions are large but the cooking is top notched.

One of my best memories of summer was the abundance of fresh vegetables, organically grown in home gardens. Each time friends would come to dinner laden with arm full of super delicious vegetables. I would like to share with you a favourite……stuffed marrow! The filling is 3 types of minced meat: pork, veal and beef with lots of onions, garlic and chopped core hollowed out from the marrow. Of course with salt and freshly ground black pepper. And the bonus is that it also freezes very well!

Wishing everyone a good end of summer! From my kitchen to yours!

Nothing in the world taste better than home made pizza with a luscious organic tomato sauce and young whole garlic! It was among the best lunch I have had all summer!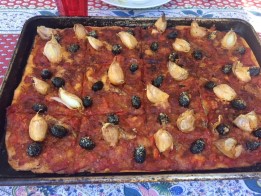 The best part of summer is the wonderful crop of fresh organic tomatoes. Nothing beats a good Pain bagnat which is summer in a sandwich. You need great bread, anchovies in olive oil, boiled eggs, of course — fresh tomatoes and finally, lots and lots of fresh basil! Heaven earth. Hope your summer is just as tasty as mines!

I am cooking away for family and friends……….and how can I resist? Here is a basket of the most wonderful cepes (porcini)  that a local friend brought me!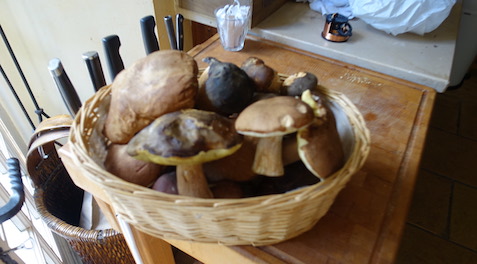 Cooking for friends
Perhaps cooking for friends is one of my greatest joys. The other night, I invited Dr. Thanh Hoang-Xuan, one of the world's top eye doctor and his son, Minh for dinner. We began with a favourite of mines, Salt & Pepper Prawns, easy to make and delicious and then we had fresh cod fillets which I actually steamed in the microwave. Minh, working with a start-up in Paris was amazed by the fish!

Whenever I am in Hong Kong (I tried to go at least twice a year), I always make it a point to eat at Yung Kee, famous for their roast goose. If you doubt their deliciousness, just view this video sent to me (to share) by my great and foodie friend, Grace Fung. Your mouth will be watering like mines. Worth a trip to Hong Kong!
We had our neighbour fete here in Paris. Everyone from plumbers to musicians to photographers to business men to artists and it the best thing — it was a multi-cultural mix of people from around the world. We celebrated life with each other's cooking, one the best was a Mexican mole with chicken! I made Salt & Pepper Prawns and Ribs which I cooked for 3 hours! I am here with my plate of ribs! Of course, we drank lots of wine! Love & Peace Forever! It began at 1 pm and ended around 9 pm!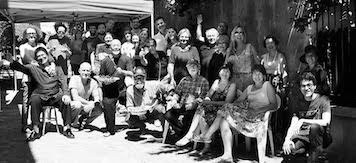 Whenever I am in the UK or London, one dish I must have is fish and chips. I love all versions of it and the Alain Ducasse version at the Dorchester Grill is a favourite. It comes out quickly and is light and delicious with a Gallic touch. A salmon and chickpea puree arrived instantly as soon as I order and then the wonderful fish & chips. A perfect quick lunch to satisfy my fish & chip addiction!

It has been a while since I have dined at Nobu and recently I did and it is among the most magical dining experience in London. From his classic yellow tail sashimi with fresh chilli to the crispy prawns served with three sauce, the ethereal uni sushi and the amazing crackling salmon skin, his famous black cod in miso and a new dish of dover sole fillets and a surprising grilled sea bass……a truly fish and seafood lover feast!


My favourite Chinese vegetarian dish is the Crispy Salt & Pepper Tofu at China Tang! It is a delicious perfectly cooked dish that even non-vegetarians love it. Crispy on the outside and toss with salt, chilli, pepper and custardy soft on the inside. I had  it twice last week and I could not have made it better myself!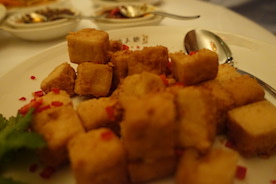 I was pleasingly surprised by small, down to earth restaurant name Da Pino in Transylvania. I went with the great British chef, Jeremy Lee and the head of the Oxford Cultural Collective. The service was impeccable but the food was absolutely delicious and simple……which is for me the best. We began with an array of Italian cured meats that was top notch. We had a lovely perfect cooked mushroom risotto and grilled vegetables with polenta.  I am not a great fan of dessert but the tiramisu could have come from Jeremy's kitchen!

Dinner!
I cooked dinner for my friend's mum visiting from Switzerland. I made my classic Roast Pork Belly that was so popular when I cooked it on Saturday Kitchen. I served it with steamed sticky rice and stir-fried vegetables! Not a single piece of food was left over…….a good sign, perhaps?

The Good Earth
I think some of the best Chinese food in Europe can be found in the UK, especially London where the cuisine continues to evolve and modernise in a delicious way. Recently, I was invited with friends by Holland and Andrew Kwok to a wonderful banquet at The Good Earth at Wandsworth Common which illustrates my point so well. We ate course after course of innovative dishes such as Wagyu beef in a spicy sauce, a crispy prawn in a surprising wasabi coating, traditional crispy duck, green beans in black bean sauce and just simple stir-fried Chinese broccoli. The restaurant was packed out and I could easily see why!

A. Wong – my favourite Chinese London restaurant
I am often asked about my favourite Chinese London restaurant and I always answer that without a doubt it would be A. Wong in Victoria. My recent visit last week simply reinforces my judgement. We began with dim sum starters that were classic and spot on. I love Chef Andrew Wong's take on the prawn cracker. Of course, his crispy duck was magical and his stir-fried fresh rice noodle dish reminded me of my childhood. His combination of Thai flavours with fish was something I could eat every day. A rich smoky spicy braised aubergine could have come straight out of a Chengdu kitchen. Andrew's constant innovation was evident in his new addictive abalone dish which I could not stop eating even though I was full. No wonder this is my favourite Chinese restaurant in London!


Chinese Cricket Club at the Crowne Plaza London – The City
I think that London has some of the best Chinese food in Europe and I was thrilled to discover the Chinese Cricket Club at the Crowne Plaza London – The City under the wings of Chef Ken Wang who specialises in great Chinese cuisine with influences from Huaiyang, Sichuan, Shanghai and Canton with a dash of Pan-Asian and sometimes a modern Western twist. His dim sum was spot on. A crystal prawn was crackling with flavour. His fish seafood fried rice was topped with caviar while a simple stir-fried Chinese cabbage with mushrooms was impeccably cooked. The stir-fried spicy beef would make any Chinese chef proud. The sea bass steamed perfectly had a Thai spicy touch and the final masterpiece was his amazingly delicious pork belly stuffed with sticky rice. Chef Wang won me over as a new fan!


Harbar Bistro
I am simply amazed how cooking has changed in the UK in the last 46 years. A few days ago, I had a most delicious lunch at the Harbar Bistro inside the Harbour Heights hotel at Sandbanks, Poole with a drop dead view of the sea. Chef Loic from France served a fresh sardine salad that was light but full of flavour and beautifully presented. For the main course, I chose grilled skate which I have not had in a long time. Perfectly cooked, it came easily off the bone and was tender and moist. I decided not to have dessert as I was quite full but the petit fours that came with coffee could not have been better. It is so refreshing to find great cuisine everywhere in the UK!

My birthday bash
I was lucky to be invited by my good friend, Alan de Paulo from São Paulo who made for me the perfectly most delicious birthday meal. I love it because it was simple, very tasty, light and made with the best ingredients. We began with an appetiser of farm eggs with home-made mayonnaise, a wink to a typical home cooked French dish with fresh spring asparagus. All washed down with plenty of Italian white wine. The main course was a baked fresh cod with a amazing crumble of aromatic spices with rice and green beans…..all very healthy as well. Of course, the dessert was my favourite cake, fraisier, a French type of strawberry shortcake. I must admit it was a meal that I could not have made better myself!


Dinner for friends at home
Often people ask me how I put together a fun, delicious dinner party at home especially in my small flat in Paris where I have a really tiny but efficient kitchen. On Sunday, for French friends from southwest France, Catus: I served a quick salt & pepper prawns which literally took minutes, they loved it. Followed by a simple fried rice and a lovely steam salmon with shreds of fresh ginger (in the microwave), splashed on with shredded of spring onions, soy sauce and a touch of hot groundnut/sesame oil at the last minute. Sichuan miso aubergine, cooked in advance and simple grilled. A simple but really delicious meal, of course with lots of good wines from Cahors!


British Airways
I love stepping into a British Airways aircraft, I immediately feel at home and in Britain with the smiling faces and friendly manner of the crew. Last week, flying back to London from Rio de Janeiro, I was impressed by the menu offerings, as it was a night flight, so one should eat lightly. I choose the salmon gravlax with honey and mustard sauce, a perfect match. For the main course, I again chose Grilled marinated salmon with lemon and chive sauce with vegetable couscous and roasted pumpkin , exactly because I knew I could digest this easily. The salmon was moist and flavourful. Finishing off with the cheese platter, I feel into deep sleep and woke up ten hours later, refreshed in London!

China Tang
I am often asked where do I go for dim sum in London. A great and convenient favourite has always been China Tang at the Dorchester. My great friend, David Tang, the inspiration behind the restaurant is also a real foodie. I recently tried his recommended Crispy chicken parcels which were delicious. A classic of steamed prawn dumplings could have easily come from any good kitchen in Hong Kong as well as the stuffed beancurd rolls. The crispy thin noodles with chicken was so good that it was finished before I forgot to take the photo! Sorry!

Scott's London
I was in London for the Ideal Home Exhibition in April and I had this longing for my favourite British dish: Fish & Chips So I popped into one of my regular haunts in London – Scott's. I started with a plate of fresh English oysters that was briny and delicious. Then I had Scott's simple version of fish and chips that was perfectly spot on. I left so happy and satisfied!

British Airways
One of my favourite airlines to fly is British Airways. I always find the crew welcoming, smiling and willing to assist. Last week, I flew from London to Rio de Janeiro where I am working with my restaurant team at MEE. It was a memorable flight because of the meal. I love the idea of British Airways serving the best of British cuisine instead of trying to do international cuisine. My Loch Fyne Kinglas smoked salmon was delicately and subtly smoked and delicious. The Ploughman's salad with warm Scotch egg, Wilshire ham, pork pie, picked onion, apple and red onion chutney reminded me of the best of pub food and was very comforting on the long haul flight. Instead of dessert, I could not resist the cheese plate which included a fantastic Shropshire Blue. All which made me homesick for the British Isles!

MEE visit 1
It has been sheer pleasure for me to visit my team at MEE at the Copacabana Palace here in Rio de Janeiro. Our fantastic chef, Kazuo and our amazing manager, Junior are working hard to maintain our Michelin star standards. Chef Kazuo made a fresh tuna tartar, followed by a raw scallop with wasabi sauce and bits of Wagyu beef. Our kitchen continues to cook with consistency. The Hong Kong prawns with glazed honey walnuts was spot on as the succulent grilled salmon with a Japanese sauce. The Pad Thai, a classic Thai noodle dish could have easily come from a Bangkok kitchen. The Wagyu ribs was cooked perfectly as was the Stir-fried spinach with garlic. More to come as I work my way through our Michelin star menu!


MEE visit 2
I am so proud of my team at MEE as I continue sampling the tuna carpaccio in citrus sauce as well as assorted fresh sashimi or simple sushi and seared salmon sashimi with spicy miso sauce and quail egg yolk. Under the eye of our talented chef de cuisine, Kazuo, even the comforting udon noodles with prawn tempura was as good as anything I had even eaten in Japan. Our Sichuan miso eggplant is a huge hit with not just vegetarians but all our customers as the aubergine melts with the rich miso.
Our Thai green chicken curry is spicy and packs a punch as does our special fried rice. And our barista makes spectacular exotic cocktails as well!

The Punter – Oxford
One of the great traditions I love in the UK is the Sunday late lunch at the local pub.
Last Sunday, I went with friends to their local pub, The Punter in Oxford after my talk at the Oxford Literary Festival. The food was delicious, tasty and unpretentious. From the Free range Scotch eggs, to the crispy Edamame bean with vanilla salt. I could not resist….Panko crumbed fish & chips with peas and tartar sauce, a lovely modern version of my favourite English dish. It was a magical day that was topped off by every one bringing their dogs…..I loved every moment!


FT Weekend Oxford Literary Festival 2017
I had the most extraordinary experience when I was invited to the FT Weekend Oxford Literary Festival 2017 closing dinner held at The Great Hall, Keble College. The guest speaker for the beautiful amazing actress and writer, Maureen Lipman and we were lucky to eat the most delicious dinner designed and supervised by my great friend and chef, Jeremiah Tower. We had a delicate white truffle and celery root timbale with Cornish crab meat with artichoke, lobster and mussel essence balanced by a lemon parsley salad. This was followed by a hearty, and very tasty BBQ duck leg with a spring vegetable risotto with an ancho chili mint broth and we finished with a spectacular rose and rhubarb fool, meringues and crème carême dessert. An extremely fitting close to the festival's 21 st anniversary!

Open House at the Central Embassy in Bangkok
I went to the opening of Open House at the Central Embassy in Bangkok. It is the creation of my good friend, Shane who is also the publisher of my Truffle book. Open House is a beautiful space with restaurants such as Peppina serving Italian pizzas, a wine bar, an oyster bar, ice cream bar, Thai restaurant, a grill restaurant……all surround by books, including mines! It is a must to visit when you come to Bangkok!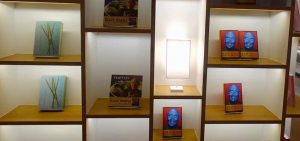 Tonkin-Annam – Bangkok
I am a great fan of Vietnamese cuisine. I find it flavourful, aromatic and light. I love their use of herbs and rice paper wrappers. Just before departing Bangkok, I was told to try Tonkin-Annam and how happy I was to sample their delicious cooking. It is a small unpretentious place near the grounds of the Royal Palace and certainly worth going. There is a wonderful rice paper stuffed with poached egg, crispy banana salad was tasty, the mung bean crepe was one of the best I ever had, as was the sugar cane with ground prawns. A stewed pork belly dish was another hit and the fresh spring rolls stuffed with prawns was quite amazing. We finished off with a sweet rice dumpling soup. Don't miss this restaurant if you go to Bangkok!

Lenzi Tuscan Kitchen – Bangkok
I have known Francesco Lenzi from his fantastic cooking at the Muse Hotel in Bangkok and I was thrilled to learn that he opened his own place serving great Italian family food.
Lenzi Tuscan kitchen has the warmth of a welcoming comforting home with a open kitchen that is a hive of activity. Francesco is serving some of the best Italian cooking in Bangkok, I felt I had stepped back into Tuscany. A platter of sensational ham, sausage and cheeses from his family farm kicked off the evening. A refreshing salad of rocket with cherry tomatoes, Parmesan cheese and Italian artichoke followed. A sea bass fillet with tomato, anchovy sauce with grilled polenta was perfect in its simplicity and packed with flavours. A final dish of stewed Tuscan sausage, again from the Lenzi farm in tomato sauce with cannellini beans and olives and herbs finished us off but left us so satisfied that we skipped dessert and just had coffee. The packed restaurant was testimony that only the best restaurants can survive the highly competitive Bangkok market. Lenzi Tuscan is certainly among them!

Le Cochon Blanc – Bangkok
My dining experience at the latest hot restaurant in Bangkok, Le Cochon Blanc was so good, I returned last week to try all the remaining items on the menu that I had missed previously. Lucky, I had booked because the restaurant was packed as the word of mouth seemed to have spread all over town. Ordering some of previously tried dishes confirmed our opinion about the high quality of cooking. Chef Chandler, presided over the hot open pit and cooking away with a happy smile.
The home smoked salmon was delicious but the Pate de Papy was as good as any I have had in France. The duck jambalaya was sensational and packed with flavours and spice, just the way I like it. I could eat the creamed spinach every night. And the baby carrots with Moroccan spices was magical. The chicken Piri Piri perfectly grilled, moist and flavourful with a sensational spicy piri piri sauce. The Tomahawk steak sold the show……a massive cut of wagyu beef slowly grilled on the bone was seasoned so well that it actually highlighted the great flavour of the beef. The Profitterole with homemade vanilla ice cream and chocolate sauce and the wonderful Apple tart with slow cooked apple with vanilla whipped cream finished us off. We all agreed that it was another amazing evening at Le Cochon Blanc. It will be on the top of my list when I return to Bangkok in the autumn.


Orihara sake bar – Bangkok
Japanese food mania seems to have gripped the Bangkok dining scene. Sometimes I feel I am in Tokyo…….so when I went to the Orihara sake bar, a branch of the Tokyo sake bar, I was not surprised to find a fantastic array of sake to choose from but delicious yakatori, Japanese street food on a skewer. Especially chicken from the liver to wings to the skin….in other words every part of the chicken. The seaweed and tofu salad was a good counter point. Do try the pork belly as well. Great food and amazing sake……..all in the heart of Bangkok!

Riedel Wine Bar & Cellar – Bangkok
Bangkok continues to surprise me by its quality of food and cooking. It is a city that not only has great Asian food but does European food just as well. Recently, I was invited to a dinner hosted by The Oxford Cultural Collective for a informal dinner at the Riedel Wine Bar & Cellar located at the Gaysorn shopping. We began with a delicious selection of artisanal charcuterie that was as good as any I have had in France with perfect sourdough toasted bread. A magical green pea soup with pancetta, smoked rainbow trout and crunchy walnuts. A wonderful combination of taste and texture. Grilled lamb chops with anchovies, rosemary mayonnaise and confit garlic was brilliant as well. A simple dessert of refreshing creme brulee was exactly the right finish to the meal.

Water Library Brasserie at Central Embassy, Bangkok
I am a great lover of Thai food but sometimes when I am in Bangkok, I do long for a good fish and chips. So where do I go? To the Water Library Brasserie at Central Embassy. The decor is out of 19th century Paris but the food is top notched. The delicious corn bread with truffle butter always a good way to open my appetite for my fish and chips!

Cherry Blossoms
The cherry blossoms are in full bloom here in a sunny spring like Tokyo!
However, the real treat for me has been the food. Truly amazing, worth the journey. I shall be sharing all the wonders of some of the most delicious food I have had in a long time in the coming days!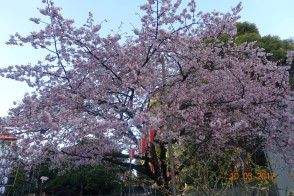 Tenichi Honten – Tokyo (Tempura house)
I don't think it is possible to leave Tokyo without trying one of the glories of Japanese cuisine: tempura. I am always amazed how the Japanese was able to refine batter and deep-fried food without any hint of grease or fat. So I went to the best in Tokyo: Tenichi Honten. You are given a set called Otoshi that includes a salad and fern heads with a nutty sesame dressing to open your appetite. You can sit at the counter while the chef individually deep-fry each piece of food and serve you as it comes hot from the oil. We began with prawn, then a single piece of a small whole fish, followed by gingko nut, squid, conger sea eel, crab, uni (sea urchin) wrapped in nori (seaweed), sashimi. The meal is finished with miso soup, rice and Japanese pickles.
But I was shocked at the most simple dessert: Japanese melon that was the sweetest, juiciness and most delicious I had ever eaten in my life! A perfect farewell to one of the food capital of the world: Tokyo

Seiyoryori Shima – Tokyo steakhouse
When my good friend, Ron Batori raved about one of the best meals he had in Toyko, I knew I had to go check it out. I was not prepared for what was a simple steakhouse located in an obscure nondescript office building basement that was difficult to find even though I was with a Japanese friend. The restaurant seats about 25 and looks ordinary except for the food. Chef Oshima Manabu serves a mixture of Japanese/Western dishes such as delicious large briny Japanese oysters and Japanese beef that was out of this world. Get a seat on the counter so that you can see all the action from the open kitchen.
I had the most wonderful all black truffle menu, every dish was truly wonderful but we all agree the highlight was the sauteed foie gras with artichokes and piles of fresh black truffle slices. All this was enjoyed at the magical Alain Ducasse restaurant at The Dorchester in London!

Azabu Juban Ozaki – Tokyo
This restaurant certainly deserve its reputation for one of best sushi in Tokyo. Raves from close friends sent me there. The meal began with a mixture of tender octopus, special clams and sea cucumber in a light sauce. Then came a wonderful tuna belly sushi followed by hairy crab. A selection of sashimi tasted as if it came directly from the sea: uni (sea urchin), abalone, flounder and sweet shrimp. A delicious tile fish was so good that I devoured it and forgot to take a photo! Sorry! Equally good was a red sea bream on a stunning blue plate. I also loved the oyster steamed with seaweed. More sushi. Then we finished with a refreshing almond pudding with grapefruit and orange jelly. Another unforgettable evening!

Shirosaka – Tokyo
Just went I thought food could not get better here in Tokyo than I ate another spectacular meal. This time at Shirosake where the chef, Hideki II was the former chef of my good friend, Tetsuya from Sydney. Each dish was an exquisite masterwork, we began with a sensational quail eggs with tuna, followed by a rich
flavourful oxtail soup, then fried sea bass with nori, pork belly with dikon could not have been better as was the amazing tiny seasonal shrimp with somei noodles. A wagyu beef was so tender, you almost didn't need to chew, finally rice followed and the dessert was a Japanese sandwich of rice crackers filled with mochi and strawberries. I thought: what an amazing city!

Sweet Po-Zu – Tokyo
About twenty years ago, I was introduced by Yuichi Yoshii, an expert in Japanese cuisine to this modest gyoza shop that serves some of the best dumplings I have ever had. They serve them pan-fried, poached in a light broth or steamed as buns and are the only items on the menu (except for rice & miso soup.) The restaurant seats only 16 and it situated in a district that is filled with bookshops and second hand book sellers. But is worth going just for these fantastic and most delicious gyozas! A must for any food lovers who is visiting to Tokyo!

Kikunoi – Tokyo
Considered one of the best restaurants in the world with three star Michelin, Kikunoi specialises in Kyoto Kaiseki cuisine the reflects the four seasons. We began with a poached red-pickled apricot bathed in a sea bream soft roe sauce. This was followed by an assortment of appetisers: bamboo shoot, squid, an unusual stalk, icefish sushi, rapini, fern heads, octopus with roe, lily bud petals with salmon roe and a mustard sesame seed dressed carrot. A sashimi of seasonal fish followed, then another sashimi of young blue fin tun with a magical mustard soy marinated egg yolk sauce, then we had a clam dumpling but what followed was one of the highlights of the evening: an whole abalone covered steamed in a cover of salt & seaweed which you push aside revealing the abalone with its liver sauce and sea urchin! Wow, what I could say! We then refreshen our palates with an assortment of salads. Followed by a hot pot with lobster, clam, sea bream, scallop and tofu. Steamed rice with sea bream and a cauliflower soup with Yuzu (Japanese lemon) fished our meal. We then had a choice of desserts: Toasted barley ice cream with rice cake and azuki bean paste or passion fruit sorbet in mango soup…….I tried both!
A truly memorable gastronomic voyage!


Just had another great meal at MEE with friends from Sao Paulo! Here are some of the highlights.

A must foodie experience for me when I am in Rio de Janeiro is a visit to Da Roberta food truck. Her addictive potato fries and delicious sandwiches are a must, all washed down with artisan beer!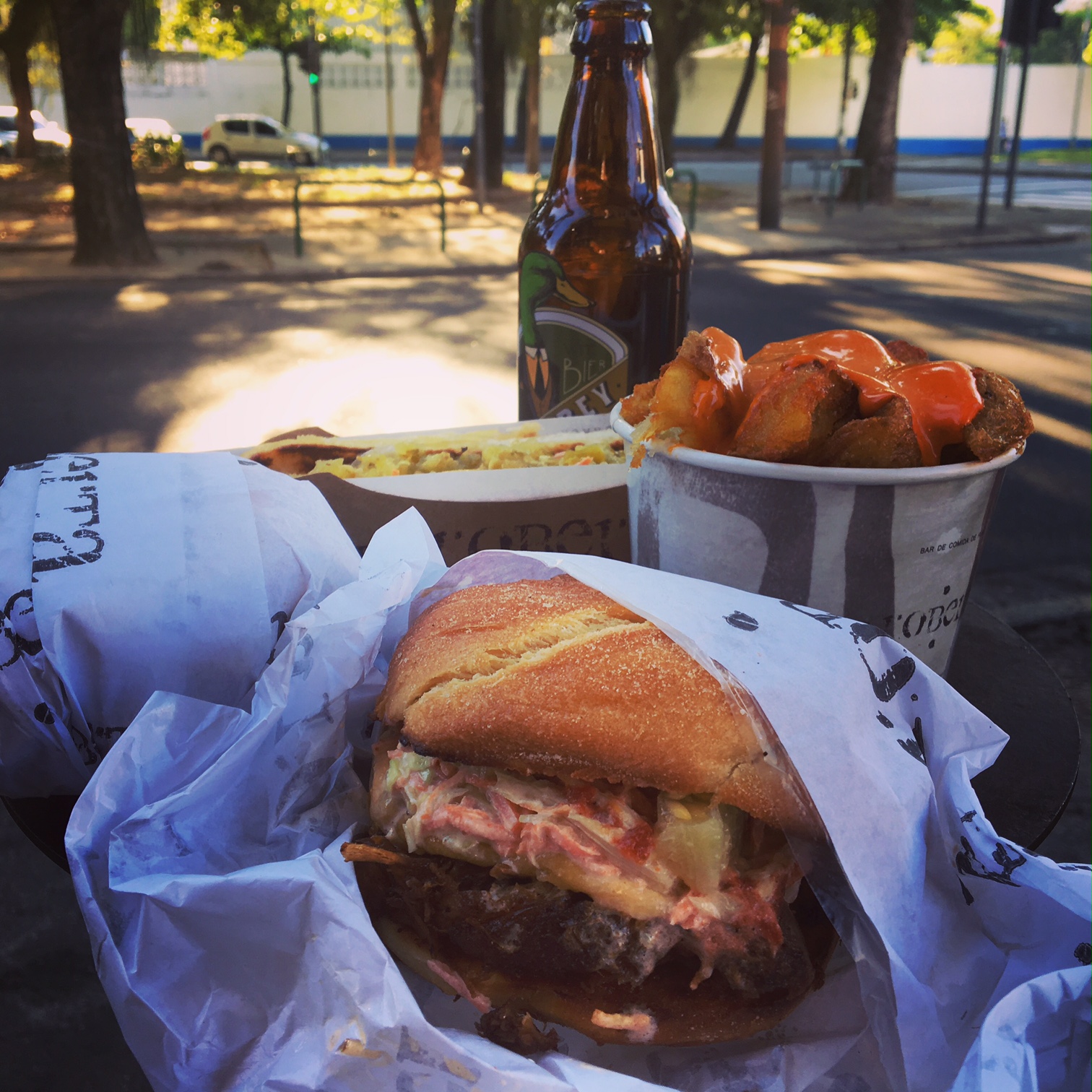 When I hunger for great Italian food when I am in Rio de Janeiro, the place I go to is Cipriani where the new Italian Chef Nello from Naples is making innovative Italian dishes. I recently has the tastiest pork belly with a simple spicy salad. The venue is quite beautiful as well!

Feijoada A slave dish that has become a national dish. Traditionally served with great festivity at the midday meal. This simple meal was prepared by slaves from leftovers they were given. Well-seasoned black beans and a side dish of various savoury pieces of smoked and sun-dried pork and beef. A Saturday tradition in Rio == heavy meal follow by a long nap. Cariocas (the people from Rio) congregate here to the best feijoada can be found at the Belmond Copacabana Palace Hotel. It is fitting that Brazil's most famous hotel would be serving the national dish. Be prepared to be very hungry and you must reserved the Saturday afternoon feijoada is extremely popular with the locals. The buffet is filled with of course, black beans, smoked and fried meats but also sausages of several types, salted meats, rice, oranges, salads complement this feast. Well worth the experience!

Issaya Siamese Club. The Issaya Siamese Club Restaurant is set in a beautifully restored colonial-style house built around 1920. It sits as an oasis amid the Blade Runner stacks of tall buildings of Bangkok and is surrounded by a lush tropical garden. A rare charming treat, indeed.  But after several meals there with many serious food friends, we all agree that it is the food that wins our hearts and stomachs. Delicious, full flavour Thai food with a modern touch.

I had my annual Christmas party luncheon again this year at one of my favourite Thai restaurant, here in Bangkok: Baa/Ga/Din. The chefs: the Thai culinary star, Chef Ton and his fantastic sous-chef, Chandler. One of the guest of honour was the British cook/author and foodie : Sabrina Ghayour and her lovely mum,  Shohreh Ghayour. Here is some of the amazing dishes over 30 guests enjoyed!
Merry Christmas to all of you and wishing you great health and good delicious food in the New Year!


In September, I went to the World Curry Festival and met the lovely Zulfi Karim, the Founder and Festival Director. He opened up a new world of culinary delights by taking me for dinner at the famed Tharavadu, home of Kerla cuisine in Leeds. It was a feast made in heaven!

I am often asked what is my favourite Chinese restaurant in Hong Kong. That is probably the most difficult answer. Hong Kong has some of the BEST Chinese restaurants in the world but still by far my favourite is Yan Toh Heen in Kowloon. Why? For me, it is Chinese cooking at its top, Michelin star quality but with simplicity… Perfection!!!

Whenever I am in Hong Kong and I am in the mood for something other than Chinese as well as looking for a quick lunch, I head for Nobu in Kowloon. The service is impeccable and fast and the food is top notched.
I usually order a great favourite of mines: Unagi Donburi, it comes with a salad and miso soup and if I am really famished, I would also order O-Toro Sashimi. You won't be ever disappointed in Nobu's classic dishes such as the Miso cod or the prawn popcorn or his wonderful seasonal salads.

Sometimes I think I am the luckiest person in the world. I get to eat some of the best food in the world. Hong Kong is certainly on the top of the list. My best friends, Grace & Kendall, serious foodies invited me to Dynasty restaurant in Hong Kong for a fantastic feast with friends. Here are some of the amazing dishes we enjoyed: A starter platter of chilled aubergine with mushrooms, crispy Chaozhou beancurd with the most tender BBQ pork, salted ox tongue and fish with five spice and chili; A perfect prawn dish with clams and asparagus, sautéed fillet of fish in black bean sauce, great seasonal vegetables, followed by a chicken baked with salt and then lobster with truffle essence and noodles and we finally finished with a mango cream with Chinese grapefruit. Lucky me!

It is quite an impossible task when dining in Hong Kong, every restaurant compete on a level which is one of the toughest in the world, especially for Chinese food. So I was not surprised when dining at Chinese Restaurant, Hyatt Regency Tsimshatsui to discover how delicious and good it was..magical is all I can say!

I don't often get to Pattaya, about 2 hours from Bangkok, but when I do I always make my way first to Gian's Italian Restaurant, it is great Italian food and the BEST pizza! It is real Italian!
Here is the pizza I just had a couple of weeks ago. I thought I was in Naples! It was so good and perfect!