MEE in January 2018
I was proud to see that my team at MEE is better than ever! I recently hosted a dinner there with the famous Brazilian actress Andrea Beltrão and her director husband, Mauricio Farias. We began with a wonderful tuna tartar and then proceeded to our dim sum selection with crispy wonton and sui mai dumplings. We had a healthy delicious seaweed salad and our best selling Thai tangerine salad next. A big hit of the evening was the Hong Kong Prawns with Caramelised Pecans and everyone was surprised by our tofu cheesecake. Our MEE chef Guido was delighted to take all the compliments!


I am delighted to announce that my restaurant MEE at Belmond Copacabana Palace in Rio de Janeiro has retained its Michelin star for the third year running! There are only six restaurants in Rio with Michelin stars, one star being the highest score anyone has. I am so proud of my kitchen and restaurant team, well done everyone!
Elite Traveler lists MEE in the top 5 restaurants in Rio
Our great kitchen team who has maintain the quality and consistency of MEE! Congratulations to all of them for maintaining our Michelin star for the third year in a row! You are the best!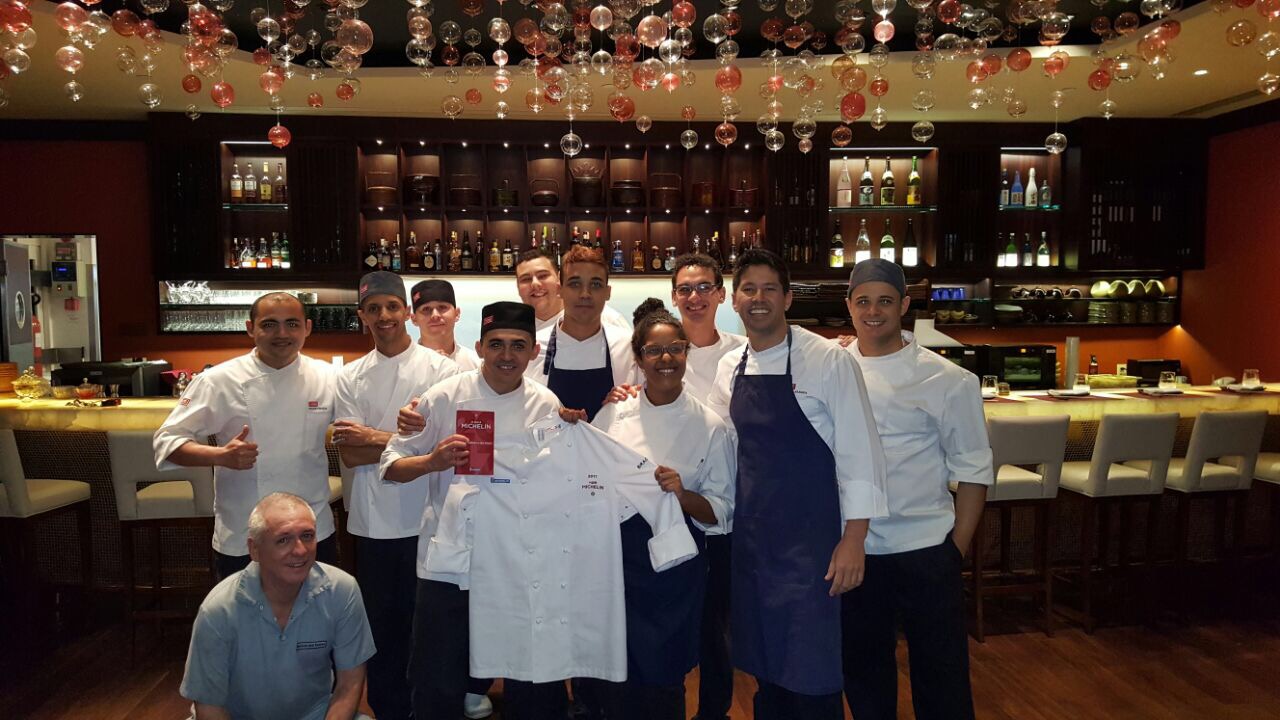 New MEE dishes
I have been working on new dishes to put on the menu at MEE in Rio de Janeiro. Working closely with our top sous-chef, Guido, we tested and tasted: Cantonese crispy parcels, Vietnamese sweetcorn fritters, Braised Shanghai pork belly (a favourite of our executive Chef David), Grilled Indonesian chicken, Warm Vietnamese beef salad and Panaeng style prawn curry. We look forward to sharing all these new additions to our menu soon with our customers!


We won another prestigious award again for MEE It is the restaurant of the Year award given by the government tourist bureau.
There to receive the award was Rejane, our sake expert; Wemerson Oliverira, our assistant manager and Chef Guido, our talented young sous-chef! Bravo, well done.

MEE AT BELMOND COPACABANA PALACE RECEIVES FIRST MICHELIN STAR
One of first restaurants in South America to receive prestigious accolade
April 2015 – MEE at Belmond Copacabana Palace in Rio de Janeiro has become one of the first restaurants in South America to be awarded a prestigious Michelin star.
The 92-seat pan-Asian restaurant is listed in the first edition of the Michelin Guide Rio de Janeiro & São Paolo – the first edition of the Michelin Guide to cover South America. MEE is one of only six venues in Rio de Janeiro to be awarded a star, with Michelin recommending the restaurant's spicy Thai salad with tangerine, quail's egg sushi with truffle, and Kobe beef tataki with ponzu sauce.
Led by celebrated BBC TV chef Ken Hom, MEE opened in February 2014 at the iconic Belmond Copacabana Palace, a glorious local landmark located on Rio's world-famous Copacabana Beach. The city's first luxury pan-Asian restaurant, MEE sits adjacent to the hotel's fabulous swimming pool and takes guests on an exotic gastronomic journey through Thailand, Cambodia, Malaysia, Singapore, Korea, Vietnam, China and Japan.
Under the watchful eye of Ken Hom, MEE's expert chefs perfected their Asian culinary techniques in Bangkok prior to the opening. The restaurant's innovative pan-Asian menu is complemented by a dedicated sushi bar, while Rio's only sake stewardess is on hand to pair each dish with over 25 varieties specially imported from Japan. An extensive drinks menu includes 18 cocktail creations and guests are also invited to select their favourite flavour of tea, which is then prepared to their personal taste and served at the end of the meal.
Belmond Copacabana Palace's General Director, Andrea Natal, says of the accolade: "We are delighted to be awarded a Michelin star just over a year after MEE's opening. This esteemed accolate strengthens MEE's position not only as the first luxury pan-Asian restaurant in Rio, but also as one of the city's best restaurants overall". Ken Hom comments: "I am extremely proud that MEE has received this coveted recognition. The team and I are passionate about bringing luxury pan-Asian cuisine to Rio de Janeiro and will continue to develop the restaurant's innovative menu".
Superior City View Rooms  at Belmond Copacabana Palace are priced from £283 per night, including taxes and breakfast. To book or for more information, please call 0845 077 2222 or visit belmond.com.
MEE visit 1
It has been sheer pleasure for me to visit my team at MEE at the Copacabana Palace here in Rio de Janeiro. Our fantastic chef, Kazuo and our amazing manager, Junior are working hard to maintain our Michelin star standards. Chef Kazuo made a fresh tuna tartar, followed by a raw scallop with wasabi sauce and bits of Wagyu beef. Our kitchen continues to cook with consistency. The Hong Kong prawns with glazed honey walnuts was spot on as the succulent grilled salmon with a Japanese sauce. The Pad Thai, a classic Thai noodle dish could have easily come from a Bangkok kitchen. The Wagyu ribs was cooked perfectly as was the Stir-fried spinach with garlic. More to come as I work my way through our Michelin star menu!


MEE visit 2
I am so proud of my team at MEE as I continue sampling the tuna carpaccio in citrus sauce as well as assorted fresh sashimi or simple sushi and seared salmon sashimi with spicy miso sauce and quail egg yolk. Under the eye of our talented chef de cuisine, Kazuo, even the comforting udon noodles with prawn tempura was as good as anything I had even eaten in Japan. Our Sichuan miso eggplant is a huge hit with not just vegetarians but all our customers as the aubergine melts with the rich miso.
Our Thai green chicken curry is spicy and packs a punch as does our special fried rice. And our barista makes spectacular exotic cocktails as well!